Christopher Kempf, the statistical analyst of the PDC, takes a look at the risk and reward of cover shots.
Rob Cross produced a stunning cover shot performance at the 2017 bwin Grand Slam of Darts, hitting the treble 19 bed with a staggering 55% accuracy.
This was almost unprecedented not only for his sharp-shooting but also for the high rate at which he switched away from the treble 20, with almost one third of his darts at trebles not thrown at the 60 bed.
Less than a year later, Michael van Gerwen improved on that percentage in the 2018 Unibet Premier League Play-Offs, hitting 52 treble 19s with 85 darts (61%), hitting nine consecutive treble 19s (when attempted) on two separate occasions.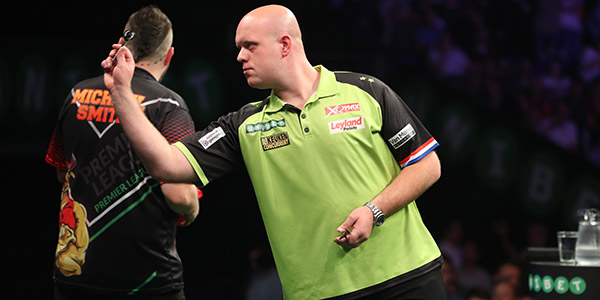 Treble switching, to the extent that it is practiced today, is a relatively new phenomenon in darts, and never before have we seen so many players scoring so many points on the green sisal. 
Players have always used the treble 19 bed for a 'cover shot' when the treble 20 is blocked by their first or second darts, especially if their darts tend to enter the board at a steep angle.
But more darts than ever before are being thrown at the green bed, and it isn't because the number of blockers has dramatically increased.
On the contrary, it is increasingly common to see many darts thrown at treble 19 even when the first dart leaves the treble 20 relatively open.
Van Gerwen and Peter Wright throw darts that stick out of the board at a similar angle, yet the Dutchman throws nearly four times as many darts at treble 19 than Wright.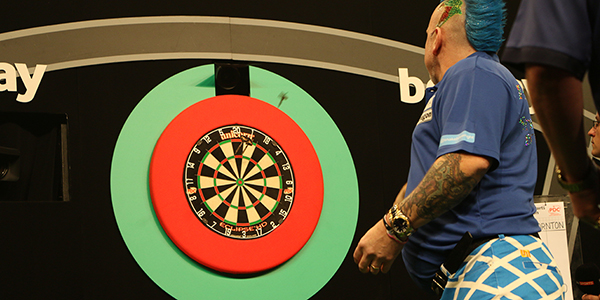 Does this switching strategy pay off?
The layout of the dartboard makes treble 19 a far more attractive target than the bullseye or any other treble below it.
The 19 segment is bordered on the left by the sevens and on the right by the threes, meaning that stray darts have a less severe impact on a player's score than they would for darts at treble 17 or 18, where scores of one and two by individual darts are commonplace.
For this reason, the novice player will tend to score marginally higher when aiming at treble 19 than at treble 20, and there are even a few semi-professional players (e.g. Greece's Veniamin Symeonidis) who score exclusively on the 19s.
For the professional, however, the average score per dart of the last 100,000 darts thrown at treble 20 on stage was 34.36 - the highest per-dart score of any segment on the board.
The per-dart average score for treble 19 is 33.10, only 1.26 points less than treble 20 - that's a surprisingly small difference given that each treble 20 scored is, of course, worth three points more than the same target on the opposite end of the board, and that professionals tend to throw less than 10% stray darts in to the intended treble's adjacent segments.
It is especially small compared to the average score of treble 18 (30.97, 2.13 points less than treble 19), suggesting a disadvantage of switching to treble 18 with the third dart unless absolutely necessary, and of treble 17 (28.55, 2.42 points less than treble 18). Something else must explain the relatively strong performance of treble 19.
Average scores per dart:
Treble 20                          34.36
Treble 19                          33.10
Treble 18                          30.88
Treble 17                          28.55
Bullseye                           27.17
The risk of a bounce-out, almost non-existent with the first dart thanks to improved dartboard technology, increases significantly when aiming at a target with a dart sticking out of it.
This undoubtedly works to the detriment of the treble 20's average score, but bounce-outs are an increasingly rare occurrence and not the defining factor here.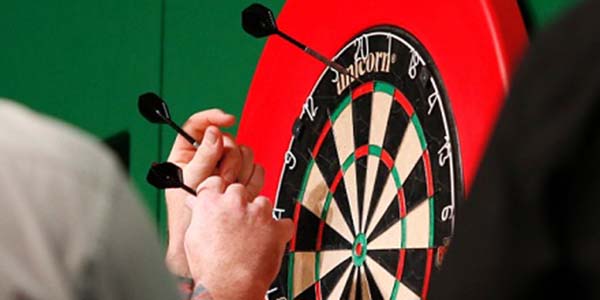 When one digs more deeply into the data, an astonishing statistic emerges: despite the fact that a dart at treble 19 scores more than 1 point less on average than a dart at treble 20, the overall PDC accuracy percentage for players throwing at treble 19 is higher than players' success rate in throwing at treble 20.
When every 2018 stage dart thrown in the first three visits of each leg is taken into account, professionals hit treble 20 39.09% of the time, slightly less than the 39.34% accuracy with which they find the treble 19 target.
Because the first dart thrown at treble 19 is typically the second or third dart of a visit, it may be that a player's first dart at treble 20 - the dart with which he has the lowest accuracy (34.8%) of any dart in the visit - warms them up after waiting for their opponent to throw.
Alternatively, the first dart could serve as a range-finding 'practice' dart for a more focused throw with the second or third dart at a totally empty bed.
As a rule, the more darts aimed at a given bed, the likelihood of scoring trebles increases at a reduced rate.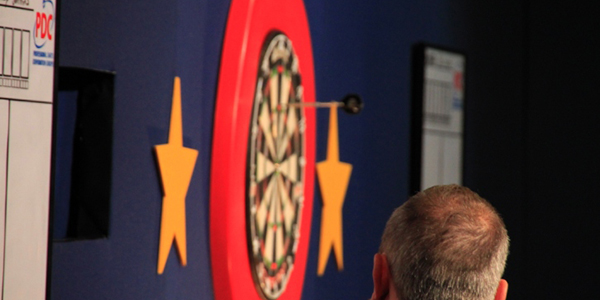 This means that aiming a third dart at any given bed yields only a small additional improvement in per-dart score relative to the second over the first.
The second-dart treble 19 has a 38.3% PDC-wide accuracy rate - a much better statistical starting point with a 'marker' already in the board than the 34.8% which a player starts on when attempting treble 20.
Because the treble 19 'cover shot' has such a high initial probability of success, moreover, the likelihood of following a second-dart treble with a third, for a 134 or a 174, is especially high.
Regardless of what causes the unusually high accuracy of players throwing for treble 19, several professionals have recognised that the trade-off of risking a lower per-dart score for a higher probability of hitting a treble works in their favour if they can hit treble 19s at a higher rate than their opponent.
No man has taken greater advantage of this than Van Gerwen, who has found his target with almost every other dart he has thrown at treble 19 this year (49.2%).
His per-dart score of 36.76 is higher even than the corresponding average scores of most other professionals throwing at treble 20.
This advantage often means that Van Gerwen will often throw at treble 19 even when the treble 20 bed is not obscured, giving him one of the highest switch probabilities of any player in the PDC.
The exact rationale for switching in any given moment is known only to Van Gerwen himself, but the combination of frequently switching to treble 19 and hitting it with astonishing accuracy has made him a relentless and versatile scorer.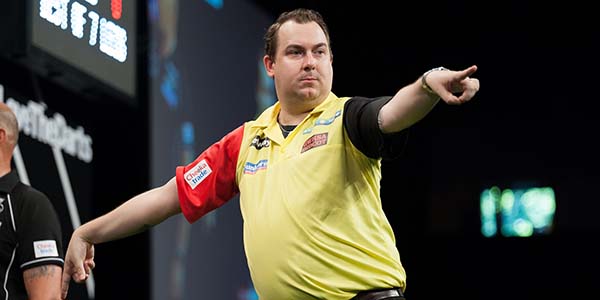 % of darts not thrown at treble 20, first 9 darts of each leg (PDC top 16):
Kim Huybrechts             30%
Michael van Gerwen      29%
Simon Whitlock              28%
Rob Cross                      27%
Gary Anderson              24%
Michael Smith                24%
Gerwyn Price                 22%
Dave Chisnall                20%
Daryl Gurney                 16%
Darren Webster             14%
Alan Norris                     13%
Ian White                       12%
James Wade                  11%
Mensur Suljovic              10%
Peter Wright                    9%
Raymond van Barneveld 8%

The most important considerations for any player in deciding whether or not to switch trebles are the presence of 'blockers' around the treble 20 that could interfere with the trajectory of the dart, and the possibility of leaving a better finish by scoring multiples of 19.
Add to that the subtle statistical gamble of risking a lower average in the long-term in order to hit more trebles in the short term.
Players who 'flip the switch' and score on the treble 19s add a new flavour of risk and strategy to the game of 501.