GORDON MATHERS and Mike Bonser secured qualification for next month's World Series of Darts events in Brisbane and Melbourne respectively.
Mathers, who made his World Championship debut last December on the back of winning the 2017 DPA Australian ProTour Order of Merit, overcame veteran David Platt in the qualifier for the Brisbane event.
The 36-year-old, from Ipswich, Queensland, will be making his first Word Series appearance in five years, having starred in the 2013 Sydney Masters.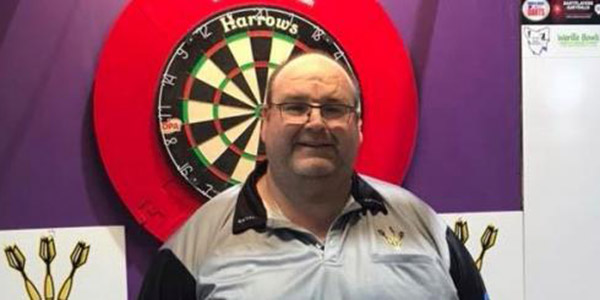 The Melbourne showpiece will see Bonser make his TV debut after overcoming Mal Cuming in the final of the qualification event.
The experienced Bonser, from Central Coast, was a popular winner having played a big role in New South Wales darts for a number of years.
The remaining two places in each of the Melbourne Darts Masters and Brisbane Darts Masters will be confirmed on Tuesday and Wednesday with two more double-header qualifiers in Warilla.
The Melbourne Darts Masters will be held from August 10-12 at the Hisense Arena. For tickets, visit www.ticketek.com.au.
The Brisbane Darts Masters will be held from August 17-19 at the BCEC. For tickets, visitwww.ticketek.com.au.
Melbourne Darts Masters
August 10-12, Hisense Arena, Melbourne, Australia
Competing Players
PDC Representatives: Michael van Gerwen, Peter Wright, Rob Cross, Gary Anderson, Simon Whitlock, Kyle Anderson, Michael Smith, Raymond van Barneveld
Oceanic Representatives: Corey Cadby, Tim Pusey, Raymond Smith, Haupai Puha, Damon Heta, Mike Bonser (Plus two DPA Qualifiers)
Brisbane Darts Masters
August 17-19, BCEC, Brisbane, Australia
Competing Players
PDC Representatives: Michael van Gerwen, Peter Wright, Rob Cross, Gary Anderson, Simon Whitlock, Kyle Anderson, Michael Smith, Raymond van Barneveld
Oceanic Representatives: Corey Cadby, Tim Pusey, Raymond Smith, Mark Cleaver, Damon Heta, Gordon Mathers (Plus two DPA Qualifiers)
Brisbane Darts Masters DPA Qualifier Two
Quarter-Finals
Barry Gardner 3-5 Mal Cuming
Brendan McClausand 0-5 GG Mathers
James Bailey 5-4 Dave Marland
Dave Platt 5-2 Jack Devries
Semi-Finals
Mal Cuming 1-5 GG Mathers
James Bailey 3-5 Dave Platt
Final
GG Mathers 6-3 Dave Platt
Melbourne Darts Masters DPA Qualifier Two
Quarter-Finals
Mike Bonser 5-2 James Bailey
Loz Ryder 4-5 Stephen Schmitt
Mal Cuming 5-4 Dave Marland
Paul Cotton 5-4 Stefan Cubrolvic
Semi Finals
Mike Bonser 5-2 Stephen Schmitt
Mal Cuming 5-2 Paul Cotton
Final
Mike Bonser 6-3 Mal Cuming