STEPHEN BURTON, Adam Hunt and Aden Kirk have qualified for the 2018/2019 William Hill World Darts Championship by winning through the last-chance PDC Tour Card Holders' Qualifier in Milton Keynes.
All three players will make their Alexandra Palace debuts at darts' biggest-ever event from December 13-January 1 as 96 players battle for £2.5 million in prize money and the Sid Waddell Trophy live on Sky Sports.
Burton, who enjoyed a run to the last 16 of the Players Championship Finals in his TV debut last weekend, continued his fine form with victories over Arron Monk, Darren Johnson and Kevin Painter, then survived match darts before defeating Scott Taylor 7-6 in the Group Three Final.
Kirk famously claimed the scalps of Phil Taylor and Peter Wright at the 2014 UK Open, and he also came through a 13-leg thriller in the Group Two Final against Latvia's Madars Razma.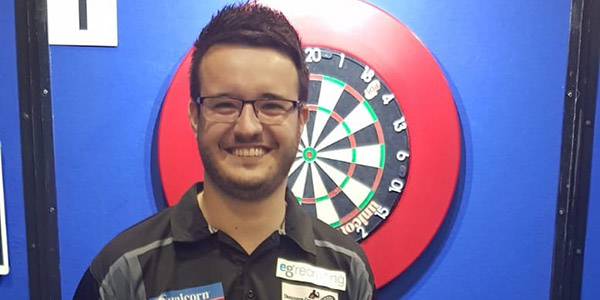 Group One saw Hunt (above) record wins over Terry Temple, Maik Langendorf and Bradley Brooks before seeing off Richie Burnett 7-4 in the final.
The draw for the 2018/2019 William Hill World Darts Championship will be made on Sky Sports News at 5.30pm on Monday November 26.
The first round draw will see the 32 ProTour Order of Merit Qualifiers drawn against the 32 International Qualifiers, with the winners set to take on the top 32 seeded players from the PDC Order of Merit in the second round stage.
DRAW 
GROUP 1
Round 1
Justin Pipe BYE
Richie Burnett 6-1 Ross Twell
John Part 6-1 Kirk Shepherd 
Mark Wilson 6-5 Steve Hine 
Maik Langendorf 6-2 Andrew Gilding
Adam Hunt 6-3 Terry Temple
Bradley Brooks 6-3 Peter Jacques 
Peter Hudson 6-4 Gary Eastwood 

Round 2
Richie Burnett 6-3 Justin Pipe 
John Part 6-5 Mark Wilson
Adam Hunt 6-3 Maik Langendorf 
Bradley Brooks 6-1 Peter Hudson

Semi-Finals
Richie Burnett 6-2 John Part
Adam Hunt 6-3 Bradley Brooks

FINAL
Adam Hunt 7-4 Richie Burnett

GROUP 2
Round 1
Mark Webster BYE
Madars Razma 6-5 George Killington 
Joe Murnan 6-3 Mario Robbe
Prakash Jiwa 6-4 Mark Dudbridge
Zoran Lerchbacher 6-1 Ryan Harrington
Luke Woodhouse 6-1 Ryan Meikle
Dawson Murschell 6-3 Jamie Caven 
Aden Kirk 6-3 Jamie Bain 

Round 2
Madars Razma 6-1 Mark Webster 
Prakash Jiwa 6-3 Joe Murnan 
Zoran Lerchbacher 6-4  Luke Woodhouse
Aden Kirk 6-1 Dawson Murschell

Semi-Finals
Madars Razma 6-4 Prakash Jiwa
Aden Kirk 6-3 Zoran Lerchbacher 

FINAL
Aden Kirk 7-6 Madars Razma

GROUP 3
Round 1
James Richardson 6-3 Robert Owen
Jimmy Hendriks 6-3 Eddie Dootson
Scott Taylor 6-3 Terry Jenkins 
Lee Bryant 6-3 Titus Kanik
Kevin Painter 6-4 Paul Rowley
John Goldie 6-5 Chris Quantock
Darren Johnson 6-2 Ritchie Edhouse
Stephen Burton 6-3 Arron Monk 

Round 2
Jimmy Hendriks 6-1 James Richardson
Scotty Taylor 6-5 Lee Bryant
Kevin Painter 6-3 John Goldie
Stephen Burton 6-3 Darren Johnson

Semi-Finals
Scott Taylor 6-2 Jimmy Hendriks 
Stephen Burton 6-3 Kevin Painter 

FINAL
Stephen Burton 7-6 Scott Taylor