ROYDEN LAM and Paul Lim shared victories on the opening weekend of the 2019 PDC Asian Tour in Seoul.
The first double-header weekend of the year in the second season of the Asian Tour saw two of the region's most established players dominate proceedings.
Hong Kong's Lam was victorious in Saturday's Event One, as he edged out Singapore's Lim 5-4 in the final, averaging 98 to his rival's 105 as he came from 4-3 down to snatch the win.
Lam was also victorious against former World Championship qualifier Keita Ono with a 99 average, and saw off Kazuki Hagane and Prince Shek 5-1 in his quarter-final and semi-final games.
Lim defeated Lakeside Women's Champion Mikuru Suzuki in the last 16, Hong Kong's Kevin Leung in the quarter-finals and 2018 Asian Tour Order of Merit winner Lourence Ilagan in the semi-finals on his way to the decider.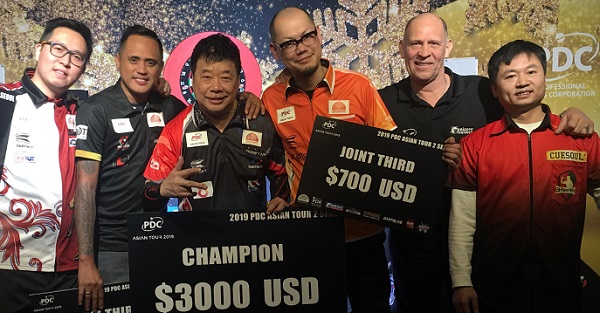 Lim, who turned 65 on Friday, went one better on Sunday as he claimed the Event Two title, defeating Leung 5-2 in the final.
Lim again overcame Ilagan in the semi-finals, saw off Suzuki 5-4 in the quarter-finals and averaged almost 109 in his whitewash of Min Seok Choi.
Former World Cup representative Leung overcame Yuya Higuchi 5-1 to reach the final, and also saw off recent World Championship qualifier Noel Malicdem 5-1 during the event.
The second PDC Asian Tour weekend of 2019 will be held in Kobe, Japan, on February 16-17, with four further weekends set to be held this year.
For further details and entry information, please visit www.pdc-asia.tv.
2019 PDC Asian Tour
Events Three & Four
February 16-17, Kobe Sanbo-Hall, Kobe
Events Five & Six
March 30-31, Leyte Academic Center, Pawing, Palo, Leyte
Events Seven & Eight
June 22-23, G Club, Taipei
Events Nine & Ten
July 27-28, Kowloonbay International Trade & Exhibition Centre, Hong Kong
Events 11 & 12
Dates & Venue TBC