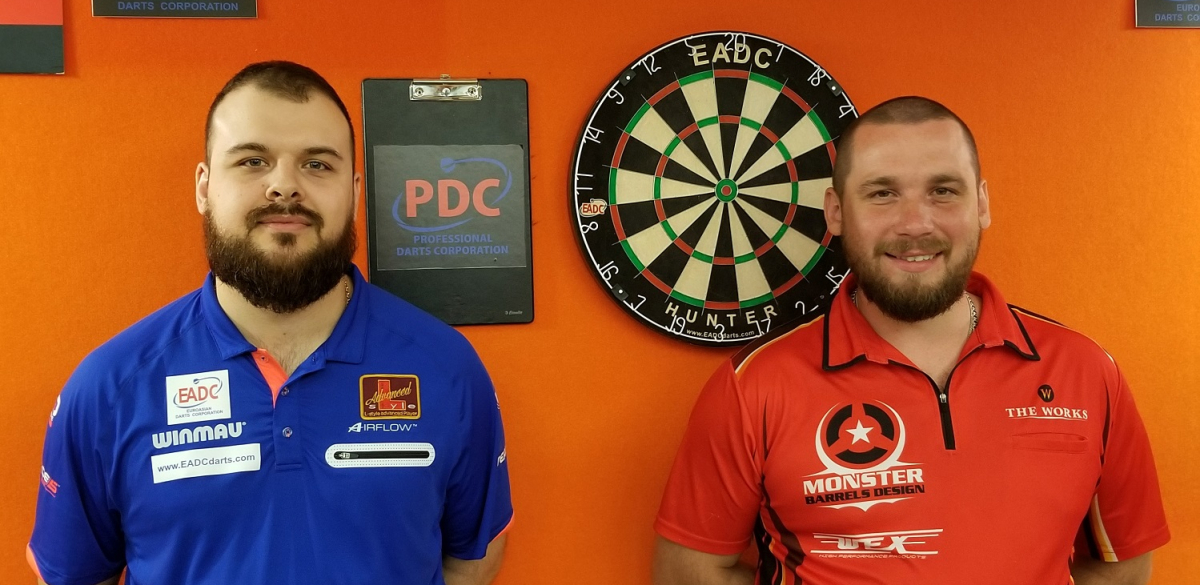 BORIS KOLTSOV claimed an EADC treble with three victories in the second weekend of the season in Russia, while his BetVictor World Cup of Darts partner has been confirmed as Alexey Kadochnikov.
Koltsov returned to action on the EADC circuit in style to win through all three events held on April 27-28.
In a rare feat, Koltsov defeated Roman Obukhov in all three finals over the weekend, taking 6-1 and 6-4 victories on Saturday and a 6-3 win on Sunday.
Kadochnikov lost in the semi-finals of all three events to Obukhov, twice missing out in a deciding leg on Saturday, as he remained second on the EADC Order of Merit behind Koltsov.
Kadochnikov now progresses to compete in the BetVictor World Cup of Darts alongside Koltsov in Hamburg from June 6-9.
Koltsov overcame Andrey Pontus in both semi-finals on Saturday before seeing off Andrey Pryalkin in Sunday's last four encounter.
The 2019 BetVictor World Cup of Darts will be held at the Barclaycard Arena in Hamburg, Germany. Tickets are available now through PDC Europe.
2019 EuroAsian Darts Corporation Tour
Event Four, Saturday April 27
Quarter-Finals
Boris Koltsov 6-0 Evgenii Izotov
Andrey Pontus 6-3 Maxim Aldoshin
Roman Obukhov 6-1 Aleksandr Nelaev
Aleksei Kadochnikov 6-1 Andrey Pryalkin
Semi-Finals
Boris Koltsov 6-4 Andrey Pontus
Roman Obukhov 6-5 Aleksei Kadochnikov
Final
Boris Koltsov 6-1 Roman Obukhov
Event Five, Saturday April 27
Quarter-Finals
Boris Koltsov 6-2 Evgenii Izotov
Andrey Pontus 6-3 Maxim Aldoshin
Roman Obukhov 6-4 Maxim Belov
Aleksei Kadochnikov 6-3 Dmitriy Gorbunov
Semi-Finals
Boris Koltsov 6-4 Andrey Pontus
Roman Obukhov 6-5 Aleksei Kadochnikov
Final
Boris Koltsov 6-4 Roman Obukhov
Event Six, Sunday April 28
Quarter-Finals
Boris Koltsov 6-2 Dmitriy Gorbunov
Andrey Pryalkin 6-2 Evgenii Izotov
Roman Obukhov 6-1 Dmitri Shepkin
Aleksei Kadochnikov 6-2 Dmitry Lushankov
Semi-Finals
Roman Obukhov 6-2 Aleksei Kadochnikov
Boris Koltsov 6-4 Andrey Pryalkin
Final
Boris Koltsov 6-3 Roman Obukhov
Latest Rankings
| Pos | Name | Points |
| --- | --- | --- |
| 1 | Boris Koltsov | 840 * |
| 2 | Aleksei Kadochnikov | 1650 |
| 3 | Roman Obukhov | 1215 |
| 4 | Maxim Aldoshin | 970 |
| 5 | Andrey Pontus | 955 |
| 6 | Maxim Belov | 775 |
| 7 | Vladimir Akshulakov | 760 |
| 8 | Dmitriy Gorbunov | 705 |
| 9 | Evgenii Izotov | 585 |
| 10 | Aleksander Shevel | 535 |
* Boris Koltsov exempt to top of EADC rankings due to his competitive status on the PDC circuit