OUR six pundits have submitted their predictions for Night 14 of the 2019 Premier League in Manchester.
Six famous faces are battling it out to be crowned top predictor at the conclusion of the league phase, with the winner to be presented with the inaugural Premier League Predictions League Trophy at The O2 on Play-Offs Night.
Two-time World Matchplay champion Rod Harrington remains three points clear at the top of the pile heading into Night 14, while Paul Nicholson and Alan Warriner-Little were the joint-top scorers on Night 13.
This week our pundits have also predicted who they think will make it to the top four and star at The O2 on May 23.
Predictors will submit their scores every week ahead of that the Premier League night, with the updated table published every Friday on pdc.tv.

Do you fancy your chances as a predictor? Have a go yourself in the Fans' Prediction League.
One point will be awarded for a correct outcome, while three points will be awarded for a correct scoreline prediction.
Night 14 Predictions:
Rod Harrington:
Rob Cross 8-5 Michael Smith
Peter Wright 7-7 Mensur Suljovic
Daryl Gurney 4-8 Michael van Gerwen
James Wade 7-7 Gerwyn Price
Colin Lloyd:
Rob Cross 8-5 Michael Smith
Peter Wright 5-8 Mensur Suljovic
Daryl Gurney 4-8 Michael van Gerwen
James Wade 7-7 Gerwyn Price

Paul Nicholson:
Rob Cross 8-5 Michael Smith
Peter Wright 8-6 Mensur Suljovic
Daryl Gurney 5-8 Michael van Gerwen
James Wade 8-6 Gerwyn Price

Alan Warriner-Little:
Rob Cross 5-8 Michael Smith
Peter Wright 4-8 Mensur Suljovic
Daryl Gurney 4-8 Michael van Gerwen
James Wade 8-6 Gerwyn Price
Dan Dawson:
Rob Cross 8-5 Michael Smith
Peter Wright 8-4 Mensur Suljovic
Daryl Gurney 5-8 Michael van Gerwen
James Wade 7-7 Gerwyn Price
Peter Manley:
Rob Cross 8-5 Michael Smith
Peter Wright 8-6 Mensur Suljovic
Daryl Gurney 5-8 Michael van Gerwen
James Wade 4-8 Gerwyn Price
Top Four Predictions:
Rod Harrington:
1. Michael van Gerwen
2. Rob Cross
3. James Wade
4. Gerwyn Price
Colin Lloyd:
1. Michael van Gerwen
2. Rob Cross
3. James Wade
4. Gerwyn Price

Paul Nicholson:
1. Michael van Gerwen
2. Rob Cross
3. James Wade
4. Gerwyn Price

Alan Warriner-Little:
1. Michael van Gerwen
2. Rob Cross
3. James Wade
4. Mensur Suljovic
Dan Dawson:
1. Michael van Gerwen
2. Rob Cross
3. James Wade
4. Daryl Gurney
Peter Manley:
1. Michael van Gerwen
2. Rob Cross
3. Gerwyn Price
4. James Wade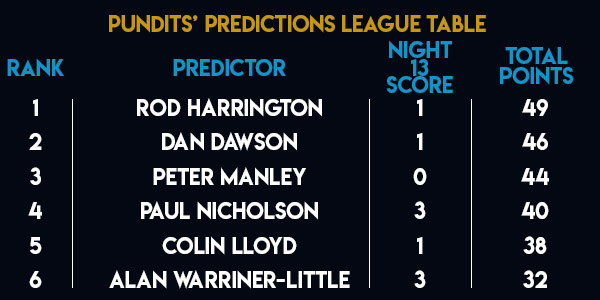 Night 14 - Thursday May 2
The Manchester Arena
Rob Cross v Michael Smith
Peter Wright v Mensur Suljovic
Daryl Gurney v Michael van Gerwen
James Wade v Gerwyn Price
Tickets: 0844 249 1000 or click here