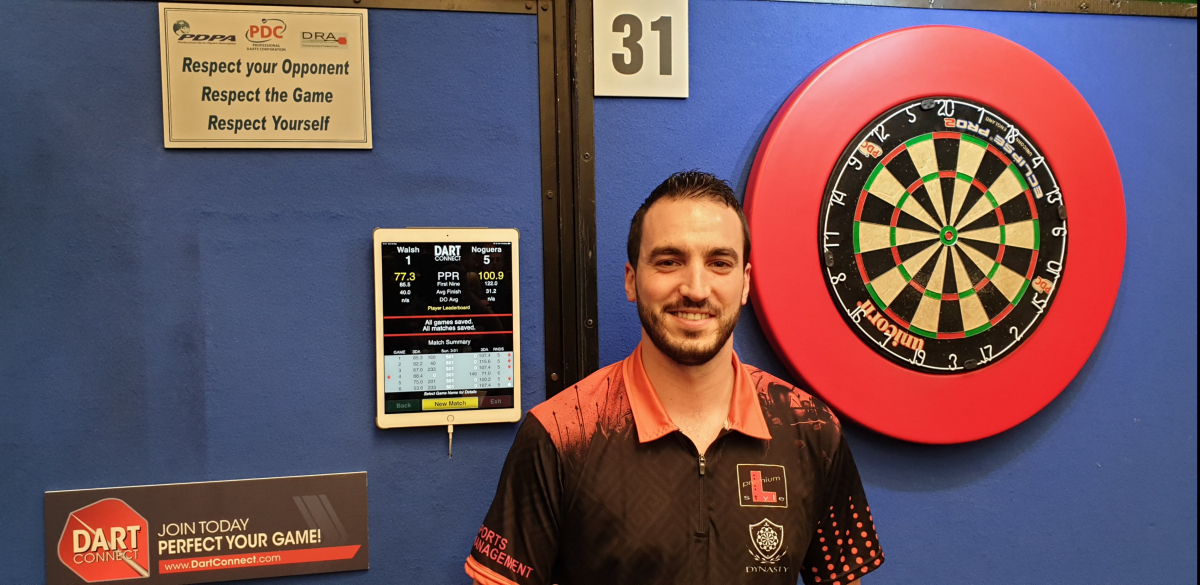 JESUS NOGUERA and Stephen Burton shared victories to conclude the second weekend of the 2019 PDC Unicorn Challenge Tour in Wigan.
Spanish thrower Noguera won his first PDC title by taking the win in the Event Seven final, overcoming former UK Open finalist Mark Walsh 5-1.
Noguera produced three ton-plus averages during the event, against Prakash Jiwa in the last 32, then with a 103.3 average to defeat Burton in the semi-finals before averaging 101 in the final.
He also overcame former Challenge Tour event winner Martin Atkins, Dutchman Berry van Peer and in-form Callan Rydz - who had averaged 107 in his last 16 whitewash of Kevin Garcia.
Event Seven also featured a nine-dart finish from Geert De Vos in the deciding leg of his tie in the last 128 against John Power, as he scored 180, 177 and then took out 144.
Burton bounced back from his Event Seven semi-final loss to win Event Eight, taking his second Challenge Tour victory of 2019 with a narrow 5-4 defeat of Patrick van den Boogaard.
Van den Boogaard came from 4-2 down in the final to force a deciding leg, but Burton completed a 15-darter to take the title.
Burton was also taken to a deciding leg in the quarter-finals against Rhys Griffin, and overcame Garcia in the last four.
The next PDC Unicorn Challenge Tour weekend will see Events Nine-12 held on July 13-14 in Peterborough.
PDC Unicorn Challenge Tour
Sunday May 12, Robin Park Tennis Centre, Wigan
Event Seven
Full Event Seven results & stats
Last 16
Arjan Konterman 5-1 Tom Lonsdale
Scott Taylor 5-1 Darryl Pilgrim
James Barton 5-2 Mike Norton
Mark Walsh 5-2 Danny van Trijp
Jesus Noguera 5-2 Berry van Peer
Callan Rydz 5-0 Kevin Garcia
Andy Jenkins 5-3 Andrew Gilding
Stephen Burton 5-1 Wim Hofsink
Quarter-Finals
Arjan Konterman 5-1 Scott Taylor
Mark Walsh 5-2 James Barton
Jesus Noguera 5-1 Callan Rydz
Stephen Burton 5-1 Andy Jenkins
Semi-Finals
Mark Walsh 5-3 Arjan Konterman
Jesus Noguera 5-3 Stephen Burton
Final
Jesus Noguera 5-1 Mark Walsh
Event Eight
Full Event Eight results & stats
Last 16
Patrick van den Boogaard 5-4 Matthew Dennant
Ian Withers 5-4 Scott Taylor
Dave Prins 5-2 Jimmy Hendriks
Paul Rowley 5-3 Simon Preston
Kevin Lane 5-4 Cody Harris
Kevin Garcia 5-3 Thomas Junghans
Stephen Burton 5-2 Geert De Vos
Rhys Griffin 5-2 Jesus Noguera
Quarter-Finals
Patrick van den Boogaard 5-1 Ian Withers
Dave Prins 5-4 Paul Rowley
Kevin Garcia 5-1 Kevin Lane
Stephen Burton 5-4 Rhys Griffin
Semi-Finals
Patrick van den Boogaard 5-3 Dave Prins
Stephen Burton 5-2 Kevin Garcia
Final
Stephen Burton 5-4 Patrick van den Boogaard