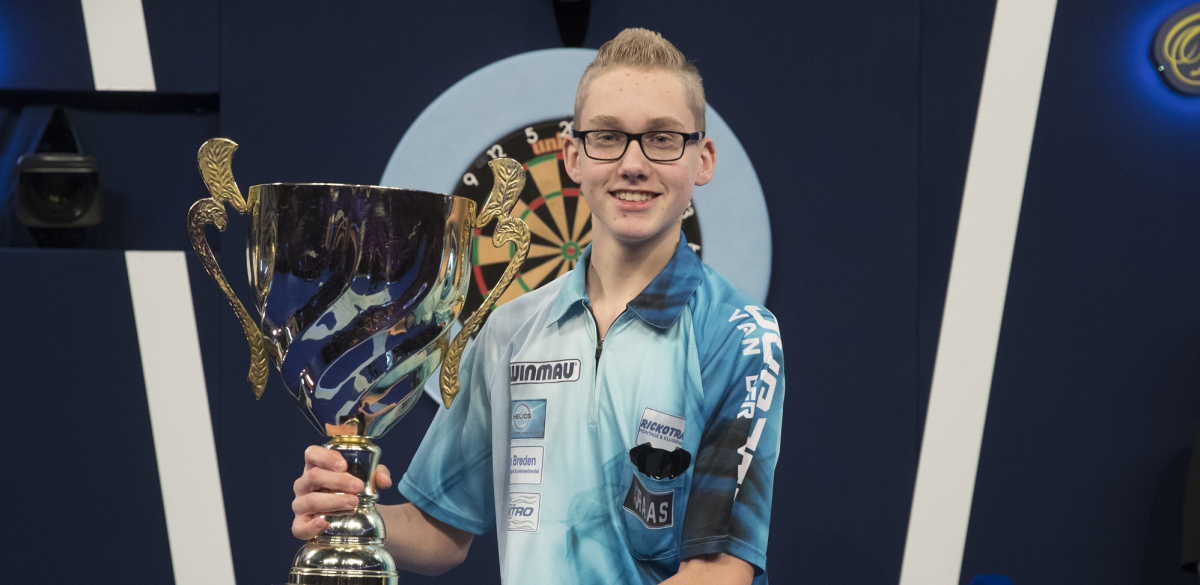 Leading junior players from around the world are preparing to descend on Gibraltar next week for the Junior Darts Corporation's festival of darts.
The new Europa Point Arena in Gibraltar will host the three one-day tournaments as players from as far afield as Australia, New Zealand, India, USA, Canada and Iceland do battle on the oche.
The PDPA Junior World Cup will see the action begin on Tuesday September 24, with 26 teams representing the 16 nations doing battle in a team event.
The focus will then switch to individual action on Wednesday September 25 for the DartConnect Junior International Open, which will be a knockout event played to a winner on the day.
Thursday September 26 will then see the early rounds of the annual Scott Farms International Junior World Darts Championship take place, as the players begin their challenge to win the newly-named Tommy Cox Trophy.
Play in Gibraltar will be up to, and including, the semi-finals, with the final of the Junior World Darts Championship taking place on Saturday December 21 at Alexandra Palace during the William Hill World Darts Championship.
Dutch youngster Jurjen van der Velde will be defending the Junior World Darts Championship title which he won in 2018, while the Irish challengers will include Keane Barry - who is set to compete in the Tom Kirby Memorial Irish Matchplay final in Dublin next month.
Live stats from all events will be available through DartConnect throughout the week, along with streaming via Twitter, Facebook and YouTube.
The week's activities in Gibraltar will also include a welcome meeting on Monday September 23 which will include a shirt presentation, as well as an international accreditation evening for worldwide JDC Academy affiliation and education sessions in local schools.
The events come in advance of the PDC European Tour's annual visit to the country, with the Gibraltar Darts Trophy being staged from September 27-29 at the Victoria Stadium. For tickets, visit BuyTickets.gi.
Event Schedule
Tuesday September 24
PDPA Junior World Cup
25 teams competing from 16 nations. Group Stage before knockout from Last 16 onwards.
Wednesday September 25
DartConnect Junior International Open
Thursday September 26
Scott Farms International Junior World Darts Championship
International players + JDC Tour Qualifiers + JDC Academy OOM Qualifiers compete down to the final. The final will be held at Alexandra Palace on Saturday December 21 during William Hill World Darts Championship, with the Junior World Darts Champion winning the Tommy Cox Trophy.
Competing Nations & Players
Australia: Ky Smith, Mitchell Beswick, Hayden Scott, Lachie Gleason, Cody Dewey, Erin Logan, Tyson Stow, Faith Kainuku
Canada: Zach van Vliet, Devin Gross, Hayden Brown, Nathan Sherk
China: Jiacheng Song, Jiale Dong, Zhengan Gu, Tao Jiang, Yile Liu, Xunxu Kuang, Yanxu Shi, Sheyuan Xue
Czech Republic: Tomas Houdeck, Vilem Sedivy, Adam Gawlas, David Zaruba
Denmark: Sebastian Bech, Robin Stegler, Sune Poulsen, Marius Bo Nielsen, Nikolaj Jorgensen, Lukas Jensen, Mads Salomonsen, Laurits Laurenborg
England: Nathan Care, Harry Gregory, Keelan Kay, James Beeton, Henry Coates, Sean Craig, Joe Pitchford Morris, Mitchell McCarthy
Gibraltar: Justin Hewitt, Craig Galliano, Jerome Chipol, Sean Negrette, Dylon Duo Jnr, Casey Dyer, Joseph Borge, Elton Victory
Iceland: Tomas Orri, Tomas Breki, Alex Mani, Alexander Veigar Thorvaldsson
India: Nihar Baldha, Sankalp Salunkhe, Anadh Suhagiya, Akshat Andhariya, Thavish Vivek, Hasti Savaliya, Aman Lathiya, Devam Jasani 
Ireland: Keane Barry, Sean Cummins, Killian Heffernan, Katie Sheldon, Pearse Mackle, Ethan Willis, Sean McKeon, Dylon Dowling, Jamie Lee Cummins
Netherlands: Jurjen van der Velde, Daan Bastiaansen, Owen Roelofs, Luke van der Kwast, Danny Jansen, Marcel Bus, Kevin Lasker, Pim van Bijnen 
New Zealand: Lachy Rountree, Sam Harman, Tumihitai Te Whero, Renata Leach, Dominic Clements, Jack Sheppard, Irie Eyles, Cory Horne 
Scotland: Nathan Girvan, Kyle Walker, Connor Mitchell, John Gallazzi 
Spain: Isaac Munoz Sevillano, Roger Boronat, Pedro Fernandez Rubio, David Rodriquez Garcia 
USA: Jamison Merritt, Kaden Anderson, PJ Stewart Jr, Buster Graves
Wales: Taylor Smolden, Cole Davey, Ieuan Halsall, Brynmor Thomas, Ben Carr, Nathan Hanrahan, Zaidley Evans, Liam Butler, Ethan Haymes, Tomos Jones