Luke Humphries believes his William Hill World Darts Championship opener with Devon Petersen could be the tie of the first round at Alexandra Palace next week.
New World Youth Champion Humphries will take on the top South African on Friday December 13 in a high-profile start to the sport's biggest event.
Humphries made a huge impression at the World Championship 12 months ago, winning through to the quarter-finals and knocking out reigning champion Rob Cross along the way, and is excited by his return to Ally Pally.
"There's no easy game but this really isn't going to be easy against Devon," Humphries told the Darts Show Podcast.
"He's a very tough player to beat, he gives it his all and he seems to have really progressed in the last three to six months. On the floor, he's been really good and this could be maybe the game of the first round.
"Devon's got loads of TV experience but I've probably played on TV more than him in the last 12 months so if we both get going this could be a really good game. I'm hoping I can win the game but I think it's going to be a cracker.
"I think I'm coming in with hot form. I'm playing better than I ever have at the moment, I'm hitting quite a few 100 averages on the floor and I know my floor game is as good as my stage game.
"I played well against Michael van Gerwen in the Players Championship Finals and I had a solid World Youth Championship final against Adam Gawlas. I'm practising hard and I hope it all pays off when the World Championship starts."
Listen to "Humphries on being World Youth Champion, Evetts on the Worlds & Charlie Austin on darts" on Spreaker.
Humphries defeated Adam Hunt, Stephen Bunting, Dimitri Van den Bergh and Rob Cross in the World Championship last year, eventually losing out to Michael Smith in his first televised quarter-final.
"I still haven't got over it - that's a huge achievement for someone in only their second [World Championship], I never imagined myself getting that far," he admits.
"My ambition last year was to get through the first round, make a first step and keep progressing. I know I can play like that and it was just about playing like that on the big stage in front of TV cameras - I wasn't sure how I would do.
"It just seemed to all click into place, I felt really comfortable, I rarely got any nerves, I felt really good up there and I beat some huge names.
"A lot of people didn't know who I am, but they do now because I really showed I'm not afraid to be up on that stage and play the big players."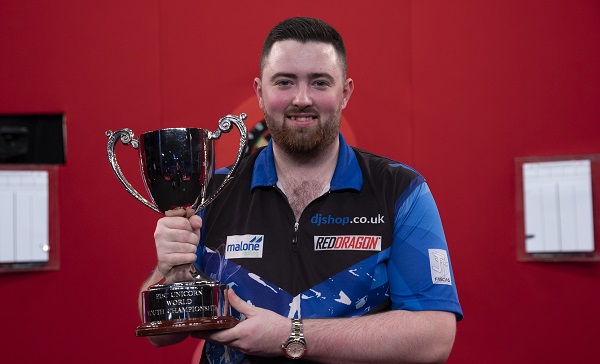 Humphries had topped the PDC Unicorn Development Tour Order of Merit in 2017 and 2018 and claimed the World Youth Championship title with a 6-0 whitewash of Adam Gawlas in Minehead recently.
"It feels really good," adds Humphries. "It's been something I've been striving for over the last three to four years and I think I've deserved it over the youth career I've had, so I'm over the moon.
"I've won 11 Development Tour titles and it's taken a long time to get where I want to be but having that title of World Youth Champion is amazing. I can't wait to be called out at the World Championship!"
Humphries has spoken eloquently this year about his struggles against anxiety, and the 24-year-old believes that opening up about the issue has aided his progression in the sport.
"This year has been full of ups and downs but in the last six months I feel like I've been on the up - I've had a few achievements, especially that World Youth title," he said.
"I was contemplating giving up the sport and six months later I'm World Youth Champion.
"Darts is very mentally challenging and it wasn't helping my anxiety that I was going through but once I came out about it, I felt a release off my shoulders and it's helped me perform much better.
"Darts has grown in the last five or ten years but I want to be a huge part of it. I want to be up there playing in Premier Leagues, World Championships, World Matchplays and Grand Slams in the next five, ten, 15 or 20 years to come so I think I did the right thing for myself."
The 2019/2020 William Hill World Darts Championship will be held from December 13-January 1 at Alexandra Palace in London.
The tournament will be broadcast live on Sky Sports in the UK, on PDCTV-HD for Rest of the World Subscribers and through the PDC's worldwide broadcast partners including DAZN and RTL7.