The PDC's statistical analyst Christopher Kempf previews the action ahead of Day Three at the William Hill World Darts Championship. 
K Anderson v Zong
21-year-old Xiaochen Zong is already breaking new ground for Chinese darts on the world stage. His first handful of appearances on the Development Tour have been encouraging, and he is already hitting more than two 180s for every ten legs.

His first round encounter with Australia's Kyle Anderson appears to be a lopsided encounter, however, Zong completes ten percent of his legs in 15 darts or fewer - a great achievement in its own right - for a young player but it will be a tough task for the player with the lowest 2019 average of the qualifiers to make much headway against Anderson.
R Smith vs Teehan
20-year-old Ciaran Teehan is off to a fast start in the PDC, having secured his two-year tour card through consistent Development Tour performances, but struggles in deciding legs when the most pressure is on - his average falls by nearly seven points in these situations.

Deciding legs have proved no obstacle for Ross Smith, on the other hand, who hit a televised 114 finish in a decider to defeat MvG in October.
Teehan is the 33rd best finisher in the tournament field - his 47% checkout rate on finishes like 60 and 81 surpasses Smith's, but if Smith can continue to pile on the trebles as he has done all year, Teehan may have few opportunities to put his superior record to the test.
Dolan vs Kumar
Nitin Kumar makes his second appearance at the World Championship having notched wins over Royden Lam and Liu Yuanjun on the Asian Tour, but without having averaged over 90 there is little evidence to suggest that he will upset Brendan Dolan, whose average in 2019 is more than 15 points greater than Kumar's.
Between his 77% checkout rate with three darts at double and his 14% rate on 101+ finishes (second best in the field), Kumar will need to summon a career best performance to earn a date with Gary Anderson on Monday night.
Labanauskas vs White 
World number nine Ian White is well known for a devastating floor game that never quite seems to translate to the TV stage.

But even taking his nervy performances on camera into consideration, he has justified his place in the top ten with a 97 average and by winning nearly ten percent of his legs in 12 darts or fewer.
While Darius Labanauskas surpassed his 2019 overall average in a routine defeat of Matthew Edgar yesterday, he still lags behind White in every important facet of the game.
White's (relative) weak spot is his finishing, and Labanauskas may be forced to rely on misses from the man from Stoke to pull off the upset.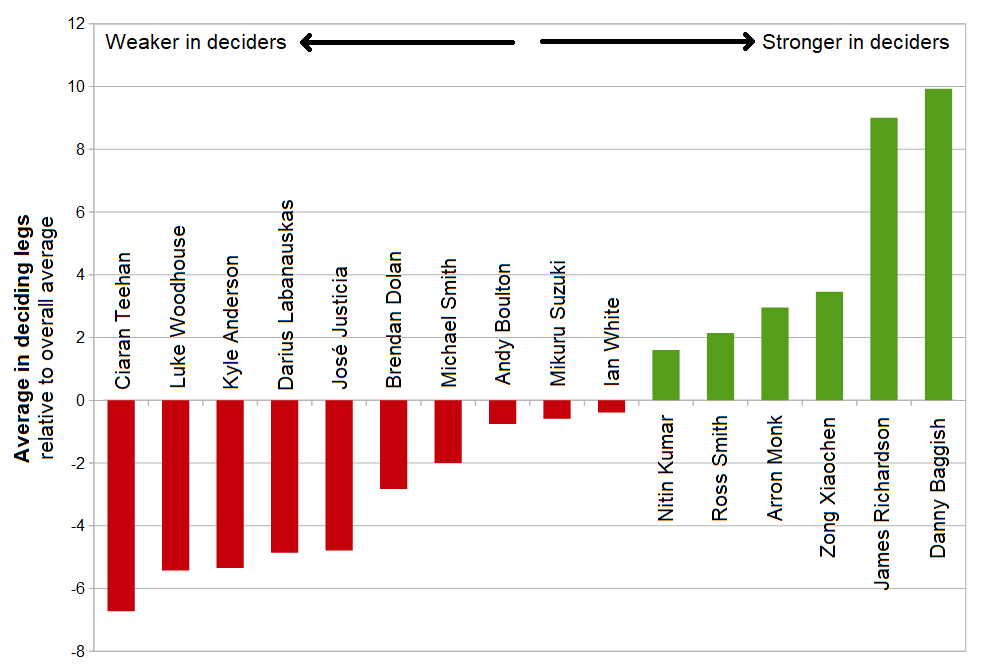 Monk v Justicia
Under pressure, Arron Monk tends to deliver - he's won 63% of his deciding legs in 2019 and he ranks 19th in ton-plus checkouts among the 96-player field.

His opponent, the Spanish debutant Jose Justicia, has had much weaker results in these situations bu is the more likely player to string together three-treble visits, though missed doubles and erratic scoring have resulted in a 3.5 point deficit in averages to the more consistent Monk.
Monk has never won at the World Championship in three previous appearances; this will be an ideal opportunity to end that drought
Boulton v Baggish
For a player well out of the European darts aficionado's eye for most of the year, Danny Baggish has posted some remarkable numbers in US-based events.
While a 12-darter from Baggish is more than twice as unlikely from him as it is from Andy Boulton, the North American Champion ranks sixth in 101+ finishes and second in two-dart combination finishes.
Boulton's advantage in averages suggests that he is the favourite, but Baggish's more subtle skills - and his near-100 average in deciding legs - complicate matters mightily.
Watching his countryman defeat Raymond van Barneveld could have a salutary effect on the South Dakotan.
Richardson v Suzuki
Mikuru Suzuki turned heads in her debut BDO Women's World Championship title run last year, and acquitted herself very professionally at the Grand Slam with mid-80s averages.
Her encounter with James Richardson, a decade-long veteran of the Pro Tour, is likely to be somewhat mismatched.
While Suzuki completes high finishes at a rate competitive with other Pro Tour players, she has been unable to score heavily enough to set up those finishes - Richardson, on average, hits four treble 20s for every three from the Japanese champion.
Smith v Woodhouse
Luke Woodhouse is mustering his best performances at the right time; straight off a first-round elimination of Daryl Gurney in Minehead, he averaged 96 to whitewash Paul Lim yesterday afternoon.
The Worcestershire man was already among the best in the PDC when it comes to hitting doubles, but his game represents even more of an upset threat to Michael Smith when Woodhouse is averaging five points above his 2019 average.
Smith will need to remain absolutely clinical on double 20 and pile in the 180s (which he has done at a rate of more than one for every three legs played) to avoid being pushed to a fourth or fifth set and potentially a shocking upset.