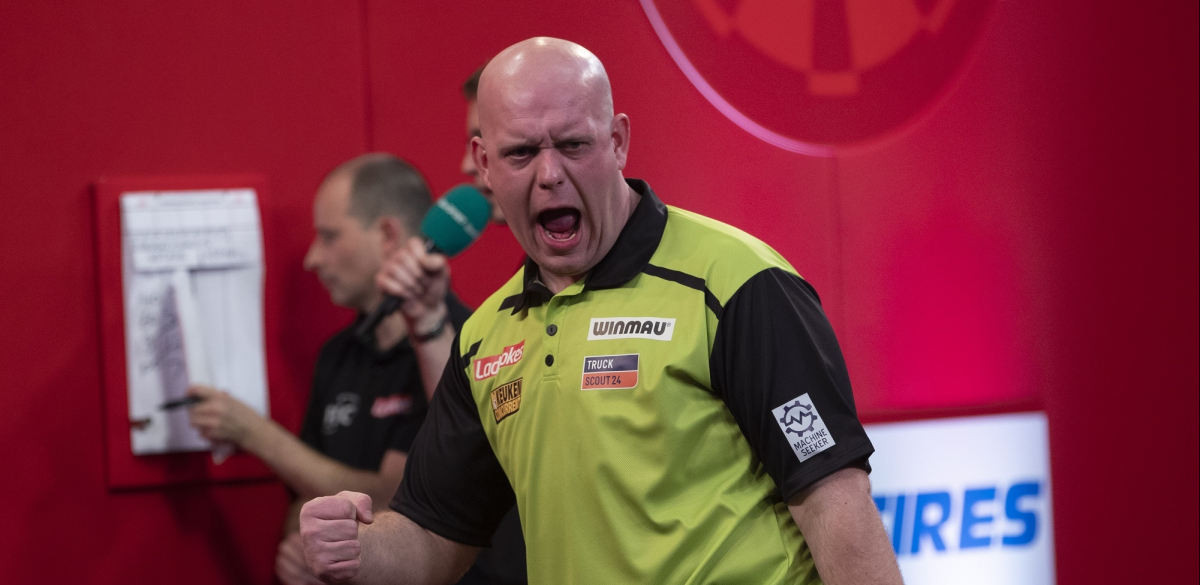 Michael van Gerwen and Chris Dobey produced the performances of the day on a thrilling opening to the Ladbrokes UK Open at Butlin's Minehead Resort on Friday.
The 159-player, multi-board tournament began with a bumper day of darts, with the opening four rounds seeing the field whittled down to 32 competitors who will return on Saturday afternoon to continue the battle for the £100,000 title.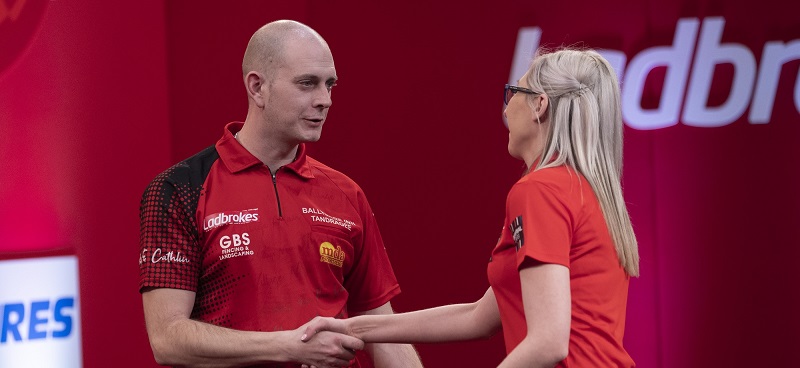 Friday afternoon's early rounds included first round defeats for female duo Lisa Ashton and Fallon Sherrock - to Mike De Decker and Kyle McKinstry respectively - as well as Brisbane Darts Masters champion Damon Heta, against Scott Waites.
2012 UK Open champion Robert Thornton was a third round casualty, while former finalists Barrie Bates and Andy Hamilton lost out in round two.
The arrival of the world's top 32 players in Friday evening's fourth round saw the drama increase further as reigning champion Nathan Aspinall drew world number one Van Gerwen in a crunch clash.
A high-quality affair saw neither player able to open up more than a two-leg lead throughout, before two-time champion Van Gerwen eventually closed out a 10-8 success with a 105.5 average.
Van Gerwen will now play Jason Lowe in Saturday afternoon's fifth round, after the Cradley Heath thrower - a Tour Card winner at Qualifying School in January - defeated Cody Harris, Jonathan Worsley and 2014 UK Open champion Adrian Lewis to reach the last 32.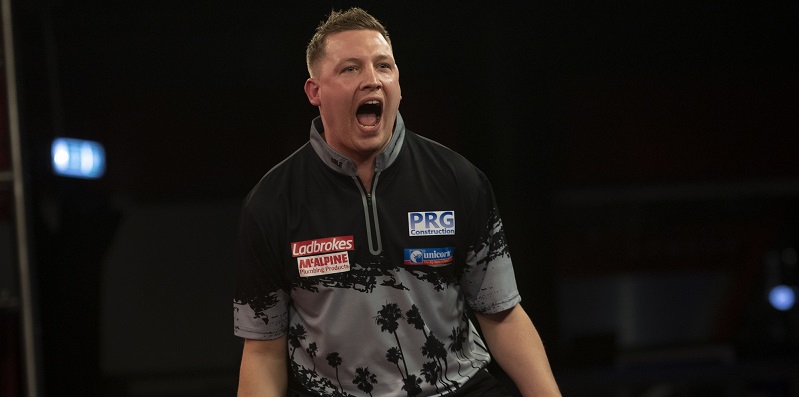 Chris Dobey and Krzysztof Ratajski both averaged over 105 in an outstanding fourth round tie which saw the Bedlington ace come from 9-8 down to win 10-9, taking out a 91 bull finish in the deciding leg of a thriller.
World number three Gerwyn Price was another impressive performer as he averaged 104 in his dominant 10-3 defeat of Danny Noppert, and the Welshman will now play Ricky Evans after the Kettering ace overcame Joe Murnan 10-4.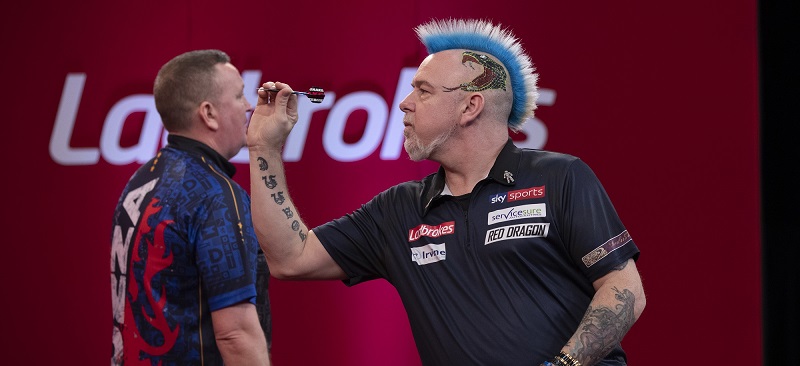 2017 UK Open champion Peter Wright emerged victorious from another tight contest, averaging over 102 in his 10-8 win over Glen Durrant.
The World Champion now plays Ian White, who averaged almost 100 in a 10-6 win over emerging talent Harry Ward.
2018 UK Open winner Gary Anderson gained revenge for his loss to Steve Beaton in this event 12 months ago with a 10-7 victory as he progressed to a tie with Plymouth's Simon Stevenson, who saw off both Kevin Doets and Darren Webster in a deciding leg.
Former World Champion Rob Cross, last year's runner-up to Aspinall in Minehead, hit back from 6-5 down to win 10-7 against Dutch youngster Niels Zonneveld.
Cross will now face Michael Smith in another plum fifth round tie, with the world number five having overcome James Wilson 10-4.
Ireland's Willie O'Connor fought off a strong fightback from Dave Chisnall to claim a narrow 10-8 win, with the Morecambe ace having begun the game wearing glasses, removed them at 5-0 down before hitting back from a seven-leg deficit to trail 8-7 at one stage.
Stephen Bunting survived three missed match darts from Vincent van der Voort as he progressed to a meeting with St Helens rival Alan Tabern, who won four games on Friday to reach the last 32.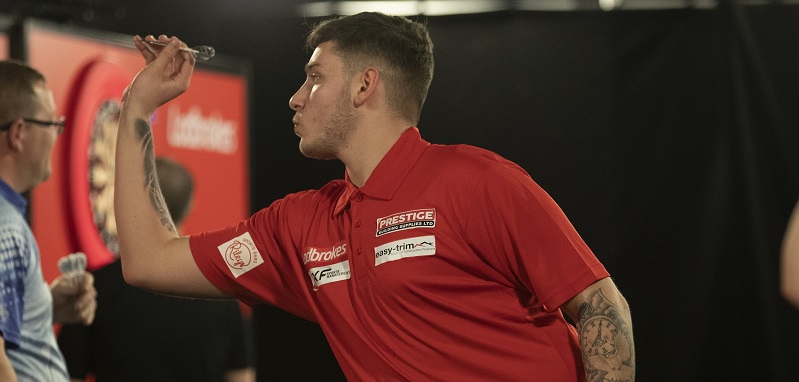 Welsh student Lewis Williams and Essex decorator Rhys Hayden were the best-performing players from the 16 Rileys Amateur Qualifiers, as both won through to the last 64.
Williams saw off Robert Owen, Adrian Gray and Jose De Sousa before losing out 10-9 to Steve West, while Hayden saw off Jamie Clark, James Richardson and Toni Alcinas before his run was ended by Dimitri Van den Bergh.
Northern Ireland's McKinstry followed up his win over Sherrock with defeats of Jason Heaver, Stephen Burton and Bradley Brooks as he moved through to the last 32.
He now plays Martin Schindler, who averaged over 102 in a superb performance against Justin Pipe in round four as the German moved into Saturday's second day.
Two-time UK Open champion James Wade saw off Scotland's John Henderson 10-5, and the left-hander now comes up against Kim Huybrechts after the Belgian ace saw off Robert Thornton and Ryan Searle on Friday.
Daryl Gurney, Jamie Hughes, Dirk van Duijvenbode and Gabriel Clemens were other 10-9 winners in the fourth round, while Jonny Clayton ended the hopes of two-time Lakeside Champion Waites.
Max Hopp withdrew from the event on Friday morning due to glandular fever. As a result, Martin Atkins - who won three games in the afternoon session - received a Bye in the fourth round draw.
Saturday will see the afternoon session's fifth round followed in the evening session by the sixth round, before Sunday sees the remaining eight players return to compete for the £100,000 title.
Click here for ways to watch Day One of the UK Open.
Click here to see Main Stage and Stage Two live scores with Sportradar.
Click here to see Stages Three-Eight live scores with DartConnect.
2020 Ladbrokes UK Open
Friday March 6
Afternoon Session 
First Round
Mike De Decker 6-2 Lisa Ashton
Scott Waites 6-4 Damon Heta
Kyle McKinstry 6-1 Fallon Sherrock
Cody Harris 6-5 Scott Taylor
Kai Fan Leung 6-3 Kelvin Self
Karel Sedlacek 6-0 Adam Hunt
Alan Tabern 6-2 Keane Barry
Andy Hamilton 6-3 Patrick Lynskey
Steffen Siepmann 6-4 Krzysztof Kciuk
Peter Jacques 6-4 Ciaran Teehan
Steve Brown 6-5 Michael Barnard
Daniel Larsson 6-5 Ryan Meikle
Jason Askew 6-4 Greg Ritchie
Jason Heaver 6-0 Jesus Noguera
Adam Smith-Neale 6-4 Ben Cheeseman 
Nathan Rafferty 6-3 Darren Beveridge
Stephen Burton 6-1 Adam Huckvale 
Rhys Hayden 6-5 James Clark
Bradley Brooks 6-5 Cameron Menzies
Harald Leitinger 6-1 Kevin Burness
Wesley Harms 6-3 Aaron Beeney
Danny van Trijp 6-4 Boris Koltsov
William Borland 6-2 Andrew Davidson 
Lewis Williams 6-5 Robert Owen
Martin Atkins 6-5 Ryan Murray
Callan Rydz 6-5 Shane McGuirk
Wayne Jones 6-1 Gary Blades
Berry van Peer 6-3 Owen Roelofs
Justin Smith 6-3 Andy Jenkins
Derk Telnekes 6-3 Martijn Kleermaker
James Richardson 6-4 Darren Penhall
Kevin Doets 6-1 Alfie Thompson
Second Round
Mark McGeeney 6-5 Scott Baker
John Michael 6-5 Jeff Smith
Kevin Doets 6-3 David Pallett
Kyle McKinstry 6-4 Jason Heaver
Dirk van Duijvenbode 6-0 Marko Kantele
Scott Waites 6-1 Geert Nentjes
Mike De Decker 6-5 Daniel Larsson
Bradley Brooks 6-2 Nick Kenny
Harry Ward 6-5 Gavin Carlin
Kai Fan Leung 6-2 Kirk Shepherd
Karel Sedlacek 6-2 Barrie Bates
Rhys Hayden 6-4 James Richardson
Andy Boulton 6-2 Reece Robinson 
Maik Kuivenhoven 6-3 Nathan Derry 
Wesley Harms 6-5 Justin Smith 
Madars Razma 6-4 Derk Telnekes 
Jonathan Worsley 6-4 Matt Clark 
Steffen Siepmann 6-2 Carl Wilkinson 
Ted Evetts 6-1 Berry van Peer
Alan Tabern 6-3 Steve Brown
Jason Lowe 6-1 Cody Harris
Martin Atkins 6-2 Christian Bunse
Nathan Rafferty 6-1 Mike van Duivenbode
Niels Zonneveld 6-4 Andy Hamilton
Jason Askew 6-5 Rowby-John Rodriguez
Yordi Meeuwisse 6-3 Peter Jacques
Lewis Williams 6-3 Adrian Gray
Joe Murnan 6-3 Harald Leitinger
Stephen Burton 6-4 Vincent van der Meer
Conan Whitehead 6-3 Wayne Jones
William Borland 6-0 Danny van Trijp
Callan Rydz 6-3 Adam Smith-Neale
Third Round
Luke Humphries 6-5 Kyle Anderson
Kim Huybrechts 6-1 Robert Thornton
Josh Payne 6-4 Luke Woodhouse
Ryan Searle 6-5 Cristo Reyes
William O'Connor 6-2 Jan Dekker
Vincent van der Voort 6-4 John Michael
William Borland 6-5 Mike De Decker
Richard North 6-4 Ron Meulenkamp
Steve West 6-2 Conan Whitehead
Bradley Brooks 6-4 Devon Petersen
Martin Atkins 6-5 Wesley Harms
Jamie Lewis 6-5 Ross Smith
James Wilson 6-4 Ted Evetts
Alan Tabern 6-4 Steve Lennon
Niels Zonneveld 6-2 Mickey Mansell
Justin Pipe 6-3 Kai Fan Leung
Ryan Joyce 6-2 Yordi Meeuwisse 
Lewis Williams 6-4 Jose De Sousa
Jamie Hughes 6-2 Nathan Rafferty
Gabriel Clemens 6-3 Maik Kuivenhoven
Dirk van Duijvenbode 6-3 Darius Labanauskas
Rhys Hayden 6-2 Toni Alcinas
Matthew Edgar 6-3 Callan Rydz
Martin Schindler 6-4 Benito van de Pas
Andy Boulton 6-4 Mark McGeeney
Jason Lowe 6-3 Jonathan Worsley
Scott Waites 6-2 Madars Razma
Jelle Klaasen 6-4 Jason Askew
Harry Ward 6-3 Steffen Siepmann
Joe Murnan 6-3 Karel Sedlacek 
Simon Stevenson 6-5 Kevin Doets
Kyle McKinstry 6-2 Stephen Burton
Evening Session
Fourth Round 
Gerwyn Price 10-3 Danny Noppert
Peter Wright 10-8 Glen Durrant
Michael van Gerwen 10-8 Nathan Aspinall
Gary Anderson 10-7 Steve Beaton
Dimitri Van den Bergh 10-5 Rhys Hayden
William O'Connor 10-8 Dave Chisnall
Stephen Bunting 10-9 Vincent van der Voort
Chris Dobey 10-9 Krzysztof Ratajski
Ian White 10-6 Harry Ward
Mensur Suljovic 10-4 Jamie Lewis
Gabriel Clemens 10-9 Ryan Joyce
Michael Smith 10-4 James Wilson
Kim Huybrechts 10-8 Ryan Searle
Alan Tabern 10-6 Richard North
Dirk van Duijvenbode 10-9 Jermaine Wattimena
Simon Whitlock 10-7 Jeffrey de Zwaan
Kyle McKinstry 10-8 Bradley Brooks
Rob Cross 10-7 Niels Zonneveld
Joe Cullen 10-7 Mervyn King
Jason Lowe 10-4 Adrian Lewis
Jelle Klaasen 10-5 William Borland
Ricky Evans 10-4 Joe Murnan
Simon Stevenson 10-9 Darren Webster
Jonny Clayton 10-7 Scott Waites
Andy Boulton 10-8 Luke Humphries
Steve West 10-9 Lewis Williams
Matthew Edgar 10-5 Josh Payne
James Wade 10-5 John Henderson
Daryl Gurney 10-9 Keegan Brown
Martin Schindler 10-2 Justin Pipe
Jamie Hughes 10-9 Brendan Dolan
Bye - Martin Atkins
Saturday March 7 
Afternoon Session (1230 GMT start)
Fifth Round
Main Stage
Chris Dobey v Simon Whitlock
Michael van Gerwen v Jason Lowe
Ian White v Peter Wright
Michael Smith v Rob Cross
Stage Two
Daryl Gurney v William O'Connor
Ricky Evans v Gerwyn Price
Kim Huybrechts v James Wade
Simon Stevenson v Gary Anderson
Stage Three
Joe Cullen v Jonny Clayton
Mensur Suljovic v Dirk van Duijvenbode
Alan Tabern v Stephen Bunting
Dimitri Van den Bergh v Matthew Edgar
Stage Four
Jamie Hughes v Martin Atkins
Steve West v Jelle Klaasen
Martin Schindler v Kyle McKinstry
Gabriel Clemens v Andy Boulton
Evening Session (1900 GMT start)
Sixth Round
Main Stage & Stage Two
* NB Session times for Saturday amended from one session to two sessions.
Sunday March 8
Afternoon Session (1245 GMT start)
Quarter-Finals
Main Stage
Evening Session (1900 GMT start)
Semi-Finals & Final
Main Stage
Format
First, Second & Third Rounds - Best of 11 legs
Fourth, Fifth & Sixth Rounds & Quarter-Finals - Best of 19 legs
Semi-Finals & Final - Best of 21 legs
Prize Fund
Winner - £100,000
Runner-Up - £40,000
Semi-Finalists - £20,000
Quarter-Finalists - £12,500
Sixth Round Losers - £7,500
Fifth Round Losers - £4,000
Fourth Round Losers - £2,000
Third Round Losers - £1,000
Total - £450,000