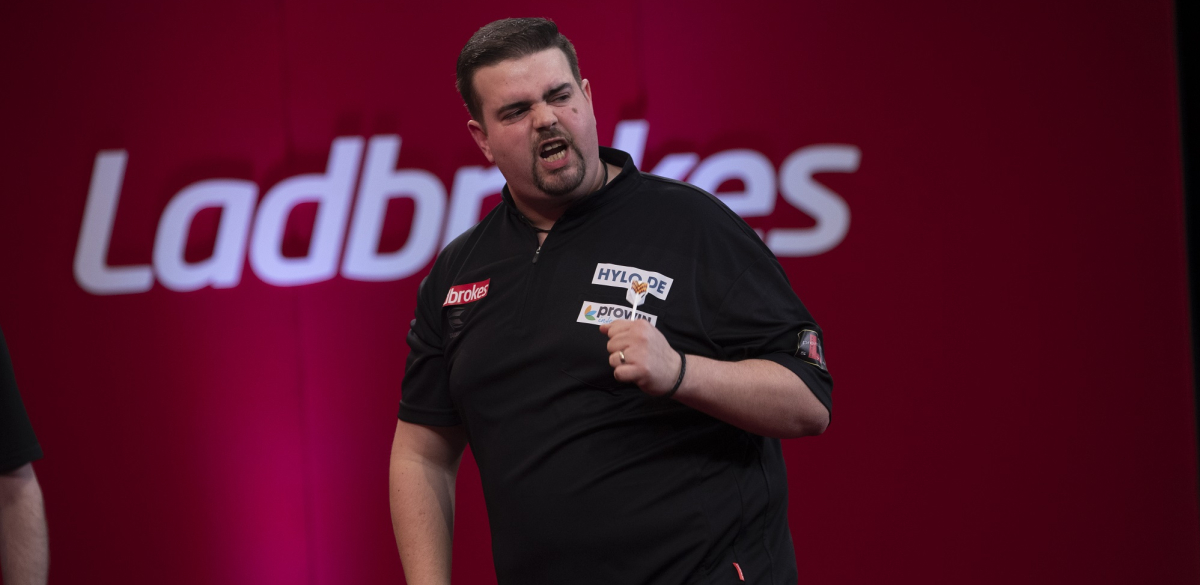 The third weekend of the Hylo Care PDC Europe Super League Germany event on May 30-31 will see Group A conclude their round-robin fixtures.
The Hylo Care PDC Europe Super League Germany can be watched on Sport1 and DAZN in Germany, Austria & Switzerland, and in PDCTV - CLICK HERE TO REGISTER AND WATCH FOR FREE.
The 16-player event sees players split into two groups of eight who are competing across two weekends apiece for places in the final stages on Sunday June 14 - with a spot in the William Hill World Darts Championship on offer for the eventual champion.
Group A began their challenge on May 16-17, when Gabriel Clemens - the 2019 German Darts Masters finalist - won all seven of his matches across the two days.
Clemens tops Group A going into the second weekend of matches on May 30-31, with Sascha Stein having won five matches - but with Kevin Munch, Steffen Siepmann and Kai Gotthardt on four wins and Michael Unterbuchner on three wins, the competition for places in the last four will be intense.
The opening weekend of Group B's fixtures on May 23-24 saw Dragutin Horvat and Daniel Klose win six games apiece, with reigning Super League Germany champion Nico Kurz picking up five wins.
Coverage in Germany, Austria and Switzerland is available through Sport1 and DAZN.
Coverage is available for the rest of the world through PDCTV and is free for all registered users.
Hylo Care PDC Europe Super League Germany
Group A
Saturday May 30 (1400 CET, 1300 BST)
Sascha Stein v Kevin Munch
Christian Bunse v Jens Kniest
Gabriel Clemens v Steffen Siepmann
Michael Unterbuchner v Kai Gotthardt
Sascha Stein v Christian Bunse
Steffen Siepmann v Jens Kniest
Kevin Munch v Michael Unterbuchner
Kai Gotthardt v Gabriel Clemens
Christian Bunse v Steffen Siepmann
Michael Unterbuchner v Sascha Stein
Jens Kniest v Kai Gotthardt
Gabriel Clemens v Kevin Munch
Michael Unterbuchner v Christian Bunse
Kai Gotthardt v Steffen Siepmann
Sunday May 31 (1430 CET, 1330 BST)
Kevin Munch v Jens Kniest
Sascha Stein v Gabriel Clemens
Christian Bunse v Kai Gotthardt
Steffen Siepmann v Kevin Munch
Gabriel Clemens v Michael Unterbuchner
Jens Kniest v Sascha Stein
Kevin Munch v Kai Gotthardt
Gabriel Clemens v Christian Bunse
Michael Unterbuchner v Jens Kniest
Sascha Stein v Steffen Siepmann
Kevin Munch v Christian Bunse
Jens Kniest v Gabriel Clemens
Kai Gotthardt v Sascha Stein
Steffen Siepmann v Michael Unterbuchner
 Format: All matches best of 11 legs