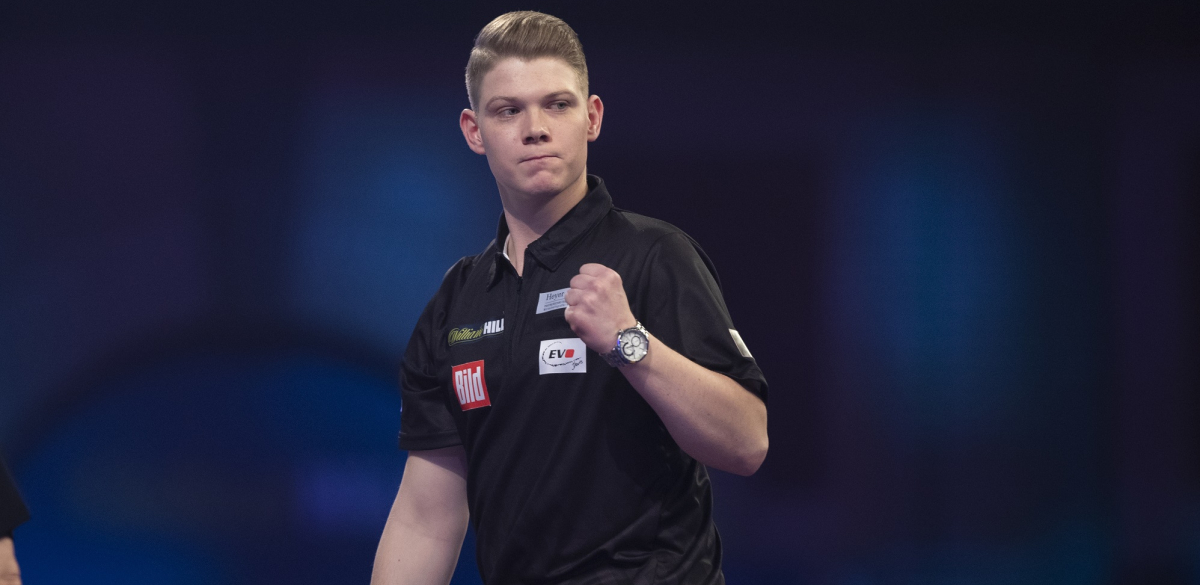 The group stage of the 2020 Hylo Care PDC Europe Super League Germany concludes on June 6-7 with the remaining matches in Group B.
The Hylo Care PDC Europe Super League Germany can be watched on Sport1 and DAZN in Germany, Austria & Switzerland, and in PDCTV - CLICK HERE TO REGISTER AND WATCH FOR FREE.
The 16-player event has already seen Gabriel Clemens, Steffen Siepmann, Kevin Munch and Michael Unterbuchner win through to the quarter-finals on Sunday June 14 from Group A.
Clemens dominated Group A, winning 12 of his 14 games across two weekends, while Siepmann picked up nine wins and Munch and Unterbuchner each collected eight victories to edge out Sascha Stein on Leg Difference.
Group B play their remaining seven games on Saturday June 6 and Sunday June 7, with the action including reigning champion Nico Kurz - who won five matches in the opening round-robin games.
Dragutin Horvat and Daniel Klose won six games apiece a fortnight ago to top the table going into the second weekend of action, with four players set to progress to the decisive Finals Day on June 14.
Coverage in Germany, Austria and Switzerland is available through Sport1 and DAZN.
Coverage is available for the rest of the world through PDCTV and is free for all registered users.
Hylo Care PDC Europe Super League Germany
Group B
Saturday June 6 (1400 CET, 1300 BST)
Karsten Koch v Nico Kurz
Rene Eidams v Thomas Kohnlein
Daniel Klose v Maik Langendorf
Manfred Bilderl v Dragutin Horvat
Rene Eidams v Karsten Koch
Maik Langendorf v Nico Kurz
Thomas Kohnlein v Manfred Bilderl
Dragutin Horvat v Daniel Klose
Karsten Koch v Maik Langendorf
Manfred Bilderl v Rene Eidams
Nico Kurz v Dragutin Horvat
Daniel Klose v Thomas Kohnlein
Manfred Bilderl v Karsten Koch
Dragutin Horvat v Maik Langendorf
Sunday June 7 (1430 CET, 1330 BST)
Rene Eidams v Daniel Klose
Thomas Kohnlein v Nico Kurz
Karsten Koch v Dragutin Horvat
Daniel Klose v Manfred Bilderl
Maik Langendorf v Thomas Kohnlein
Nico Kurz v Rene Eidams
Daniel Klose v Karsten Koch
Thomas Kohnlein v Dragutin Horvat
Manfred Bilderl v Nico Kurz
Rene Eidams v Maik Langendorf
Thomas Kohnlein v Karsten Koch
Nico Kurz v Daniel Klose
Dragutin Horvat v Rene Eidams
Maik Langendorf v Manfred Bilderl
Format: All matches best of 11 legs