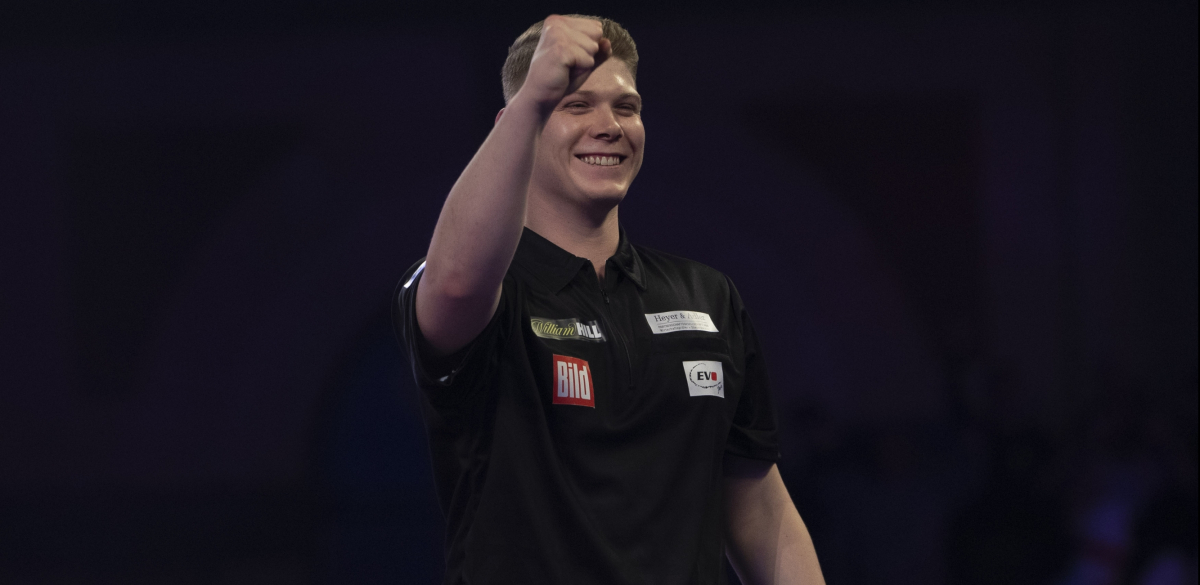 Nico Kurz believes he can make a big impression once again at Alexandra Palace in December, having secured his place at the 2020/21 William Hill World Darts Championship.
Earlier in June, Kurz came back from 8-4 down to edge out Dragutin Horvat 10-9 in a thrilling Super League Germany final, claiming the title for a second successive year and booking a World Championship return.
Widely-regarded as one of the sport's brightest young talents, 23-year-old Kurz won games against established PDC stars James Wilson and Joe Cullen on debut at last year's World Championship, and is now eyeing further scalps.
"It's massive for me to be heading back to Ally Pally, the fairy tale goes on," said Kurz, who practices every night after working as a public service mechanic through the day.
"Coming back from 8-4 down, surviving match darts and then winning was a massive joy for me. It was a significant win for my career.
"Last year was an incredible experience at Ally Pally, especially for someone who isn't a 'full-time pro' yet.
"Playing the best players on the world in the biggest stage in the world was very special, something I will always remember.
"It's going to be a new experience being back there and I hope to repeat the performances I put in there last year.
"Long-term, I'm not in a rush to win my Tour Card yet. I hope to qualify for more European Tour events once we get back playing to gain more experience in front of crowds."
Having made his TV debut in front of 20,000 fans at the 2018 German Darts Masters, Kurz made his mark at the same event in 2019 as he defeated two-time World Champion Gary Anderson.
A memorable victory was sealed with a roof-raising 170 checkout in a hugely successful tournament for German darts, as Gabriel Clemens made it all the way to the final.
"Beating Gary Anderson was obviously one of the greatest moments of my career so far," Kurz continued.
"To beat a player like that in front of 10,000 fans was the best possible preparation for Ally Pally and it set me up for playing there.
"Being around players like Max [Hopp], Gaga [Gabriel Clemens] and Robbie [Robert Marijanovic] has made the start to my darts career really enjoyable, they are great examples to follow.
"I definitely believe that there will be a German World Champion one day.
"German players have shown they can challenge the top ten players in the world on occasions, though not regularly or consistently enough so far.
"If some of us can find consistency then it's well possible for there to be a German World Champion, we've definitely got enough talent in German darts so I think it will happen one day.
"Every player loves being supported and the German fans always support German players.
"I enjoy their support very much and it's certainly not a disadvantage."