Glen Durrant has admitted that his Betfred World Matchplay semi-final defeat to Dimitri Van den Bergh was "a tough loss to take".
The three-time Lakeside Champion had been aiming to claim his maiden PDC televised title last week, as he won through to a second successive World Matchplay semi-final.
However, Van den Bergh twice battled back from behind in a see-saw battle, eventually claiming three straight legs from 15-14 down to end Durrant's brave challenge.
With the world's top four players - Michael van Gerwen, Peter Wright, Gerwyn Price and Rob Cross - all losing before the quarter-finals, Durrant has conceded his disappointment at losing out to the eventual champion.
"It's a real heartbreaker," Durrant told The Gazette. "This was such a missed opportunity.
"It's not going to happen again, I don't care what anyone says, where all the seeds are out. The bookies aren't often wrong, and for a big part of last week I was the favourite. It's a tough loss to take.
"There's a moment at 2-0 up, he's on a finish, I'm on 108. I have one dart at double 16. I missed it by a long way but suddenly if you're 3-0 up it becomes easy, you're not pulling and snatching.
"When you're 9-6 down you know you have to win legs. I even believe the game was lost as early as the third leg.
"At 15-14 up I was beginning to think the hard work is done now. But every time he opened up on his darts, when you want to hear 60, 59 I was hearing 140, 180, 125."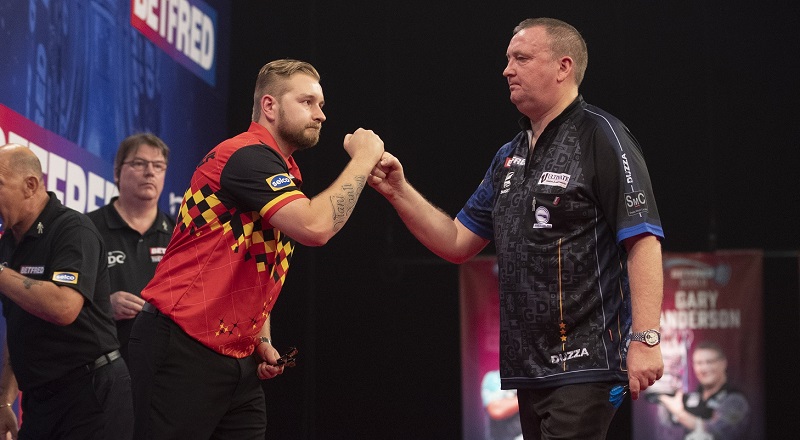 Of Van den Bergh, he added: "I am very, very proud of him but at the same time I was there to beat him. He's got an old head on young shoulders and he'll go on and do big things.
"The doors will open wide for him now. The future is very bright for that young lad."
The World Matchplay was Durrant's fourth televised semi-final since joining the PDC circuit at the start of 2019, and he is determined to now progress all the way to further silverware.
"I just can't help but feel that was the massive opportunity," he added. "When you get to one final, the finals become a lot easier to get to.
"Right at this moment, before I start, it's a real obstacle in my way that I'm struggling to get through a semi-final.
"I believe Michael Smith is going through the same thing; when he wins one major, the rest will follow. But he's 30-odd, I'm 50 this year. I want to win tournaments right now, I'm at my best right now."
GET INVOLVED!
The Betfred World Matchplay programme can be purchased now for just £3 plus shipping - order now from Curtis Sport at this link!
Buy an official Betfred World Matchplay event t-shirt through PDC Merchandise at this link.