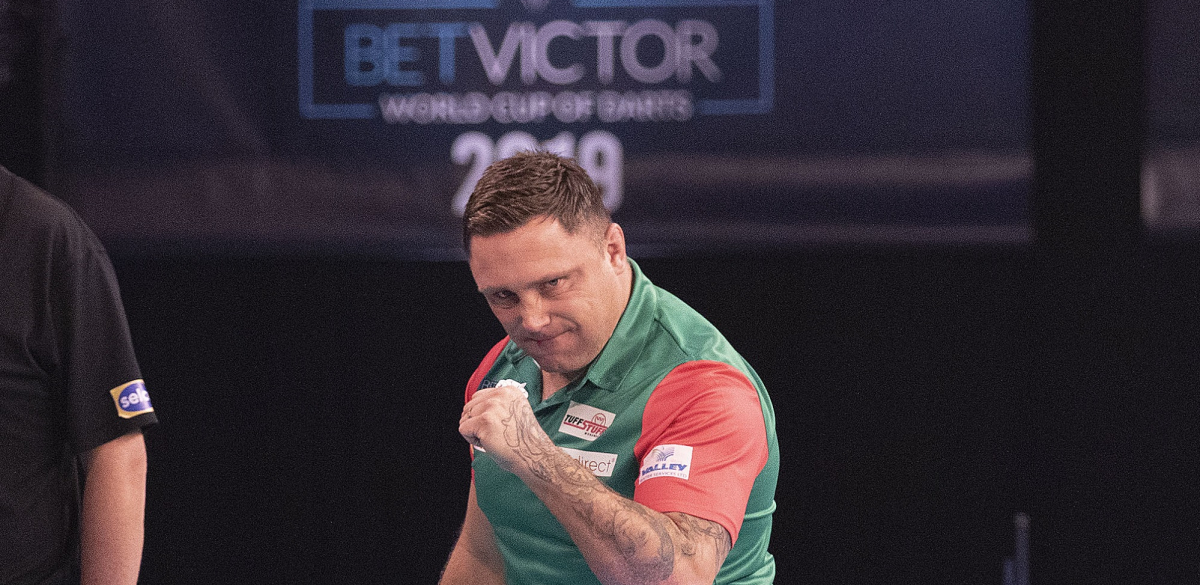 Wales and Australia will meet in a tasty quarter-final showdown at the BetVictor World Cup of Darts on Sunday after coming through high-quality ties on the second day of action in Salzburg.
This year's World Cup continued as the 16 first round winners returned to the Salzburgarena stage across two sessions on Saturday, with the extended format giving many players a chance to shine.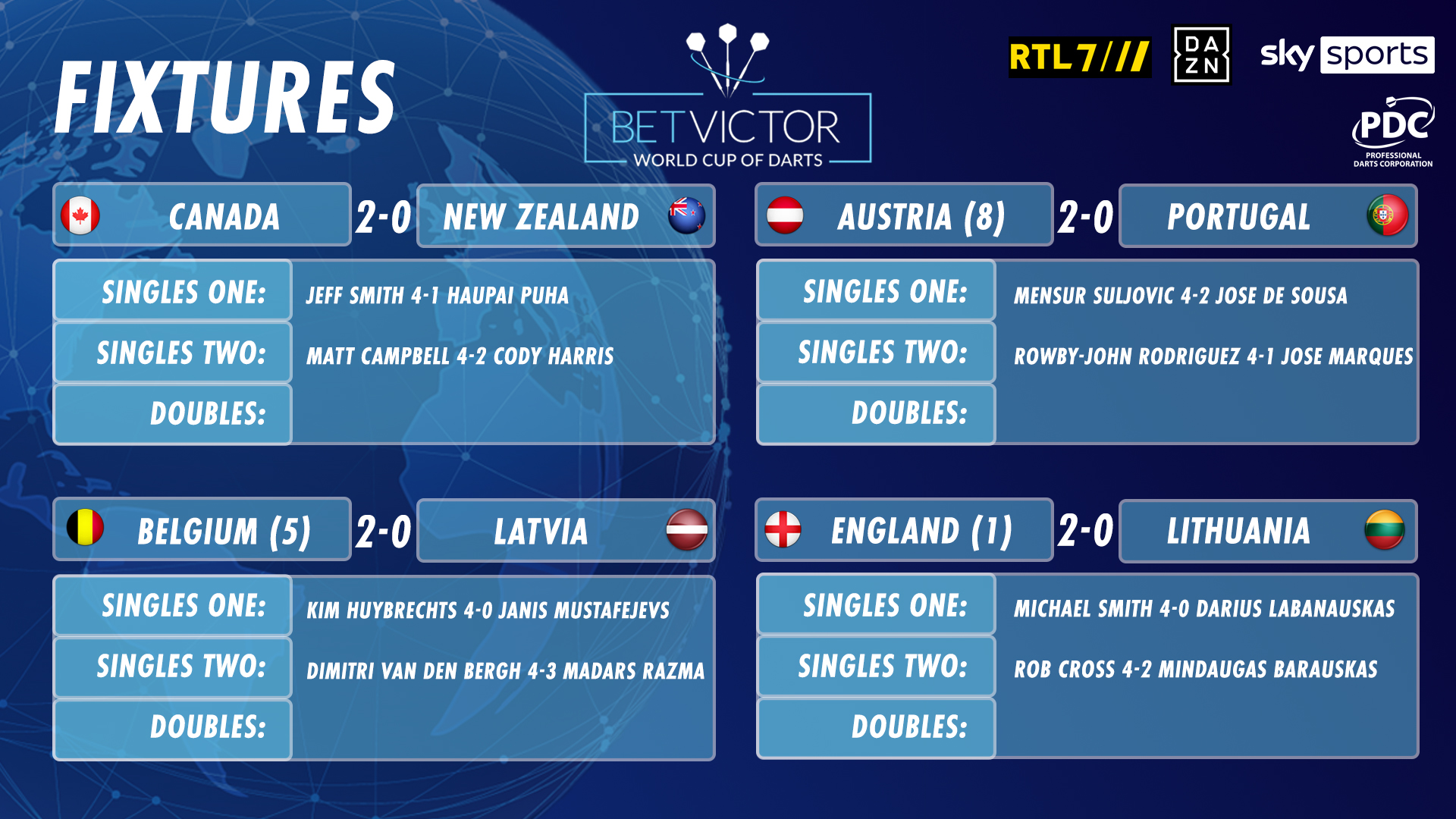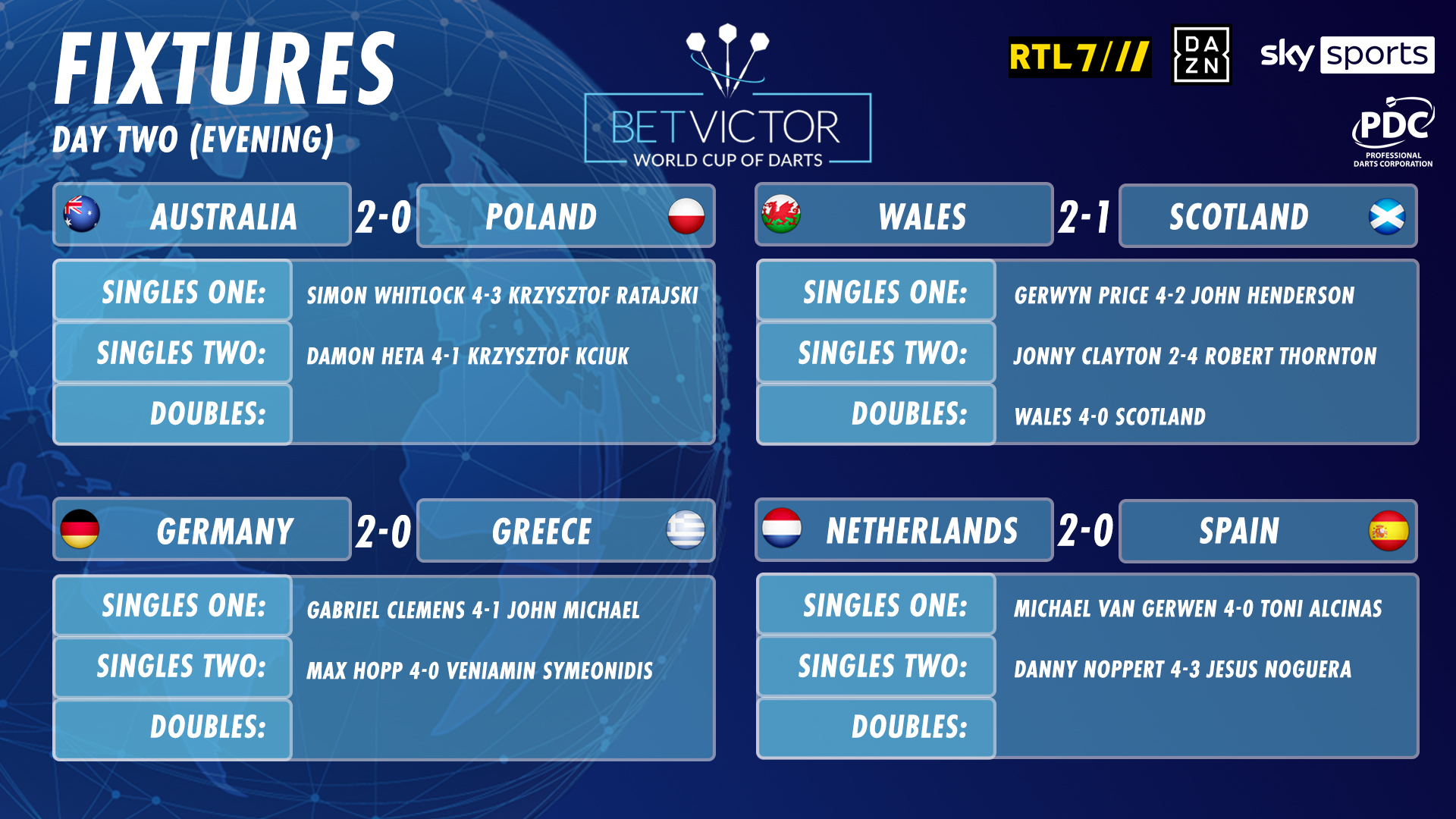 Wales produced two of the day's best performances, but were still pushed all the way as they ended Scotland's brave title defence with a 2-1 victory in the only second round tie to go to a Doubles decider.
Gerwyn Price produced a superb 104.6 average as he defied a 121 finish from John Henderson to claim a 4-2 win in the opening Singles match, finishing four doubles from seven attempts.
Robert Thornton showed his class to win the second Singles tie by the same scoreline against Jonny Clayton, but it was Wales who progressed with a superb 4-0 win in the decider, averaging 102 in a fine display.
"We showed good teamwork there," said Price. "I think we were more consistent in the Pairs today and you can't argue with a 4-0 win.
"I think it could be a good year for us. We need to concentrate on our own games and hopefully we can bring our A-game tomorrow, but I don't think anyone has won a tournament without having a little bit of luck."
Clayton added: "I let Gezzy down today with my game against Robert. I was confident going into it but Rob did the job and I had to lift my head for the Pairs.
"Gerwyn's a brilliant captain and after the game with Robert he told me to get my head back up because we had another game to go, and we came through it.
"I'm feeling good and Gez is playing awesome. It's a big game tomorrow, and I think if we both bring our A-games, we're going to win that."
Australia, meanwhile, saw off Poland 2-0 to book their place in the quarter-finals, although Simon Whitlock was left sweating as he edged out Krzysztof Ratajski in a thrilling Singles tie.
A high-quality game saw Whitlock finish 117 as the contest went all the way to a deciding leg, in which Ratajski hit two 180s but missed a dart at the bull for victory, allowing the Australian in to finish a last-dart double ten.
Heta then opened his Singles game with Krzysztof Kciuk with two 180s in a ten-darter, before going on to average 99.99 in a 4-1 victory to ensure Australia's place in Sunday's final stages.
"That was a great, solid performance from the pair of us," said Whitlock. "We both performed amazingly well but I was really pushed all the way by Krzysztof.
"It's such a short format that anyone can win this on the day, and we believe in ourselves. We're very evenly matched as a pair and as much as I want to win every tournament, it means a little bit more when you're playing for your country."
Four-time champions Netherlands will take on Germany in another eagerly-awaited tie after they defeated Spain 2-0 - although Jesus Noguera paid for missing six match darts to force a Doubles decider.
World number one Michael van Gerwen averaged almost 102 and hit four doubles from seven attempts in a whitewash of Toni Alcinas, before Noguera came from a leg down against Danny Noppert to lead 2-1 and 3-2.
Noppert forced a decider, with Noguera being first to a finish only to see six match darts go begging as the Dutchman stepped in to post double ten to secure a spot in the last eight.
"I think I won my game quite easily and I was quite confident, but I knew Danny was under pressure because he hadn't beaten Jesus before," said Van Gerwen.
"With Danny's ability, he should have ripped him off the dartboard but from here on I think it only can go better and we need to make sure we do the right things at the right moments.
"We will be the massive favourites against Germany and we need to believe in our own ability. We do this together - on your own you cannot win this tournament so you have to stand together."
Photo Gallery
German pair Gabriel Clemens and Max Hopp continued their impressive start to the tournament by moving into the quarter-finals for the loss of only one leg as they defeated Greece 2-0.
Clemens defeated John Michael 4-1 as he took out a 130 finish in a strong display, before Hopp whitewashed Veniamin Symeonidis 4-0 as they backed up Friday's 5-0 first round defeat of Finland in style.
"We're very happy to be in the quarter-finals and it's about time I made it into the semi-finals!," said Hopp, who has lost at the last eight stage three times previously.
"We are quite fluent and enjoying our games, and I can't wait for tomorrow. We have a great team spirit and are a good team together."
Four-time champions England's Michael Smith and Rob Cross ended Lithuania's hopes with a 2-0 victory to book their spot in the quarter-finals against Austria.
Smith averaged 91 as he defeated Darius Labanauskas 4-0 in the opening Singles tie - although the Lithuanian had missed his chance to take leg one - before Cross came from 2-1 down to defeat Mindaugas Barauskas 4-2.
"It was more comfortable than it maybe looked but we're just happy to be through," said Cross, who landed a ten-darter to take the lead in his contest.
"Michael went up there and did a job, but I need to start better tomorrow. I was going through the motions in the first three legs so I had to turn up because if it goes to the Pairs it's a dangerous game.
"It's our second year playing together and I'm more relaxed. I feel great and I've got the ultimate belief in Michael - we've got a strategy and I think it's working."
Austria moved into the quarter-finals for the fourth time in five years by defeating Portugal 2-0 in their second round meeting.
Mensur Suljovic opened the tie with a 4-2 defeat of Jose De Sousa, who hit back from 3-0 down to threaten an upset, before Rowby-John Rodriguez overcame Jose Marques 4-1 to seal the win.
"It's a big win," said Suljovic. "Jose is a brilliant player but today I was better than him, and I was focused.
"Rowby is a great friend and I've known him since he was young. We are a good team and I'm so happy to be through."
Canada won through to their first World Cup of Darts quarter-final since 2016 with a 2-0 defeat of New Zealand, who had been bidding to reach the last eight for the second straight year.
Jeff Smith gave Canada the early advantage as he defeated Haupai Puha 4-1 in the opening Singles tie, sealing victory with a 100 finish.
Cody Harris put New Zealand 2-0 up in the second Singles contest, but Matt Campbell produced a stirring fightback to win four straight legs, all between 13 and 15 darts, to take a 4-2 win and put Canada into Sunday's final day.
"We're thrilled to win," said Smith. "To be through without having to play the Doubles match is awesome and it shows what a partner I have in Matt
"We've never been in the semi-finals before but I've got a talented player alongside me. Matt can beat anybody and we'll back ourselves in the Doubles if it's needed.
"Canada is the friendliest place on earth but on the dartboard we can be mean! We feel pretty confident in each other's games and we'll give it our best shot."
Canada will now face Belgium, who saw off Latvia 2-0 but needed a gritty fightback from Dimitri Van den Bergh against Madars Razma to avoid a Doubles decider.
Kim Huybrechts gave Belgium the early advantage with a 4-0 defeat of Janis Mustafejevs, only for Razma to take a 3-1 lead in his clash with Van den Bergh.
The World Matchplay champion survived two missed match darts in leg five as he posted a 14-darter to begin his fightback, before levelling and then taking victory with a 103 checkout.
"We showed we are humans today," said Van den Bergh. "We gave it our best but sometimes it doesn't go the way you want it to and we know we can do a lot better.
"I had to dig deep. I was struggling but I still managed to scrape the win, and I believe in us. I know we will raise our game and tomorrow is a new day."
The £350,000 tournament will conclude on Sunday, with the afternoon session's quarter-finals followed in the evening session by the semi-finals and final.
Van Gerwen remains the only player left in the tournament to have previously lifted the title, with the Netherlands and England both seeking a fifth World Cup victory in the tenth staging of the event.
The BetVictor World Cup of Darts will be televised on Sky Sports as well as through the PDC's international broadcast partners including RTL7 and DAZN, as well as for PDCTV 'Rest of the World Subscribers' and on matchroom.live.
2020 BetVictor World Cup of Darts
Saturday November 7
Afternoon Session 
4x Second Round
Canada 2-0 New Zealand
Singles One: Jeff Smith 4-1 Haupai Puha
Singles Two: Matt Campbell 4-2 Cody Harris
Doubles (not required)
Austria 2-0 Portugal
Singles One: Mensur Suljovic 4-2 Jose De Sousa
Singles Two: Rowby-John Rodriguez 4-1 Jose Marques
Doubles (not required):
Belgium 2-0 Latvia
Singles One: Kim Huybrechts 4-0 Janis Mustafejevs
Singles Two: Dimitri Van den Bergh 4-3 Madars Razma
Doubles (not required):
England 2-0 Lithuania
Singles One: Michael Smith 4-0 Darius Labanauskas
Singles Two: Rob Cross 4-2 Mindaugas Barauskas
Doubles (not required):
Evening Session
4x Second Round
Australia 2-0 Poland
Singles One: Simon Whitlock 4-3 Krzysztof Ratajski
Singles Two: Damon Heta 4-1 Krzysztof Kciuk
Doubles (not required):
Wales 2-1 Scotland
Singles One: Gerwyn Price 4-2 John Henderson
Singles Two: Jonny Clayton 2-4 Robert Thornton
Doubles: Wales 4-0 Scotland
Germany 2-0 Greece 
Singles One: Gabriel Clemens 4-1 John Michael
Singles Two: Max Hopp 4-0 Veniamin Symeonidis
Doubles (not required):
Netherlands 2-0 Spain
Singles One: Michael van Gerwen 4-0 Toni Alcinas
Singles Two: Danny Noppert 4-3 Jesus Noguera
Doubles (not required):
Sunday November 8
Afternoon Session (1300 local time, 1200 GMT)
Quarter-Finals
Canada v Belgium
England v Austria
Wales v Australia
Netherlands v Germany
Evening Session (1900 local time, 1800 GMT)
Semi-Finals
England/Austria v Canada/Belgium
Wales/Australia v Netherlands/Germany
Final
v
Format
Second Round, Quarter-Finals & Semi-Finals
The Second Round, Quarter-Finals & Semi-Finals will be played as two best of seven leg 501 Singles matches, with both nations nominating the order in which their players play. In the event of both nations winning one Singles match apiece, a best of seven leg 501 Doubles match will be played to decide the tie.
Final
The Final will be played as two best of seven leg 501 Singles matches, with both nations nominating the order in which their players play the first two matches, followed by a best of seven leg 501 Doubles match and then Reverse Singles matches. The first team to win three games is declared the winner.