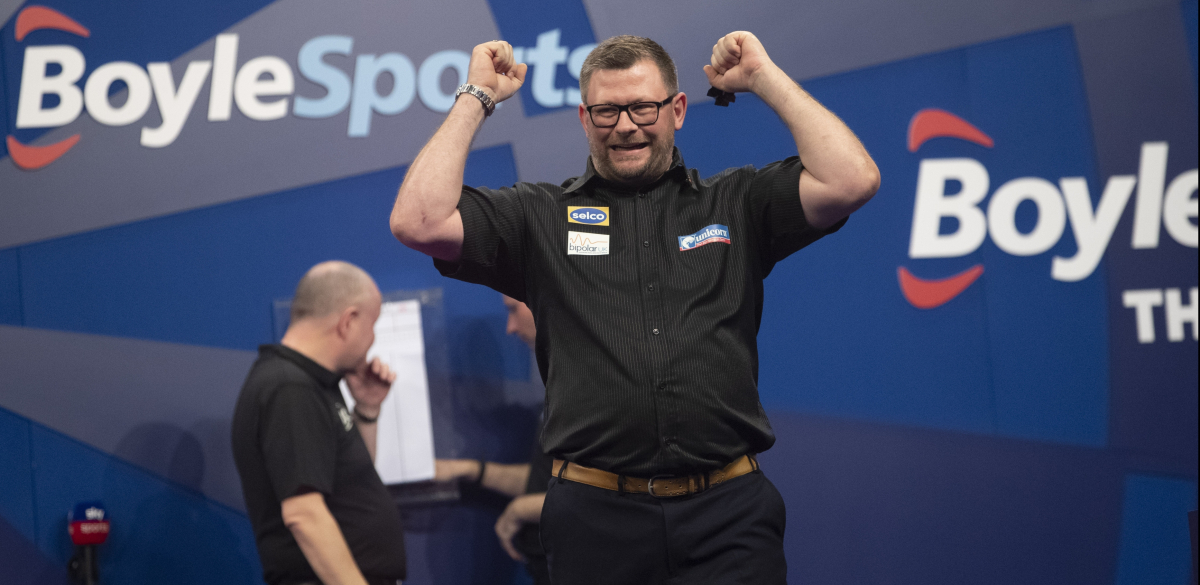 James Wade believes the landscape of the sport is wide open as he embarks on his 14th BoyleSports Grand Slam of Darts appearance next week.
 
Wade recently publicly stated his opinion that the top level of the sport isn't as high as it was five years ago when Phil Taylor and Michael van Gerwen were at their best.
 
The longest-serving member of the world's top 16 believes that has been reflected in the wider spread of TV event winners in 2019 and in particular 2020.
 
"It's really open at the moment. The standard isn't what it was - it's definitely a better standard throughout, the lower end of the standard is definitely higher, but the top ten or 12 is quite a long way off," Wade told The Darts Show Podcast.
 
"Some people who have won titles, I don't think those players would have won under normal circumstances, but that's my opinion.
 
"I honestly don't think some of the tournaments that have been won this year would have been won by those players under normal circumstances in a room full of a crowd that's putting pressure on people. They do affect results; everyone always forgets the crowd does enable people to win and lose at times.
"Michael van Gerwen is without a doubt the second best player that's ever walked the planet, but the crowd have helped him and disabled some other players during games.
 
"When you're trying to go for a double to beat someone like Michael, some of the players collapse when the crowd shout at them. That does play a part in some of the big games.
"I think it's easier with a crowd if I'm honest. I also find that with a lot of the top players, the ones that jump about and bounce off the crowd, I believe they're struggling because they haven't got that to bounce off and I think that does make a difference for some players."
Wade isn't placing any expectation on himself ahead of the Grand Slam of Darts, but remains confident of adding to his tally of televised titles in the years to come.
 
The 37-year-old will maintain his record of competing in every staging of the tournament since its inception in 2007, having come runner-up in 2010 and 2016.
 
"I'm feeling quite good about myself, so we'll see what happens. I don't like building myself up for a great fall," Wade explained.
 
"I never don't think I can win a major, I always do. It depends on what head I've got on that week at that time.
 
"If I'm interested, there's no reason why I can't win majors. I know I'll win more, how many I don't know.
 
"I've proved it before and I'll prove it again many times I'm sure. I'm confident in my game, I'm even more confident when I've got the right mindset at the beginning of a week.
 
"I'm enjoying it a bit more at the moment. Perhaps I had a little bit of a nudge to realise that I'm still lucky to be able to do my job.
 
"We're lucky to be playing and some people aren't fortunate at the moment in this climate to do their job and earn a living. We are the fortunate ones."
* Download & subscribe to The Darts Show podcast via Spotify, Apple, Google or wherever you listen to your podcasts.
The BoyleSports Grand Slam of Darts will see a 32-player field, comprising PDC event winners and qualifiers along with two BDO players, competing for £550,000 in prize money.
The tournament will be broadcast live on Sky Sports, as well as through the PDC's international broadcast partners including RTL7 and DAZN and for PDCTV Rest of the World Subscribers.
Schedule of Play
Monday November 16 
Afternoon Session (1300 GMT)
8x Group matches

Evening Session (1900 GMT)
8x Group matches
Tuesday November 17 
Afternoon Session (1300 GMT)
8x Group matches
Evening Session (1900 GMT)
8x Group matches
Wednesday November 18 (1500 GMT)
8x Group matches
Thursday November 19 (1900 GMT)
8x Group matches
Friday November 20 (1900 GMT)
4x Last 16 matches
Saturday November 21 (1900 GMT)
4x Last 16 matches
Sunday November 22
Afternoon Session (1300 GMT)
2x Quarter-Finals
Evening Session (1900 GMT)
2x Quarter-Finals
Monday November 23 (1900 GMT)
2x Semi-Finals
Tuesday November 24 (1800 GMT)
Final