Phil Taylor has hailed Gerwyn Price's William Hill World Darts Championship triumph, admitting that "the best player won" at Alexandra Palace.
Price capped a remarkable seven-year rise in the sport when he defeated Gary Anderson on January 3 to become World Champion - also taking the world number one spot in the process.
The Welshman revealed afterwards that Taylor had been sending him messages of encouragement during the event, and the 16-time World Champion has spoken of his pleasure in seeing Price lift the Sid Waddell Trophy.
"I was pleased," Taylor told the PDC. "We text each other a lot, he's a good lad, I like him.
"I know he's got that little bit of 'umph' in his game but I do quite like that as well and a lot of players are doing that now. He's got fire in his belly.
"I see the dedication he's done. He was asking me advice before the World Championship, I can only tell him what I did, which I think he took on board, and he's gone in there and won it with style.
"I think he was the best player. He's old school, he listens - he's a bit older than most of the players so he's sensible, he takes your advice. He wants to be the best at what he does."
Price's success saw him end Michael van Gerwen's seven-year reign as world number one, and Taylor admits that the Dutchman faces a battle if he is to regain his spot as the sport's standard-bearer.
"He set the bar, people now are matching him, they're not frightened of him any more," added Taylor. "If he goes up there and hits nine- or ten-darters, people can do it back.
"It depends how he is mentally, if he can take the pressure, but he's getting older as well; he's got responsibilities, children at home - so it all depends on him really."
Van Gerwen had seen players such as Simon Whitlock, Ian White and Dave Chisnall produce sensational performances to end his hopes in televised tournaments over the past year - notably with the latter's 5-0 World Championship quarter-final triumph.
Taylor admits that he had also had to cope with rivals lifting their game against him during his own stellar career, saying: "I used to call it the Manchester United syndrome.
"If Port Vale played Manchester United they played well, if Leyton Orient played them, they'd play out of their skin.
"You play the player; when you say you don't play the player, you just play the game, it's rubbish! Course you do.
"If you go in the ring with Anthony Joshua, you've got to fight the best you've ever fought otherwise he's going to knock your head off. It's the same in darts, you've got to get up there and perform.
"You seem to go into a little bubble, where you're not so nervous so you concentrate and play better."
2020 also saw double World Youth Champion Dimitri Van den Bergh step up to claim the World Matchplay title, and Taylor also believes that the Belgian has the potential to star in the 2021 Unibet Premier League.
He said: "Dimitri I know is having problems with his leg but is brilliant and then he's not so good; there's no middle section.
"To be a World Champion or world number one, you've got to be good all the time and then brilliant when you have to be. That's the secret - consistency, keep your levels high."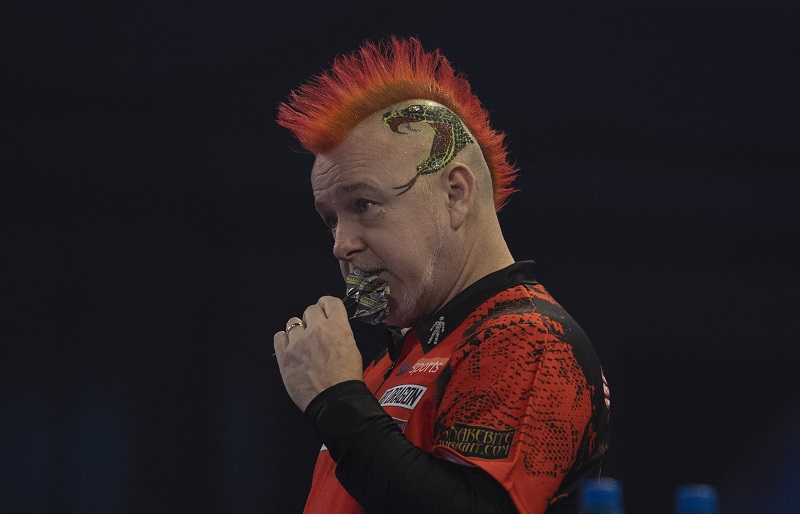 Peter Wright's reign as World Champion was ended in the third round at Alexandra Palace by Germany's Gabriel Clemens, and Taylor is backing the colourful Scot to bounce back this year.
"I would definitely get a dart that suits him," added the Stoke great. "Swapping and changing isn't doing him any favours, but he performs and he's a brilliant player.
"I think the pressure took its toll this year, I could see it in his eyes when he was playing. He was nervous and he was heartbroken when he walked off the stage, but it's something you have to learn.
"You have to go through this, sometimes knocking you down does you good because you get back up a bit stronger."