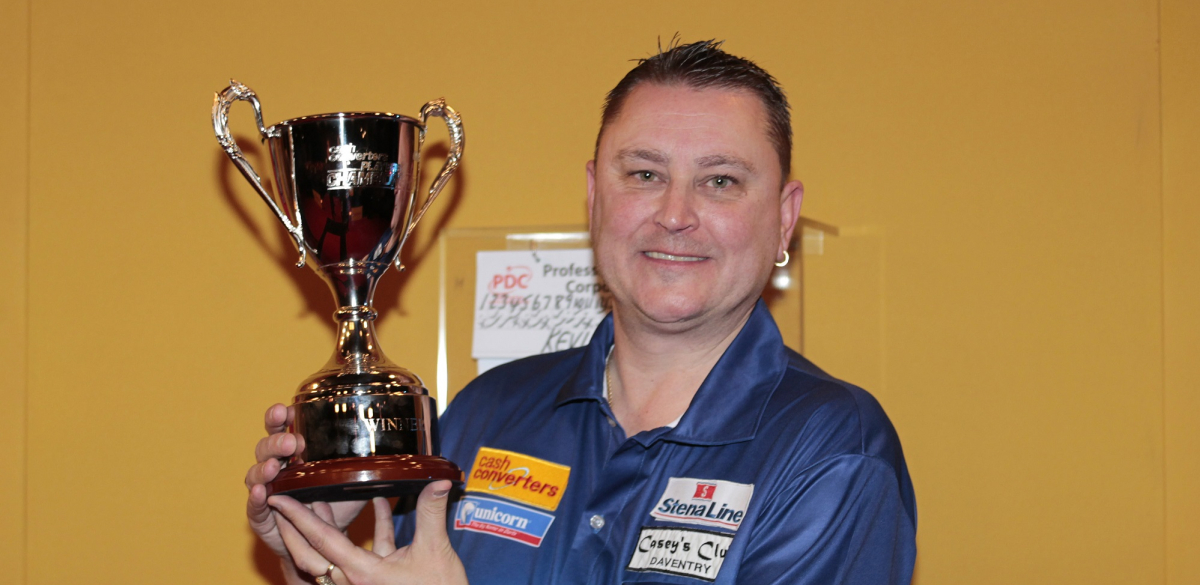 Kevin Painter has spoken with pride about his career after announcing his retirement from professional darts, bringing the curtain down on almost three decades competing in the sport.
Painter initially broke through in the early 1990s, and first took to a PDC stage at the 2000 World Grand Prix, before joining the PDC circuit the following year.
He went on to reach the 2003/04 World Championship final as he contested a classic against Phil Taylor which went all the way to a sudden-death leg, before finally claiming glory on the big stage at the 2011 Players Championship Finals.
Painter subsequently competed in the Premier League in 2012, but lost his PDC Tour Card at the end of 2018.
He played on the PDC Unicorn Challenge Tour in 2019 and 2020, but after missing out on regaining a Tour Card at the 2021 PDC Qualifying Schools has now announced his decision to retire.
"I'm proud - it's 25 years of good memories really," Painter said, in an interview with the PDC. "I've been a professional for 25 years now and about 1983-84 was when I first picked up a set of darts, so it's been a long time and it's been great all the way along.
"I've enjoyed it. I've been very fortunate to play in some of the things I've played in, go to some of the places I've been and it's been an enjoyable time.
"I've been thinking about [retiring] for 18 months or so. I thought that if I didn't get my card at Q School I was going to be really disappointed and it was going to be a bad time for me, but it's not.
"It started to go downhill a bit around about 2014, I started to find it harder to enjoy the events.
"I only looked forward to going to the TV events, I didn't look forward to going to the floor events, and when you're not enjoying what you're doing, it makes it twice as hard.
"You've got to play against these great players, and if mentally you're not right then that's going to be difficult.
"I'm not stopping because I'm not good enough. I keep repeating the same mistakes all the time, and over the last three years I've lost too many games that I should have won and had chances to win and messed it up.
"If you had to narrow it down to one thing, I can't concentrate as well as I used to over the distance of games.
"In a strange way I feel like I've got a weight of expectation off my shoulders from myself. When you're still trying to play and get back on the tour, because I know I've got the ability it's frustrating and every time you turn up you're trying harder and harder. When it's not working, the expectation's still there.
"But I feel alright now that I've made the decision not to carry on with it; I'm not packing up darts completely, I enjoy the game but I'm just going to step back from the PDC side of things.
"I'm still going to do some competitions and carry on with my exhibition work but I think it's time to step away.
"Instead of being disappointed about it, I have to look back at these moments and a lot of it was great."
Painter's crowning moment came when he defeated Mark Webster to win the Players Championship Finals in December 2011, sinking to his knees in delight as he finally claimed big-stage glory.
"It was a relief to win one," reflects the 53-year-old of a memorable night at the Doncaster Dome. "Once I'd got to 2011 you start to wonder if you have had your best chances of winning a TV major.
"I got myself in a good position in that match and thought 'I'm not going to throw this away now because I might not get another chance.'
"I got the match out of the way with one dart at a double as soon as it came around - if you mess around, sometimes you don't get another go.
"It was relief and the pleasure of doing it. There's going to be thousands of players who won't win a TV major, even more that won't get to a World Championship final.
"I've won a TV major, been in a [World Championship] final and played in the Premier League - that's not bad really.
"I loved every single minute of that Premier League, it was fantastic. In a way, I was absolutely useless on the ProTour that five months we were on that Premier League [tour] because all I could think about was the Premier League night.
"We'd come off that on a Thursday and on Friday you're travelling off to the ProTour. All I was thinking about was the following Thursday night because it was so exciting. I loved it."
Painter was also a UK Open and Las Vegas Desert Classic semi-finalist during his career and won a handful of PDC ranking titles.
"I think I underachieved in some ways but a lot of that was because [I] clashed with Phil," he added, having often met Taylor in quarter-finals or semi-finals due to their seedings.
"Phil was winning everything, and if Phil wasn't about I'm pretty sure that I'd have won a World title for a start, and I might have won several other majors that we played in that Phil took me out in when I was on a good run!
"There's plenty of other players could say exactly the same, but I can look back and I've done a lot of decent things that a lot of players would have a hard time nowadays to emulate."