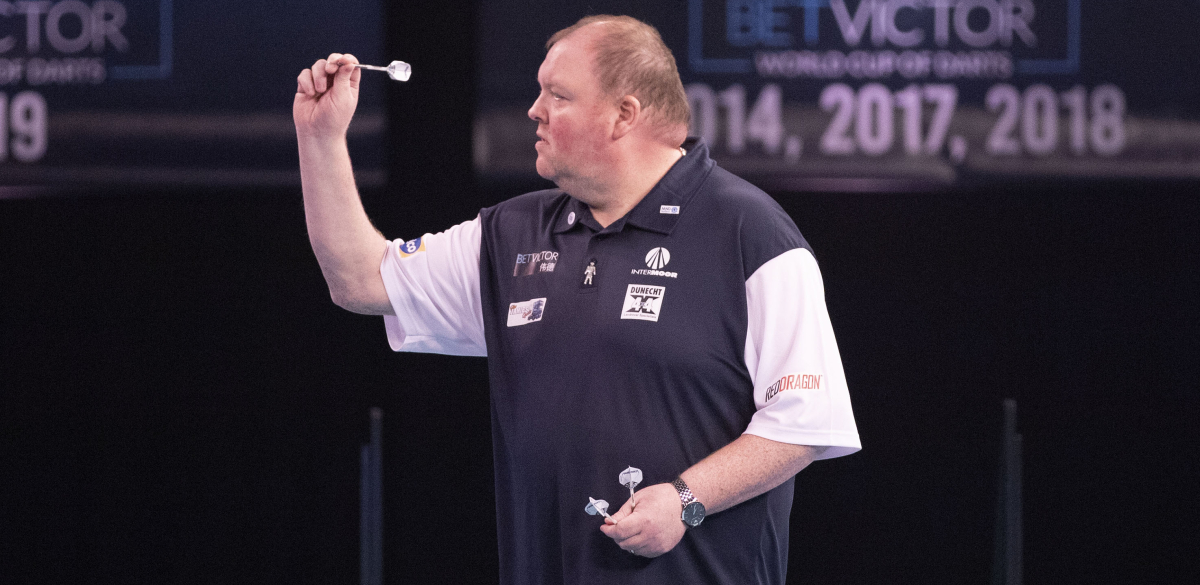 John Henderson is hoping to improve his game under the tutelage of Scottish skipper Peter Wright at the Cazoo World Cup of Darts.
Crowd favourite Henderson received a late call-up to the Scotland side following the withdrawal of Gary Anderson, who lifted the World Cup title alongside Wright in 2019.
Last year's event saw Henderson fly the Saltire alongside Robert Thornton, but this year the 48-year-old is happy to be guided through by world number two Wright.
"I know Peter very well and over the last few years he has given me quite a few pointers," Henderson told The Darts Show Podcast.
"He gives me a lot of advice about my throw and stuff like that, he thinks about the mechanics of the game a lot.

"There is a bit of pressure on me given the last time Peter played in the World Cup with Gary they won it.
"I'll listen to all the advice he's going to give me, I think he will certainly captain me for sure. I'll take everything in and hopefully we'll do well.

"He's just come won the World Matchplay and he's world number two, but I've got the game to keep up with him."
Asked whether he could emulate the recent success of Jonny Clayton who lifted the 2020 World Cup title before going on to win The Masters and Premier League in 2021, Henderson replied: "I'm certainly hoping that will be the case.
"Playing with Gezzy last year was the start of Jonny's fantastic run. Hopefully I can bounce off Peter this weekend in a similar way and kick-start my season which hasn't been the best so far
"Over the last few months I've slipped to 44th in the world, I do believe I'm better than that but I've found it hard recently."
Last year saw Henderson and Thornton win their opener against Japan before going down 2-1 to eventual champions Wales in the last 16.
'The Highlander' believes he can use the experience to his advantage this time around, and spoke of the pride at his call-up.
"When I got the call I was thrilled to bits, I really was," Henderson continued.

"To represent your country in any sport is special and another proud moment in my career.
"I thought last year would be my only appearance at the World Cup, so I'm happy to have another crack at it.

"Hopefully I can learn from last year and go a bit further this time, I'm excited to get going
"I was quite good at pairs back in my BDO days, I quite enjoyed playing in pairs events. It does knock you out of your rhythm but hopefully I'll adjust quickly."
The Cazoo World Cup of Darts will take place from September 9-12 at the Sparkassen Arena in Jena, Germany.
Tickets for the Cazoo World Cup of Darts can be purchased via PDC Europe.
The Cazoo World Cup of Darts will be broadcast through Sky Sports, RTL7, DAZN and worldwide broadcast partners, as well as through PDCTV for Rest of the World Subscribers (outside UK & Ireland) and matchroom.live.
2021 Cazoo World Cup of Darts
Schedule of Play
Thursday September 9 
Evening Session (1900 local time, 1800 BST)
8x First Round
Hungary v Lithuania
Czech Republic v Poland
Gibraltar v Singapore
USA v Sweden
Scotland v China
Netherlands v Denmark
Wales v Finland
Australia v Italy
Friday September 10
Evening Session (1900 local time, 1800 BST)
8x First Round
Russia v Japan
Spain v South Africa
Republic of Ireland v Portugal
Austria v Philippines
Northern Ireland v Hong Kong
Germany v Canada
England v Brazil
Belgium v Croatia
Saturday September 11
Afternoon Session (1400 local time, 1300 BST)
4x Second Round
Evening Session (2000 local time, 1900 BST)
4x Second Round
Sunday September 12
Afternoon Session (1300 local time, 1200 BST)
Quarter-Finals
Evening Session (1900 local time, 1800 BST)
Semi-Finals & Final