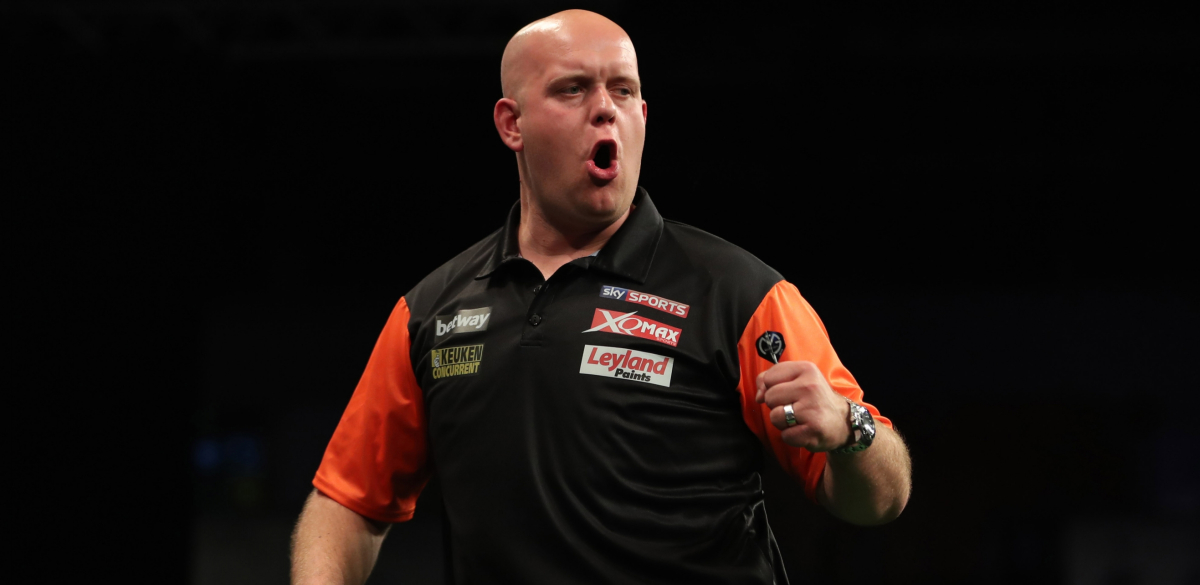 Ahead of the start of the 2021 Cazoo World Cup of Darts, PDC Stats Analyst Christopher Kempf takes a look at which players tend to perform best in the unique pairs format...
A PDC professional's career is a solitary struggle for personal achievement to the detriment of all other players, with one exception.
For one weekend of the year players team up with another who is normally a rival and an opponent. For statistically-inclined fans, it provides a unique proving ground for answering the question: which players thrive as a member of a team?

The highest average of a player's contribution to a pairs effort in the World Cup is Michael van Gerwen's 125.56, in the Netherlands' 2014 victory over Norther Ireland.
MvG hit 13 out of 19 treble 20s and was successful in both double attempts in a whirlwind whitewash of Brendan Dolan and Mickey Mansell.
Together with Raymond van Barneveld's 110+ average contribution, the Dutch pair's 117.88 still stands, seven years later, as the world record TV average in a pairs match.
In fact, that legendary Dutch pairing holds four of the five highest averages in a World Cup pairs contest - no other duo appears more than once in the top ten list.
The defending champion Welsh team strikes an unusual balance between doubles, teamwork and consistency - the pairing has complementary strengths and weaknesses.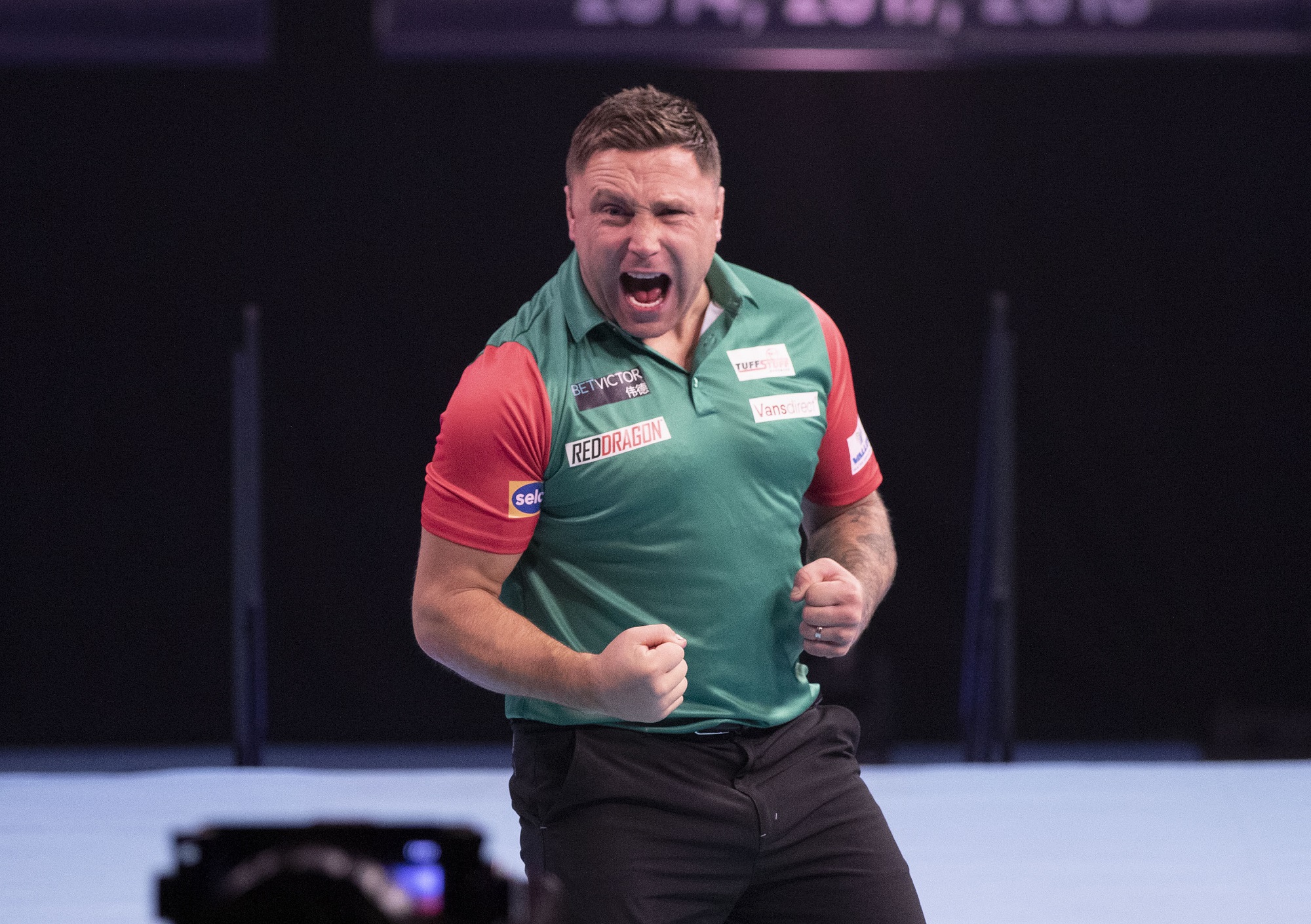 Gerwyn Price has averaged five points more in pairs matches in his World Cup career than in singles matches and has been a dominant, intimidating presence with four players sharing the stage.
His pairs exploits include a 112.35-average contribution to the pairs match in last year's final, and a 103.67 average against the Dutch team in 2017, making him the only active player never to have averaged less than 100 in a pairs final.
In contrast, Jonny Clayton is, by a 15-point margin, the weaker player in pairs, but actually outperforms the World Champion in the singles matches, which comprise the majority of matches from the second round onward.
Should a best-of-three points match come down to the deciding pairs contest, few teams are better positioned to win those matches relative to the singles than Germany.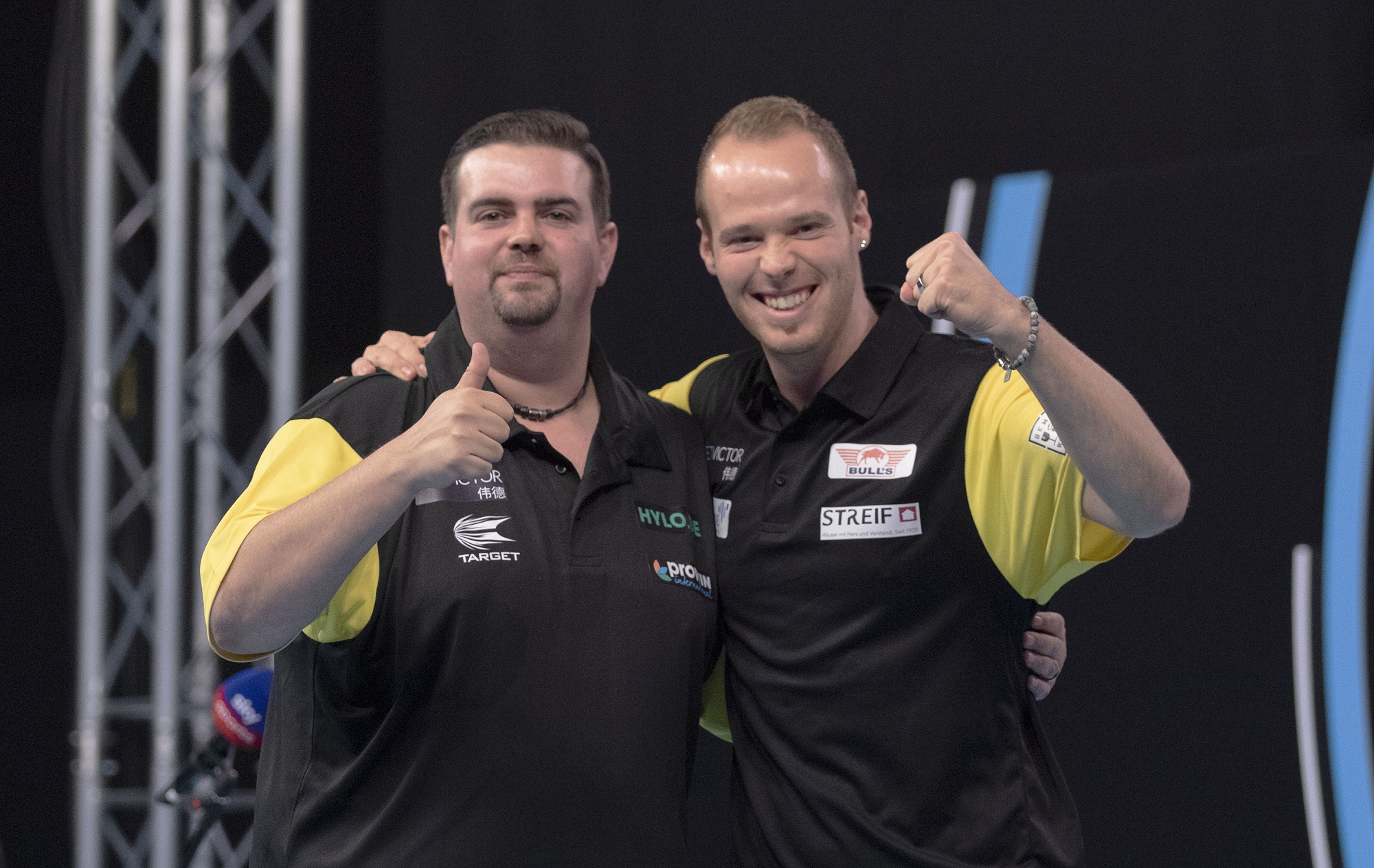 Of all players with at least one pairs match under their belts, no one has contributed more successfully than Gabriel Clemens and his 99.47 average.
His teammate Max Hopp, along with Paul Lim and Dimitri Van den Bergh, belong to a small group of players who have higher averages outside of the traditional singles context.
Since so many players have no other experience in the PDC playing pairs matches on TV, and having to wait 3 times as long to return to the board, their achievements are remarkable and indicate that they have great chemistry with their teammates and enjoy the challenge of encouraging and supporting their partner.
One of the players best-positioned to have a crack at a doubles nine-darter is Simon Whitlock, whose 0.39 171-180 per leg in a doubles match leads all other players with more than five pairs outings under their belts.
He is joined for the second time by Damon Heta, whose debut saw him score three-treble visits at a rate exceeding 0.6 per leg.
These two players, judging by their previous records as members of team Australia, are most likely to complete a perfect leg.
It would be a fitting tribute to the late Kyle Anderson, with whom Whitlock came within two darts of an historic nine-darter back in 2016.
Tickets for the Cazoo World Cup of Darts can be purchased via PDC Europe.
The Cazoo World Cup of Darts will be broadcast through Sky Sports, RTL7, DAZN and worldwide broadcast partners, as well as through PDCTV for Rest of the World Subscribers (outside UK & Ireland) and matchroom.live.
2021 Cazoo World Cup of Darts
Schedule of Play
Thursday September 9 
Evening Session (1900 local time, 1800 BST)
8x First Round
Hungary v Lithuania
Czech Republic v Poland
Gibraltar v Singapore
USA v Sweden
Scotland v China
Netherlands v Denmark
Wales v Finland
Australia v Italy
Friday September 10
Evening Session (1900 local time, 1800 BST)
8x First Round
Russia v Japan
Spain v South Africa
Republic of Ireland v Portugal
Austria v Philippines
Northern Ireland v Hong Kong
Germany v Canada
England v Brazil
Belgium v Greece
Saturday September 11
Afternoon Session (1400 local time, 1300 BST)
4x Second Round
Evening Session (2000 local time, 1900 BST)
4x Second Round
Sunday September 12
Afternoon Session (1300 local time, 1200 BST)
Quarter-Finals
Evening Session (1900 local time, 1800 BST)
Semi-Finals & Final