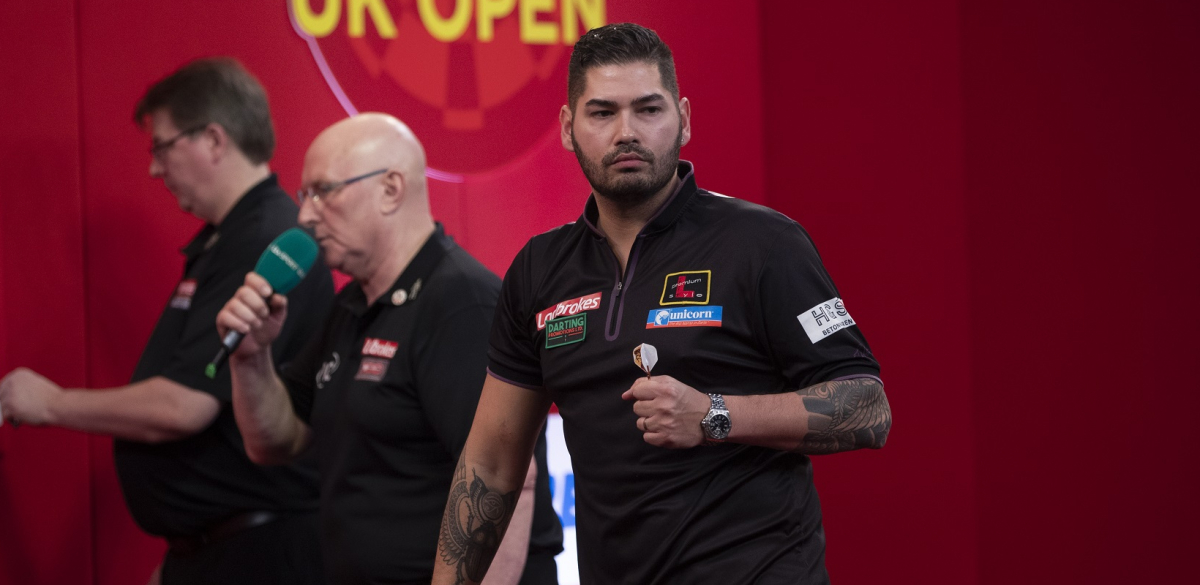 Jelle Klaasen, Paul Hogan and nine-dart star Matt Good were amongst the players to win Cazoo UK Open spots on the third weekend of Rileys Amateur Qualifiers.
Klaasen, a semi-finalist in the 2016 UK Open, had lost his Tour Card at the end of 2021 and was unable to regain his spot on the PDC ProTour at Qualifying School last month.
However, the former Premier League star headlined the five players to win through this weekend's Rileys Amateur Qualifiers with his success on Sunday at Rileys Coventry.
Paul Hogan, who reached the last 16 as a Rileys Amateur Qualifier in both 2016 and 2017, will return to the UK Open following his success in South Benfleet.
Matt Good hit a nine-dart finish in the Rileys Norwich qualifier as he secured his spot in Minehead next month, Adam Warner will also make his UK Open debut after winning at Rileys Liverpool.
Graham Hall, previously an amateur qualifier at the 2015 UK Open, defeated Scott Marsh in the final at Rileys Solihull to win a return to the event..
The Rileys Amateur Qualifiers conclude with the remaining seven events being staged on February 19-20 for players to claim UK Open spots.
Entry to the Rileys Amateur Qualifiers will be open to any player aged 16 and above at the date of the event who is not a PDC Tour Card Holder.
Entry will cost £10 per event and must be made online through this link. Entries for each event will close at 1700 GMT on the day before that specific event. Players are permitted to enter more than one Rileys Amateur Qualifier.
Players must register at the specific event between 1000-1200 GMT, with play commencing at 1230 GMT.
2022 Cazoo UK Open
Rileys Amateur Qualifiers Dates & Venues
Saturday January 29
Rileys Chorlton - Danny Lauby
Rileys London Victoria - Diogo Portela
Sunday January 30
Rileys Chester - Kai Fan Leung
Saturday February 5
Rileys Nottingham - Steve Clayson
Saturday February 12
Rileys Norwich - Matt Good
Rileys Liverpool - Adam Warner
Rileys Solihull - Graham Hall
Rileys South Benfleet - Paul Hogan
Sunday February 13
Rileys Coventry - Jelle Klaasen
Saturday February 19
Rileys Chorlton
Rileys Harlow
Rileys Norwich
Rileys Liverpool
Rileys Solihull
Sunday February 20
Rileys Chester
Rileys Coventry
Please Note:
Each venue will have a maximum number of entries. All games will be the best of seven legs of 501, straight start and double finish.
Players who win through the Rileys Amateur Qualifiers will receive a playing shirt for the Cazoo UK Open which must be worn in all matches at the event.
For full Terms & Conditions, please see www.rileys.co.uk/tournaments.