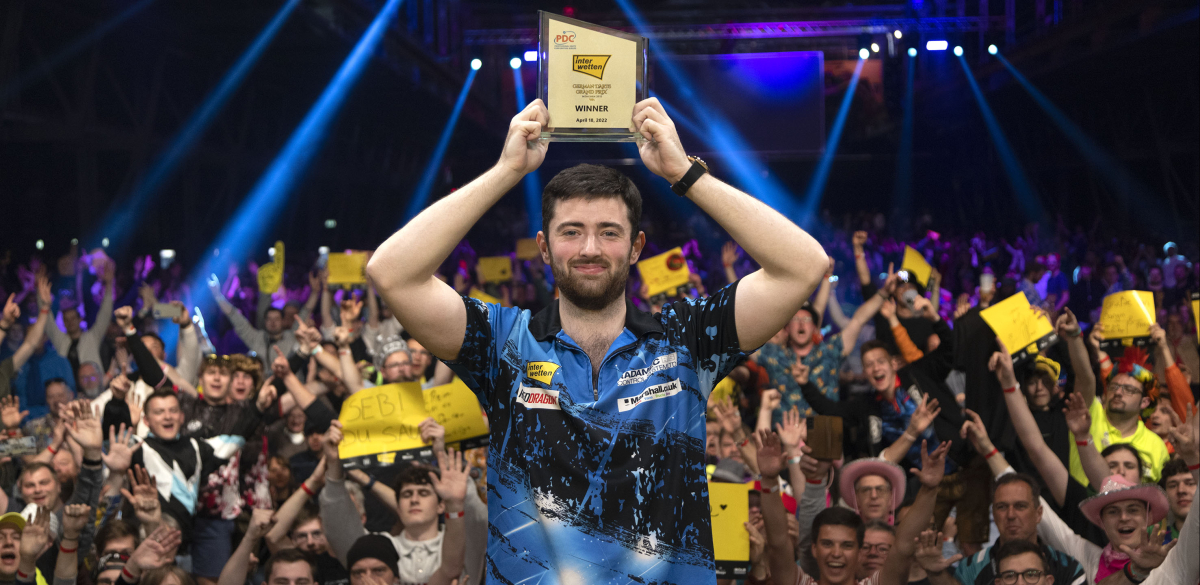 Former Players Champion and current darts commentator and pundit Paul Nicholson reviews the last month in PDC darts...
When Peter Wright won the William Hill World Darts Championship on January 3, there were a smattering of people who thought 2022 would follow the pattern of the previous season.
They could see Wright and Gerwyn Price cementing a dominant rivalry at the peak of the rankings, and going into the early echelons of the 2022 campaign, they were proven correct. 
Oh how things can change in the early Spring!
Over the past few weeks, we have seen Michael Van Gerwen regain some territory in the fight for supremacy, with a generous dose on tour of things new, exciting and possibly inevitable. 
The new is definitely the rapid rise to popularity of 'The Mullet' Danny Jansen. The winner of Players Championship 9 on April Fools' Day was no practical joke, and even though his hair takes a lot of the limelight, this young star has a composure that many would envy. He is gaining admirers at a viral rate, and I am one of them.
The exciting side of things is to see the continuation of another long-haired arrowsmith in Ryan Searle, who is fast becoming one of the players who will deliver a win, season on season.
Speaking of exciting and winning, Luke Humphries, who beat Searle in PC1 in February to take his first senior PDC title, has taken giant steps this season and in winning the German Darts Grand Prix in Munich too, he is now touted as someone who must be considered for major honours imminently.
For the likes of Searle and Humphries to do so, they must not take their eye off the ball, or the board in this case, and expect the success to come. They must keep doing what has brought them to this point, and maybe they will have to work even harder to make sure those accolades are shining on the mantle soon. 
The same could be said for Dirk van Duijvenbode, winner of his second Players Championship title in a year recently, but I do not have any doubts that 'The Titan' will continue in his way of thinking, throwing and bopping on stage, because Dirk refuses to be anyone else, be influenced by anyone else, and why would we want him to change! We don't, because he is exactly how we want him. 
I did mention that word inevitable earlier, but perhaps what MvG has done this year was indeed doubtful to most. He has stuck a giant two darts up to the doubters and used his Premier League confidence to good effect on the floor and the European Tour stage, winning two titles in very fruitful tournaments to him.

For me, the biggest story of the year so far is the proof of just how a normally scheduled European Tour suits the best player of this generation and how important it is for him to get back into the major winning pool, which he currently can only watch from the sidelines, seeing the likes of Wright, Price and Jonny Clayton floating buoyantly like Californian sea otters. He has his trunks and his thirst for a swan dive, and it is only a matter of time before he makes a massive splash. 
It could indeed come in the aforementioned Premier League, where he currently occupies a very safe Play-Off position, just behind leader Clayton and just in front of a resurgent James Wade who has won the last two league nights.

The battle for the top four is taking shape, but you wonder if this could be Gary Anderson's final campaign? Has this format damaged Michael Smith's confidence? Will Joe Cullen catch Snakebite for fourth spot? Only the next few weeks will answer most of those questions posed.
Follow Paul on Twitter @TheAsset180