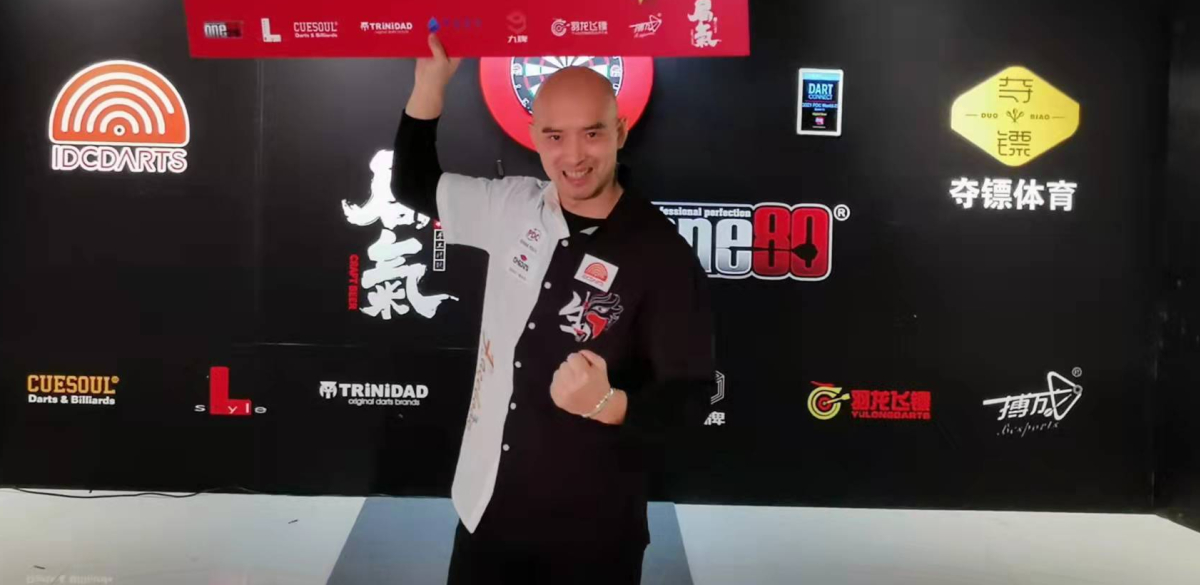 Lihao Wen clinched opening night glory in the revamped PDC China Premier League, which began on Tuesday.
The new-look format has evolved to mirror the Cazoo Premier League, with each league night featuring eight players competing in knockout quarter-finals, semi-finals and a final.
Nine league nights will be held from June-September, with eight of the nine competing players featuring in each league night.
Wen claimed the Event One spoils with wins over Xicheng Han, Xiaochen Zong and Chengan Liu on Tuesday, to scoop the US$100 bonus and five league points.
The 39-year-old eased past Han 5-1 in his opener, before impressing in a 5-2 success against former World Cup of Darts qualifier Zong, converting 74, 93 and 108 finishes en route to victory.
Wen, twice a World Series participant, then edged out former World Championship qualifier Liu in a ninth and final leg, drawing first blood in 12 darts before wrapping up proceedings with a clinical 81 checkout in the decider.
Each league night will feature a US$100 bonus for the winner, plus ranking points to form the league table, with the top four players progressing to the Play-Offs on September 18.
The eventual champion will receive US$1,500 prize money and a place in the 2022/23 Cazoo World Darts Championship in December.
The PDC China Premier League returns for Night Two on June 21, and the action will be broadcast through PDCTV for all subscribers worldwide, with play commencing at 1900 CST (1200 BST) on each day.
PDC China Premier League
Night One
Tuesday June 14
Quarter-Finals
Xiaochen Zong 5-0 Yin Deng
Lihao Wen 5-1 Xicheng Han
Chengan Liu 5-0 Weihong Li
Bin Zheng 5-2 Wenge Xie
Semi-Finals
Lihao Wen 5-2 Xiaochen Zong
Chengan Liu 5-3 Bin Zheng
Final
Lihao Wen 5-4 Chengan Liu
PDC China Premier League
Event Dates
June 14 - Night One
June 21 - Night Two
July 5 - Night Three
July 12 - Night Four
July 26 - Night Five
August 2 (- Night Six
August 16 - Night Seven
August 23 - Night Eight
September 6 - Night Nine
September 18 - Play-Offs (semi-finals & final)
Format
League Nights - best of nine legs
Play-Offs - semi-finals best of 19 legs, final best of 21 legs
Competitors
Yin Deng
Xicheng Han
Weihong Li
Zhiwei Lin
Chengan Liu
Lihao Wen
Wenge Xie
Bin Zheng
Xiaochen Zong