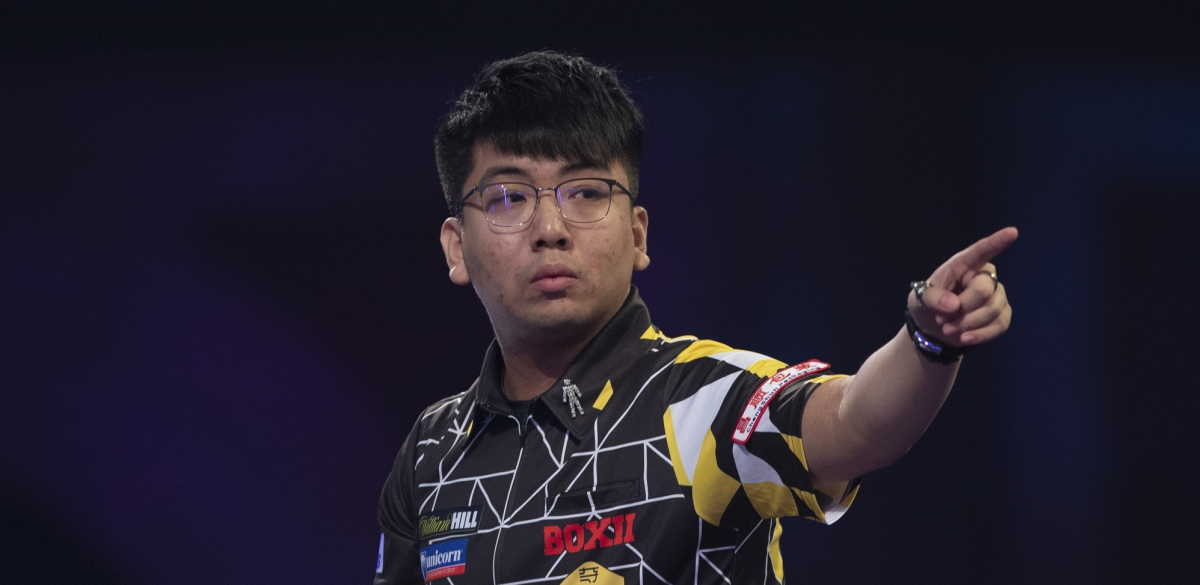 Xiaochen Zong produced a series of dominant displays to prevail on the second night of the revamped PDC China Premier League on Tuesday.
The new-look format, which has evolved to replicate the Cazoo Premier League, features eight players competing in knockout quarter-finals, semi-finals and a final.
Lihao Wen claimed the Night One spoils, but he was dispatched by Zong in the semi-finals on Night Two, with the 24-year-old relinquishing just four legs en route to glory.
The two-time World Championship qualifier opened his campaign with a whitewash win over Zhiwei Lin, before posting a stunning 99.13 average in a 5-1 demolition of Wen, reeling off five consecutive legs in 16, 15, 14, 13 and 14 darts.
Zong also fired in three 180s and a 171 in a blistering five-leg spell to set up a showdown against Xicheng Han, who recorded successive 5-1 wins over Weihong Li and Chenghan Lui to seal his spot in Tuesday's finale.
Han looked poised to complete a hat-trick of 5-1 victories after establishing a 3-1 cushion against Zong, but the two-time World Cup of Darts participant came roaring back with a run of four straight legs, wrapping up proceedings with a classy 13-darter.
Meanwhile, in the second night of the China Series A League, Momo Zhou landed a sensational ten-darter in her quarter-final, despite suffering a bounce-out during the leg.
Zhou Momo hit 10 "perfect" darts in China Series-A league Night Two. pic.twitter.com/ZTTbeyzVQg

— Joe Mei (@JoeMei180) June 21, 2022
Zhou, who became just the second female player to feature at the World Cup of Darts when she represented China in 2018, produced the moment of magic in the first leg of her last eight win against Jianjun Jia.
The 30-year-old recovered from a bounce-out with her second dart to post an opening score of 120, which she followed with magnificent visits of 180 and 177 to leave 24 after nine darts.
Zhou made no mistake on the outer ring, pinning double 12 at the first attempt for the ten-darter, and after easing past Jia 4-1, she then whitewashed Erlin Ju in the semi-finals, only to be edged out 4-3 by Hailong Chen in Tuesday's final.
The PDC China Premier League returns for Night Three on July 5, and the action will be broadcast through PDCTV for all subscribers worldwide, with play commencing at 1900 CST (1200 BST) on each day.
Each league night will feature a US$100 bonus for the winner, plus ranking points to form the league table, and following the nine nights of league action, the top four players will qualify for the Play-Offs on September 18.
The eventual champion will receive US$1,500 prize money and a place in the 2022/23 Cazoo World Darts Championship in December.
PDC China Premier League
Night Two
Tuesday June 21
Quarter-Finals
Xiaochen Zong 5-0 Zhiwei Lin
Lihao Wen 5-4 Bin Zheng
Chengan Liu 5-4 Wenge Xie
Xicheng Han 5-1 Weihong Li

Semi-Finals
Xiaochen Zong 5-1 Lihao Wen
Xicheng Han 5-1 Chengan Liu
Final
Xiaochen Zong 5-3 Xicheng Han

PDC China Premier League
Event Dates
July 5 - Night Three
July 12 - Night Four
July 26 - Night Five
August 2 - Night Six
August 16 - Night Seven
August 23 - Night Eight
September 6 - Night Nine
September 18 - Play-Offs (semi-finals & final)
Format
League Nights - best of nine legs
Play-Offs - semi-finals best of 19 legs, final best of 21 legs
Competitors
Yin Deng
Xicheng Han
Weihong Li
Zhiwei Lin
Chengan Liu
Lihao Wen
Wenge Xie
Bin Zheng
Xiaochen Zong