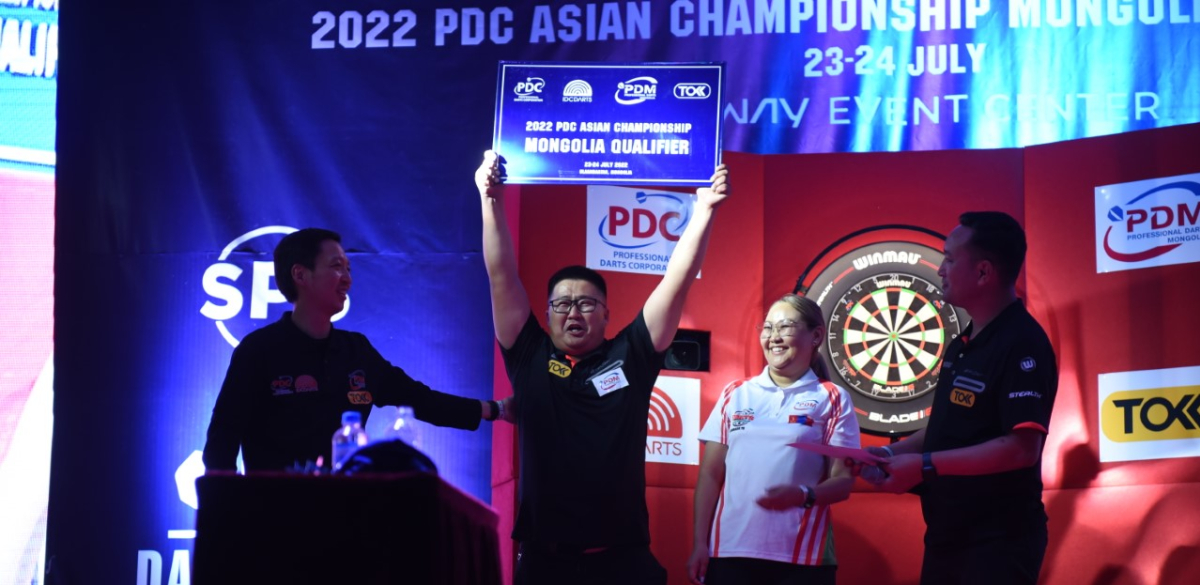 Four additional qualifiers have been confirmed for September's inaugural PDC Asian Championship in Fukuoka.
The first staging of the PDC Asian Championship takes place from September 22-25, as leading players from across the region battle it out for the $15,000 top prize, and one of four spots in the Cazoo World Darts Championship.
The 48-player main event on September 24-25 will feature the eight players who represented Japan, Philippines, Singapore and Hong Kong at this year's Cazoo World Cup of Darts, which includes 68-year-old veteran Paul Lim.
Lim and his World Cup partner Harith Lim will headline the event alongside six-time World Championship participant Lourence Ilagan, who is joined in Fukuoka by his Filipino team-mate RJ Escaros.
Japanese World Cup debutants Toro Suzuki and Tomoya Goto also feature, alongside Hong Kong's Lee Lok Yin & Ching Ho Tung.
There will also be one additional qualifier per World Cup country, with Kson Tay coming through last week's Singapore qualifier to seal his place in the $100,000 tournament.
Three-time World Championship qualifier Christian Perez battled past Paolo Nebrida in the Philippines qualifier, with the Japanese and Hong Kong events yet to take place.
Basem Mahmood Abdulla Mohamed came through the Bahrain regional qualifier last weekend to secure his spot in September's showpiece, while Purevloov Tungalag will be Mongolia's representative in the landmark event.
The main event will be preceded by two days of Asian Series qualifiers in Fukuoka, with four qualifying events split across September 22-23.
The last four players from each qualifier will secure a place in the 48-player field, alongside a further 10 players from an Asian Series Order of Merit.
A further seven regional qualifiers - being held in mainland China, India, Macau, Malaysia, South Korea, Taiwan and Thailand - will also produce one qualifier.
The main event will begin with a round-robin stage on Saturday September 24, with the players split into 16 groups of three. The round-robin stage will be played across eight boards, including one streamed board.
Each group winner will then progress to compete in the last 16 later on September 24, with Sunday September 25 featuring the quarter-finals, semi-finals and final.
The PDC Asian Championship will be streamed through PDCTV for all subscribers worldwide across all four days. Action from the qualifiers will also be streamed through Felix Darts' YouTube channel across Asia.
PDC Asian Championship - Confirmed Participants: Lee Lok Yin, Ching Ho Tung, Toro Suzuki, Tomoya Goto, Lourence Ilagan, RJ Escaros, Paul Lim, Harith Lim, Christian Perez, Kson Tay, Basem Mahmood Abdulla Mohamed, Purevloov Tungalag.
2022 PDC Asian Championship
Thursday September 22 (1100 start)
Asian Series Qualifiers 1-2 
Friday September 23 (1100 start)
Asian Series Qualifiers 3-4 
Saturday September 24 (1100 start)
Round-Robin Stage 
Last 16
Sunday September 25 (1200 start)
Quarter-Finals
Semi-Finals
Final
Prize Fund ($US)
Winner $15,000
Runner-Up $7,000
Semi-Finalists $5,000
Quarter-Finalists $3,000
Last 16 $2,000
Second in Group $1,500
Third in Group $1,000
Total $100,000
Format
Asian Series Qualifiers: Best of seven legs
Round-Robin Stage: Best of nine legs
Last 16: Best of nine legs
Quarter-Finals: Best of 11 legs
Semi-Finals: Best of 11 legs
Final: Best of 13 legs
In the Asian Series Qualifiers, players will receive one point per victory from the first full round drawn without Byes to form the Orders of Merit. Any ties will be split as follows based on all match results: Leg Difference, Legs Won, Legs Won Against Throw, Tournament Average, Play-Off.
Any pre-qualified player who withdraws before August 31 2022 will be replaced by a player from their country's qualifier. Any withdrawal after August 31 will be replaced by an additional player from the Asian Series Order of Merit.