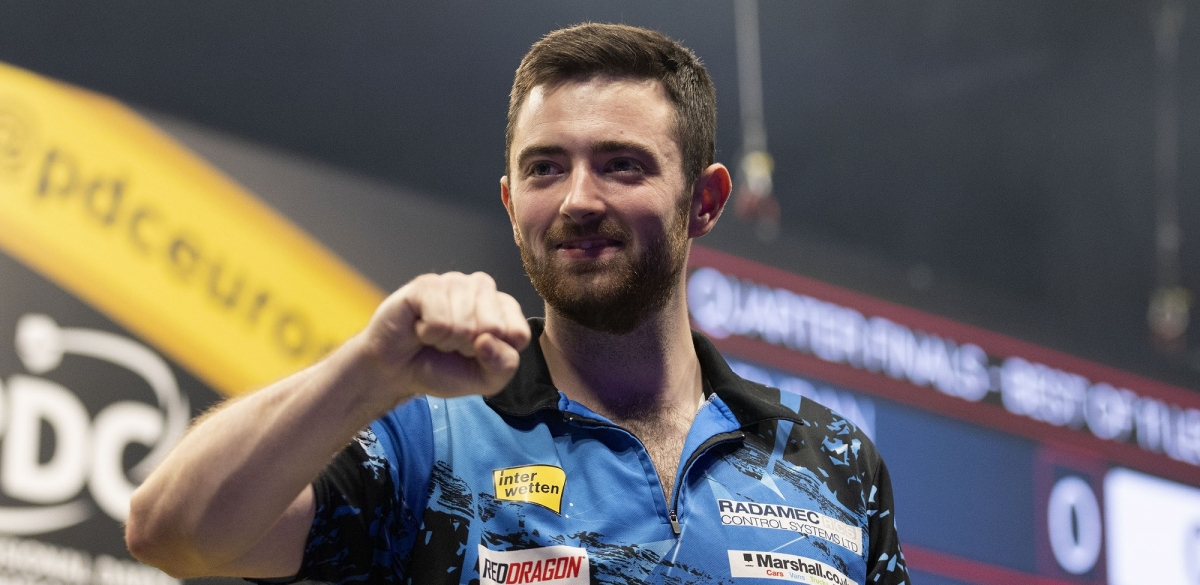 PDC stats analyst Christopher Kempf looks at Luke Humphries' rise to prominence over a five-year period, as the former World Youth Champion eyes a fifth European Tour triumph of the year in Hungary this weekend.
Two players are dominating the European Tour in 2022, such that the winner of their head-to-head battles were decisive in determining three of the first six European Tour champions this year.

One of them was an international sensation in his teenage years, immediately bringing a world-class game to top opponents in TV events, winning a televised title at the age of 17. 
The other earned, as a teenager, a total of £225 from participating in 16 PDC youth events. 
The talent of the former was immediately recognised throughout the darts community, whereas the talent of the latter was not. 
What has happened to Luke Humphries, this man with humble darts origins, to raise him to the level of the most talented player of his generation?

Humphries did not return to PDC darts until age 21, but in the six years since doing so he has played on average more than 1000 legs of darts per year against all manner of opponents. 
Beginning in 2016 with his first appearance as a finalist on the Development Tour, Humphries went on to become one of the most decorated youth players in PDC history, winning 11 titles and the World Youth Championship.

He also defeated the defending World Champion Rob Cross at Alexandra Palace in 2018, and now, in 2022, he picked up his first five ranking titles en route to what promises to be many more.

We don't know how well Luke Humphries played on an objective level in 2016 and 2017, before the introduction of DartConnect.

However, we know that in 2018, the year of his debut appearance at the World Championship (lost in the preliminary round) and UK Open, he averaged 91.71 across all matches for the entire year, hitting 38.6% of his darts at treble 20.

This put him at the forefront of the strong youth contingent of MvG's most dominant years, producing intriguing rivalries with future World Matchplay champion Dimitri Van den Bergh and the 14-time Development Tour champion Ted Evetts, the reigning World Youth Champion.

Humphries' quarter-final run in the 2019 World Championship and inclusion as a 'contender' in the subsequent Premier League brought popular attention to the young talent from Berkshire for the first time - a year in which Humphries would throw 417 180s and finally be crowned World Youth Champion.

However, it was not until the advent of the global pandemic that Humphries began to break through to the upper echelons of professional darts.

The 27-year-old increased his yearly average to more than 95 in 2020, putting him among the top 16 and propelling him to victory in the innovative PDC Home Tour.

By this point, he was exceeding Michael van Gerwen's output of three-treble visits and approaching those of well-known power scorers Michael Smith and Dave Chisnall.

Van Gerwen's loss to Humphries in the 2021 UK Open semi-final was, for many, the first sign of future greatness exhibited by Luke Humphries - a match in which the Englishman missed only two doubles that allowed his opponent to return to the board.
The tables had been turned on MvG, who had been more accustomed to being the one dealing out an 11-5 thrashing with a 107 average than to sit by as his opponent racked up 15-darter after 15-darter, while completing 11 out of 15 checkout attempts from all scores.

To date, Humphries is one of only five players to have won a televised best-of-21 legs match with a 107 average or better - the other four players are all multiple World Champions.

To anyone following Humphries' rise, his four European Tour titles in 2022 do not come as a surprise.

Humphries, who has played nearly 1200 legs in 2022 and averaged 97.47 - with only nine out of 120 match averages coming in below 90 - is now one of the most outstanding players of any age in professional darts.

Against all Pro Tour players, Humphries can expect to win 60% of his legs and 70% of his matches, and no consecutive streak of 200 legs has seen his average drop below 97 since March. 
In addition, Humphries has a 15-8 record against players ranked above him on the Order of Merit in 2022. 
For the first time in his career, Humphries now averages more in deciding legs than he does overall - what better indication could there be that the current world number 11 is destined to rise even higher?

As measured by ordinal checkout efficiency (OChE), four of the current top 10 players in world darts are former champions on the PDC's Youth or Development tours, while none of those 10 players are former BDO World Champions, and only one is a Challenge Tour winner.
Three of those players - Michael Smith, Callan Rydz and Humphries - reached the quarter-finals of the most recent World Championship.

Dimitri Van den Bergh, a player with two World Youth Championships and 10 further youth titles to his name, is a World Matchplay champion.

Michael van Gerwen showed great promise as a teenager before emerging as one of the game's greats after half a dozen years of losses, struggles and honest graft, and it seems that Luke Humphries - a likely top-10 player in the near future - is following a similar trajectory.