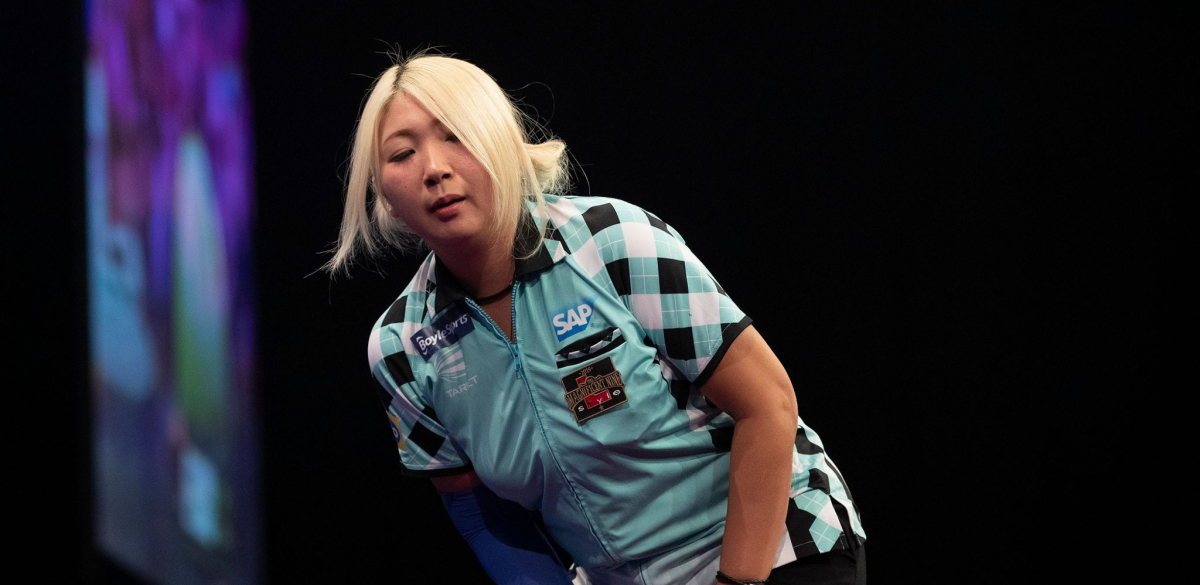 Mikuru Suzuki, Seigo Asada and Royden Lam will all feature in this weekend's PDC Asian Championship after sealing their qualification in Fukuoka, with the 48-player field for the inaugural event now confirmed.
The innovative PDC Asian Championship will give Asia's leading stars the opportunity to secure one of four spots in the Cazoo World Darts Championship, with a $15,000 top prize also on offer to the winner.
The main event - which takes place on Saturday and Sunday - was preceded by two days of Asian Series qualifiers, with the semi-finalists from all four qualifiers sealing their progression alongside the top ten players from the Asian Series Order of Merit.
Asada - a World Cup semi-finalist in 2019 -  was one of four players to come through Thursday's opening qualifier, with former World Championship participant Yuki Yamada posting a stunning 109 average to storm through Qualifier Three on Friday.
Hong Kong's Royden Lam confirmed his spot in the main draw in Friday's final qualifier, with Gan-Erdene Sharavsambuu one of three Mongolian representatives set to feature in the historic event.
Suzuki - a three-time Women's Series finalist in 2022 - headlines the ten Order of Merit qualifiers, as the Japanese star prepares to make her big stage return this weekend.
Suzuki will be joined in Fukuoka by 22 pre-qualified players, including the eight players who represented Japan, Philippines, Singapore and Hong Kong at this year's World Cup of Darts.
Singapore's iconic star Paul Lim will headline this year's showpiece at the age of 68, while six-time World Championship qualifier Lourence Ilagan will be among the leading contenders for the title.
The PDC Asian Championship begins with a round-robin stage on Saturday, and the action will be played across eight boards, with the players split into 16 groups of three.
Each group winner will then progress to compete in the last 16 later that day, with the quarter-finals, semi-finals and final taking place across a bumper session on Sunday.
The four semi-finalists will qualify for the 2022/23 Cazoo World Championship, with the winner also guaranteed a place in November's Cazoo Grand Slam of Darts.
The PDC Asian Championship will be streamed through PDCTV for all subscribers worldwide - subscription options will include a $1.99 Day Pass and $4.99 Event Pass.
2022 PDC Asian Championship
Qualifiers
Paul Lim (Singapore)
Harith Lim (Singapore)
Lourence Ilagan (Philippines)
RJ Escaros (Philippines)
Lee Lok Yin (Hong Kong)
Ching Ho Tung (Hong Kong)
Toru Suzuki (Japan)
Tomoya Goto (Japan)
Christian Perez (Philippines)
Tay Zhao Cheng (Singapore)
Basem Mahmood Mohamed (Bahrain)
Purevloov Tungalag (Mongolia)
Mitsuhiko Tatsunami (Japan)
Man-Lok Leung (Hong Kong)
Zhiwei Lin (China)
Syed Mohd Abdul Mannan (India)
Kam-Weng Cheng (Macau)
Tan Jenn Ming (Malaysia)
Kim Yong-Seok (South Korea)
Yan Bin Chen (Taiwan)
Chaiyan Paiaree (Thailand)
Hussain Nadir Abdulla Ali (UAE)
Raymond Copano (Philippines)
Jun Matsuda (Japan)
Seigo Asada (Japan)
Takayuki Masatsu (Japan)
Keita Ono (Japan)
Edward Shoji Foulkes (Japan)
Yutaka Sunakawa (Japan)
Yuichiro Ogawa (Japan)
Alain Abiabi (Philippines)
Ryuki Morikubo (Japan)
Yuki Yamada (Japan)
Teppei Nishi (Japan)
Sho Katsumi (Japan)
Kota Suzuki (Japan)
Gan-Erdene Sharavsambuu (Mongolia)
Royden Lam (Hong Kong)
Tomoya Tsumura (Japan)
Shingo Enomata (Japan)
Mikuru Suzuki (Japan)
Pupo Teng Lieh (Taiwan)
Yoshihisa Baba (Japan)
Paolo Nebrida (Philippines)
Ryusei Azemoto (Japan)
Enkhbold Surenjav (Mongolia)
Ao Ishihara (Japan)
Akito Yamagata (Japan)
Session Schedule
Saturday September 24 (1100 local time)
Round-Robin Stage
Last 16
Sunday September 25 (1200 local time)
Quarter-Finals
Semi-Finals
Final
Prize Fund ($US)
Winner: $15,000
Runner-Up: $7,000
Semi-Finalists: $5,000
Quarter-Finalists: $3,000
Last 16: $2,000
Second in Group: $1,500
Third in Group: $1,000
Total: $100,000
Format
Round-Robin Stage: Best of nine legs
Last 16: Best of nine legs
Quarter-Finals: Best of 11 legs
Semi-Finals: Best of 11 legs
Final: Best of 13 legs