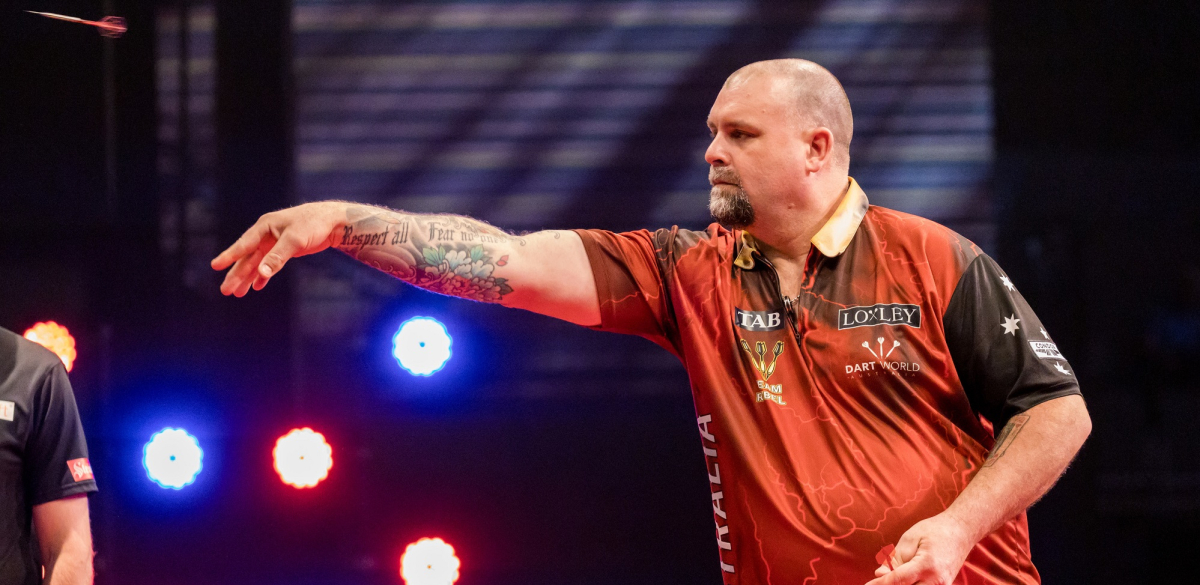 Mal Cuming joined the list of International Qualifiers for the 2022/23 Cazoo World Darts Championship at the weekend.
Cuming won the DPA Oceanic Masters on Sunday to seal his Alexandra Palace debut, joining the growing list of players from around the world who will head to London in December.
A number of qualifying events will take place over the coming weeks, before the 96-player field is confirmed on November 28.
The 32 International Representatives will be joined by 32 PDC ProTour Order of Merit Qualifiers in the first round, while the top 32 players on the PDC Order of Merit will enter in round two.
2022/23 Cazoo World Darts Championship
International Representatives & Qualifier Dates
North American Champion - Leonard Gates
DPA Satellite Tour Champion - Raymond Smith
PDJ Japanese Qualifier - Nobuhiro Yamamoto
PDCNB OOM 1 - Darius Labanauskas
PDCNB OOM 2 - Daniel Larsson
CDC Top American - Danny Baggish
CDC Top Canadian - David Cameron
PDC China Premier League - Xicheng Han
Asian Championship 1 - Lourence Ilagan
Asian Championship 2 - Paolo Nebrida
Asian Championship 3 - Christian Perez
Asian Championship 4 - Toru Suzuki
African Qualifier - Grant Sampson
South American Qualifier - Diogo Portela
Ukrainian Qualifier - Vladyslav Omelchenko
DPNZ Qualifier - Ben Robb
DPA Oceanic Masters winner - Mal Cuming
Indian Qualifier - October 30
PDC Europe Super League winner - November 7-11
South-West Europe Qualifier - November 19
East Europe Qualifier - November 19
West Europe Qualifier - November 26
World Youth Champion - November 27
PDPA Qualifier 1 - November 28
PDPA Qualifier 2 - November 28
Qualifier Entry Information & Eligibility Criteria
Indian Qualifier
Sunday October 30
The Surat Tennis Club, Athwalines, Surat, Gujarat, India
Entry via indiandartsfederation@gmail.com
 
East Europe Qualifier
Saturday November 19
Dartsportzentrum Burgenland, Industriestrasse 15-17, 7000 Eisenstadt, Austria
Entry costs £90 and can be made via www.pdcplayers.com.
Open to players from: Albania, Armenia, Austria, Azerbaijan, Bosnia & Herzegovina, Bulgaria, Croatia, Cyprus, Czech Republic, Georgia, Greece, Hungary, Italy, Kazakhstan, Kosovo, Kyrgyzstan, Liechtenstein, Macedonia, Malta, Moldova, Montenegro, Poland, Romania, San Marino, Serbia, Slovakia, Slovenia, Switzerland, Tajikistan, Turkey, Turkmenistan, Uzbekistan
 
South-West Europe Qualifier
Saturday November 19
Hotel Cuatro Postes, Ctra. Salamanca, 23 - Avila, Spain
Entry €100 per player. To enter, contact dragos@180-darts.es, with entry deadline of 1700 local time on November 12 2022.
Hotel rooms can be reserved via the hotel through +34 920 220000.
Open to players from: Spain, Portugal, Gibraltar, Andorra, France, Monaco
 
West Europe Qualifier
Saturday November 26
Wunderland Kalkar, Griether Str. 110-120, 47546 Kalkar, Germany
Entry costs £90 and can be made via www.pdcplayers.com.
Open to players from: Germany, Netherlands, Belgium, Luxembourg