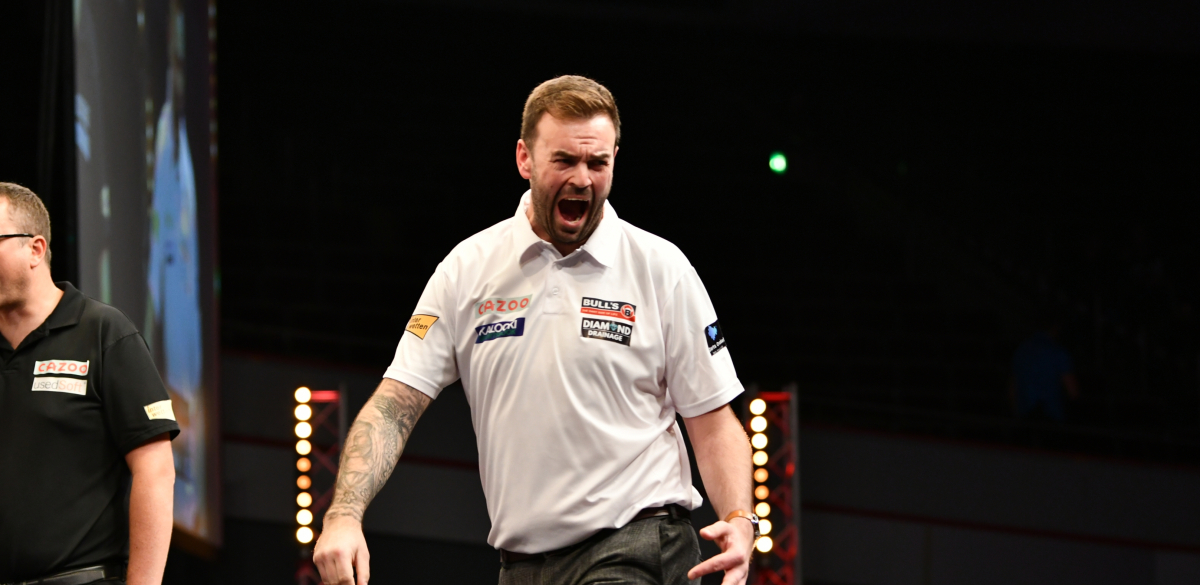 PDC Stats Analyst Christopher Kempf ranks PDC players according to the calibre of opponents in matches won and lost...
*Full explanation of the Holistic Order of Merit Enhanced Ranking (HOMER) ranking system listed at the bottom of the page).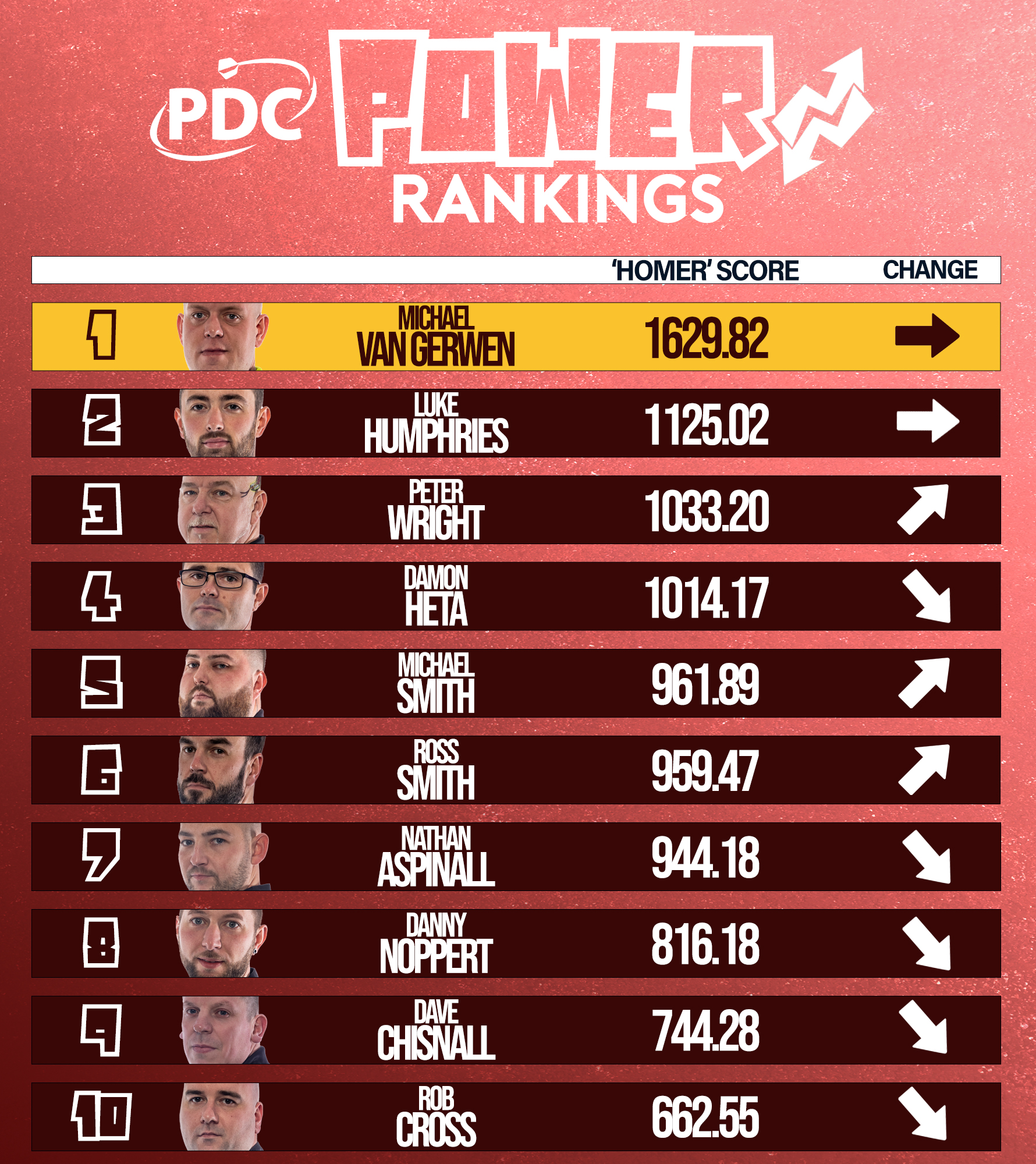 In becoming the 2022 European Champion, Ross Smith has achieved something extremely rare in PDC history - defeating five players in a ranking TV event that were all ranked above him on the Order of Merit at the beginning of the tournament. 
In the HOMER power rankings, Smith is richly rewarded for it. For defeating players ranked 1st, 4th, 13th, 14th and 26th on the PDC Order of Merit, Smith receives a bonus multiplier corresponding to the players' ranking, for a total of 330 points on top of the 496 base points for winning the tournament.
Before his triumph in Dortmund, Smith had not exceeded 200 points in the power rankings all year - he is now essentially tied with Michael Smith on 959 points, and only 167 away from second place in the rankings.
With Michael van Gerwen still riding high from his victories in the World Matchplay and World Grand Prix, the race for second spot remains as deadlocked as ever, with Luke Humphries retaining less than a 100 point lead over Peter Wright, and five players within 100 points of each other for third.
Despite not picking up bonuses for defeating higher-ranked players, Michael Smith still gained 197 points over last week for reaching Sunday's final in Dortmund.
Damon Heta and Nathan Aspinall lost about 30 points each following their first round exits at the Westfalenhalle, but both players still remain massively ahead of their power rankings from six months ago.
The two losing semi-finalists at the European Championship have some distance still to travel if they are to catch up with Ross Smith, but both picked up more than 100 points over last week by eliminating TV champions.
Dirk van Duijvenbode dumped out James Wade and his compatriot Danny Noppert, while Chris Dobey overcame Van Gerwen and Jose De Sousa, with both players reaching their highest points yet in the 2022 power rankings.
The 2022 Players Championship season will conclude in Barnsley next weekend, which represents the last opportunity for marginal players to climb up the rankings - both to secure their Tour Cards and to make an impact on the power rankings.
*The Holistic Order of Merit Enhanced Ranking (HOMER) is a ranking system devised to measure and account for important factors in the game of darts:
1. Players receive ranking points for winning any PDC ranking match (including qualifiers for those events), and always receive 0 points for losing a match.
2. The base number of ranking points available to the winner of a ranking match doubles with each successive round of the tournament.
3. The final of the World Championship has twice the ranking impact of the final of any of the other six TV ranking events, four times the impact of any European Tour event final, and eight times the ranking impact of any Players Championship final.
4. Ranking points are totaled over the span of one year, with matches losing 1/365 (0.27%) of their ranking impact for each day prior to the present day. For example, a match occurring 6 months ago will have 1/2 the ranking impact of the same match occurring today.
5. Players earn ranking bonuses for defeating players ahead of them on the Order of Merit, with a minimal bonus for defeating a player one rank above up to a maximum of double ranking impact for any player who defeats the world #1.