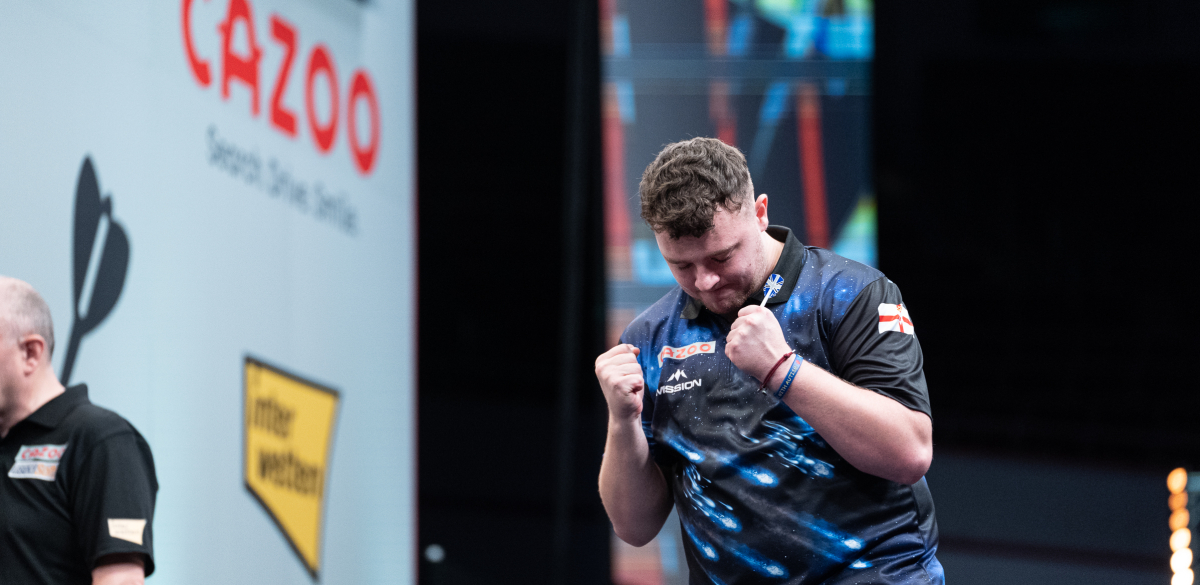 PDC Stats Analyst Christopher Kempf lists the top ten players in PDC darts based on the standard of their last 200 legs played, ahead of the Cazoo Grand Slam of Darts in Wolverhampton...
#1 Averages – Josh Rock
#1 OChE – Josh Rock
#1 Doubles – Josh Rock
#1 171-180 – Chris Dobey
#1 99, 101+ Checkout – Damon Heta
The number one positions in averages, leg-winning efficiency and checkouts remain occupied by a player for whom recording 100+ averages in only half of his matches is an off-weekend.
Even after a decline of 1.75 points in averages relative to two weeks ago, Josh Rock is still the only player with an average exceeding 100 over his last 200 legs, and the only player who would win an estimated 65% of his legs against ProTour opponents.
Meanwhile, there are six players above a 98 average, with Chris Dobey and Dirk van Duijvenbode seeing their largest gains relative to their pre-European Championship averages.
Two consecutive wins over the reigning World Champion Peter Wright have made William O'Connor the most improved player on the Form Guide, and it also earned him his first Pro Tour quarter-final of 2022.
Now the player with the tenth highest doubles percentage in the PDC, O'Connor has gained 7.24 points in OChE to reach a score of 53.74, indicating more legs won than lost against the ProTour competition.
The unheralded Connor Scutt also had a breakthrough weekend in Barnsley, with a gain of three points in averages and 7.83 in OChE – while in whitewashing Jack Main, Scutt recorded the highest average of his professional career.
Fans accustomed to seeing Michael Smith or Dave Chisnall top the list of three-treble visits will be surprised to see the top two spots occupied by Chris Dobey and Mike De Decker, with 95 and 90 visits of 171-180 scored in their last 200 legs respectively.
Dobey, a semi-finalist at the European Championship, landed back-to-back 180s in a deciding leg to defeat Michael van Gerwen in Dortmund, eventually recording a stunning 0.524 180s per leg for the tournament.
De Decker has thrown at least two maximums in 16 consecutive matches (none longer than 11 legs), and such powerful scoring last weekend allowed the Belgian to reach his first Players Championship semi-final.
*OChE (Ordinal Checkout Efficiency) explained:
OChE is a metric designed to evaluate the efficiency at which players convert their averages into legs won.
The statistic is the % of legs a player would expect to win on the ProTour, calculated from a weighted average of 4,5, 6 & 7 visit checkout rates.
Follow Christopher on Twitter @ochepedia