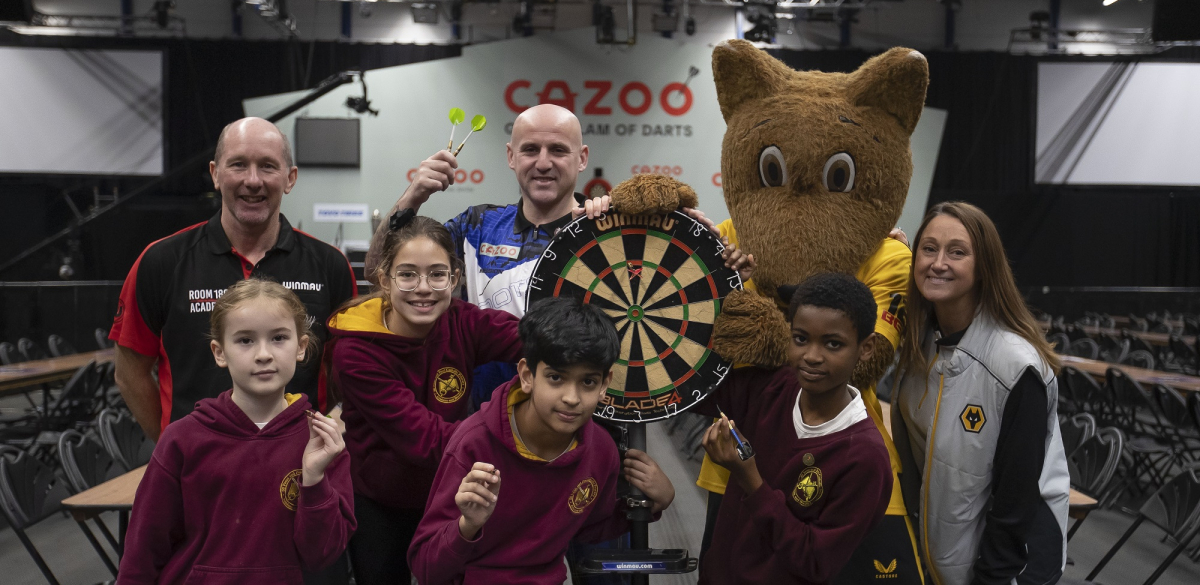 Alan Soutar and Wolverhampton Wanderers mascot Wolfie joined pupils from SS Peter & Paul Catholic Primary Academy for the PDC's latest Bullseye Maths session.
Scottish star Soutar took time out from his preparations for Thursday's Cazoo Grand Slam of Darts second round tie with Jonny Clayton to pass on maths tips to local pupils in Wolverhampton.
Coaches from the Wolves Foundation - who have a partnership with SS Peter & Paul Catholic Primary Academy - also took part in the Bullseye Maths session at the Aldersley Leisure Village.
The students were the latest to participate in the Bullseye Maths programme, which was introduced earlier in 2022 and combines learning exercises with darts-based lessons at Key Stage 2 level.
Alongside the Bullseye Maths session, the pupils also got the chance to stand on the Grand Slam of Darts stage, and welcomed Soutar with a traditional darts walk-on.
"I really enjoyed the session and it was brilliant to see the children enjoying themselves and also learning," said Soutar, who also works as a firefighter in Arbroath.
"I've seen first-hand how good darts is for developing your maths skills and it's great to be able to support initiatives like Bullseye Maths."
Bullseye Maths is also being featured from November 14-18 as one of the learning resources available through the Maths Week England initiative with an educational start pack for families and schools.
Bullseye Maths was launched by the PDC in February, with support from family maths charity Maths on Toast.
In-school sessions and worksheets provided by the Room 180 Academy at Nottingham College are accompanied by an online Mathlete game provided by GoDartsPro at the specially-designed Bullseye Maths portal at pdc.tv/maths.
Gary Horsley, from Nottingham College's "Room 180 Academy" who runs the Bullseye Maths sessions, said: "This was another fun afternoon and the pupils were great in how they applied themselves throughout.
"Having Alan and the staff from the Wolves Foundation with us was a great boost for the pupils and they were a delight to work with."
Click here for more information about Bullseye Maths.
Photo Gallery