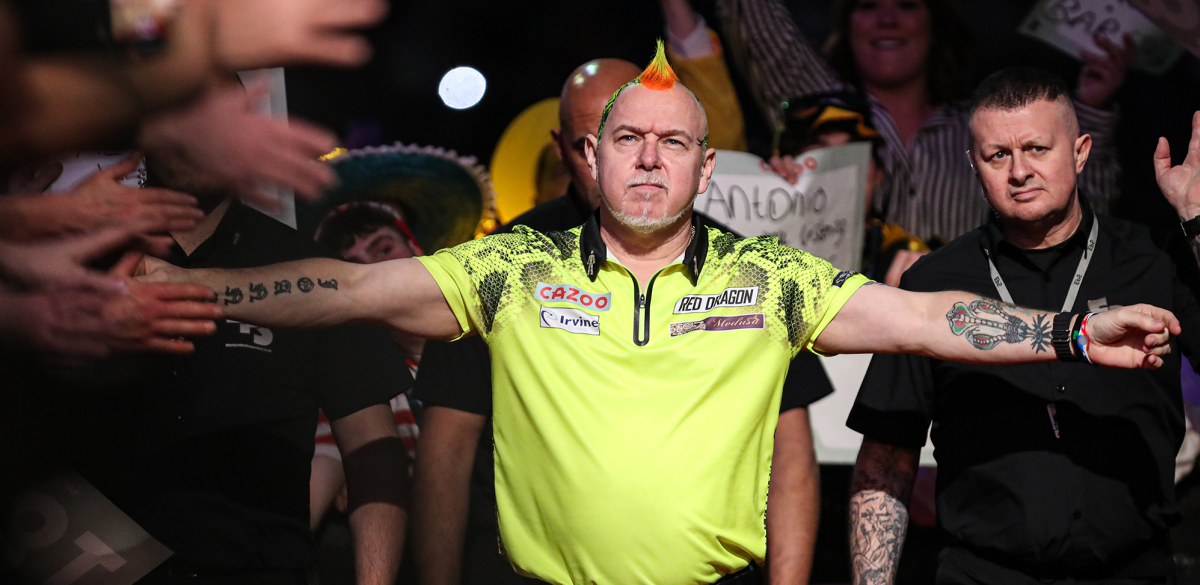 Peter Wright has cemented himself as one of the sport's all-time greats, becoming a multiple World Champion and lifting over a dozen televised honours throughout a glittering career, but he believes there is still more to come.

In a Darts Show Podcast special, Wright delves into his early darting struggles, the event that saved his career and how the 'Snakebite' persona has allowed him to flourish at the highest level…

Wright was an unknown quantity to many when he enjoyed a fairy-tale run to the 2014 World Championship final at Alexandra Palace, although the reality is very different.

The Scot made his big stage bow as a fresh-faced, unassuming 24-year-old at the 1995 Lakeside Championship, succumbing to eventual champion Richie Burnett in his opening round tie.



"I knew I was pretty good, because I was winning local competitions at the age of 16," revealed Wright, who celebrated his 53th birthday last Friday.

"I went to a £50 knockout event which had County players from Hertfordshire, Kent and London. There were some big names involved, but I turned up and won, and kept winning.

"Unfortunately I didn't have any sponsorship so I just walked away. I tried to find work and I used to turn up at certain tournaments and go and win them.

"I wish I had [pursued his darting career] because I could have potentially been challenging Phil Taylor if I had carried on, knowing what I've achieved now."

Wright worked as a builder and a tyre fitter while continuing to compete at local level throughout the next decade, but it was the 2007 Grand Slam of Darts that prompted his competitive return.

"I was watching the Grand Slam of Darts with Jo [his wife] and I was saying to her: 'I can beat him, I can beat him'," Wright added.

"She said: 'Go on then, if you think you can beat them, why don't you give it a go next year?'

"I joined the PDC circuit because you didn't need to have a Tour Card then, but I only earned £1200 in my first year. I just couldn't finish games off."

Wright made steady progress throughout the next few years, winning his first PDC ranking title at a Players Championship event in 2012, before reaching the UK Open semi-finals in 2013.

Despite breaking into the world's top 16, Wright was struggling to make ends meet, and an early exit at the 2014 World Championship would have signalled the end of his professional career.

"We sat down in 2014 and we said if I don't do well at this World Championship, unfortunately we'll have to call it a day," revealed the Livingston-born veteran.

"The money had run out. I look back at that game against Michael Smith [in round three]. If I had lost that game, I'd have been back to tyre fitting probably. 

"Reaching the final saved my career, and I haven't looked back really. It turned my life around completely."

Wright's remarkable rise coincided with a drastic change of image, with his flamboyant attire and sprayed Mohican hair helping him to become one of sport's most iconic personalities.

Underneath the eye-catching outfits and colourful haircuts remains an introverted character, but Wright's adopted 'Snakebite' persona has been instrumental in his success over the last decade.
"I thought it would be interesting. No other dart player does that sort of thing, and I always wanted to be different," claimed the two-time World Champion.

"It was the year I got to the World Championship final that I started wearing the silly trousers and I've managed to get away with my crazy outfits since.

"I am playing a character – like a Dr Jekyll and Mr Hyde type thing. 

"I turn into Peter Wright the dart player. It makes me focus, it is part of my preparation, and I think it's made me a better player."

Wright was beaten 7-4 by Van Gerwen in the 2014 World Championship final, and it took him until March 2017 to secure his maiden televised crown at the UK Open.

It was a further three years before the Scot fulfilled his darting destiny at Alexandra Palace, as he fittingly ended his losing run in finals against the Dutchman to scoop the sport's holy grail.

"I wasn't ready to win in 2014," conceded Wright, who lost to Van Gerwen in nine consecutive TV finals prior to becoming World Champion.

"You just learn from those defeats. I had shots to win some of those finals, so instead of looking at the negatives, I took the positives and I thought: 'I'm not going to miss this time.'

"Beating Michael to win my first World Championship is probably my proudest moment."

Wright has since joined his compatriots Gary Anderson and the late Jocky Wilson in winning a brace of World Championship titles, while also enjoying a spell as world number one.

Only Phil Taylor and Michael van Gerwen have won more PDC televised ranking titles than Wright, who insists he can overcome his sluggish start to 2023 by creating more history in the sport.

"I don't class myself anywhere near the greats of the game," concluded Wright, the current world number two.

"If I took it more seriously, then I could say I'm proud of what I've done, but I'm just going out there, playing for fun and enjoying myself.

"I think there is loads more to come to be honest. I feel like I'm starting again from scratch. I feel a new buzz, and I believe I could do much more."