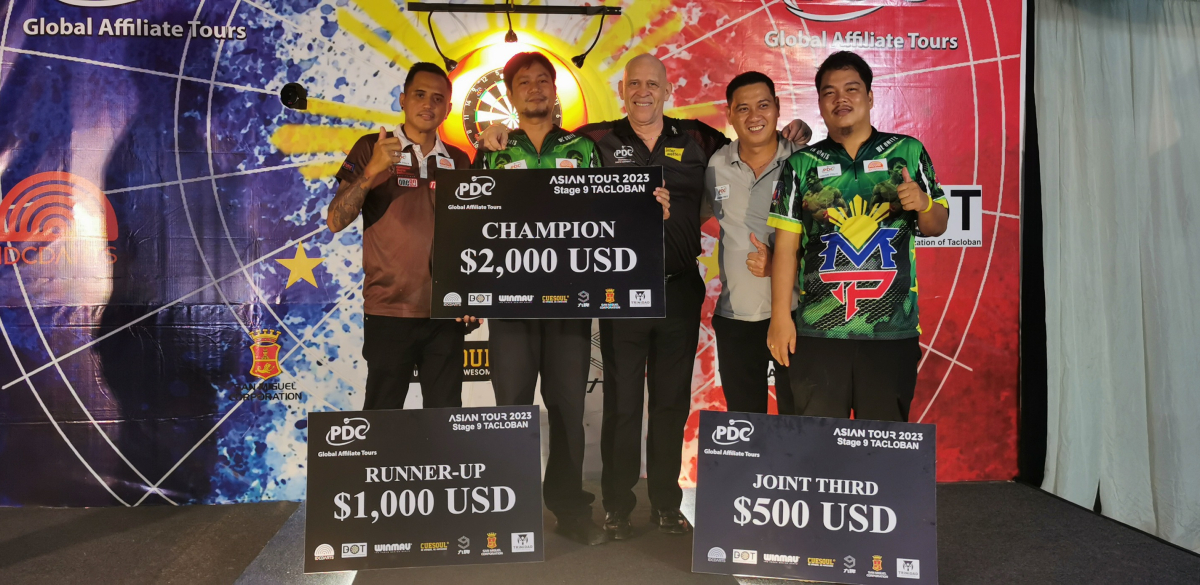 Filipino trio Rosendo Lubaton, Ryan Condat and Reynaldo Rivera clinched maiden titles as the 2023 PDC Asian Tour continued in Tacloban over the weekend.

The Leyte Academic Center played host to Events 7-9 on April 15-16, with 121 players competing across two days of action in the Philippines.

Lubaton produced a stunning display to topple his compatriot Lourence Ilagan in Event Seven on Saturday, averaging 104.5 and converting a stunning 161 checkout to claim the spoils on home soil.

Lubaton also won through deciding-leg ties against fellow countrymen Ryan Ocampo and Donjem Dimaculangan earlier in the day, before recording a 5-2 win over seven-time World Championship qualifier Ilagan.

Later in the day, Condat defeated India's Nitin Kumar to celebrate Event Eight success, producing 97 and 106 finishes to close out a 5-2 victory with a 96 average.

Condat had stormed through to the quarter-finals with four consecutive whitewash wins, before surviving five match darts in his semi-final clash against Dimaculangan, recovering from 4-2 down to prevail.

Dimaculangan, meanwhile, celebrated consecutive quarter-final wins over PDC Asian Champion Christian Perez on Saturday, despite Perez posting a 105 average in his Event Eight opener.

However, the performance of the weekend was produced by Rivera, who fired in an incredible 110 average to whitewash Ilagan in Sunday's Event Nine decider.

Rivera reeled off five consecutive legs in 16, 14, 11, 12 and 15 darts, sealing the deal with a superb 121 combination to scoop the $2,000 top prize.

Rivera also whitewashed Hong Kong's Royden Lam, overcame PDC Asian Championship runner-up Paolo Nebrida and averaged almost 98 in his semi-final rout of Nick John Guelos.

Ilagan boasts a $1,150 lead at the top of the Asian Tour Order of Merit following Event Nine, overhauling Hong Kong's Man Lok Leung, who was absent from the weekend's treble-header.

Lubaton and Condat have moved up to seventh and eighth respectively, with Event Nine winner Rivera sat in tenth spot on the Order of Merit.

The PDC Asian Tour – which will see 24 events taking place across the continent in 2023 – continues on April 29-30, with Events 10-12 set to be held in Hong Kong.
2023 PDC Asian Tour
Saturday April 15
Tacloban, Philippines
Event Seven
Quarter-Finals
Donjem Dimaculangan 4-3 Christian Perez
Rosendo Lubaton 4-2 Aris Quijano
Lourence Ilagan 4-2 Sonny Balagat
Mark Anthony Opada 4-1 Benjamin Collin-Ceasar
Semi-Finals
Rosendo Lubaton 5-4 Donjem Dimaculangan
Lourence Ilagan 5-2 Mark Anthony Opada

Final
Rosendo Lubaton 5-2 Lourence Ilagan
Event Eight
Quarter-Finals
Donjem Dimaculangan 4-2 Christian Perez
Ryan Condat 4-2 Adrian Ray Marcelino
Noel Malicdem 4-3 John Eric Flaris
Nitin Kumar 4-1 Mark Anthony Opada
Semi-Finals
Ryan Condat 5-4 Donjem Dimaculangan
Nitin Kumar 5-4 Noel Malicdem
Final
Ryan Condat 5-2 Nitin Kumar
Sunday April 16
Event Nine
Quarter-Finals
Lourence Ilagan 4-3 Ryan Jay Galceran
Adrian Ray Marcelino 4-1 Rosendo Lubaton
Nick John Guelos 4-3 Robert Ulla
Reynaldo Rivera 4-1 Paolo Nebrida
Semi-Finals
Lourence Ilagan 5-0 Adrian Ray Marcelino
Reynaldo Rivera 5-2 Nick John Guelos
Final
Reynaldo Rivera 5-0 Lourence Ilagan