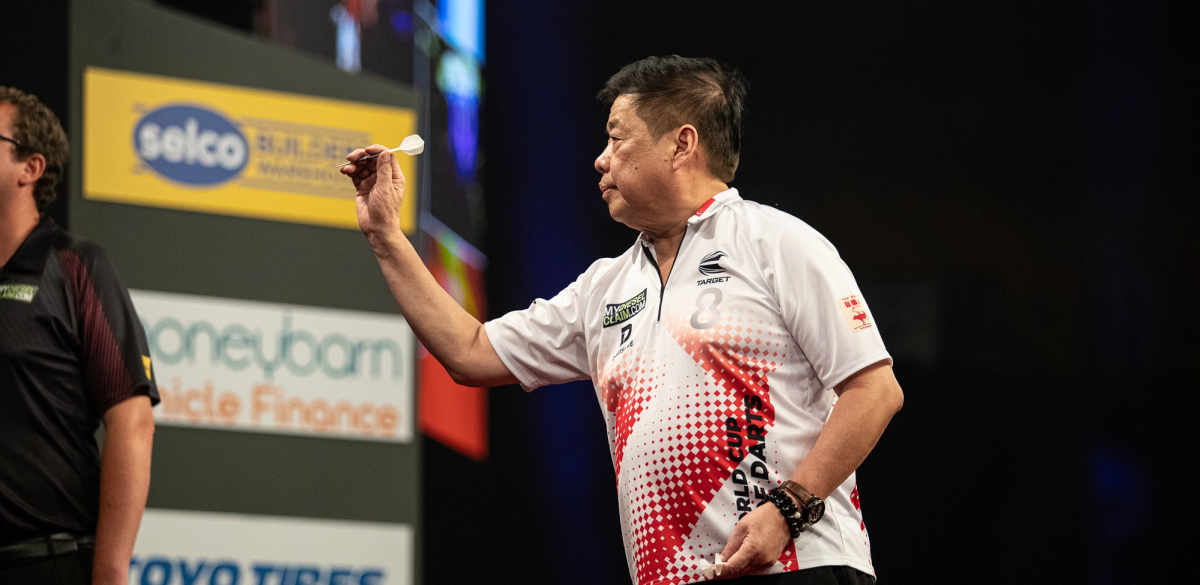 Paul Lim won his first title on the PDC Asian Tour for four years as he shared victories with Tatsunami Mitsuhiko and Man Lok Leung in the year's seventh weekend.
The 69-year-old Singapore legend was victorious in Sunday's Event 21 in Bangsaen as the Asian Tour returned to Thailand.
Lim rolled back the years to take victory in the event, ending Leung's hopes of completing back-to-back wins in the quarter-finals and seeing off Japan's Tomoya Goto 5-3 in the semis.
He then overcame Paolo Nebrida 5-1 in the final to scoop the title - with the Philippines ace ending as the runner-up in all three of the weekend's events.
Nebrida was denied in Event 19 by Mitsuhiko, who claimed his first Asian Tour title with a 5-2 success.
Mitsuhiko impressed in his seven wins during Event 19, seeing off Japanese World Championship qualifier Toru Suzuki in a deciding leg and also averaging over 90 against Reynaldo Rivera and Jun Matsuda.
Hong Kong's Leung then scooped the top prize in Event 20, enjoying a 5-3 win against Nebrida in the final after overcoming Rivera in the semis and fellow countryman Lok Yin Lee in the last eight.
The PDC Asian Tour will make its first visit to the Chinese mainland for the year's eighth weekend, which will feature a further three tournaments to be staged in Qingdao on September 9-10 at the Hampton by Hilton Qingdao West Coast.
Coverage will be shown on PDCTV from each PDC Asian Tour event from the last 16 onwards.
2023 PDC Asian Tour
July 29-30, Bangsaen, Thailand
Event 19
Quarter-Finals
Paolo Nebrida 4-0 Vic Erwin Buling
Tomoya Goto 4-3 Sandro Eric Sosing
Jun Matsuda 4-3 Alexis Toylo
Tatsunami Mitsuhiko 4-3 Reynaldo Rivera
Semi-Finals
Paolo Nebrida 5-3 Tomoya Goto
Tatsunami Mitsuhiko 5-4 Jun Matsuda
Final
Tatsunami Mitsuhiko 5-2 Paolo Nebrida
Event 20
Quarter-Finals
Paolo Nebrida 4-2 Lourence Ilagan
Rosendo Lubaton 4-1 Wiwat Pannom
Reynaldo Rivera 4-2 Hubby Bryan Decena
Man Lok Leung 4-1 Lee Lok Yin
Semi-Finals
Paolo Nebrida 5-2 Rosendo Lubaton
Man Lok Leung 5-2 Reynaldo Rivera
Final
Man Lok Leung 5-3 Paolo Nebrida
Event 21
Quarter-Finals
Lourence Ilagan 4-0 Sonny Millo Balagat
Paolo Nebrida 4-3 Alexis Toylo
Paul Lim 4-1 Man Lok Leung
Tomoya Goto 4-3 Christian Perez
Semi-Finals
Paolo Nebrida 5-4 Lourence Ilagan
Paul Lim 5-3 Tomoya Goto
Final
Paul Lim 5-1 Paolo Nebrida