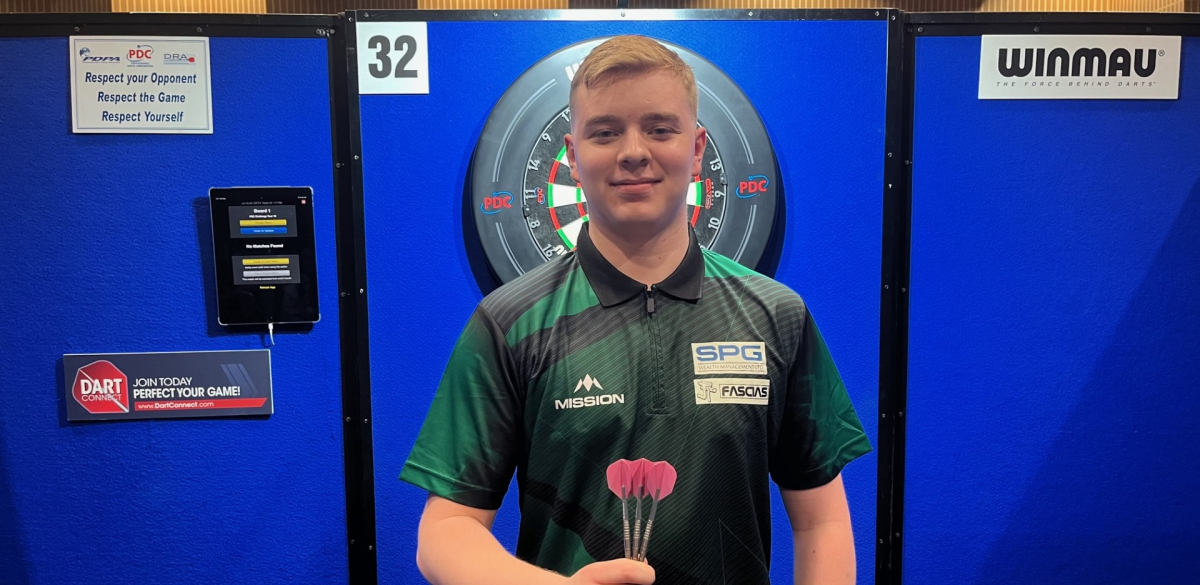 Cam Crabtree and Robert Grundy shared titles as the 2023 Winmau Challenge Tour season continued in Milton Keynes on Saturday.
Saturday's double-header saw over 200 players in action at the Marshall Arena, with Crabtree claiming his second Challenge Tour crown of 2023, after Grundy had celebrated a landmark win earlier in the afternoon.
Grundy defeated former Lakeside Champion Christian Kist 5-2 to triumph in Event 17, producing a superb four-leg spell midway through proceedings to deny the resurgent Dutchman in his third final of 2023.
The Englishman breezed through to the last 16 for the loss of just six legs, whitewashing Jenson Walker and registering 5-2 wins over Carl Beattie, Harry Lane and Moreno Blom respectively.
Grundy then survived a fightback from Arjan Konterman to win through an edgy last-leg shoot-out, before recording 5-3 victories against Vitezslav Sedlak and Owen Bates in the quarter-finals and semi-finals respectively.
Kist produced his best performance of the event in his 5-3 win over Peter Jacques, and also overcame his compatriots Jimmy van Schie and Patrick Peters before battling past Lee Budgen and Jason Heaver in the latter stages.
Emerging teenager Crabtree then rounded off Saturday's action with Event 18 success, defeating Switzerland's Stefan Bellmont 5-2 to move up to third spot on the Challenge Tour Order of Merit - behind Dutch duo Berry van Peer and Kist.
The 19-year-old won three deciding-leg ties on his way to glory, winning through nine-leg affairs against Chas Barstow, David Wawrzewski and Marcel Erba respectively.
Crabtree also whitewashed Charlie Symons and dumped out former World Championship runner-up Andy Hamilton earlier in the tournament, while claiming a semi-final win over Jarred Cole - a winner on the Winmau Development Tour back in June.
Swiss World Cup star Bellmont also came through a host of last-leg shoot-outs to pocket the £1,000 runner-up prize, edging out Van Schie, James Hurrell, Walker and Kist to continue his progress in 2023.
The year's fourth Winmau Challenge Tour weekend will conclude on Sunday, as Event 19 takes place at Milton Keynes' Marshall Arena.
The top two players from the final 2023 Challenge Tour Order of Merit will secure a PDC Tour Card for 2024/25 and a place in the 2023/24 Paddy Power World Darts Championship.
Van Peer retains a £5,300 cushion at the top of the Challenge Order of Merit, ahead of his compatriot Kist on £7,200, with Crabtree further adrift in third spot on £6,975.
Click here for Event Draws & Results
Click here for match stats & results
2023 Winmau Challenge Tour
Saturday August 12
Marshall Arena, Milton Keynes
Event 17 - Quarter-Finals
Owen Bates 5-0 Marcel Erba
Robert Grundy 5-3 Vitezslav Sedlak
Jason Heaver 5-4 Dan Read
Christian Kist 5-4 Lee Budgen

Semi-Finals
Robert Grundy 5-3 Owen Bates
Christian Kist 5-3 Jason Heaver
Final
Robert Grundy 5-2 Christian Kist
Event 18
Quarter-Finals
Christian Kist 5-2 Reece Robinson
Stefan Bellmont 5-4 Jenson Walker
Jarred Cole 5-4 Andy Boulton
Cam Crabtree 5-4 Marcel Erba
Semi-Finals
Stefan Bellmont 5-4 Christian Kist
Cam Crabtree 5-3 Jarred Cole
Final
Cam Crabtree 5-2 Stefan Bellmont