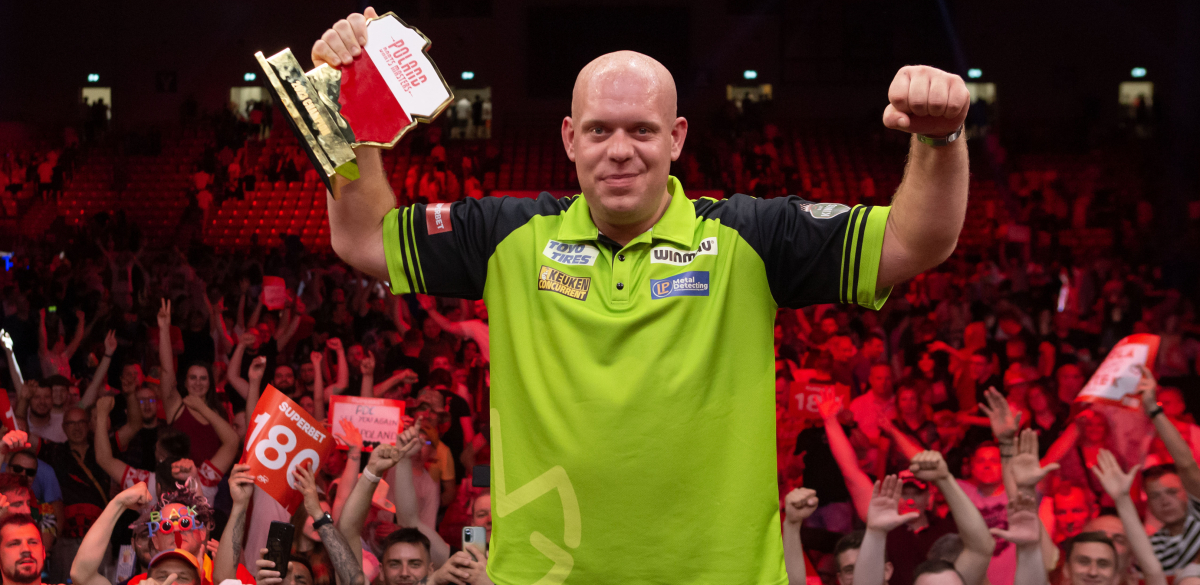 Update - November 19
Due to an error in the system of the ticketing provider for the 2024 Poland Darts Masters, a number of tickets were available for purchase today.
All purchases have been cancelled and refunded and sales will commence as previously advertised from Monday.
Original Story
The World Series of Darts will return to Poland in 2024, with the Superbet Poland Darts Masters to be staged at PreZero Arena Gliwice on June 14-15.
Following the huge success of the inaugural Poland Darts Masters in 2023, the tournament moves to PreZero Arena Gliwice, as eight of the world's biggest stars and eight top East European talents battle it out across two days for TV silverware.
Last year's event saw the PDC visit Poland for the first time - with sell-out crowds witnessing Michael van Gerwen's victory in Warsaw after tickets sold out within a day of going on sale.
"We are delighted to be bringing the sport's biggest names back to Poland in 2024," said PDC Chief Executive Matthew Porter.
"The Superbet Poland Darts Masters was a huge success in 2023, with tickets selling out at an unprecedented rate, reflecting the huge appetite for darts in the region and we enjoyed a fantastic event.
"The move to a larger venue will offer more Polish sports fans the chance to experience elite level darts in 2024 as our World Series of Darts tour makes a return to a country with such an exciting fanbase.
"We thank Superbet for their continued support of the Poland Darts Masters, and look forward to working with PreZero Arena Gliwice in staging this event."
The field of players competing in the 2024 Superbet Poland Darts Masters will be confirmed in due course – with top-ranked Polish star Krzysztof Ratajski set to headline in his home country alongside the likes of 2023 World Champion Michael Smith and reigning champion Van Gerwen.
Tickets for the 2024 Superbet Poland Darts Masters will go on staggered sale from Monday November 20.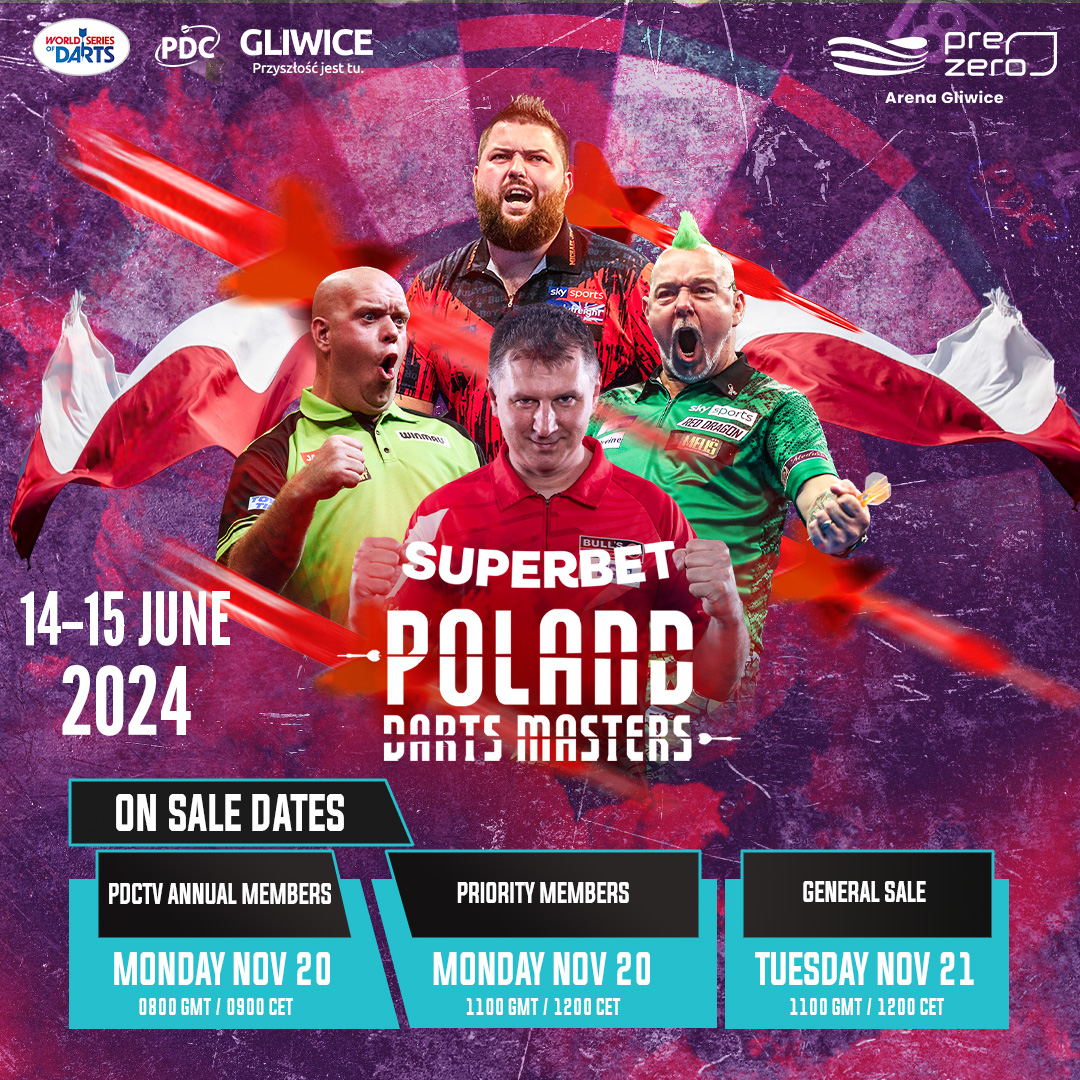 Window One
Tickets will go on sale to PDCTV Annual Members from 0900 CET on Monday November 20.
To access tickets via this window fans must have an active Annual Subscription as of 1200 CET on Friday November 17.
CLICK HERE TO BECOME A PDCTV ANNUAL MEMBER
Window Two
Fans who do not have a PDCTV Annual Membership can still gain priority access through the second window which opens at 1200 CET on Monday November 20 by registering for free through the Priority Registration Form.
To access tickets via this window fans must have signed up before the deadline at 1200 CET on Friday November 17.
CLICK HERE TO REGISTER FOR PRIORITY TICKET ACCESS
Window Three
Any remaining tickets will go on general sale through ebilet from 1200 CET on Tuesday November 21.
2024 Superbet Poland Darts Masters
PreZero Arena Gliwice
Session Schedule
Friday June 14 (1900 CEST)
First Round x8
Front Table Ticket 125zl
Rear Table Ticket 100zl
Front Tier Ticket 75zl
Rear Tier Ticket 60zl
 
Saturday June 15 (1900 CEST)
Quarter-Finals, Semi-Finals & Final
Front Table Ticket 150zl
Rear Table Ticket 125zl
Front Tier Ticket 100zl
Rear Tier Ticket 75zl
Tickets sold subject to standard PDC Terms & Conditions, available at www.pdc.tv/tandcs.