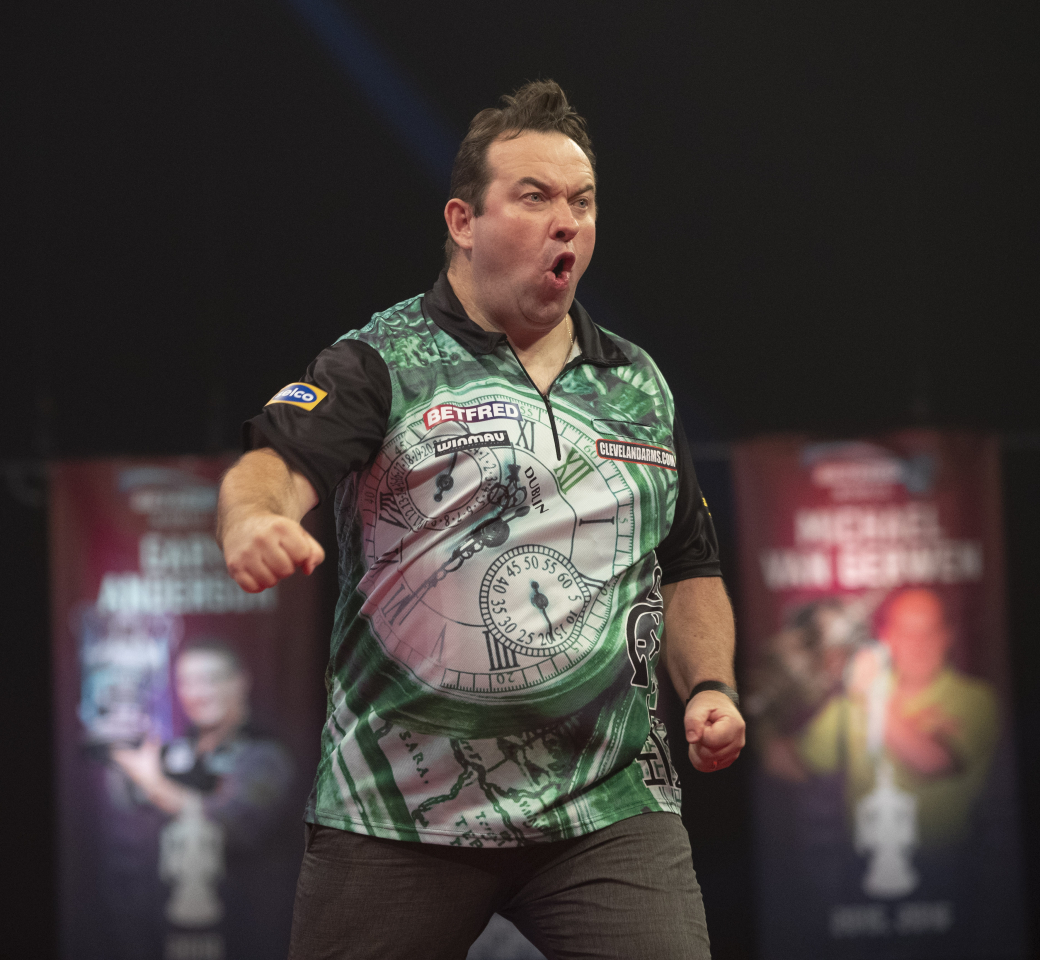 Brendan Dolan
The HistoryMaker
PDC World Ranking

23

Televised titles

0

Non-Televised PDC Titles

8

Televised Nine-Dart Finishes

1
Walk-On Music

I'm Shipping Up To Boston - Dropkick Murphys

Date of Birth

August 02 1973

Darts Used

25g

Winmau Brendan Dolan

Home Town

Belcoo

Twitter

@BrendanDolan180
BRENDAN created history as the first player to achieve a nine-dart finish in the double-start format at the 2010 World Grand Prix as the highlight of his career to date.
The Northern Irish ace made his initial breakthrough in 2003 as a qualifier for the UK Open, and went on to join the PDC circuit on a full-time basis four years later.
However, it would be the 2010 World Grand Prix which proved career-changing for Dolan, as he landed the first double-start nine-darter in a semi-final win over James Wade.
Although Dolan went on to lose out to Phil Taylor in his first televised final, the achievement proved the launchpad for his rise into the world's top 16.
Dolan reached both the European Championship and World Grand Prix semi-finals in 2012 and won five PDC ranking titles during the next two years.
A two-time World Cup of Darts semi-finalist whilst representing Northern Ireland, Dolan has also reached the UK Open and Grand Slam of Darts quarter-finals.
Player Stats
Select below to see result & roll of honour information.
| | |
| --- | --- |
| Players Championship | 2013 (x2), 2014 (x2), 2019 (x2), 2021 |
| UK Open Qualifier | 2014 |
| | | |
| --- | --- | --- |
|   | Most Recent | Best Performance |
| 2022 WORLD CHAMPIONSHIP | Last 64 | Quarter Final - 2019 |
| 2021 UK OPEN | Last 16 | Quarter Final - 2014 |
| 2021 WORLD MATCHPLAY | Last 32 | Last 16 - 2013, 2015, 2016 |
| 2021 WORLD GRAND PRIX | Last 32 | Runner Up - 2011 |
| 2021 EUROPEAN CHAMPIONSHIP | Last 16 | Semi Final - 2012 |
| 2021 GRAND SLAM OF DARTS | - | Quarter Final - 2016 |
| 2021 PLAYERS CHAMPIONSHIP FINALS | Semi Final | Semi Final - 2021 |
| | | |
| --- | --- | --- |
|   | Most Recent | Best Performance |
| 2021 THE MASTERS | - | Last 16 - 2014, 2015 |
| 2021 PREMIER LEAGUE | - | - |
| 2021 WORLD CUP OF DARTS  | Quarter Final | Semi Final - 2014, 2016 |
| 2021 NORDIC DARTS MASTERS | - |   |
| 2021 WORLD SERIES OF DARTS FINALS | - | Last 24 - 2016 |
| | | |
| --- | --- | --- |
| TOURNAMENT WIN | Players Championship 5 (March 2021) | beat Michael Smith 8-6 |
| FINAL | Players Championship 19 (July 2021) | lost to Ross Smith 8-4 |
| SEMI FINAL | Players Championship Finals (November 2021) | lost to Ryan Searle 11-6 |
| QUARTER FINAL | Players Championship Finals (November 2021) | beat Jose de Sousa 10-4 |
| | | |
| --- | --- | --- |
| WORLD CHAMPIONSHIP | Last 64 | lost to Callan Rydz 3-0 |
| | | |
| --- | --- | --- |
| WORLD CHAMPIONSHIP | Last 32 | lost to Gerwyn Price 4-3 |
| THE MASTERS | - |   |
| PLAYERS CHAMPIONSHIP 1 | Last 64 | lost to Steve Lennon 6-5 |
| PLAYERS CHAMPIONSHIP 2 | Last 128 | lost to Jeff Smith 6-3 |
| PLAYERS CHAMPIONSHIP 3 | Last 64 | lost to Luke Humphries 6-2 |
| PLAYERS CHAMPIONSHIP 4 | Last 128 | lost to Rowby-John Rodriguez 6-4 |
| UK OPEN | Last 16 | lost to Simon Whitlock 10-9 |
| PLAYERS CHAMPIONSHIP 5 | Winner | beat Michael Smith 8-6 |
| PLAYERS CHAMPIONSHIP 6 | Semi Final | lost to Gerwyn Price 7-6 |
| PLAYERS CHAMPIONSHIP 7 | Last 128 | lost to Jeff Smith 6-3 |
| PLAYERS CHAMPIONSHIP 8 | Semi Final | lost to Gerwyn Price 7-2 |
| PLAYERS CHAMPIONSHIP 9 | Quarter Final | lost to Jose de Sousa 6-2 |
| PLAYERS CHAMPIONSHIP 10 | Last 32 | lost to Raymond van Barneveld 6-5 |
| PLAYERS CHAMPIONSHIP 11 | Semi Final | lost to Martijn Kleermaker 7-5 |
| PLAYERS CHAMPIONSHIP 12 | Last 64 | lost to Ted Evetts 6-5 |
| PREMIER LEAGUE | - |   |
| PLAYERS CHAMPIONSHIP 13 | Last 32 | lost to Gary Anderson 6-1 |
| PLAYERS CHAMPIONSHIP 14 | Last 64 | lost to Jeff Smith 6-2 |
| PLAYERS CHAMPIONSHIP 15 | Last 32 | lost to Rob Cross 6-1 |
| PLAYERS CHAMPIONSHIP 16 | Last 16 | lost to Peter Wright 6-5 |
| PLAYERS CHAMPIONSHIP 17 | Quarter Final | lost to Dimitri Van den Bergh 6-3 |
| PLAYERS CHAMPIONSHIP 18 | Last 128 | lost to Steve Beaton 6-5 |
| PLAYERS CHAMPIONSHIP 19 | Runner Up | lost to Ross Smith 8-4 |
| PLAYERS CHAMPIONSHIP 20 | Last 16 | lost to Chas Barstow 6-4 |
| WORLD MATCHPLAY | Last 32 | lost to Krzysztof Ratajski 10-4 |
| PLAYERS CHAMPIONSHIP 21 | Last 32 | lost to Ian White 6-5 |
| PLAYERS CHAMPIONSHIP 22 | Last 64 | lost to Scott Mitchell 6-3 |
| PLAYERS CHAMPIONSHIP 23 | Last 32 | lost to Daryl Gurney 6-4 |
| HUNGARIAN DARTS TROPHY | Quarter Final | lost to Gerwyn Price 6-4 |
| WORLD CUP OF DARTS | Quarter Final (Daryl Gurney) | lost to Austria 2-1 |
| NORDIC DARTS MASTERS | - |   |
| GIBRALTAR DARTS TROPHY | Quarter Final | lost to Simon Whitlock 6-4 |
| WORLD GRAND PRIX | Last 32 | lost to Darius Labanauskas 2-1 |
| EUROPEAN CHAMPIONSHIP | Last 16 | lost to Rob Cross 10-4 |
| PLAYERS CHAMPIONSHIP 24 | Last 128 | lost to Mike De Decker 6-4 |
| PLAYERS CHAMPIONSHIP 25 | Last 16 | lost to Ryan Meikle 6-3 |
| PLAYERS CHAMPIONSHIP 26 | Last 16 | lost to Vincent van der Voort 6-2 |
| PLAYERS CHAMPIONSHIP 27 | Quarter Final | lost to Rob Cross 6-4 |
| WORLD SERIES OF DARTS FINALS | - |   |
| PLAYERS CHAMPIONSHIP 28 | Last 128 | lost to Alan Tabern 6-4 |
| PLAYERS CHAMPIONSHIP 29 | Last 16 | lost to Michael van Gerwen 6-5 |
| PLAYERS CHAMPIONSHIP 30 | Last 128 | lost to Keegan Brown 6-4 |
| GRAND SLAM OF DARTS | - |   |
| PLAYERS CHAMPIONSHIP FINALS | Semi Final | lost to Ryan Searle 11-6 |
| | | |
| --- | --- | --- |
| WORLD CHAMPIONSHIP | Last 64 | lost to Gary Anderson 3-0 |
| THE MASTERS | - |   |
| PLAYERS CHAMPIONSHIP 1 | Semi Final | lost to Jeff Smith 7-2 |
| PLAYERS CHAMPIONSHIP 2 | Last 32 | lost to Peter Wright 6-2 |
| PLAYERS CHAMPIONSHIP 3 | Last 64 | lost to Ted Evetts 6-5 |
| PLAYERS CHAMPIONSHIP 4 | Last 64 | lost to David Pallett 6-4 |
| PLAYERS CHAMPIONSHIP 5 | Last 16 | lost to William O'Connor 6-5 |
| PLAYERS CHAMPIONSHIP 6 | Last 32 | lost to Daryl Gurney 6-4 |
| BELGIAN DARTS CHAMPIONSHIP | - |   |
| UK OPEN | Last 64 | lost to Jamie Hughes 10-9 |
| PLAYERS CHAMPIONSHIP 7 | Runner Up | lost to Nathan Aspinall 8-4 |
| PLAYERS CHAMPIONSHIP 8 | Last 64 | lost to Kim Huybrechts 6-2 |
| PLAYERS CHAMPIONSHIP 9 (SS1) | Last 64 | lost to Robert Collins 6-5 |
| PLAYERS CHAMPIONSHIP 10 (SS2) | Last 64 | lost to Christian Bunse 6-5 |
| PLAYERS CHAMPIONSHIP 11 (SS3) | Last 128 | lost to Harry Ward 6-5 |
| PLAYERS CHAMPIONSHIP 12 (SS4) | Last 64 | lost to Kai-Fan Leung 6-1 |
| PLAYERS CHAMPIONSHIP 13 (SS5) | Last 16 | lost to Peter Wright 6-1 |
| WORLD MATCHPLAY | Last 32 | lost to Michael van Gerwen 10-7 |
| PLAYERS CHAMPIONSHIP 14 (AS1) | Last 128 | lost to Richard North 6-5 |
| PLAYERS CHAMPIONSHIP 15 (AS2) | Last 128 | lost to Mervyn King 6-5 |
| PLAYERS CHAMPIONSHIP 16 (AS3) | Last 128 | lost to James Wilson 6-5 |
| PLAYERS CHAMPIONSHIP 17 (AS4) | Last 64 | lost to Scott Waites 6-1 |
| PLAYERS CHAMPIONSHIP 18 (AS5) | Semi Final | lost to Krzysztof Ratajski 7-4 |
| WORLD SERIES OF DARTS FINALS | - |   |
| GERMAN DARTS CHAMPIONSHIP | - |   |
| WORLD GRAND PRIX | Last 32 | lost to Kim Huybrechts 2-1 |
| PREMIER LEAGUE | - |   |
| EUROPEAN DARTS GRAND PRIX | - |   |
| INTERNATIONAL DARTS OPEN | Last 48 | lost to Franz Roetzsch 6-4 |
| EUROPEAN CHAMPIONSHIP | - |   |
| WORLD CUP OF DARTS | Last 32 (Daryl Gurney) | lost to Canada 5-2 |
| PLAYERS CHAMPIONSHIP 19 (WS1) | Semi Final | lost to Jermaine Wattimena 7-3 |
| PLAYERS CHAMPIONSHIP 20 (WS2) | Quarter Final | lost to Joe Cullen 6-3 |
| PLAYERS CHAMPIONSHIP 21 (WS3) | Last 32 | lost to Callan Rydz 6-2 |
| PLAYERS CHAMPIONSHIP 22 (WS4) | Last 16 | lost to Jose de Sousa 6-3 |
| PLAYERS CHAMPIONSHIP 23 (WS5) | Last 32 | lost to Daryl Gurney 6-4 |
| GRAND SLAM OF DARTS | - |   |
| PLAYERS CHAMPIONSHIP FINALS | Last 64 | lost to Luke Woodhouse 6-4 |
| | | |
| --- | --- | --- |
| WORLD CHAMPIONSHIP | Quarter Final | lost to Nathan Aspinall 5-1 |
| THE MASTERS | - |   |
| PLAYERS CHAMPIONSHIP 1 | Last 128 | lost to Mervyn King 6-4 |
| PLAYERS CHAMPIONSHIP 2 | Last 32 | lost to Alan Tabern 6-4 |
| PLAYERS CHAMPIONSHIP 3 | Last 64 | lost to William O'Connor 6-5 |
| PLAYERS CHAMPIONSHIP 4 | Last 128 | lost to Harry Ward 6-4 |
| PLAYERS CHAMPIONSHIP 5 | Last 64 | lost to James Wade 6-1 |
| PLAYERS CHAMPIONSHIP 6 | Last 128 | lost to Chris Dobey 6-3 |
| UK OPEN | Last 64 | lost to Richard North 10-4 |
| PLAYERS CHAMPIONSHIP 7 | Last 128 | lost to John Michael 6-5 |
| PLAYERS CHAMPIONSHIP 8 | Last 64 | lost to Benito van de Pas 6-3 |
| EUROPEAN DARTS OPEN | - |   |
| GERMAN DARTS CHAMPIONSHIP | - |   |
| PLAYERS CHAMPIONSHIP 9 | Last 128 | lost to Ian White 6-4 |
| PLAYERS CHAMPIONSHIP 10 | Last 128 | lost to Justin Pipe 6-2 |
| PLAYERS CHAMPIONSHIP 11 | Last 128 | lost to Raymond van Barneveld 6-3 |
| PLAYERS CHAMPIONSHIP 12 | Last 128 | lost to Nathan Aspinall 6-5 |
| GERMAN DARTS GRAND PRIX | Last 48 | lost to Ritchie Edhouse 6-4 |
| GERMAN DARTS OPEN | Last 48 | lost to Jamie Hughes 6-4 |
| PLAYERS CHAMPIONSHIP 13 | Last 64 | lost to Ryan Searle 6-5 |
| PLAYERS CHAMPIONSHIP 14 | Last 16 | lost to Darius Labanauskas 6-1 |
| AUSTRIAN DARTS OPEN | - |   |
| EUROPEAN DARTS GRAND PRIX | Last 32 | lost to Michael van Gerwen 6-5 |
| PLAYERS CHAMPIONSHIP 15 | Last 128 | lost to Arron Monk 6-4 |
| PLAYERS CHAMPIONSHIP 16 | Last 128 | lost to Martin Atkins (Yorks) 6-3 |
| PREMIER LEAGUE | - |   |
| DUTCH DARTS MASTERS | Last 16 | lost to Gerwyn Price 6-3 |
| WORLD CUP OF DARTS | Last 32 (Daryl Gurney) | lost to South Africa 5-4 |
| DANISH DARTS OPEN | - |   |
| PLAYERS CHAMPIONSHIP 17 | Last 64 | lost to Jelle Klaasen 6-3 |
| PLAYERS CHAMPIONSHIP 18 | Last 16 | lost to Callan Rydz 6-5 |
| CZECH DARTS OPEN | Last 48 | lost to Karel Sedlacek 6-5 |
| U.S. DARTS MASTERS | - |   |
| GERMAN DARTS MASTERS | - |   |
| PLAYERS CHAMPIONSHIP 19 | Last 128 | lost to Ryan Meikle 6-4 |
| PLAYERS CHAMPIONSHIP 20 | Last 128 | lost to Stephen Bunting 6-5 |
| WORLD MATCHPLAY | - |   |
| PLAYERS CHAMPIONSHIP 21 | Last 128 | lost to Ronny Huybrechts 6-5 |
| PLAYERS CHAMPIONSHIP 22 | Winner | beat Jermaine Wattimena 8-5 |
| BRISBANE DARTS MASTERS | - |   |
| MELBOURNE DARTS MASTERS | - |   |
| NEW ZEALAND DARTS MASTERS | - |   |
| AUSTRIAN DARTS CHAMPIONSHIP | Last 32 | lost to Gerwyn Price 6-4 |
| EUROPEAN DARTS MATCHPLAY | - |   |
| PLAYERS CHAMPIONSHIP 23 | Last 128 | lost to Krzysztof Ratajski 6-2 |
| PLAYERS CHAMPIONSHIP 24 | Last 128 | lost to Kyle Anderson 6-5 |
| INTERNATIONAL DARTS OPEN | - |   |
| PLAYERS CHAMPIONSHIP 25 | Last 64 | lost to Raymond van Barneveld 6-4 |
| PLAYERS CHAMPIONSHIP 26 | Last 128 | lost to Devon Petersen 6-2 |
| GIBRALTAR DARTS TROPHY | - |   |
| PLAYERS CHAMPIONSHIP 27 | Last 32 | lost to Vincent van der Voort 6-3 |
| PLAYERS CHAMPIONSHIP 28 | Last 128 | lost to Nathan Aspinall 6-3 |
| WORLD GRAND PRIX | - |   |
| PLAYERS CHAMPIONSHIP 29 | Winner | beat Ian White 8-6 |
| PLAYERS CHAMPIONSHIP 30 | Last 128 | lost to Steve West 6-1 |
| CHAMPIONS LEAGUE OF DARTS | - |   |
| EUROPEAN CHAMPIONSHIP | - |   |
| WORLD SERIES OF DARTS FINALS | - |   |
| GRAND SLAM OF DARTS | Last 32 (3rd) |   |
| PLAYERS CHAMPIONSHIP FINALS | Last 32 | lost to Michael Smith 6-4 |
| | | |
| --- | --- | --- |
| WORLD CHAMPIONSHIP | Last 64 | lost to Robert Thornton 3-1 |
| THE MASTERS | - |   |
| UK OPEN QUALIFIER 1 | Last 64 | lost to John Henderson 6-4 |
| UK OPEN QUALIFIER 2 | Last 256 | lost to Ron Meulenkamp 6-2 |
| UK OPEN QUALIFIER 3 | Last 128 | lost to Michael Plooy 6-2 |
| UK OPEN QUALIFIER 4 | Preliminary Round | lost to Keegan Brown 6-1 |
| UK OPEN QUALIFIER 5 | Last 64 | lost to Dirk van Duijvenbode 6-4 |
| UK OPEN QUALIFIER 6 | Last 128 | lost to Nicholas Bell 6-3 |
| PLAYERS CHAMPIONSHIP 1 | Last 64 | lost to Dave Chisnall 6-5 |
| PLAYERS CHAMPIONSHIP 2 | Last 128 | lost to Ryan Meikle 6-3 |
| UK OPEN | - |   |
| PLAYERS CHAMPIONSHIP 3 | Quarter Final | lost to Peter Wright 6-3 |
| PLAYERS CHAMPIONSHIP 4 | Last 128 | lost to Jonny Clayton 6-4 |
| PLAYERS CHAMPIONSHIP 5 | Last 16 | lost to Gabriel Clemens 6-4 |
| PLAYERS CHAMPIONSHIP 6 | Last 128 | lost to Ricky Evans 6-4 |
| EUROPEAN DARTS OPEN | - |   |
| GERMAN DARTS GRAND PRIX | - |   |
| PLAYERS CHAMPIONSHIP 7 | Last 128 | lost to Alan Tabern 6-5 |
| PLAYERS CHAMPIONSHIP 8 | Last 128 | lost to Max Hopp 6-5 |
| GERMAN DARTS OPEN | - |   |
| AUSTRIAN DARTS OPEN | Last 32 | lost to Ian White 6-4 |
| PLAYERS CHAMPIONSHIP 9 | Last 128 | lost to Jamie Caven 6-4 |
| PLAYERS CHAMPIONSHIP 10 | Last 64 | lost to John Davey 6-4 |
| EUROPEAN DARTS GRAND PRIX | - |   |
| DUTCH DARTS MASTERS | - |   |
| PREMIER LEAGUE | - |   |
| PLAYERS CHAMPIONSHIP 11 | Quarter Final | lost to Gabriel Clemens 6-5 |
| PLAYERS CHAMPIONSHIP 12 | Semi Final | lost to Peter Wright 6-3 |
| GERMAN DARTS MASTERS | - |   |
| WORLD CUP OF DARTS | Last 16 (Daryl Gurney) | lost to Germany 2-1 |
| GIBRALTAR DARTS TROPHY | Last 32 | lost to Daryl Gurney 6-4 |
| PLAYERS CHAMPIONSHIP 13 | Last 64 | lost to Kyle Anderson 6-5 |
| PLAYERS CHAMPIONSHIP 14 | Last 128 | lost to Jonny Clayton 6-2 |
| DANISH DARTS OPEN | Quarter Final | lost to Steve West 6-3 |
| PLAYERS CHAMPIONSHIP 15 | Last 64 | lost to Robert Marijanovic 6-3 |
| PLAYERS CHAMPIONSHIP 16 | Quarter Final | lost to Adrian Lewis 6-3 |
| EUROPEAN DARTS MATCHPLAY | - |   |
| U.S. DARTS MASTERS | - |   |
| SHANGHAI DARTS MASTERS | - |   |
| WORLD MATCHPLAY | - |   |
| AUCKLAND DARTS MASTERS | - |   |
| MELBOURNE DARTS MASTERS | - |   |
| BRISBANE DARTS MASTERS | - |   |
| GERMAN DARTS CHAMPIONSHIP | - |   |
| PLAYERS CHAMPIONSHIP 17 | Last 128 | lost to Gabriel Clemens 6-4 |
| PLAYERS CHAMPIONSHIP 18 | Last 32 | lost to Richard North 6-2 |
| DUTCH DARTS CHAMPIONSHIP | - |   |
| INTERNATIONAL DARTS OPEN | - |   |
| CHAMPIONS LEAGUE OF DARTS | - |   |
| PLAYERS CHAMPIONSHIP 19 | Last 64 | lost to Michael van Gerwen 6-3 |
| PLAYERS CHAMPIONSHIP 20 | Last 32 | lost to Jermaine Wattimena 6-3 |
| WORLD GRAND PRIX | - |   |
| EUROPEAN DARTS TROPHY | Last 48 | lost to Gabriel Clemens 6-3 |
| PLAYERS CHAMPIONSHIP 21 | Last 128 | lost to Adrian Lewis 6-5 |
| PLAYERS CHAMPIONSHIP 22 | Last 64 | lost to Mark Webster 6-5 |
| EUROPEAN CHAMPIONSHIP | - |   |
| WORLD SERIES OF DARTS FINALS | - |   |
| GRAND SLAM OF DARTS | - |   |
| PLAYERS CHAMPIONSHIP FINALS | Last 16 | lost to Daryl Gurney 10-6 |
| | | |
| --- | --- | --- |
| WORLD CHAMPIONSHIP | Last 32 | lost to Jelle Klaasen 4-0 |
| THE MASTERS | - |   |
| UK OPEN QUALIFIER 1 | Last 128 | lost to John Michael 6-3 |
| UK OPEN QUALIFIER 2 | Quarter Final | lost to Gary Anderson 6-1 |
| UK OPEN QUALIFIER 3 | Last 128 | lost to Matthew Edgar 6-5 |
| UK OPEN QUALIFIER 4 | Last 128 | lost to Jonathan Worsley 6-2 |
| UK OPEN QUALIFIER 5 | Last 32 | lost to Ian White 6-5 |
| UK OPEN QUALIFIER 6 | Quarter Final | lost to Adrian Lewis 6-5 |
| PLAYERS CHAMPIONSHIP 1 | Last 16 | lost to Michael Smith 6-5 |
| PLAYERS CHAMPIONSHIP 2 | Last 128 | lost to Gary Anderson 6-1 |
| UK OPEN | Last 64 | lost to John Michael 10-9 |
| PLAYERS CHAMPIONSHIP 3 | Last 128 | lost to Robert Thornton 6-3 |
| PLAYERS CHAMPIONSHIP 4 | Last 128 | lost to Rob Cross 6-3 |
| GERMAN DARTS CHAMPIONSHIP | - |   |
| PLAYERS CHAMPIONSHIP 5 | Last 64 | lost to Simon Stevenson 6-2 |
| PLAYERS CHAMPIONSHIP 6 | Last 64 | lost to Mick Todd 6-5 |
| PLAYERS CHAMPIONSHIP 7 | Last 32 | lost to Benito van de Pas 6-3 |
| PLAYERS CHAMPIONSHIP 8 | Last 128 | lost to James Wade 6-3 |
| GERMAN DARTS MASTERS (ET) | - |   |
| GERMAN DARTS OPEN | - |   |
| PLAYERS CHAMPIONSHIP 9 | Last 128 | lost to Paul Rowley 6-4 |
| PLAYERS CHAMPIONSHIP 10 | Last 128 | lost to Robbie Green 6-2 |
| EUROPEAN DARTS GRAND PRIX | - |   |
| GIBRALTAR DARTS TROPHY | - |   |
| PREMIER LEAGUE | - |   |
| PLAYERS CHAMPIONSHIP 11 | Last 128 | lost to Bryan de Hoog 6-4 |
| PLAYERS CHAMPIONSHIP 12 | Last 64 | lost to Peter Wright 6-0 |
| DUBAI DARTS MASTERS | - |   |
| WORLD CUP OF DARTS | Last 32 (Daryl Gurney) | lost to Germany 5-4 |
| EUROPEAN DARTS MATCHPLAY | Last 48 | lost to Peter Hudson 6-1 |
| PLAYERS CHAMPIONSHIP 13 | Last 32 | lost to Michael Smith 6-3 |
| PLAYERS CHAMPIONSHIP 14 | Last 64 | lost to Josh Payne 6-1 |
| AUSTRIAN DARTS OPEN | - |   |
| EUROPEAN DARTS OPEN | - |   |
| SHANGHAI DARTS MASTERS | - |   |
| PLAYERS CHAMPIONSHIP 15 | Last 128 | lost to Daryl Gurney 6-2 |
| PLAYERS CHAMPIONSHIP 16 | Quarter Final | lost to Daryl Gurney 6-4 |
| U.S. DARTS MASTERS | - |   |
| WORLD MATCHPLAY | - |   |
| PLAYERS CHAMPIONSHIP 17 | Last 32 | lost to Daryl Gurney 6-2 |
| PLAYERS CHAMPIONSHIP 18 | Quarter Final | lost to Dave Chisnall 6-5 |
| AUCKLAND DARTS MASTERS | - |   |
| MELBOURNE DARTS MASTERS | - |   |
| PERTH DARTS MASTERS | - |   |
| DUTCH DARTS MASTERS | - |   |
| GERMAN DARTS GRAND PRIX | - |   |
| CHAMPIONS LEAGUE OF DARTS | - |   |
| INTERNATIONAL DARTS OPEN | Last 32 | lost to Jelle Klaasen 6-4 |
| PLAYERS CHAMPIONSHIP 19 | Last 64 | lost to Peter Wright 6-4 |
| PLAYERS CHAMPIONSHIP 20 | Last 128 | lost to Brian Woods 6-3 |
| WORLD GRAND PRIX | - |   |
| PLAYERS CHAMPIONSHIP 21 | Last 128 | lost to Adrian Lewis 6-3 |
| PLAYERS CHAMPIONSHIP 22 | Last 64 | lost to Chris Dobey 6-3 |
| EUROPEAN DARTS TROPHY | - |   |
| GERMAN DARTS MASTERS (WS) | - |   |
| EUROPEAN CHAMPIONSHIP | - |   |
| WORLD SERIES OF DARTS FINALS | - |   |
| GRAND SLAM OF DARTS | - |   |
| PLAYERS CHAMPIONSHIP FINALS | Last 64 | lost to Mervyn King 6-5 |