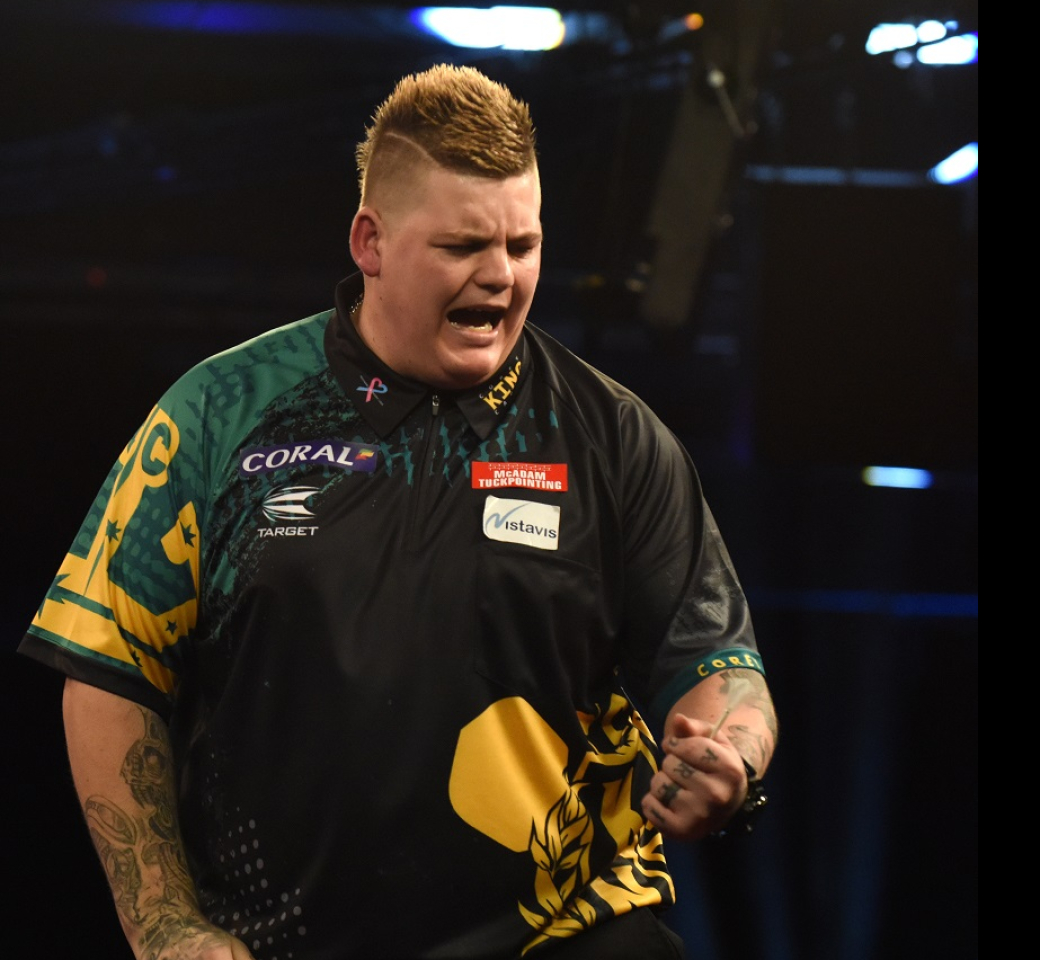 Corey Cadby
The King
PDC World Ranking

63

Televised titles

1

Non-Televised PDC Titles

1

Televised Nine-Dart Finishes

0
Date of Birth

March 18 1995

Darts Used

23g

Target

Home Town

Melbourne
TASMANIAN native Cadby began his career playing in Darts Players Australia events in 2016 where he won seven events, topping the rankings and qualifying for the 2017 PDC World Championship.

Cadby made his TV debut against Phil Taylor in August 2016 at the Sydney Masters, losing 6-3 to the 16-time World Champion, but overturned the result just a week later at the Perth Masters, winning 6–2 with an average of 103.58.
In October 2016, Cadby defeated Berry van Peer 6-2 in the final of the PDC World Youth Championship to claim his first televised title.
In the preliminary round of the 2017 World Championship against China's Sun Qiang, Cadby won 2–0 with an average of 102.48, a record for the preliminary round.
In January 2018 Corey secured a two-year PDC Tour Card and just a month later the Australian youngster won his first PDC ranking title in the fifth UK Open qualifier, defeating reigning World Champion Rob Cross in the final with an average of 108.77.
Cadby continued his superb form by reaching the final of the 2018 UK Open, going down to Gary Anderson in the final.
Player Stats
Select below to see result & roll of honour information.
| | | |
| --- | --- | --- |
|   | Most Recent | Best Performance |
| 2019 WORLD CHAMPIONSHIP | - | Last 64 - 2017 |
| 2019 UK OPEN | - | Runner Up - 2018 |
| 2019 WORLD MATCHPLAY | - | - |
| 2019 WORLD GRAND PRIX | - | - |
| 2019 EUROPEAN CHAMPIONSHIP | - | - |
| 2018 GRAND SLAM OF DARTS | - | Last 32 - 2017 |
| 2018 PLAYERS CHAMPIONSHIP FINALS | - | - |
| | | |
| --- | --- | --- |
|   | Most Recent | Best Performance |
| 2019 THE MASTERS | - | - |
| 2019 PREMIER LEAGUE | - | - |
| 2019 WORLD CUP OF DARTS  | - | - |
| 2019 U.S. MASTERS | - | - |
| 2019 GERMAN MASTERS | - | - |
| 2019 BRISBANE MASTERS | Last 16 | Quarter Final - 2018 |
| 2019 MELBOURNE MASTERS | Last 16 | Quarter Final - 2017 |
| 2019 NEW ZEALAND MASTERS | - | - |
| 2019 CHAMPIONS LEAGUE OF DARTS | - | - |
| 2019 WORLD SERIES OF DARTS FINALS | - | Last 16 - 2017 |
| | | |
| --- | --- | --- |
| WORLD CHAMPIONSHIP | Last 64 | lost to Joe Cullen 3-1 |
| THE MASTERS | - |   |
| UK OPEN QUALIFIER 1 | - |   |
| UK OPEN QUALIFIER 2 | - |   |
| UK OPEN QUALIFIER 3 | - |   |
| UK OPEN QUALIFIER 4 | - |   |
| UK OPEN QUALIFIER 5 | - |   |
| UK OPEN QUALIFIER 6 | - |   |
| PLAYERS CHAMPIONSHIP 1 | - |   |
| PLAYERS CHAMPIONSHIP 2 | - |   |
| UK OPEN | - |   |
| PLAYERS CHAMPIONSHIP 3 | - |   |
| PLAYERS CHAMPIONSHIP 4 | - |   |
| GERMAN DARTS CHAMPIONSHIP | - |   |
| PLAYERS CHAMPIONSHIP 5 | - |   |
| PLAYERS CHAMPIONSHIP 6 | - |   |
| PLAYERS CHAMPIONSHIP 7 | - |   |
| PLAYERS CHAMPIONSHIP 8 | - |   |
| GERMAN DARTS MASTERS (ET) | - |   |
| GERMAN DARTS OPEN | - |   |
| PLAYERS CHAMPIONSHIP 9 | - |   |
| PLAYERS CHAMPIONSHIP 10 | - |   |
| EUROPEAN DARTS GRAND PRIX | - |   |
| GIBRALTAR DARTS TROPHY | - |   |
| PREMIER LEAGUE | - |   |
| PLAYERS CHAMPIONSHIP 11 | - |   |
| PLAYERS CHAMPIONSHIP 12 | - |   |
| DUBAI DARTS MASTERS | - |   |
| WORLD CUP OF DARTS | - |   |
| EUROPEAN DARTS MATCHPLAY | - |   |
| PLAYERS CHAMPIONSHIP 13 | - |   |
| PLAYERS CHAMPIONSHIP 14 | - |   |
| AUSTRIAN DARTS OPEN | - |   |
| EUROPEAN DARTS OPEN | - |   |
| SHANGHAI DARTS MASTERS | - |   |
| PLAYERS CHAMPIONSHIP 15 | - |   |
| PLAYERS CHAMPIONSHIP 16 | - |   |
| U.S. DARTS MASTERS | - |   |
| WORLD MATCHPLAY | - |   |
| PLAYERS CHAMPIONSHIP 17 | - |   |
| PLAYERS CHAMPIONSHIP 18 | - |   |
| AUCKLAND DARTS MASTERS | Runner Up | lost to Kyle Anderson 11-10 |
| MELBOURNE DARTS MASTERS | Quarter Final | lost to Phil Taylor 10-9 |
| PERTH DARTS MASTERS | Last 16 | lost to Raymond van Barneveld 6-5 |
| DUTCH DARTS MASTERS | - |   |
| GERMAN DARTS GRAND PRIX | - |   |
| CHAMPIONS LEAGUE OF DARTS | - |   |
| INTERNATIONAL DARTS OPEN | - |   |
| PLAYERS CHAMPIONSHIP 19 | - |   |
| PLAYERS CHAMPIONSHIP 20 | - |   |
| WORLD GRAND PRIX | - |   |
| PLAYERS CHAMPIONSHIP 21 | - |   |
| PLAYERS CHAMPIONSHIP 22 | - |   |
| EUROPEAN DARTS TROPHY | - |   |
| GERMAN DARTS MASTERS (WS) | - |   |
| EUROPEAN CHAMPIONSHIP | - |   |
| WORLD SERIES OF DARTS FINALS | Last 16 | lost to Gerwyn Price 6-5 |
| GRAND SLAM OF DARTS | Last 32 (4th) |   |
| PLAYERS CHAMPIONSHIP FINALS | - |   |
| | | |
| --- | --- | --- |
| WORLD CHAMPIONSHIP | - |   |
| THE MASTERS | - |   |
| UK OPEN QUALIFIER 1 | Last 32 | lost to Simon Whitlock 6-5 |
| UK OPEN QUALIFIER 2 | Last 256 | lost to Robbie Green 6-5 |
| UK OPEN QUALIFIER 3 | Last 64 | lost to James Richardson 6-3 |
| UK OPEN QUALIFIER 4 | Last 128 | lost to Rene Eidams 6-2 |
| UK OPEN QUALIFIER 5 | Winner | beat Rob Cross 6-4 |
| UK OPEN QUALIFIER 6 | Quarter Final | lost to Krzysztof Ratajski 6-4 |
| PLAYERS CHAMPIONSHIP 1 | Last 64 | lost to Kyle Anderson 6-4 |
| PLAYERS CHAMPIONSHIP 2 | Runner Up | lost to Michael van Gerwen 6-1 |
| UK OPEN | Runner Up | lost to Gary Anderson 11-7 |
| PLAYERS CHAMPIONSHIP 3 | - |   |
| PLAYERS CHAMPIONSHIP 4 | - |   |
| PLAYERS CHAMPIONSHIP 5 | - |   |
| PLAYERS CHAMPIONSHIP 6 | - |   |
| EUROPEAN DARTS OPEN | - |   |
| GERMAN DARTS GRAND PRIX | - |   |
| PLAYERS CHAMPIONSHIP 7 | - |   |
| PLAYERS CHAMPIONSHIP 8 | - |   |
| GERMAN DARTS OPEN | - |   |
| AUSTRIAN DARTS OPEN | - |   |
| PLAYERS CHAMPIONSHIP 9 | - |   |
| PLAYERS CHAMPIONSHIP 10 | - |   |
| EUROPEAN DARTS GRAND PRIX | - |   |
| DUTCH DARTS MASTERS | - |   |
| PREMIER LEAGUE | - |   |
| PLAYERS CHAMPIONSHIP 11 | - |   |
| PLAYERS CHAMPIONSHIP 12 | - |   |
| GERMAN DARTS MASTERS | - |   |
| WORLD CUP OF DARTS | - |   |
| GIBRALTAR DARTS TROPHY | - |   |
| PLAYERS CHAMPIONSHIP 13 | - |   |
| PLAYERS CHAMPIONSHIP 14 | - |   |
| DANISH DARTS OPEN | - |   |
| PLAYERS CHAMPIONSHIP 15 | - |   |
| PLAYERS CHAMPIONSHIP 16 | - |   |
| EUROPEAN DARTS MATCHPLAY | - |   |
| U.S. DARTS MASTERS | - |   |
| SHANGHAI DARTS MASTERS | - |   |
| WORLD MATCHPLAY | - |   |
| AUCKLAND DARTS MASTERS | - |   |
| MELBOURNE DARTS MASTERS | Last 16 | lost to Simon Whitlock 6-4 |
| BRISBANE DARTS MASTERS | Quarter Final | lost to Rob Cross 10-4 |
| GERMAN DARTS CHAMPIONSHIP | - |   |
| PLAYERS CHAMPIONSHIP 17 | - |   |
| PLAYERS CHAMPIONSHIP 18 | - |   |
| DUTCH DARTS CHAMPIONSHIP | - |   |
| INTERNATIONAL DARTS OPEN | - |   |
| CHAMPIONS LEAGUE OF DARTS | - |   |
| PLAYERS CHAMPIONSHIP 19 | - |   |
| PLAYERS CHAMPIONSHIP 20 | - |   |
| WORLD GRAND PRIX | - |   |
| EUROPEAN DARTS TROPHY | - |   |
| PLAYERS CHAMPIONSHIP 21 | - |   |
| PLAYERS CHAMPIONSHIP 22 | - |   |
| EUROPEAN CHAMPIONSHIP | - |   |
| WORLD SERIES OF DARTS FINALS | - |   |
| GRAND SLAM OF DARTS | - |   |
| PLAYERS CHAMPIONSHIP FINALS | - |   |
| | | |
| --- | --- | --- |
| WORLD CHAMPIONSHIP | - |   |
| THE MASTERS | - |   |
| PLAYERS CHAMPIONSHIP 1 | - |   |
| PLAYERS CHAMPIONSHIP 2 | - |   |
| PLAYERS CHAMPIONSHIP 3 | - |   |
| PLAYERS CHAMPIONSHIP 4 | - |   |
| PLAYERS CHAMPIONSHIP 5 | - |   |
| PLAYERS CHAMPIONSHIP 6 | - |   |
| UK OPEN | - |   |
| PLAYERS CHAMPIONSHIP 7 | - |   |
| PLAYERS CHAMPIONSHIP 8 | - |   |
| EUROPEAN DARTS OPEN | - |   |
| GERMAN DARTS CHAMPIONSHIP | - |   |
| PLAYERS CHAMPIONSHIP 9 | Last 64 | lost to Vincent van der Voort 6-2 |
| PLAYERS CHAMPIONSHIP 10 | Last 128 | lost to Jonathan Worsley 6-2 |
| PLAYERS CHAMPIONSHIP 11 | Last 64 | lost to Glen Durrant 6-4 |
| PLAYERS CHAMPIONSHIP 12 | Last 16 | lost to Glen Durrant 6-5 |
| GERMAN DARTS GRAND PRIX | - |   |
| GERMAN DARTS OPEN | - |   |
| PLAYERS CHAMPIONSHIP 13 | Last 128 | lost to Raymond van Barneveld 6-4 |
| PLAYERS CHAMPIONSHIP 14 | Last 32 | lost to Stephen Bunting 6-4 |
| AUSTRIAN DARTS OPEN | - |   |
| EUROPEAN DARTS GRAND PRIX | - |   |
| PLAYERS CHAMPIONSHIP 15 | Last 128 | lost to Darren Webster 6-3 |
| PLAYERS CHAMPIONSHIP 16 | Last 64 | lost to Chris Dobey 6-2 |
| PREMIER LEAGUE | - |   |
| DUTCH DARTS MASTERS | - |   |
| WORLD CUP OF DARTS | - |   |
| DANISH DARTS OPEN | - |   |
| PLAYERS CHAMPIONSHIP 17 | Last 32 | lost to Nathan Aspinall 6-4 |
| PLAYERS CHAMPIONSHIP 18 | Last 128 | lost to Yordi Meeuwisse 6-5 |
| CZECH DARTS OPEN | Last 16 | lost to Mervyn King 6-4 |
| U.S. DARTS MASTERS | - |   |
| GERMAN DARTS MASTERS | - |   |
| PLAYERS CHAMPIONSHIP 19 | - |   |
| PLAYERS CHAMPIONSHIP 20 | - |   |
| WORLD MATCHPLAY | - |   |
| PLAYERS CHAMPIONSHIP 21 | - |   |
| PLAYERS CHAMPIONSHIP 22 | - |   |
| BRISBANE DARTS MASTERS | Last 16 | lost to Gary Anderson 6-1 |
| MELBOURNE DARTS MASTERS | Last 16 | lost to Peter Wright 6-4 |
| NEW ZEALAND DARTS MASTERS | - |   |
| AUSTRIAN DARTS CHAMPIONSHIP | - |   |
| EUROPEAN DARTS MATCHPLAY | - |   |
| PLAYERS CHAMPIONSHIP 23 | - |   |
| PLAYERS CHAMPIONSHIP 24 | - |   |
| INTERNATIONAL DARTS OPEN | - |   |
| PLAYERS CHAMPIONSHIP 25 | - |   |
| PLAYERS CHAMPIONSHIP 26 | - |   |
| GIBRALTAR DARTS TROPHY | - |   |
| PLAYERS CHAMPIONSHIP 27 | - |   |
| PLAYERS CHAMPIONSHIP 28 | - |   |
| WORLD GRAND PRIX | - |   |
| PLAYERS CHAMPIONSHIP 29 | - |   |
| PLAYERS CHAMPIONSHIP 30 | - |   |
| CHAMPIONS LEAGUE OF DARTS | - |   |
| EUROPEAN CHAMPIONSHIP | - |   |
| WORLD SERIES OF DARTS FINALS | - |   |
| | | |
| --- | --- | --- |
| TOURNAMENT WIN | UK Open Qualifier 5 (February 2018) | beat Rob Cross 6-4 |
| FINAL | UK Open (March 2018) | lost to Gary Anderson 11-7 |
| SEMI FINAL | UK Open (March 2018) | beat Robert Owen 11-3 |
| QUARTER FINAL | Brisbane Darts Masters (August 2018) | lost to Rob Cross 10-4 |
| | |
| --- | --- |
| PDC World Youth Championship | 2016 |
| | |
| --- | --- |
| UK Open Qualifier | 2018 |
| PDC Youth/Development Tour | 2016, 2019 |