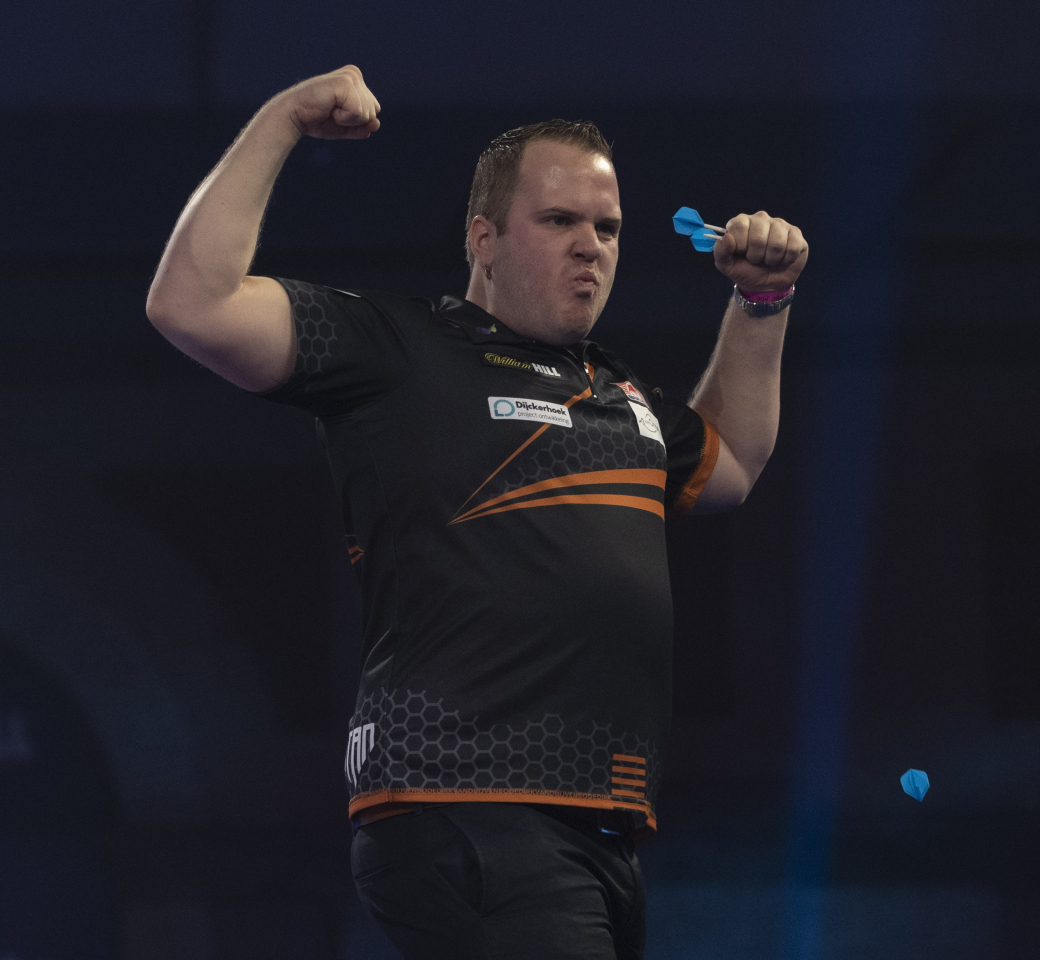 Dirk van Duijvenbode
Titan
World Ranking

12

Televised titles

0

Non-Televised PDC Titles

6

Televised Nine-Dart Finishes

0
Walk-On Music

Just Like You - Radical Redemption

Date of Birth

June 30 1992

Darts Used

23g

Bulls Netherlands

Home Town

's-Gravenzande

Twitter

@Duivee
Known for his energetic walk-on, Van Duijvenbode – who also works for an aubergine company – rose to prominence with a remarkable run to the World Grand Prix final in 2020.
Following brief spells on the PDC Youth and Challenge Tours, Van Duijvenbode began his senior career in 2014 but struggled to make an impression, until he won his Tour Card back for a third time in January 2020.
The Dutchman enjoyed a stunning emergence to reach the World Grand Prix final on his double-in debut, defeating four televised title winners en route, before featuring in European Championship and Players Championship Finals quarter-finals.
Van Duijvenbode's quarter-final appearance at Alexandra Palace catapulted him into the world's top 32 for the first time, and he's continued his ascent by picking up Players Championship titles in 2021 and 2022.
Player Stats
Select below to see result & roll of honour information.
| | |
| --- | --- |
| Players Championship | 2021, 2022 (x2), 2023 (x3) |
| | | |
| --- | --- | --- |
|   | Most Recent | Best Performance |
| 2023 WORLD CHAMPIONSHIP | Last 16 | Quarter Final - 2021 |
| 2023 UK OPEN | Last 32 | Last 16 - 2022 |
| 2023 WORLD MATCHPLAY | Last 16 | Quarter Final - 2022 |
| 2023 WORLD GRAND PRIX | Last 32 | Runner Up - 2020 |
| 2023 EUROPEAN CHAMPIONSHIP | Last 32 | Semi Final - 2022 |
| 2022 GRAND SLAM OF DARTS | Last 16 | Last 16 - 2022 |
| 2022 PLAYERS CHAMPIONSHIP FINALS | Quarter Final | Quarter Final - 2020, 2022 |
 
Most Recent
Best Performance
2023 MASTERS
Quarter Final
Quarter Final - 2023
2023 PREMIER LEAGUE
-
-
2023 WORLD CUP OF DARTS

 

Last 16
Semi Final - 2022
2023 WORLD SERIES OF DARTS FINALS
Last 24
Runner Up - 2022
| | | |
| --- | --- | --- |
|   | Most Recent | Best Performance |
| 2023 BAHRAIN DARTS MASTERS | - | - |
| 2023 NORDIC DARTS MASTERS | - | - |
| 2023 U.S. DARTS MASTERS | - | - |
| 2023 POLAND DARTS MASTERS | - | - |
| 2023 NEW ZEALAND DARTS MASTERS | - | - |
| 2023 NEW SOUTH WALES DARTS MASTERS | - | - |
| | | |
| --- | --- | --- |
| TOURNAMENT WIN | Players Championship 10 (April 2023) | beat Jose de Sousa 8-3 |
| FINAL | European Darts Matchplay (July 2023) | lost to Luke Humphries 8-7 |
| SEMI FINAL | European Darts Matchplay (July 2023) | beat Joe Cullen 7-6 |
| QUARTER FINAL | German Darts Open (September 2023) | lost to Josh Rock 6-5 |
| | | |
| --- | --- | --- |
| WORLD CHAMPIONSHIP | Last 16 | lost to Michael van Gerwen 4-1 |
| BAHRAIN DARTS MASTERS | - |   |
| NORDIC DARTS MASTERS | - |   |
| THE MASTERS | Quarter Final | lost to Chris Dobey 10-5 |
| PLAYERS CHAMPIONSHIP 1 | Quarter Final | lost to Ryan Searle 6-5 |
| PLAYERS CHAMPIONSHIP 2 | Last 16 | lost to James Wade 6-5 |
| PLAYERS CHAMPIONSHIP 3 | Last 128 | lost to Connor Scutt 6-4 |
| PLAYERS CHAMPIONSHIP 4 | Winner | beat Ryan Searle 8-2 |
| BALTIC SEA DARTS OPEN | Quarter Final | lost to Luke Humphries 6-4 |
| UK OPEN | Last 32 | lost to Nathan Aspinall 10-8 |
| PLAYERS CHAMPIONSHIP 5 | Quarter Final | lost to Martin Schindler 6-4 |
| PLAYERS CHAMPIONSHIP 6 | Winner | beat Ryan Searle 8-4 |
| PLAYERS CHAMPIONSHIP 7 | Quarter Final | lost to Michael van Gerwen 6-4 |
| PLAYERS CHAMPIONSHIP 8 | Last 128 | lost to Damian Mol 6-5 |
| EUROPEAN DARTS OPEN | Runner Up | lost to Gerwyn Price 8-7 |
| INTERNATIONAL DARTS OPEN | Semi Final | lost to Gerwyn Price 7-2 |
| GERMAN DARTS GRAND PRIX | Last 16 | lost to Danny Noppert 6-2 |
| PLAYERS CHAMPIONSHIP 9 | Last 16 | lost to Gary Anderson 6-5 |
| PLAYERS CHAMPIONSHIP 10 | Winner | beat Jose de Sousa 8-3 |
| AUSTRIAN DARTS OPEN | Last 16 | lost to Joe Cullen 6-2 |
| DUTCH DARTS CHAMPIONSHIP | Last 16 | lost to Stephen Bunting 6-4 |
| BELGIAN DARTS OPEN | Semi Final | lost to Luke Humphries 7-6 |
| CZECH DARTS OPEN | Last 16 | lost to Jonny Clayton 6-3 |
| PLAYERS CHAMPIONSHIP 11 | Last 64 | lost to Jermaine Wattimena 6-4 |
| PLAYERS CHAMPIONSHIP 12 | Last 128 | lost to Krzysztof Kciuk 6-4 |
| PREMIER LEAGUE | - |   |
| EUROPEAN DARTS GRAND PRIX | Last 32 | lost to Daryl Gurney 6-2 |
| U.S. DARTS MASTERS | - |   |
| PLAYERS CHAMPIONSHIP 13 | Last 64 | lost to Lee Evans 6-5 |
| PLAYERS CHAMPIONSHIP 14 | Last 64 | lost to Jeffrey Sparidaans 6-4 |
| WORLD CUP OF DARTS | Last 16 (Danny Noppert) | lost to Belgium 8-7 |
| EUROPEAN DARTS MATCHPLAY | Runner Up | lost to Luke Humphries 8-7 |
| POLAND DARTS MASTERS | - |   |
| PLAYERS CHAMPIONSHIP 15 | Last 32 | lost to Ian White 6-4 |
| PLAYERS CHAMPIONSHIP 16 | Quarter Final | lost to Ryan Joyce 6-4 |
| WORLD MATCHPLAY | Last 16 | lost to Luke Humphries 14-12 |
| NEW ZEALAND DARTS MASTERS | - |   |
| NEW SOUTH WALES DARTS MASTERS | - |   |
| PLAYERS CHAMPIONSHIP 17 | - |   |
| PLAYERS CHAMPIONSHIP 18 | - |   |
| PLAYERS CHAMPIONSHIP 19 | - |   |
| PLAYERS CHAMPIONSHIP 20 | Last 64 | lost to Mario Vandenbogaerde 6-5 |
| PLAYERS CHAMPIONSHIP 21 | Last 16 | lost to Danny Noppert 6-5 |
| GERMAN DARTS OPEN | Quarter Final | lost to Josh Rock 6-5 |
| WORLD SERIES OF DARTS FINALS | Last 24 | lost to Danny Noppert 6-4 |
| HUNGARIAN DARTS TROPHY | Last 32 | lost to Scott Williams 6-3 |
| PLAYERS CHAMPIONSHIP 22 | Last 64 | lost to Jules van Dongen 6-4 |
| PLAYERS CHAMPIONSHIP 23 | Last 32 | lost to Ricardo Pietreczko 6-3 |
| PLAYERS CHAMPIONSHIP 24 | Last 16 | lost to Daryl Gurney 6-3 |
| WORLD GRAND PRIX | Last 32 | lost to Brendan Dolan 2-1 |
| GERMAN DARTS CHAMPIONSHIP | Last 32 | lost to George Killington 6-0 |
| PLAYERS CHAMPIONSHIP 25 | - |   |
| PLAYERS CHAMPIONSHIP 26 | - |   |
| PLAYERS CHAMPIONSHIP 27 | - |   |
| PLAYERS CHAMPIONSHIP 28 | - |   |
| EUROPEAN CHAMPIONSHIP | Last 32 | lost to James Wade 6-3 |
| | | |
| --- | --- | --- |
| WORLD CHAMPIONSHIP | Last 16 | lost to Gerwyn Price 4-1 |
| THE MASTERS | Last 24 | lost to Simon Whitlock 6-2 |
| PLAYERS CHAMPIONSHIP 1 | Last 64 | lost to Berry van Peer 6-3 |
| PLAYERS CHAMPIONSHIP 2 | Last 128 | lost to Richie Burnett 6-1 |
| PLAYERS CHAMPIONSHIP 3 | Last 128 | lost to Jason Lowe 6-5 |
| PLAYERS CHAMPIONSHIP 4 | Last 32 | lost to Keegan Brown 6-3 |
| INTERNATIONAL DARTS OPEN | Last 16 | lost to Michael Smith 6-1 |
| UK OPEN | Last 16 | lost to Danny Noppert 10-2 |
| GERMAN DARTS CHAMPIONSHIP | Last 16 | lost to Rob Cross 6-3 |
| PLAYERS CHAMPIONSHIP 5 | Quarter Final | lost to Joe Cullen 6-3 |
| PLAYERS CHAMPIONSHIP 6 | Last 32 | lost to Danny Noppert 6-5 |
| PLAYERS CHAMPIONSHIP 7 | Quarter Final | lost to Gerwyn Price 6-3 |
| PLAYERS CHAMPIONSHIP 8 | Last 64 | lost to William O'Connor 6-2 |
| PLAYERS CHAMPIONSHIP 9 | Last 128 | lost to Josh Rock 6-4 |
| PLAYERS CHAMPIONSHIP 10 | Last 128 | lost to Michael Unterbuchner 6-2 |
| PLAYERS CHAMPIONSHIP 11 | Last 64 | lost to Maik Kuivenhoven 6-5 |
| PLAYERS CHAMPIONSHIP 12 | Winner | beat Ryan Searle 8-7 |
| PLAYERS CHAMPIONSHIP 13 | Last 64 | lost to Tony Martinez 6-3 |
| GERMAN DARTS GRAND PRIX | Last 16 | lost to Wesley Plaisier 6-5 |
| AUSTRIAN DARTS OPEN | Quarter Final | lost to Michael van Gerwen 6-1 |
| EUROPEAN DARTS OPEN | Quarter Final | lost to Michael van Gerwen 6-5 |
| PLAYERS CHAMPIONSHIP 14 | Last 128 | lost to Radek Szaganski 6-5 |
| PLAYERS CHAMPIONSHIP 15 | Quarter Final | lost to Callan Rydz 6-4 |
| CZECH DARTS OPEN | Last 16 | lost to Rowby-John Rodriguez 6-5 |
| EUROPEAN DARTS GRAND PRIX | Last 32 | lost to Nathan Rafferty 6-3 |
| DUTCH DARTS CHAMPIONSHIP | Quarter Final | lost to Andrew Gilding 6-3 |
| U.S. DARTS MASTERS | - |   |
| NORDIC DARTS MASTERS | - |   |
| PREMIER LEAGUE | - |   |
| PLAYERS CHAMPIONSHIP 16 | Runner Up | lost to Michael Smith 8-6 |
| PLAYERS CHAMPIONSHIP 17 | Quarter Final | lost to Chris Dobey 6-2 |
| WORLD CUP OF DARTS | Semi Final (Danny Noppert) | lost to Wales 2-0 |
| DUTCH DARTS MASTERS | Runner Up | lost to Dimitri Van den Bergh 8-2 |
| EUROPEAN DARTS MATCHPLAY | Last 32 | lost to Jeffrey de Zwaan 6-5 |
| PLAYERS CHAMPIONSHIP 18 | Winner | beat Gabriel Clemens 8-0 |
| PLAYERS CHAMPIONSHIP 19 | - |   |
| PLAYERS CHAMPIONSHIP 20 | - |   |
| PLAYERS CHAMPIONSHIP 21 | - |   |
| WORLD MATCHPLAY | Quarter Final | lost to Danny Noppert 16-11 |
| PLAYERS CHAMPIONSHIP 22 | Last 128 | lost to Stephen Burton 6-5 |
| PLAYERS CHAMPIONSHIP 23 | Last 16 | lost to Chris Dobey 6-3 |
| PLAYERS CHAMPIONSHIP 24 | Last 16 | lost to Madars Razma 6-3 |
| QUEENSLAND DARTS MASTERS | - |   |
| NEW SOUTH WALES DARTS MASTERS | - |   |
| NEW ZEALAND DARTS MASTERS | - |   |
| HUNGARIAN DARTS TROPHY | Last 16 | lost to Josh Rock 6-5 |
| GERMAN DARTS OPEN | Last 32 | lost to Daryl Gurney 6-3 |
| WORLD SERIES OF DARTS FINALS | Runner Up | lost to Gerwyn Price 11-10 |
| BELGIAN DARTS OPEN | Last 16 | lost to Jonny Clayton 6-4 |
| WORLD GRAND PRIX | Last 32 | lost to Jonny Clayton 2-1 |
| GIBRALTAR DARTS TROPHY | Last 16 | lost to Nathan Aspinall 6-5 |
| PLAYERS CHAMPIONSHIP 25 | Last 32 | lost to Josh Rock 6-3 |
| PLAYERS CHAMPIONSHIP 26 | Runner Up | lost to Damon Heta 8-4 |
| PLAYERS CHAMPIONSHIP 27 | Last 16 | lost to Alan Soutar 6-5 |
| PLAYERS CHAMPIONSHIP 28 | Quarter Final | lost to Damon Heta 6-0 |
| EUROPEAN CHAMPIONSHIP | Semi Final | lost to Michael Smith 11-7 |
| PLAYERS CHAMPIONSHIP 29 | Last 128 | lost to Danny Baggish 6-3 |
| PLAYERS CHAMPIONSHIP 30 | Last 128 | lost to Steve Lennon 6-2 |
| GRAND SLAM OF DARTS | Last 16 | lost to Joe Cullen 10-4 |
| PLAYERS CHAMPIONSHIP FINALS | Quarter Final | lost to Rob Cross 10-3 |
| | | |
| --- | --- | --- |
| WORLD CHAMPIONSHIP | Quarter Final | lost to Gary Anderson 5-1 |
| THE MASTERS | - |   |
| PLAYERS CHAMPIONSHIP 1 | Last 32 | lost to Krzysztof Ratajski 6-2 |
| PLAYERS CHAMPIONSHIP 2 | Last 16 | lost to Vincent van der Voort 6-3 |
| PLAYERS CHAMPIONSHIP 3 | Last 32 | lost to Krzysztof Ratajski 6-5 |
| PLAYERS CHAMPIONSHIP 4 | Quarter Final | lost to Damon Heta 6-3 |
| UK OPEN | Last 32 | lost to Jonny Clayton 10-3 |
| PLAYERS CHAMPIONSHIP 5 | Quarter Final | lost to Alan Soutar 6-5 |
| PLAYERS CHAMPIONSHIP 6 | Quarter Final | lost to Luke Humphries 6-2 |
| PLAYERS CHAMPIONSHIP 7 | Last 128 | lost to Aaron Beeney 6-5 |
| PLAYERS CHAMPIONSHIP 8 | Last 64 | lost to Lewis Williams 6-4 |
| PLAYERS CHAMPIONSHIP 9 | Last 128 | lost to Christian Kist 6-4 |
| PLAYERS CHAMPIONSHIP 10 | Last 64 | lost to Dimitri Van den Bergh 6-2 |
| PLAYERS CHAMPIONSHIP 11 | Winner | beat Martijn Kleermaker 8-6 |
| PLAYERS CHAMPIONSHIP 12 | Runner Up | lost to Dimitri Van den Bergh 8-7 |
| PREMIER LEAGUE | - |   |
| PLAYERS CHAMPIONSHIP 13 | Quarter Final | lost to Jonny Clayton 6-4 |
| PLAYERS CHAMPIONSHIP 14 | Last 32 | lost to Chris Dobey 6-5 |
| PLAYERS CHAMPIONSHIP 15 | Last 128 | lost to Krzysztof Kciuk 6-0 |
| PLAYERS CHAMPIONSHIP 16 | Semi Final | lost to Luke Humphries 7-3 |
| PLAYERS CHAMPIONSHIP 17 | Last 32 | lost to Vincent van der Voort 6-2 |
| PLAYERS CHAMPIONSHIP 18 | Last 128 | lost to Rusty-Jake Rodriguez 6-5 |
| PLAYERS CHAMPIONSHIP 19 | Last 64 | lost to Martin Schindler 6-4 |
| PLAYERS CHAMPIONSHIP 20 | Last 128 | lost to Kim Huybrechts 6-2 |
| WORLD MATCHPLAY | Last 32 | lost to Jonny Clayton 10-7 |
| PLAYERS CHAMPIONSHIP 21 | Last 128 | lost to Keegan Brown 6-2 |
| PLAYERS CHAMPIONSHIP 22 | Last 128 | lost to Peter Jacques 6-5 |
| PLAYERS CHAMPIONSHIP 23 | Last 128 | lost to Raymond van Barneveld 6-5 |
| HUNGARIAN DARTS TROPHY | Last 32 | lost to Keane Barry 6-3 |
| WORLD CUP OF DARTS | Quarter Final (Michael van Gerwen) | lost to Scotland 2-1 |
| NORDIC DARTS MASTERS | - |   |
| GIBRALTAR DARTS TROPHY | Last 32 | lost to Ted Evetts 6-5 |
| WORLD GRAND PRIX | Last 32 | lost to Luke Humphries 2-0 |
| EUROPEAN CHAMPIONSHIP | - |   |
| PLAYERS CHAMPIONSHIP 24 | Last 32 | lost to Mickey Mansell 6-4 |
| PLAYERS CHAMPIONSHIP 25 | Semi Final | lost to Callan Rydz 7-1 |
| PLAYERS CHAMPIONSHIP 26 | Quarter Final | lost to Nathan Aspinall 6-4 |
| PLAYERS CHAMPIONSHIP 27 | Last 16 | lost to Damon Heta 6-3 |
| WORLD SERIES OF DARTS FINALS | Last 16 | lost to Gerwyn Price 6-2 |
| PLAYERS CHAMPIONSHIP 28 | Last 16 | lost to Ryan Searle 6-2 |
| PLAYERS CHAMPIONSHIP 29 | Last 64 | lost to Florian Hempel 6-5 |
| PLAYERS CHAMPIONSHIP 30 | Last 16 | lost to Darius Labanauskas 6-5 |
| GRAND SLAM OF DARTS | - |   |
| PLAYERS CHAMPIONSHIP FINALS | Last 64 | lost to Ryan Meikle 6-5 |
| | | |
| --- | --- | --- |
| WORLD CHAMPIONSHIP | - |   |
| THE MASTERS | - |   |
| PLAYERS CHAMPIONSHIP 1 | Last 32 | lost to Jeff Smith 6-4 |
| PLAYERS CHAMPIONSHIP 2 | Semi Final | lost to Gerwyn Price 7-4 |
| PLAYERS CHAMPIONSHIP 3 | Last 16 | lost to Michael van Gerwen 6-2 |
| PLAYERS CHAMPIONSHIP 4 | Last 128 | lost to Glen Durrant 6-5 |
| PLAYERS CHAMPIONSHIP 5 | Last 128 | lost to Glen Durrant 6-5 |
| PLAYERS CHAMPIONSHIP 6 | Last 128 | lost to Gary Anderson 6-4 |
| BELGIAN DARTS CHAMPIONSHIP | Semi Final | lost to Gerwyn Price 7-4 |
| UK OPEN | Last 32 | lost to Mensur Suljovic 10-7 |
| PLAYERS CHAMPIONSHIP 7 | Last 128 | lost to Michael Smith 6-3 |
| PLAYERS CHAMPIONSHIP 8 | Last 32 | lost to Derk Telnekes 6-2 |
| PLAYERS CHAMPIONSHIP 9 (SS1) | Last 128 | lost to Steve Brown 6-4 |
| PLAYERS CHAMPIONSHIP 10 (SS2) | Last 32 | lost to Niels Zonneveld 6-1 |
| PLAYERS CHAMPIONSHIP 11 (SS3) | Last 64 | lost to Ricky Evans 6-3 |
| PLAYERS CHAMPIONSHIP 12 (SS4) | Last 64 | lost to Ian White 6-2 |
| PLAYERS CHAMPIONSHIP 13 (SS5) | Last 16 | lost to Nathan Aspinall 6-3 |
| WORLD MATCHPLAY | - |   |
| PLAYERS CHAMPIONSHIP 14 (AS1) | Last 64 | lost to Madars Razma 6-2 |
| PLAYERS CHAMPIONSHIP 15 (AS2) | Last 128 | lost to Derk Telnekes 6-3 |
| PLAYERS CHAMPIONSHIP 16 (AS3) | Last 32 | lost to Michael van Gerwen 6-0 |
| PLAYERS CHAMPIONSHIP 17 (AS4) | Last 128 | lost to Justin Pipe 6-4 |
| PLAYERS CHAMPIONSHIP 18 (AS5) | Last 32 | lost to Michael van Gerwen 6-5 |
| WORLD SERIES OF DARTS FINALS | - |   |
| GERMAN DARTS CHAMPIONSHIP | - |   |
| WORLD GRAND PRIX | Runner Up | lost to Gerwyn Price 5-2 |
| PREMIER LEAGUE | - |   |
| EUROPEAN DARTS GRAND PRIX | - |   |
| INTERNATIONAL DARTS OPEN | - |   |
| EUROPEAN CHAMPIONSHIP | Quarter Final | lost to Jonny Clayton 10-4 |
| WORLD CUP OF DARTS | - |   |
| PLAYERS CHAMPIONSHIP 19 (WS1) | Last 32 | lost to Danny Noppert 6-4 |
| PLAYERS CHAMPIONSHIP 20 (WS2) | Last 16 | lost to Michael Smith 6-2 |
| PLAYERS CHAMPIONSHIP 21 (WS3) | Last 64 | lost to Ritchie Edhouse 6-5 |
| PLAYERS CHAMPIONSHIP 22 (WS4) | Last 16 | lost to Ryan Murray 6-5 |
| PLAYERS CHAMPIONSHIP 23 (WS5) | Last 16 | lost to Andy Boulton 6-5 |
| GRAND SLAM OF DARTS | Last 32 (4th) |   |
| PLAYERS CHAMPIONSHIP FINALS | Quarter Final | lost to Michael van Gerwen 10-5 |
| | | |
| --- | --- | --- |
| WORLD CHAMPIONSHIP | - |   |
| THE MASTERS | - |   |
| PLAYERS CHAMPIONSHIP 1 | Last 128 | lost to Jamie Bain 6-3 |
| PLAYERS CHAMPIONSHIP 2 | Last 128 | lost to Andy Boulton 6-2 |
| PLAYERS CHAMPIONSHIP 3 | Last 128 | lost to Brendan Dolan 6-2 |
| PLAYERS CHAMPIONSHIP 4 | Last 64 | lost to Jermaine Wattimena 6-3 |
| PLAYERS CHAMPIONSHIP 5 | Last 128 | lost to Rob Cross 6-5 |
| PLAYERS CHAMPIONSHIP 6 | Last 32 | lost to Benito van de Pas 6-5 |
| UK OPEN | Last 96 | lost to Reece Robinson 6-4 |
| PLAYERS CHAMPIONSHIP 7 | Last 32 | lost to Vincent van der Voort 6-3 |
| PLAYERS CHAMPIONSHIP 8 | Last 128 | lost to Peter Wright 6-5 |
| EUROPEAN DARTS OPEN | - |   |
| GERMAN DARTS CHAMPIONSHIP | - |   |
| PLAYERS CHAMPIONSHIP 9 | Last 128 | lost to Jermaine Wattimena 6-5 |
| PLAYERS CHAMPIONSHIP 10 | Last 128 | lost to Chris Dobey 6-2 |
| PLAYERS CHAMPIONSHIP 11 | Last 128 | lost to Steve West 6-3 |
| PLAYERS CHAMPIONSHIP 12 | Last 32 | lost to John Henderson 6-2 |
| GERMAN DARTS GRAND PRIX | - |   |
| GERMAN DARTS OPEN | - |   |
| PLAYERS CHAMPIONSHIP 13 | Last 128 | lost to Ricky Evans 6-5 |
| PLAYERS CHAMPIONSHIP 14 | Last 128 | lost to Jamie Hughes 6-3 |
| AUSTRIAN DARTS OPEN | Last 48 | lost to Mark Webster 6-1 |
| EUROPEAN DARTS GRAND PRIX | - |   |
| PLAYERS CHAMPIONSHIP 15 | Last 64 | lost to Jeffrey de Zwaan 6-4 |
| PLAYERS CHAMPIONSHIP 16 | Last 32 | lost to Alan Tabern 6-4 |
| PREMIER LEAGUE | - |   |
| DUTCH DARTS MASTERS | - |   |
| WORLD CUP OF DARTS | - |   |
| DANISH DARTS OPEN | - |   |
| PLAYERS CHAMPIONSHIP 17 | Last 128 | lost to Christian Kist 6-4 |
| PLAYERS CHAMPIONSHIP 18 | Last 128 | lost to Mark McGeeney 6-5 |
| CZECH DARTS OPEN | - |   |
| U.S. DARTS MASTERS | - |   |
| GERMAN DARTS MASTERS | - |   |
| PLAYERS CHAMPIONSHIP 19 | Last 64 | lost to Cristo Reyes 6-5 |
| PLAYERS CHAMPIONSHIP 20 | Last 32 | lost to Gerwyn Price 6-2 |
| WORLD MATCHPLAY | - |   |
| PLAYERS CHAMPIONSHIP 21 | Last 64 | lost to Gavin Carlin 6-2 |
| PLAYERS CHAMPIONSHIP 22 | Last 128 | lost to Harry Ward 6-4 |
| BRISBANE DARTS MASTERS | - |   |
| MELBOURNE DARTS MASTERS | - |   |
| NEW ZEALAND DARTS MASTERS | - |   |
| AUSTRIAN DARTS CHAMPIONSHIP | - |   |
| EUROPEAN DARTS MATCHPLAY | Last 32 | lost to Adrian Lewis 6-2 |
| PLAYERS CHAMPIONSHIP 23 | Last 64 | lost to Michael van Gerwen 6-4 |
| PLAYERS CHAMPIONSHIP 24 | Last 64 | lost to Jamie Hughes 6-5 |
| INTERNATIONAL DARTS OPEN | - |   |
| PLAYERS CHAMPIONSHIP 25 | Last 64 | lost to Gerwyn Price 6-3 |
| PLAYERS CHAMPIONSHIP 26 | Last 128 | lost to Ryan Joyce 6-5 |
| GIBRALTAR DARTS TROPHY | - |   |
| PLAYERS CHAMPIONSHIP 27 | Last 64 | lost to Peter Wright 6-4 |
| PLAYERS CHAMPIONSHIP 28 | Last 64 | lost to John Henderson 6-4 |
| WORLD GRAND PRIX | - |   |
| PLAYERS CHAMPIONSHIP 29 | Last 128 | lost to Steve Beaton 6-3 |
| PLAYERS CHAMPIONSHIP 30 | Last 32 | lost to Gerwyn Price 6-2 |
| CHAMPIONS LEAGUE OF DARTS | - |   |
| EUROPEAN CHAMPIONSHIP | - |   |
| WORLD SERIES OF DARTS FINALS | - |   |
| GRAND SLAM OF DARTS | - |   |
| PLAYERS CHAMPIONSHIP FINALS | - |   |
| | | |
| --- | --- | --- |
| WORLD CHAMPIONSHIP | - |   |
| THE MASTERS | - |   |
| UK OPEN QUALIFIER 1 | Last 256 | lost to William O'Connor 6-5 |
| UK OPEN QUALIFIER 2 | Preliminary Round | lost to Thomas Lovely 6-5 |
| UK OPEN QUALIFIER 3 | Last 128 | lost to Boris Koltsov 6-5 |
| UK OPEN QUALIFIER 4 | Last 128 | lost to Ritchie Edhouse 6-4 |
| UK OPEN QUALIFIER 5 | Last 32 | lost to Chris Dobey 6-5 |
| UK OPEN QUALIFIER 6 | Last 64 | lost to Michael Smith 6-1 |
| PLAYERS CHAMPIONSHIP 1 | Last 128 | lost to Josh Payne 6-4 |
| PLAYERS CHAMPIONSHIP 2 | Last 64 | lost to Adrian Lewis 6-3 |
| UK OPEN | Last 32 | lost to Gerwyn Price 10-6 |
| PLAYERS CHAMPIONSHIP 3 | Last 128 | lost to Steve Lennon 6-0 |
| PLAYERS CHAMPIONSHIP 4 | Last 128 | lost to Darren Webster 6-4 |
| PLAYERS CHAMPIONSHIP 5 | Last 128 | lost to Darren Webster 6-5 |
| PLAYERS CHAMPIONSHIP 6 | Last 128 | lost to Peter Jacques 6-4 |
| EUROPEAN DARTS OPEN | - |   |
| GERMAN DARTS GRAND PRIX | - |   |
| PLAYERS CHAMPIONSHIP 7 | Last 128 | lost to Gerwyn Price 6-0 |
| PLAYERS CHAMPIONSHIP 8 | Last 128 | lost to Robbie Green 6-5 |
| GERMAN DARTS OPEN | - |   |
| AUSTRIAN DARTS OPEN | - |   |
| PLAYERS CHAMPIONSHIP 9 | Last 128 | lost to Jelle Klaasen 6-5 |
| PLAYERS CHAMPIONSHIP 10 | Last 128 | lost to Paul Rowley 6-3 |
| EUROPEAN DARTS GRAND PRIX | - |   |
| DUTCH DARTS MASTERS | - |   |
| PREMIER LEAGUE | - |   |
| PLAYERS CHAMPIONSHIP 11 | Last 128 | lost to Tony Newell 6-3 |
| PLAYERS CHAMPIONSHIP 12 | Last 128 | lost to Mickey Mansell 6-3 |
| GERMAN DARTS MASTERS | - |   |
| WORLD CUP OF DARTS | - |   |
| GIBRALTAR DARTS TROPHY | - |   |
| PLAYERS CHAMPIONSHIP 13 | Quarter Final | lost to Ian White 6-3 |
| PLAYERS CHAMPIONSHIP 14 | Last 16 | lost to Dave Chisnall 6-5 |
| DANISH DARTS OPEN | - |   |
| PLAYERS CHAMPIONSHIP 15 | Last 128 | lost to Paul Nicholson 6-2 |
| PLAYERS CHAMPIONSHIP 16 | Last 128 | lost to James Wilson 6-5 |
| EUROPEAN DARTS MATCHPLAY | Last 48 | lost to Max Hopp 6-4 |
| U.S. DARTS MASTERS | - |   |
| SHANGHAI DARTS MASTERS | - |   |
| WORLD MATCHPLAY | - |   |
| AUCKLAND DARTS MASTERS | - |   |
| MELBOURNE DARTS MASTERS | - |   |
| BRISBANE DARTS MASTERS | - |   |
| GERMAN DARTS CHAMPIONSHIP | - |   |
| PLAYERS CHAMPIONSHIP 17 | Last 128 | lost to Bradley Brooks 6-4 |
| PLAYERS CHAMPIONSHIP 18 | Last 64 | lost to Ian White 6-2 |
| DUTCH DARTS CHAMPIONSHIP | Last 48 | lost to Josh Payne 6-3 |
| INTERNATIONAL DARTS OPEN | Last 48 | lost to Mickey Mansell 6-0 |
| CHAMPIONS LEAGUE OF DARTS | - |   |
| PLAYERS CHAMPIONSHIP 19 | Last 128 | lost to Matthew Edgar 6-5 |
| PLAYERS CHAMPIONSHIP 20 | Last 128 | lost to Ron Meulenkamp 6-4 |
| WORLD GRAND PRIX | - |   |
| EUROPEAN DARTS TROPHY | - |   |
| PLAYERS CHAMPIONSHIP 21 | Last 128 | lost to Peter Jacques 6-4 |
| PLAYERS CHAMPIONSHIP 22 | Last 128 | lost to Nathan Aspinall 6-2 |
| EUROPEAN CHAMPIONSHIP | - |   |
| WORLD SERIES OF DARTS FINALS | - |   |
| GRAND SLAM OF DARTS | - |   |
| PLAYERS CHAMPIONSHIP FINALS | - |   |
| | | |
| --- | --- | --- |
| WORLD CHAMPIONSHIP | - |   |
| THE MASTERS | - |   |
| UK OPEN QUALIFIER 1 | Last 32 | lost to Raymond van Barneveld 6-5 |
| UK OPEN QUALIFIER 2 | Preliminary Round | lost to Andy Boulton 6-3 |
| UK OPEN QUALIFIER 3 | Last 64 | lost to Keegan Brown 6-4 |
| UK OPEN QUALIFIER 4 | Last 64 | lost to Darren Webster 6-5 |
| UK OPEN QUALIFIER 5 | Last 128 | lost to Vincent van der Voort 6-4 |
| UK OPEN QUALIFIER 6 | Last 32 | lost to Peter Wright 6-1 |
| PLAYERS CHAMPIONSHIP 1 | Last 128 | lost to Christian Kist 6-5 |
| PLAYERS CHAMPIONSHIP 2 | Last 32 | lost to Stuart Kellet 6-5 |
| UK OPEN | Last 32 | lost to Simon Whitlock 10-6 |
| PLAYERS CHAMPIONSHIP 3 | Last 64 | lost to Jermaine Wattimena 6-5 |
| PLAYERS CHAMPIONSHIP 4 | Quarter Final | lost to Kim Huybrechts 6-5 |
| GERMAN DARTS CHAMPIONSHIP | - |   |
| PLAYERS CHAMPIONSHIP 5 | Last 64 | lost to Richard North 6-4 |
| PLAYERS CHAMPIONSHIP 6 | Last 128 | lost to Mensur Suljovic 6-2 |
| PLAYERS CHAMPIONSHIP 7 | Last 128 | lost to Dimitri Van den Bergh 6-3 |
| PLAYERS CHAMPIONSHIP 8 | Last 128 | lost to Stuart Kellet 6-5 |
| GERMAN DARTS MASTERS (ET) | Last 48 | lost to Robert Thornton 6-1 |
| GERMAN DARTS OPEN | Last 48 | lost to Vincent van der Voort 6-5 |
| PLAYERS CHAMPIONSHIP 9 | Last 64 | lost to Mark Barilli 6-2 |
| PLAYERS CHAMPIONSHIP 10 | Last 128 | lost to Jeffrey de Zwaan 6-4 |
| EUROPEAN DARTS GRAND PRIX | Last 32 | lost to Jelle Klaasen 6-2 |
| GIBRALTAR DARTS TROPHY | - |   |
| PREMIER LEAGUE | - |   |
| PLAYERS CHAMPIONSHIP 11 | - |   |
| PLAYERS CHAMPIONSHIP 12 | - |   |
| DUBAI DARTS MASTERS | - |   |
| WORLD CUP OF DARTS | - |   |
| EUROPEAN DARTS MATCHPLAY | Last 32 | lost to Mensur Suljovic 6-5 |
| PLAYERS CHAMPIONSHIP 13 | Last 128 | lost to Mickey Mansell 6-5 |
| PLAYERS CHAMPIONSHIP 14 | Last 16 | lost to Gary Anderson 6-2 |
| AUSTRIAN DARTS OPEN | Last 48 | lost to John Henderson 6-2 |
| EUROPEAN DARTS OPEN | - |   |
| SHANGHAI DARTS MASTERS | - |   |
| PLAYERS CHAMPIONSHIP 15 | Last 128 | lost to Paul Rowley 6-4 |
| PLAYERS CHAMPIONSHIP 16 | Last 128 | lost to Jonny Clayton 6-2 |
| U.S. DARTS MASTERS | - |   |
| WORLD MATCHPLAY | - |   |
| PLAYERS CHAMPIONSHIP 17 | Last 128 | lost to Keegan Brown 6-3 |
| PLAYERS CHAMPIONSHIP 18 | Last 32 | lost to Steve West 6-2 |
| AUCKLAND DARTS MASTERS | - |   |
| MELBOURNE DARTS MASTERS | - |   |
| PERTH DARTS MASTERS | - |   |
| DUTCH DARTS MASTERS | - |   |
| GERMAN DARTS GRAND PRIX | Last 48 | lost to Kyle Anderson 6-4 |
| CHAMPIONS LEAGUE OF DARTS | - |   |
| INTERNATIONAL DARTS OPEN | - |   |
| PLAYERS CHAMPIONSHIP 19 | Last 128 | lost to James Wilson 6-4 |
| PLAYERS CHAMPIONSHIP 20 | Last 128 | lost to Jermaine Wattimena 6-1 |
| WORLD GRAND PRIX | - |   |
| PLAYERS CHAMPIONSHIP 21 | Last 128 | lost to Warwick Scheffer 6-2 |
| PLAYERS CHAMPIONSHIP 22 | Last 64 | lost to James Wilson 6-3 |
| EUROPEAN DARTS TROPHY | - |   |
| GERMAN DARTS MASTERS (WS) | - |   |
| EUROPEAN CHAMPIONSHIP | - |   |
| WORLD SERIES OF DARTS FINALS | - |   |
| GRAND SLAM OF DARTS | - |   |
| PLAYERS CHAMPIONSHIP FINALS | - |   |