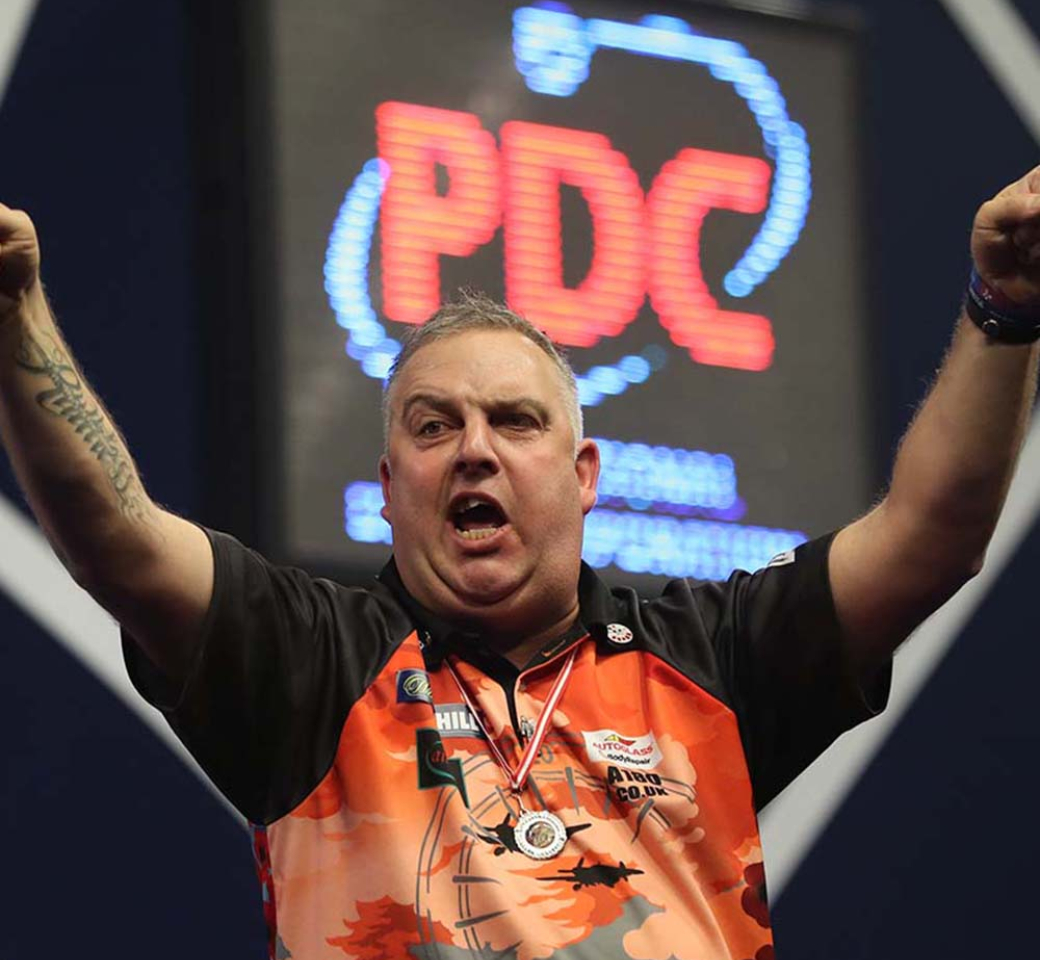 James Richardson
Ruthless
PDC World Ranking

68

Televised titles

0

Non-Televised PDC Titles

0

Televised Nine-Dart Finishes

0
Walk-On Music

Vindaloo - Fat Les

Date of Birth

January 07 1974

Darts Used

25g

A180

Home Town

Rushden
JAMES joined the PDC Pro Tour in 2011, and soon caused one of the biggest upsets in the history of the PDC World Championship by beating five-time World Champion, Raymond van Barneveld, 3–0 in the first round of the 2012 Championship.
The Rushden thrower had to win back his tour card in at Q School in 2016, and has since performed well on the European Tour and ProTour.
In 2017 he played in the quarter-finals of a Players Championship event, before reaching the last 16 of the 2018 World Championship.
Player Stats
Select below to see result & roll of honour information.
| | | |
| --- | --- | --- |
|   | Most Recent | Best Performance |
| 2019 WORLD CHAMPIONSHIP | - | Last 16 - 2018 |
| 2019 UK OPEN | Last 96 | Last 64 - 2015, 2017 |
| 2019 WORLD MATCHPLAY | - | - |
| 2019 WORLD GRAND PRIX | - | - |
| 2019 EUROPEAN CHAMPIONSHIP | - | Last 16 - 2016 |
| 2018 GRAND SLAM OF DARTS | - | - |
| 2018 PLAYERS CHAMPIONSHIP FINALS | - | Last 64 - 2017 |
| | | |
| --- | --- | --- |
|   | Most Recent | Best Performance |
| 2019 THE MASTERS | - | - |
| 2019 PREMIER LEAGUE | - | - |
| 2019 WORLD CUP OF DARTS  | - | - |
| 2019 U.S. MASTERS | - | - |
| 2019 GERMAN MASTERS | - | - |
| 2019 BRISBANE MASTERS | - | - |
| 2019 MELBOURNE MASTERS | - | - |
| 2019 NEW ZEALAND MASTERS | - | - |
| 2019 CHAMPIONS LEAGUE OF DARTS | - | - |
| 2019 WORLD SERIES OF DARTS FINALS | - | - |
| | | |
| --- | --- | --- |
| TOURNAMENT WIN | - |   |
| FINAL | Players Championship 25 (October 2011) | lost to Colin Osborne 6-2 |
| SEMI FINAL | Players Championship 25 (October 2011) | beat Paul Nicholson 6-3 |
| QUARTER FINAL | Players Championship 18 (June 2019) | lost to Jose de Sousa 6-2 |
| | | |
| --- | --- | --- |
| WORLD CHAMPIONSHIP | - |   |
| THE MASTERS | - |   |
| UK OPEN QUALIFIER 1 | Last 128 | lost to John Henderson 6-2 |
| UK OPEN QUALIFIER 2 | Last 128 | lost to Josh Payne 6-2 |
| UK OPEN QUALIFIER 3 | Last 128 | lost to Kim Huybrechts 6-4 |
| UK OPEN QUALIFIER 4 | Last 256 | lost to John Bowles 6-4 |
| UK OPEN QUALIFIER 5 | Last 32 | lost to Raymond van Barneveld 6-2 |
| UK OPEN QUALIFIER 6 | Last 128 | lost to Brendan Dolan 6-1 |
| PLAYERS CHAMPIONSHIP 1 | Last 128 | lost to Peter Hudson 6-5 |
| PLAYERS CHAMPIONSHIP 2 | Last 64 | lost to Dirk van Duijvenbode 6-4 |
| UK OPEN | Last 64 | lost to Peter Wright 10-3 |
| PLAYERS CHAMPIONSHIP 3 | Last 64 | lost to Jamie Lewis 6-5 |
| PLAYERS CHAMPIONSHIP 4 | Last 64 | lost to Tony Newell 6-4 |
| GERMAN DARTS CHAMPIONSHIP | - |   |
| PLAYERS CHAMPIONSHIP 5 | Last 128 | lost to Chris Dobey 6-3 |
| PLAYERS CHAMPIONSHIP 6 | Last 16 | lost to Richard North 6-5 |
| PLAYERS CHAMPIONSHIP 7 | Last 64 | lost to Kim Huybrechts 6-5 |
| PLAYERS CHAMPIONSHIP 8 | Quarter Finals | lost to Joe Cullen 6-4 |
| GERMAN DARTS MASTERS (ET) | - |   |
| GERMAN DARTS OPEN | Last 32 | lost to Gerwyn Price 6-5 |
| PLAYERS CHAMPIONSHIP 9 | Last 32 | lost to Ted Evetts 6-4 |
| PLAYERS CHAMPIONSHIP 10 | Last 128 | lost to Gerwyn Price 6-3 |
| EUROPEAN DARTS GRAND PRIX | Last 32 | lost to Peter Wright 6-2 |
| GIBRALTAR DARTS TROPHY | Last 32 | lost to Cristo Reyes 6-5 |
| PREMIER LEAGUE | - |   |
| PLAYERS CHAMPIONSHIP 11 | Last 128 | lost to John Michael 6-3 |
| PLAYERS CHAMPIONSHIP 12 | Last 128 | lost to Daryl Gurney 6-2 |
| DUBAI DARTS MASTERS | - |   |
| WORLD CUP OF DARTS | - |   |
| EUROPEAN DARTS MATCHPLAY | - |   |
| PLAYERS CHAMPIONSHIP 13 | Last 64 | lost to Dave Chisnall 6-1 |
| PLAYERS CHAMPIONSHIP 14 | Last 128 | lost to William O'Connor 6-5 |
| AUSTRIAN DARTS OPEN | - |   |
| EUROPEAN DARTS OPEN | Last 16 | lost to Dave Chisnall 6-3 |
| SHANGHAI DARTS MASTERS | - |   |
| PLAYERS CHAMPIONSHIP 15 | Last 128 | lost to Mickey Mansell 6-4 |
| PLAYERS CHAMPIONSHIP 16 | Last 64 | lost to John Michael 6-5 |
| U.S. DARTS MASTERS | - |   |
| WORLD MATCHPLAY | - |   |
| PLAYERS CHAMPIONSHIP 17 | Last 128 | lost to Steve Lennon 6-5 |
| PLAYERS CHAMPIONSHIP 18 | Last 16 | lost to Stephen Bunting 6-2 |
| AUCKLAND DARTS MASTERS | - |   |
| MELBOURNE DARTS MASTERS | - |   |
| PERTH DARTS MASTERS | - |   |
| DUTCH DARTS MASTERS | - |   |
| GERMAN DARTS GRAND PRIX | Last 48 | lost to Keegan Brown 6-2 |
| CHAMPIONS LEAGUE OF DARTS | - |   |
| INTERNATIONAL DARTS OPEN | - |   |
| PLAYERS CHAMPIONSHIP 19 | Last 32 | lost to John Henderson 6-0 |
| PLAYERS CHAMPIONSHIP 20 | Last 64 | lost to Stephen Bunting 6-5 |
| WORLD GRAND PRIX | - |   |
| PLAYERS CHAMPIONSHIP 21 | Last 128 | lost to Richie Burnett 6-3 |
| PLAYERS CHAMPIONSHIP 22 | Last 64 | lost to Wes Newton 6-2 |
| EUROPEAN DARTS TROPHY | Last 32 | lost to Alan Norris 6-4 |
| GERMAN DARTS MASTERS (WS) | - |   |
| EUROPEAN CHAMPIONSHIP | Last 32 | lost to Simon Whitlock 6-3 |
| WORLD SERIES OF DARTS FINALS | - |   |
| GRAND SLAM OF DARTS | - |   |
| PLAYERS CHAMPIONSHIP FINALS | Last 64 | lost to Robert Thornton 6-5 |
| | | |
| --- | --- | --- |
| WORLD CHAMPIONSHIP | Last 16 | lost to Jamie Lewis 4-1 |
| THE MASTERS | - |   |
| UK OPEN QUALIFIER 1 | Last 128 | lost to William O'Connor 6-3 |
| UK OPEN QUALIFIER 2 | Last 256 | lost to Mark Frost 6-3 |
| UK OPEN QUALIFIER 3 | Last 32 | lost to James Wilson 6-4 |
| UK OPEN QUALIFIER 4 | Last 32 | lost to Robert Thornton 6-5 |
| UK OPEN QUALIFIER 5 | Last 256 | lost to Terry Jenkins 6-4 |
| UK OPEN QUALIFIER 6 | Last 128 | lost to Corey Cadby 6-1 |
| PLAYERS CHAMPIONSHIP 1 | Last 128 | lost to Richie Burnett 6-3 |
| PLAYERS CHAMPIONSHIP 2 | Last 64 | lost to Ricky Evans 6-4 |
| UK OPEN | Last 96 | lost to Robert Rickwood 6-0 |
| PLAYERS CHAMPIONSHIP 3 | Last 64 | lost to Richard North 6-5 |
| PLAYERS CHAMPIONSHIP 4 | Last 128 | lost to Adrian Lewis 6-0 |
| PLAYERS CHAMPIONSHIP 5 | Last 128 | lost to John Goldie 6-1 |
| PLAYERS CHAMPIONSHIP 6 | Last 128 | lost to Vincent van der Voort 6-3 |
| EUROPEAN DARTS OPEN | - |   |
| GERMAN DARTS GRAND PRIX | - |   |
| PLAYERS CHAMPIONSHIP 7 | Last 64 | lost to Tytus Kanik 6-5 |
| PLAYERS CHAMPIONSHIP 8 | Last 128 | lost to Raymond van Barneveld 6-1 |
| GERMAN DARTS OPEN | - |   |
| AUSTRIAN DARTS OPEN | - |   |
| PLAYERS CHAMPIONSHIP 9 | Last 32 | lost to Adrian Lewis 6-2 |
| PLAYERS CHAMPIONSHIP 10 | Last 128 | lost to Scott Taylor 6-3 |
| EUROPEAN DARTS GRAND PRIX | - |   |
| DUTCH DARTS MASTERS | Last 16 | lost to Steve Lennon 6-5 |
| PREMIER LEAGUE | - |   |
| PLAYERS CHAMPIONSHIP 11 | Last 64 | lost to John Henderson 6-4 |
| PLAYERS CHAMPIONSHIP 12 | Last 128 | lost to Robert Owen 6-5 |
| GERMAN DARTS MASTERS | - |   |
| WORLD CUP OF DARTS | - |   |
| GIBRALTAR DARTS TROPHY | - |   |
| PLAYERS CHAMPIONSHIP 13 | Last 64 | lost to Steve Lennon 6-2 |
| PLAYERS CHAMPIONSHIP 14 | Last 32 | lost to Toni Alcinas 6-5 |
| DANISH DARTS OPEN | - |   |
| PLAYERS CHAMPIONSHIP 15 | Last 128 | lost to Ted Evetts 6-3 |
| PLAYERS CHAMPIONSHIP 16 | Last 128 | lost to Simon Stevenson 6-1 |
| EUROPEAN DARTS MATCHPLAY | - |   |
| U.S. DARTS MASTERS | - |   |
| SHANGHAI DARTS MASTERS | - |   |
| WORLD MATCHPLAY | - |   |
| AUCKLAND DARTS MASTERS | - |   |
| MELBOURNE DARTS MASTERS | - |   |
| BRISBANE DARTS MASTERS | - |   |
| GERMAN DARTS CHAMPIONSHIP | - |   |
| PLAYERS CHAMPIONSHIP 17 | Last 128 | lost to Paul Rowley 6-3 |
| PLAYERS CHAMPIONSHIP 18 | Last 128 | lost to Mark Webster 6-3 |
| DUTCH DARTS CHAMPIONSHIP | - |   |
| INTERNATIONAL DARTS OPEN | Quarter Final | lost to Simon Whitlock 6-5 |
| CHAMPIONS LEAGUE OF DARTS | - |   |
| PLAYERS CHAMPIONSHIP 19 | Last 64 | lost to John Henderson 6-5 |
| PLAYERS CHAMPIONSHIP 20 | Last 128 | lost to Dave Chisnall 6-1 |
| WORLD GRAND PRIX | - |   |
| EUROPEAN DARTS TROPHY | - |   |
| PLAYERS CHAMPIONSHIP 21 | Last 64 | lost to Adam Hunt 6-2 |
| PLAYERS CHAMPIONSHIP 22 | Last 128 | lost to David Pallett 6-1 |
| EUROPEAN CHAMPIONSHIP | - |   |
| WORLD SERIES OF DARTS FINALS | - |   |
| GRAND SLAM OF DARTS | - |   |
| PLAYERS CHAMPIONSHIP FINALS | - |   |
| | | |
| --- | --- | --- |
| WORLD CHAMPIONSHIP | - |   |
| THE MASTERS | - |   |
| PLAYERS CHAMPIONSHIP 1 | Last 128 | lost to Matthew Edgar 6-4 |
| PLAYERS CHAMPIONSHIP 2 | Last 128 | lost to Simon Stevenson 6-5 |
| PLAYERS CHAMPIONSHIP 3 | Last 64 | lost to Peter Wright 6-2 |
| PLAYERS CHAMPIONSHIP 4 | Last 64 | lost to Gerwyn Price 6-3 |
| PLAYERS CHAMPIONSHIP 5 | Last 32 | lost to Max Hopp 6-2 |
| PLAYERS CHAMPIONSHIP 6 | Last 128 | lost to Eddie Dootson 6-1 |
| UK OPEN | Last 96 | lost to Steve Lennon 6-0 |
| PLAYERS CHAMPIONSHIP 7 | Last 64 | lost to Ricky Evans 6-1 |
| PLAYERS CHAMPIONSHIP 8 | Last 64 | lost to Chris Dobey 6-3 |
| EUROPEAN DARTS OPEN | - |   |
| GERMAN DARTS CHAMPIONSHIP | - |   |
| PLAYERS CHAMPIONSHIP 9 | Last 128 | lost to Corey Cadby 6-5 |
| PLAYERS CHAMPIONSHIP 10 | Last 128 | lost to Gabriel Clemens 6-3 |
| PLAYERS CHAMPIONSHIP 11 | Last 128 | lost to Jonny Clayton 6-4 |
| PLAYERS CHAMPIONSHIP 12 | Last 32 | lost to Stephen Bunting 6-0 |
| GERMAN DARTS GRAND PRIX | - |   |
| GERMAN DARTS OPEN | Last 32 | lost to Adrian Lewis 6-3 |
| PLAYERS CHAMPIONSHIP 13 | Last 128 | lost to George Killington 6-3 |
| PLAYERS CHAMPIONSHIP 14 | Last 64 | lost to Vincent van der Meer 6-4 |
| AUSTRIAN DARTS OPEN | - |   |
| EUROPEAN DARTS GRAND PRIX | Last 16 | lost to Michael van Gerwen 6-1 |
| PLAYERS CHAMPIONSHIP 15 | Last 128 | lost to Jan Dekker 6-5 |
| PLAYERS CHAMPIONSHIP 16 | Last 32 | lost to Harry Ward 6-5 |
| PREMIER LEAGUE | - |   |
| DUTCH DARTS MASTERS | - |   |
| WORLD CUP OF DARTS | - |   |
| DANISH DARTS OPEN | - |   |
| PLAYERS CHAMPIONSHIP 17 | Last 32 | lost to Ron Meulenkamp 6-5 |
| PLAYERS CHAMPIONSHIP 18 | Quarter Final | lost to Jose de Sousa 6-2 |
| CZECH DARTS OPEN | - |   |
| U.S. DARTS MASTERS | - |   |
| GERMAN DARTS MASTERS | - |   |
| PLAYERS CHAMPIONSHIP 19 | Last 64 | lost to Stephen Burton 6-2 |
| PLAYERS CHAMPIONSHIP 20 | Last 64 | lost to Jonny Clayton 6-1 |
| WORLD MATCHPLAY | - |   |
| PLAYERS CHAMPIONSHIP 21 | Last 128 | lost to Ron Meulenkamp 6-3 |
| PLAYERS CHAMPIONSHIP 22 | Last 128 | lost to Glen Durrant 6-3 |
| BRISBANE DARTS MASTERS | - |   |
| MELBOURNE DARTS MASTERS | - |   |
| NEW ZEALAND DARTS MASTERS | - |   |
| AUSTRIAN DARTS CHAMPIONSHIP | - |   |
| EUROPEAN DARTS MATCHPLAY | - |   |
| PLAYERS CHAMPIONSHIP 23 | Last 32 | lost to Adrian Lewis 6-5 |
| PLAYERS CHAMPIONSHIP 24 | Last 32 | lost to James Wade 6-1 |
| INTERNATIONAL DARTS OPEN | Last 32 | lost to Glen Durrant 6-3 |
| PLAYERS CHAMPIONSHIP 25 | Last 128 | lost to Danny Noppert 6-2 |
| PLAYERS CHAMPIONSHIP 26 | Last 16 | lost to Gary Anderson 6-2 |
| GIBRALTAR DARTS TROPHY | - |   |
| PLAYERS CHAMPIONSHIP 27 | Last 32 | lost to Rob Cross 6-3 |
| PLAYERS CHAMPIONSHIP 28 | Last 128 | lost to Jermaine Wattimena 6-4 |
| WORLD GRAND PRIX | - |   |
| PLAYERS CHAMPIONSHIP 29 | Last 128 | lost to Berry van Peer 6-4 |
| PLAYERS CHAMPIONSHIP 30 | Last 128 | lost to Andy Boulton 6-3 |
| CHAMPIONS LEAGUE OF DARTS | - |   |
| EUROPEAN CHAMPIONSHIP | - |   |
| WORLD SERIES OF DARTS FINALS | - |   |