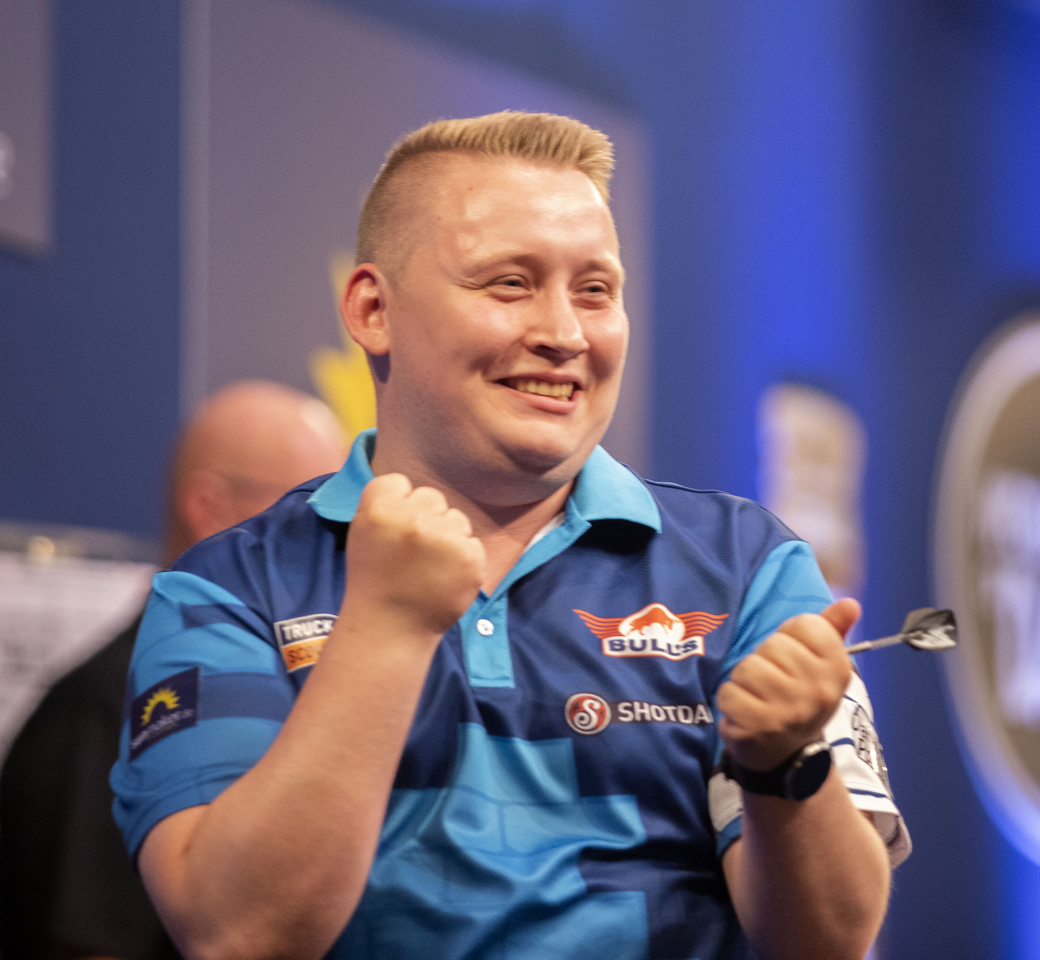 Martin Schindler
The Wall
PDC World Ranking

65

Televised titles

0

Non-Televised PDC Titles

0

Televised Nine-Dart Finishes

0
Walk-On Music

Another Brick In The Wall - Korn

Date of Birth

August 16 1996

Darts Used

23g

DPULS

Home Town

Strausberg

Twitter

@MarSchindler180
EXCITING German talent Martin went from safety steward to the big stage, making his European Tour debut at the 2014 European Darts Open.
His first win on the continent came at the 2016 European Darts Trophy and has since gone onto establish himself as a regular fixture on the European Tour.
Martin starred alongside fellow-German youngster Max Hopp in the 2017 World Cup of Darts for the first time and made his World Championship debut in December of that year.
Schindler made his first World Series of Darts appearance at the 2018 German Darts Masters.
Player Stats
Select below to see result & roll of honour information.
| | |
| --- | --- |
| PDC Youth/Development Tour | 2017, 2018 (x2) |
| | | |
| --- | --- | --- |
|   | Most Recent | Best Performance |
| 2022 WORLD CHAMPIONSHIP | Last 96 | Last 64 - 2018 |
| 2021 UK OPEN | Last 96 | Last 32 - 2018, 2019, 2020 |
| 2021 WORLD MATCHPLAY | - | - |
| 2021 WORLD GRAND PRIX | - | - |
| 2021 EUROPEAN CHAMPIONSHIP | - | Last 32 - 2017, 2018 |
| 2021 GRAND SLAM OF DARTS | Last 32 | Last 32 - 2018, 2019, 2021 |
| 2021 PLAYERS CHAMPIONSHIP FINALS | Last 32 | Last 32 - 2021 |
| | | |
| --- | --- | --- |
|   | Most Recent | Best Performance |
| 2021 THE MASTERS | - | - |
| 2021 PREMIER LEAGUE | - | - |
| 2021 WORLD CUP OF DARTS  | - | Quarter Final - 2017, 2018 |
| 2021 NORDIC DARTS MASTERS | - |   |
| 2021 WORLD SERIES OF DARTS FINALS | - | - |
| | | |
| --- | --- | --- |
| TOURNAMENT WIN | - |   |
| FINAL | - |   |
| SEMI FINAL | Players Championship 21 (October 2018) | lost to Chris Dobey 6-4 |
| QUARTER FINAL | Players Championship 23 (August 2021) | lost to Peter Wright 6-3 |
| | | |
| --- | --- | --- |
| WORLD CHAMPIONSHIP | Last 96 | lost to Florian Hempel 3-0 |
| | | |
| --- | --- | --- |
| WORLD CHAMPIONSHIP | - |   |
| THE MASTERS | - |   |
| PLAYERS CHAMPIONSHIP 1 | Last 128 | lost to Rowby-John Rodriguez 6-3 |
| PLAYERS CHAMPIONSHIP 2 | Last 16 | lost to John Michael 6-4 |
| PLAYERS CHAMPIONSHIP 3 | Last 128 | lost to Ricky Evans 6-4 |
| PLAYERS CHAMPIONSHIP 4 | Last 64 | lost to Joe Cullen 6-4 |
| UK OPEN | Last 96 | lost to Martijn Kleermaker 6-5 |
| PLAYERS CHAMPIONSHIP 5 | Last 64 | lost to Ricky Evans 6-2 |
| PLAYERS CHAMPIONSHIP 6 | Last 128 | lost to Andrew Gilding 6-5 |
| PLAYERS CHAMPIONSHIP 7 | Last 128 | lost to Luc Peters 6-4 |
| PLAYERS CHAMPIONSHIP 8 | Quarter Final | lost to Brendan Dolan 6-4 |
| PLAYERS CHAMPIONSHIP 9 | Last 64 | lost to Mervyn King 6-5 |
| PLAYERS CHAMPIONSHIP 10 | Quarter Final | lost to Michael Smith 6-3 |
| PLAYERS CHAMPIONSHIP 11 | Last 128 | lost to Jermaine Wattimena 6-3 |
| PLAYERS CHAMPIONSHIP 12 | Last 32 | lost to Robert Thornton 6-4 |
| PREMIER LEAGUE | - |   |
| PLAYERS CHAMPIONSHIP 13 | Last 32 | lost to Michael van Gerwen 6-2 |
| PLAYERS CHAMPIONSHIP 14 | Last 128 | lost to Joe Murnan 6-4 |
| PLAYERS CHAMPIONSHIP 15 | Last 64 | lost to Mervyn King 6-2 |
| PLAYERS CHAMPIONSHIP 16 | Last 64 | lost to Daryl Gurney 6-4 |
| PLAYERS CHAMPIONSHIP 17 | Last 128 | lost to Mickey Mansell 6-3 |
| PLAYERS CHAMPIONSHIP 18 | Last 128 | lost to Gerwyn Price 6-0 |
| PLAYERS CHAMPIONSHIP 19 | Last 16 | lost to Gary Anderson 6-1 |
| PLAYERS CHAMPIONSHIP 20 | Last 16 | lost to Gerwyn Price 6-2 |
| WORLD MATCHPLAY | - |   |
| PLAYERS CHAMPIONSHIP 21 | Last 32 | lost to Gerwyn Price 6-4 |
| PLAYERS CHAMPIONSHIP 22 | Quarter Final | lost to Peter Wright 6-4 |
| PLAYERS CHAMPIONSHIP 23 | Quarter Final | lost to Peter Wright 6-3 |
| HUNGARIAN DARTS TROPHY | - |   |
| WORLD CUP OF DARTS | - |   |
| NORDIC DARTS MASTERS | - |   |
| GIBRALTAR DARTS TROPHY | Last 48 | lost to Ryan Searle 6-5 |
| WORLD GRAND PRIX | - |   |
| EUROPEAN CHAMPIONSHIP | - |   |
| PLAYERS CHAMPIONSHIP 24 | Last 16 | lost to Kim Huybrechts 6-4 |
| PLAYERS CHAMPIONSHIP 25 | Last 16 | lost to Gabriel Clemens 6-5 |
| PLAYERS CHAMPIONSHIP 26 | Last 32 | lost to Michael Smith 6-2 |
| PLAYERS CHAMPIONSHIP 27 | Last 16 | lost to Rob Cross 6-4 |
| WORLD SERIES OF DARTS FINALS | - |   |
| PLAYERS CHAMPIONSHIP 28 | Last 32 | lost to Joe Cullen 6-4 |
| PLAYERS CHAMPIONSHIP 29 | Last 128 | lost to Niel Zonneveld 6-5 |
| PLAYERS CHAMPIONSHIP 30 | Last 16 | lost to Danny Noppert 6-5 |
| GRAND SLAM OF DARTS | Last 32 (4th) |   |
| PLAYERS CHAMPIONSHIP FINALS | Last 32 | lost to Gerwyn Price 6-1 |
| | | |
| --- | --- | --- |
| WORLD CHAMPIONSHIP | - |   |
| THE MASTERS | - |   |
| PLAYERS CHAMPIONSHIP 1 | Last 128 | lost to Derk Telnekes 6-5 |
| PLAYERS CHAMPIONSHIP 2 | Last 64 | lost to James Wade 6-5 |
| PLAYERS CHAMPIONSHIP 3 | Last 128 | lost to Keegan Brown 6-4 |
| PLAYERS CHAMPIONSHIP 4 | Last 64 | lost to Ian White 6-3 |
| PLAYERS CHAMPIONSHIP 5 | Last 128 | lost to Mervyn King 6-2 |
| PLAYERS CHAMPIONSHIP 6 | Last 128 | lost to Peter Wright 6-2 |
| BELGIAN DARTS CHAMPIONSHIP | - |   |
| UK OPEN | Last 32 | lost to Kyle McKinstry 10-5 |
| PLAYERS CHAMPIONSHIP 7 | Last 128 | lost to Richard North 6-3 |
| PLAYERS CHAMPIONSHIP 8 | Last 128 | lost to Mickey Mansell 6-3 |
| PLAYERS CHAMPIONSHIP 9 (SS1) | Last 128 | lost to Matthew Dennant 6-3 |
| PLAYERS CHAMPIONSHIP 10 (SS2) | Last 64 | lost to Martin Atkins 6-4 |
| PLAYERS CHAMPIONSHIP 11 (SS3) | Last 64 | lost to Darren Webster 6-2 |
| PLAYERS CHAMPIONSHIP 12 (SS4) | Last 128 | lost to Peter Wright 6-1 |
| PLAYERS CHAMPIONSHIP 13 (SS5) | Last 128 | lost to Peter Jacques 6-3 |
| WORLD MATCHPLAY | - |   |
| PLAYERS CHAMPIONSHIP 14 (AS1) | Last 64 | lost to Josh Payne 6-1 |
| PLAYERS CHAMPIONSHIP 15 (AS2) | Quarter Final | lost to Damon Heta 6-3 |
| PLAYERS CHAMPIONSHIP 16 (AS3) | Last 128 | lost to Simon Whitlock 6-5 |
| PLAYERS CHAMPIONSHIP 17 (AS4) | Last 64 | lost to Gerwyn Price 6-4 |
| PLAYERS CHAMPIONSHIP 18 (AS5) | Last 128 | lost to Luke Humphries 6-4 |
| WORLD SERIES OF DARTS FINALS | - |   |
| GERMAN DARTS CHAMPIONSHIP | - |   |
| WORLD GRAND PRIX | - |   |
| PREMIER LEAGUE | - |   |
| EUROPEAN DARTS GRAND PRIX | - |   |
| INTERNATIONAL DARTS OPEN | Last 32 | lost to Michael Smith 6-2 |
| EUROPEAN CHAMPIONSHIP | - |   |
| WORLD CUP OF DARTS | - |   |
| PLAYERS CHAMPIONSHIP 19 (WS1) | Last 32 | lost to Vincent van der Voort 6-0 |
| PLAYERS CHAMPIONSHIP 20 (WS2) | Last 128 | lost to Jesus Noguera 6-3 |
| PLAYERS CHAMPIONSHIP 21 (WS3) | Last 64 | lost to Scott Taylor 6-4 |
| PLAYERS CHAMPIONSHIP 22 (WS4) | Last 128 | lost to Mervyn King 6-2 |
| PLAYERS CHAMPIONSHIP 23 (WS5) | Last 128 | lost to Ryan Meikle 6-5 |
| GRAND SLAM OF DARTS | - |   |
| PLAYERS CHAMPIONSHIP FINALS | - |   |
| | | |
| --- | --- | --- |
| WORLD CHAMPIONSHIP | Last 96 | lost to Cody Harris 3-2 |
| THE MASTERS | - |   |
| PLAYERS CHAMPIONSHIP 1 | Last 128 | lost to Vincent Kamphuis 6-4 |
| PLAYERS CHAMPIONSHIP 2 | Last 128 | lost to Carl Wilkinson 6-3 |
| PLAYERS CHAMPIONSHIP 3 | Last 32 | lost to Dimitri Van den Bergh 6-4 |
| PLAYERS CHAMPIONSHIP 4 | Last 128 | lost to Keegan Brown 6-3 |
| PLAYERS CHAMPIONSHIP 5 | Last 64 | lost to Carl Wilkinson 6-3 |
| PLAYERS CHAMPIONSHIP 6 | Last 128 | lost to Mark Webster 6-3 |
| UK OPEN | Last 32 | lost to Dave Chisnall 10-5 |
| PLAYERS CHAMPIONSHIP 7 | Last 128 | lost to Cristo Reyes 6-4 |
| PLAYERS CHAMPIONSHIP 8 | Last 16 | lost to Raymond van Barneveld 6-5 |
| EUROPEAN DARTS OPEN | - |   |
| GERMAN DARTS CHAMPIONSHIP | - |   |
| PLAYERS CHAMPIONSHIP 9 | Last 128 | lost to Robert Marijanovic 6-5 |
| PLAYERS CHAMPIONSHIP 10 | Last 128 | lost to Madars Razma 6-5 |
| PLAYERS CHAMPIONSHIP 11 | Last 128 | lost to Mark Dudbridge 6-3 |
| PLAYERS CHAMPIONSHIP 12 | Last 128 | lost to Ted Evetts 6-5 |
| GERMAN DARTS GRAND PRIX | Last 48 | lost to Krzysztof Ratajski 6-2 |
| GERMAN DARTS OPEN | - |   |
| PLAYERS CHAMPIONSHIP 13 | Last 128 | lost to Matt Clark 6-3 |
| PLAYERS CHAMPIONSHIP 14 | Last 64 | lost to Glen Durrant 6-0 |
| AUSTRIAN DARTS OPEN | - |   |
| EUROPEAN DARTS GRAND PRIX | - |   |
| PLAYERS CHAMPIONSHIP 15 | Last 128 | lost to Kyle Anderson 6-3 |
| PLAYERS CHAMPIONSHIP 16 | Last 64 | lost to Vincent van der Voort 6-4 |
| PREMIER LEAGUE | - |   |
| DUTCH DARTS MASTERS | - |   |
| WORLD CUP OF DARTS | Last 16 (Max Hopp) | lost to Belgium 2-0 |
| DANISH DARTS OPEN | Last 32 | lost to Ian White 6-5 |
| PLAYERS CHAMPIONSHIP 17 | Last 128 | lost to Cristo Reyes 6-5 |
| PLAYERS CHAMPIONSHIP 18 | Last 32 | lost to Conan Whitehead 6-4 |
| CZECH DARTS OPEN | - |   |
| U.S. DARTS MASTERS | - |   |
| GERMAN DARTS MASTERS | Quarter Final | lost to Mensur Suljovic 8-2 |
| PLAYERS CHAMPIONSHIP 19 | Last 16 | lost to Harry Ward 6-1 |
| PLAYERS CHAMPIONSHIP 20 | Last 128 | lost to Gavin Carlin 6-5 |
| WORLD MATCHPLAY | - |   |
| PLAYERS CHAMPIONSHIP 21 | Last 64 | lost to Vincent van der Voort 6-2 |
| PLAYERS CHAMPIONSHIP 22 | Last 64 | lost to Ricky Evans 6-3 |
| BRISBANE DARTS MASTERS | - |   |
| MELBOURNE DARTS MASTERS | - |   |
| NEW ZEALAND DARTS MASTERS | - |   |
| AUSTRIAN DARTS CHAMPIONSHIP | - |   |
| EUROPEAN DARTS MATCHPLAY | - |   |
| PLAYERS CHAMPIONSHIP 23 | Quarter Final | lost to Adrian Lewis 6-2 |
| PLAYERS CHAMPIONSHIP 24 | Last 64 | lost to Gerwyn Price 6-1 |
| INTERNATIONAL DARTS OPEN | - |   |
| PLAYERS CHAMPIONSHIP 25 | Last 128 | lost to Jonathan Worsley 6-4 |
| PLAYERS CHAMPIONSHIP 26 | Last 16 | lost to Steve West 6-3 |
| GIBRALTAR DARTS TROPHY | - |   |
| PLAYERS CHAMPIONSHIP 27 | Last 32 | lost to Nathan Aspinall 6-5 |
| PLAYERS CHAMPIONSHIP 28 | Last 64 | lost to Peter Wright 6-2 |
| WORLD GRAND PRIX | - |   |
| PLAYERS CHAMPIONSHIP 29 | Last 128 | lost to Jose De Sousa 6-1 |
| PLAYERS CHAMPIONSHIP 30 | Last 32 | lost to Krzysztof Ratajski 6-4 |
| CHAMPIONS LEAGUE OF DARTS | - |   |
| EUROPEAN CHAMPIONSHIP | - |   |
| WORLD SERIES OF DARTS FINALS | - |   |
| GRAND SLAM OF DARTS | Last 32 (4th) |   |
| PLAYERS CHAMPIONSHIP FINALS | Last 64 | lost to Michael Smith 6-1 |
| | | |
| --- | --- | --- |
| WORLD CHAMPIONSHIP | Last 64 | lost to Simon Whitlock 3-1 |
| THE MASTERS | - |   |
| UK OPEN QUALIFIER 1 | Last 16 | lost to Michael Smith 6-3 |
| UK OPEN QUALIFIER 2 | Last 64 | lost to Jelle Klaasen 6-5 |
| UK OPEN QUALIFIER 3 | Last 256 | lost to David Pallett 6-1 |
| UK OPEN QUALIFIER 4 | Last 64 | lost to Gary Anderson 6-3 |
| UK OPEN QUALIFIER 5 | Last 16 | lost to Vincent Kamphuis 6-2 |
| UK OPEN QUALIFIER 6 | Last 128 | lost to Dave Prins 6-3 |
| PLAYERS CHAMPIONSHIP 1 | Last 128 | lost to Stephen Bunting 6-2 |
| PLAYERS CHAMPIONSHIP 2 | Last 64 | lost to Jermaine Wattimena 6-1 |
| UK OPEN | Last 32 | lost to Corey Cadby 10-7 |
| PLAYERS CHAMPIONSHIP 3 | Last 128 | lost to Nathan Aspinall 6-3 |
| PLAYERS CHAMPIONSHIP 4 | Last 128 | lost to Christian Kist 6-5 |
| PLAYERS CHAMPIONSHIP 5 | Last 128 | lost to Dimitri Van den Bergh 6-1 |
| PLAYERS CHAMPIONSHIP 6 | Last 128 | lost to Jeffrey de Zwaan 6-3 |
| EUROPEAN DARTS OPEN | - |   |
| GERMAN DARTS GRAND PRIX | Last 48 | lost to Chris Dobey 6-4 |
| PLAYERS CHAMPIONSHIP 7 | Last 128 | lost to Dave Chisnall 6-5 |
| PLAYERS CHAMPIONSHIP 8 | Last 64 | lost to Josh Payne 6-3 |
| GERMAN DARTS OPEN | - |   |
| AUSTRIAN DARTS OPEN | - |   |
| PLAYERS CHAMPIONSHIP 9 | Last 128 | lost to Rob Cross 6-0 |
| PLAYERS CHAMPIONSHIP 10 | Quarter Final | lost to Stephen Bunting 6-4 |
| EUROPEAN DARTS GRAND PRIX | Last 32 | lost to Joe Cullen 6-5 |
| DUTCH DARTS MASTERS | - |   |
| PREMIER LEAGUE | - |   |
| PLAYERS CHAMPIONSHIP 11 | Last 64 | lost to Benito van de Pas 6-5 |
| PLAYERS CHAMPIONSHIP 12 | Last 128 | lost to Peter Wright 6-3 |
| GERMAN DARTS MASTERS | Last 16 | lost to Dimitri Van den Bergh 6-0 |
| WORLD CUP OF DARTS | Quarter Final (Max Hopp) | lost to Netherlands 2-0 |
| GIBRALTAR DARTS TROPHY | - |   |
| PLAYERS CHAMPIONSHIP 13 | Last 16 | lost to Ian White 6-2 |
| PLAYERS CHAMPIONSHIP 14 | Last 32 | lost to Rob Cross 6-3 |
| DANISH DARTS OPEN | Last 48 | lost to Brendan Dolan 6-4 |
| PLAYERS CHAMPIONSHIP 15 | Last 64 | lost to Michael Barnard 6-4 |
| PLAYERS CHAMPIONSHIP 16 | Last 128 | lost to Ian White 6-2 |
| EUROPEAN DARTS MATCHPLAY | Last 32 | lost to Joe Cullen 6-3 |
| U.S. DARTS MASTERS | - |   |
| SHANGHAI DARTS MASTERS | - |   |
| WORLD MATCHPLAY | - |   |
| AUCKLAND DARTS MASTERS | - |   |
| MELBOURNE DARTS MASTERS | - |   |
| BRISBANE DARTS MASTERS | - |   |
| GERMAN DARTS CHAMPIONSHIP | Last 16 | lost to Michael van Gerwen 6-0 |
| PLAYERS CHAMPIONSHIP 17 | Semi Final | lost to Peter Wright 6-4 |
| PLAYERS CHAMPIONSHIP 18 | Last 128 | lost to Kyle Anderson 6-2 |
| DUTCH DARTS CHAMPIONSHIP | - |   |
| INTERNATIONAL DARTS OPEN | Last 16 | lost to Ryan Searle 6-3 |
| CHAMPIONS LEAGUE OF DARTS | - |   |
| PLAYERS CHAMPIONSHIP 19 | Last 128 | lost to Peter Jacques 6-5 |
| PLAYERS CHAMPIONSHIP 20 | Last 32 | lost to Andew Gilding 6-1 |
| WORLD GRAND PRIX | - |   |
| EUROPEAN DARTS TROPHY | Last 16 | lost to Jelle Klaasen 6-5 |
| PLAYERS CHAMPIONSHIP 21 | Semi Final | lost to Chris Dobey 6-4 |
| PLAYERS CHAMPIONSHIP 22 | Last 64 | lost to Matthew Edgar 6-4 |
| EUROPEAN CHAMPIONSHIP | Last 32 | lost to James Wade 6-3 |
| WORLD SERIES OF DARTS FINALS | - |   |
| GRAND SLAM OF DARTS | Last 32 (4th) |   |
| PLAYERS CHAMPIONSHIP FINALS | Last 64 | lost to Nathan Aspinall 6-1 |
| | | |
| --- | --- | --- |
| WORLD CHAMPIONSHIP | - |   |
| THE MASTERS | - |   |
| UK OPEN QUALIFIER 1 | Last 128 | lost to Devon Petersen 6-1 |
| UK OPEN QUALIFIER 2 | Last 256 | lost to Dimitri Van den Bergh 6-4 |
| UK OPEN QUALIFIER 3 | Last 64 | lost to Ian White 6-5 |
| UK OPEN QUALIFIER 4 | Last 128 | lost to Ian White 6-3 |
| UK OPEN QUALIFIER 5 | Last 128 | lost to Brendan Dolan 6-5 |
| UK OPEN QUALIFIER 6 | Last 256 | lost to Royden Lam 6-3 |
| PLAYERS CHAMPIONSHIP 1 | Last 128 | lost to Wayne Jones 6-1 |
| PLAYERS CHAMPIONSHIP 2 | Last 64 | lost to Chris Dobey 6-3 |
| UK OPEN | - |   |
| PLAYERS CHAMPIONSHIP 3 | Last 16 | lost to Mervyn King 6-1 |
| PLAYERS CHAMPIONSHIP 4 | Last 128 | lost to Peter Wright 6-4 |
| GERMAN DARTS CHAMPIONSHIP | Last 48 | lost to Diogo Portela 6-3 |
| PLAYERS CHAMPIONSHIP 5 | Last 128 | lost to Mick Todd 6-4 |
| PLAYERS CHAMPIONSHIP 6 | Last 128 | lost to James Richardson 6-0 |
| PLAYERS CHAMPIONSHIP 7 | Last 128 | lost to Daryl Gurney 6-3 |
| PLAYERS CHAMPIONSHIP 8 | Last 64 | lost to Josh Payne 6-3 |
| GERMAN DARTS MASTERS (ET) | - |   |
| GERMAN DARTS OPEN | Last 48 | lost to Paul Nicholson 6-1 |
| PLAYERS CHAMPIONSHIP 9 | Last 128 | lost to Ryan Searle 6-2 |
| PLAYERS CHAMPIONSHIP 10 | Last 128 | lost to Mick McGowan 6-4 |
| EUROPEAN DARTS GRAND PRIX | - |   |
| GIBRALTAR DARTS TROPHY | Last 32 | lost to Benito van de Pas 6-1 |
| PREMIER LEAGUE | - |   |
| PLAYERS CHAMPIONSHIP 11 | Last 128 | lost to Mark Webster 6-5 |
| PLAYERS CHAMPIONSHIP 12 | Last 128 | lost to Michael Smith 6-0 |
| DUBAI DARTS MASTERS | - |   |
| WORLD CUP OF DARTS | Quarter Final (Max Hopp) | lost to Netherlands 2-1 |
| EUROPEAN DARTS MATCHPLAY | Last 48 | lost to Andy Hamilton 6-5 |
| PLAYERS CHAMPIONSHIP 13 | Last 128 | lost to Stuart Kellett 6-4 |
| PLAYERS CHAMPIONSHIP 14 | Last 32 | lost to Robert Thornton 6-4 |
| AUSTRIAN DARTS OPEN | Quarter Final | lost to Michael van Gerwen 6-1 |
| EUROPEAN DARTS OPEN | Last 48 | lost to Robbie Green 6-5 |
| SHANGHAI DARTS MASTERS | - |   |
| PLAYERS CHAMPIONSHIP 15 | Last 128 | lost to Justin Pipe 6-4 |
| PLAYERS CHAMPIONSHIP 16 | Last 128 | lost to Nathan Aspinall 6-5 |
| U.S. DARTS MASTERS | - |   |
| WORLD MATCHPLAY | - |   |
| PLAYERS CHAMPIONSHIP 17 | Last 128 | lost to Kirk Shepherd 6-4 |
| PLAYERS CHAMPIONSHIP 18 | Last 128 | lost to Alan Norris 6-3 |
| AUCKLAND DARTS MASTERS | - |   |
| MELBOURNE DARTS MASTERS | - |   |
| PERTH DARTS MASTERS | - |   |
| DUTCH DARTS MASTERS | Last 16 | lost to Steve Beaton 6-4 |
| GERMAN DARTS GRAND PRIX | Last 48 | lost to Mick McGowan 6-3 |
| CHAMPIONS LEAGUE OF DARTS | - |   |
| INTERNATIONAL DARTS OPEN | Last 48 | lost to Richie Corner 6-3 |
| PLAYERS CHAMPIONSHIP 19 | Last 64 | lost to Michael Smith 6-3 |
| PLAYERS CHAMPIONSHIP 20 | Last 128 | lost to Jamie Lewis 6-5 |
| WORLD GRAND PRIX | - |   |
| PLAYERS CHAMPIONSHIP 21 | Last 16 | lost to Peter Wright 6-1 |
| PLAYERS CHAMPIONSHIP 22 | Last 128 | lost to Ian White 6-1 |
| EUROPEAN DARTS TROPHY | Last 32 | lost to Peter Wright 6-4 |
| GERMAN DARTS MASTERS (WS) | Last 16 | lost to Michael van Gerwen 6-2 |
| EUROPEAN CHAMPIONSHIP | Last 32 | lost to Rob Cross 6-0 |
| WORLD SERIES OF DARTS FINALS | - | - |
| GRAND SLAM OF DARTS | - | - |
| PLAYERS CHAMPIONSHIP FINALS | - | - |