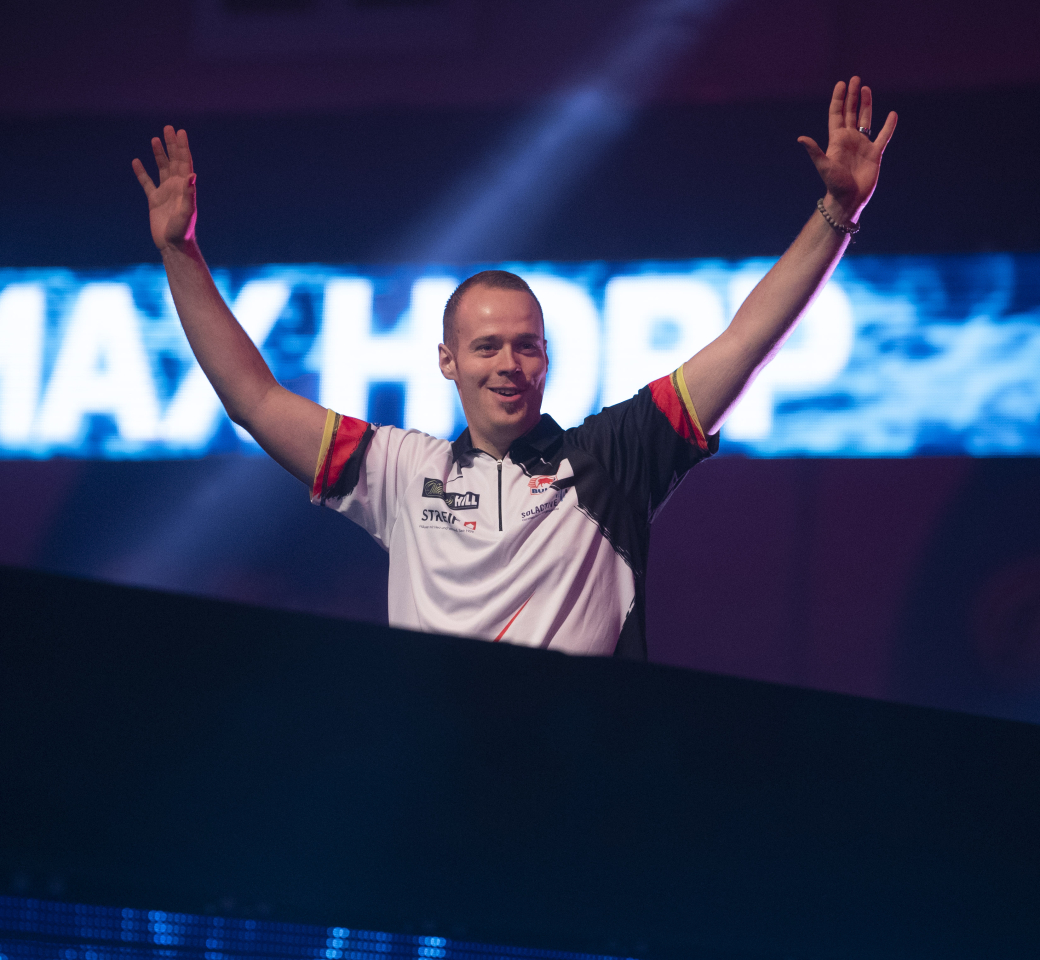 Max Hopp
Maximiser
PDC World Ranking

64

Televised titles

1

Non-Televised PDC Titles

2

Televised Nine-Dart Finishes

0
Walk-On Music

Hey Baby - DJ Otzi

Date of Birth

August 20 1996

Darts Used

22g

Bulls NL

Home Town

Werda

Website

maxhopp.net/

Twitter

@maximiser180
THE 2015 PDC Unicorn World Youth Champion, Max has emerged as the sport's top-ranked German player since emerging as a 15-year-old starlet.
Having initially competed in 2011 on the PDC's Development Tour in Germany, Hopp qualified for the World Youth Championship the following year before making his TV debut at the 2013 World Championship, where as a 16-year-old he defeated Charl Pietersen before losing to Denis Ovens 3-2.
After joining the circuit and continuing his development on the ProTour and second-tier tours, he then qualified for the European Championship before making his second World Championship appearance.
A run to the second round at the 2015 World Championship - his third Alexandra Palace appearance - was followed by Hopp making his debut at both the UK Open and in the World Cup of Darts, where he reached the quarter-finals alongside Jyhan Artut.
A breakthrough year ended with glory on the big stage as Hopp followed up his battling wins in the early rounds of the World Youth Championship by edging past Nathan Aspinall 6-5 in the final in Minehead to pick up the title.
Another World Championship appearance was followed by a Development Tour title for Hopp in Germany as well as a quarter-final appearance in a European Tour event in Hamburg and appearances in the European Championship, World Series of Darts Finals and Grand Slam of Darts to complete a successful 2016.
A second round loser to Kim Huybrechts at the 2017 World Championship, having seen off Vincent van der Voort in their opener, Hopp's progression continued with another World Cup of Darts quarter-final as he partnered Martin Schindler to the last eight in Frankfurt before making his World Series of Darts debut in the U.S. Darts Masters in Las Vegas.
Hopp claimed the biggest win of his career at the 2018 German Open, defeating Michael Smith 8-7 in a thrilling final in front of a passionate German crowd.
The German backed up his European success with a second PDC ranking title at Players Championship 19 in Dublin in September 2018.
Player Stats
Select below to see result & roll of honour information.
| | |
| --- | --- |
| PDC World Youth Championship | 2015 |
| | |
| --- | --- |
| German Darts Open | 2018 |
| Players Championship | 2018 |
| PDC Youth/Development Tour | 2016 |
| | | |
| --- | --- | --- |
|   | Most Recent | Best Performance |
| 2022 WORLD CHAMPIONSHIP | - | Last 32 - 2015, 2017, 2019, 2020 |
| 2021 UK OPEN | Last 32 | Last 32 - 2019, 2021 |
| 2021 WORLD MATCHPLAY | - | Last 16 - 2019 |
| 2021 WORLD GRAND PRIX | - | Last 32 - 2018 |
| 2021 EUROPEAN CHAMPIONSHIP | - | Semi Final - 2018 |
| 2021 GRAND SLAM OF DARTS | - | Last 32 - 2016, 2018 |
| 2021 PLAYERS CHAMPIONSHIP FINALS | - | Last 32 - 2018, 2019 |
| | | |
| --- | --- | --- |
|   | Most Recent | Best Performance |
| 2021 THE MASTERS | - | - |
| 2021 PREMIER LEAGUE | - | Contender - 2019 |
| 2021 WORLD CUP OF DARTS  | Quarter Final | Semi Final - 2020 |
| 2021 NORDIC DARTS MASTERS | - |   |
| 2021 WORLD SERIES OF DARTS FINALS | - | Last 16 - 2015, 2017 |
| | | |
| --- | --- | --- |
| TOURNAMENT WIN | Players Championship 19 (September 2018) | beat Madars Razma 6-3 |
| FINAL | Players Championship 16 (May 2019) | lost to Harry Ward 8-7 |
| SEMI FINAL | Players Championship 16 (May 2019) | beat Robert Thornton 7-6 |
| QUARTER FINAL | Players Championship 25 (September 2019) | lost to Ian White 6-3 |
| | | |
| --- | --- | --- |
| WORLD CHAMPIONSHIP | Last 64 | lost to Mervyn King 3-1 |
| THE MASTERS | - |   |
| PLAYERS CHAMPIONSHIP 1 | Last 64 | lost to Michael Smith 6-4 |
| PLAYERS CHAMPIONSHIP 2 | Last 128 | lost to Ian White 6-5 |
| PLAYERS CHAMPIONSHIP 3 | Last 32 | lost to Jose de Sousa 6-2 |
| PLAYERS CHAMPIONSHIP 4 | Last 64 | lost to Dirk van Duijvenbode 6-1 |
| UK OPEN | Last 32 | lost to Peter Jacques 10-9 |
| PLAYERS CHAMPIONSHIP 5 | Last 32 | lost to Joe Cullen 6-3 |
| PLAYERS CHAMPIONSHIP 6 | Last 128 | lost to Jeffrey de Zwaan 6-2 |
| PLAYERS CHAMPIONSHIP 7 | Last 128 | lost to Ritchie Edhouse 6-2 |
| PLAYERS CHAMPIONSHIP 8 | Last 128 | lost to Alan Soutar 6-5 |
| PLAYERS CHAMPIONSHIP 9 | Last 32 | lost to Jose de Sousa 6-4 |
| PLAYERS CHAMPIONSHIP 10 | Last 32 | lost to Jose de Sousa 6-5 |
| PLAYERS CHAMPIONSHIP 11 | Last 128 | lost to Adam Hunt 6-2 |
| PLAYERS CHAMPIONSHIP 12 | Last 128 | lost to Danny Noppert 6-4 |
| PREMIER LEAGUE | - |   |
| PLAYERS CHAMPIONSHIP 13 | - |   |
| PLAYERS CHAMPIONSHIP 14 | - |   |
| PLAYERS CHAMPIONSHIP 15 | - |   |
| PLAYERS CHAMPIONSHIP 16 | - |   |
| PLAYERS CHAMPIONSHIP 17 | Last 64 | lost to Keane Barry 6-4 |
| PLAYERS CHAMPIONSHIP 18 | Last 128 | lost to Ricky Evans 6-3 |
| PLAYERS CHAMPIONSHIP 19 | Last 128 | lost to Jelle Klaasen 6-3 |
| PLAYERS CHAMPIONSHIP 20 | Last 32 | lost to Krzysztof Ratajski 6-3 |
| WORLD MATCHPLAY | - |   |
| PLAYERS CHAMPIONSHIP 21 | Last 16 | lost to Damon Heta 6-3 |
| PLAYERS CHAMPIONSHIP 22 | Last 128 | lost to Peter Hudson 6-3 |
| PLAYERS CHAMPIONSHIP 23 | Last 128 | lost to Darius Labanauskas 6-2 |
| HUNGARIAN DARTS TROPHY | - |   |
| WORLD CUP OF DARTS | Quarter Final (Gabriel Clemens) | lost to England 2-0 |
| NORDIC DARTS MASTERS | - |   |
| GIBRALTAR DARTS TROPHY | - |   |
| WORLD GRAND PRIX | - |   |
| EUROPEAN CHAMPIONSHIP | - |   |
| PLAYERS CHAMPIONSHIP 24 | Last 128 | lost to Peter Jacques 6-5 |
| PLAYERS CHAMPIONSHIP 25 | Last 128 | lost to Michael Smith 6-0 |
| PLAYERS CHAMPIONSHIP 26 | Last 128 | lost to Ryan Joyce 6-4 |
| PLAYERS CHAMPIONSHIP 27 | Last 32 | lost to Kim Huybrechts 6-0 |
| WORLD SERIES OF DARTS FINALS | - |   |
| PLAYERS CHAMPIONSHIP 28 | Last 128 | lost to Dave Chisnall 6-3 |
| PLAYERS CHAMPIONSHIP 29 | Last 128 | lost to Martin Lukeman 6-4 |
| PLAYERS CHAMPIONSHIP 30 | Last 64 | lost to Damon Heta 6-2 |
| GRAND SLAM OF DARTS | - |   |
| PLAYERS CHAMPIONSHIP FINALS | - |   |
| | | |
| --- | --- | --- |
| WORLD CHAMPIONSHIP | Last 32 | lost to Darius Labanauskas 4-2 |
| THE MASTERS | - |   |
| PLAYERS CHAMPIONSHIP 1 | Last 128 | lost to Reece Robinson 6-5 |
| PLAYERS CHAMPIONSHIP 2 | Last 128 | lost to Peter Jacques 6-0 |
| PLAYERS CHAMPIONSHIP 3 | Last 32 | lost to Vincent van der Voort 6-4 |
| PLAYERS CHAMPIONSHIP 4 | - |   |
| PLAYERS CHAMPIONSHIP 5 | Last 128 | lost to Adam Hunt 6-3 |
| PLAYERS CHAMPIONSHIP 6 | Last 128 | lost to Krzysztof Ratajski 6-3 |
| BELGIAN DARTS CHAMPIONSHIP | - |   |
| UK OPEN | - |   |
| PLAYERS CHAMPIONSHIP 7 | - |   |
| PLAYERS CHAMPIONSHIP 8 | - |   |
| PLAYERS CHAMPIONSHIP 9 (SS1) | Last 64 | lost to Rob Cross 6-1 |
| PLAYERS CHAMPIONSHIP 10 (SS2) | Last 128 | lost to Gary Anderson 6-2 |
| PLAYERS CHAMPIONSHIP 11 (SS3) | Last 128 | lost to Harald Leitinger 6-2 |
| PLAYERS CHAMPIONSHIP 12 (SS4) | Last 32 | lost to Jason Lowe 6-3 |
| PLAYERS CHAMPIONSHIP 13 (SS5) | Last 128 | lost to Robert Thornton 6-4 |
| WORLD MATCHPLAY | - |   |
| PLAYERS CHAMPIONSHIP 14 (AS1) | Last 128 | lost to Keegan Brown 6-4 |
| PLAYERS CHAMPIONSHIP 15 (AS2) | Last 128 | lost to Jonny Clayton 6-3 |
| PLAYERS CHAMPIONSHIP 16 (AS3) | Last 64 | lost to Rob Cross 6-2 |
| PLAYERS CHAMPIONSHIP 17 (AS4) | Last 64 | lost to Peter Wright 6-0 |
| PLAYERS CHAMPIONSHIP 18 (AS5) | Last 64 | lost to Karel Sedlacek 6-3 |
| WORLD SERIES OF DARTS FINALS | - |   |
| GERMAN DARTS CHAMPIONSHIP | Last 16 | lost to Danny Noppert 6-4 |
| WORLD GRAND PRIX | - |   |
| PREMIER LEAGUE | - |   |
| EUROPEAN DARTS GRAND PRIX | Last 32 | lost to Vincent van der Voort 6-4 |
| INTERNATIONAL DARTS OPEN | Last 16 | lost to Ross Smith 6-4 |
| EUROPEAN CHAMPIONSHIP | Last 32 | lost to Jonny Clayton 6-5 |
| WORLD CUP OF DARTS | Semi Final (Gabriel Clemens) | lost to Wales 2-0 |
| PLAYERS CHAMPIONSHIP 19 (WS1) | Last 128 | lost to Jonny Clayton 6-3 |
| PLAYERS CHAMPIONSHIP 20 (WS2) | Last 64 | lost to Justin Pipe 6-3 |
| PLAYERS CHAMPIONSHIP 21 (WS3) | Last 64 | lost to Andy Boulton 6-5 |
| PLAYERS CHAMPIONSHIP 22 (WS4) | Last 64 | lost to Daryl Gurney 6-4 |
| PLAYERS CHAMPIONSHIP 23 (WS5) | Last 128 | lost to Steve Brown 6-5 |
| GRAND SLAM OF DARTS | - |   |
| PLAYERS CHAMPIONSHIP FINALS | - |   |
| | | |
| --- | --- | --- |
| WORLD CHAMPIONSHIP | Last 32 | lost to Michael van Gerwen 4-1 |
| THE MASTERS | - |   |
| PLAYERS CHAMPIONSHIP 1 | - |   |
| PLAYERS CHAMPIONSHIP 2 | - |   |
| PLAYERS CHAMPIONSHIP 3 | - |   |
| PLAYERS CHAMPIONSHIP 4 | Last 64 | lost to Bradley Brooks 6-4 |
| PLAYERS CHAMPIONSHIP 5 | Last 16 | lost to John Henderson 6-5 |
| PLAYERS CHAMPIONSHIP 6 | Last 32 | lost to John Henderson 6-4 |
| UK OPEN | Last 32 | lost to James Wade 10-7 |
| PLAYERS CHAMPIONSHIP 7 | Last 64 | lost to Jamie Lewis 6-3 |
| PLAYERS CHAMPIONSHIP 8 | Last 64 | lost to Cristo Reyes 6-5 |
| PREMIER LEAGUE | Contender | lost to Raymond van Barneveld 7-3 |
| EUROPEAN DARTS OPEN | - |   |
| GERMAN DARTS CHAMPIONSHIP | - |   |
| PLAYERS CHAMPIONSHIP 9 | Last 16 | lost to Scott Baker 6-5 |
| PLAYERS CHAMPIONSHIP 10 | Last 128 | lost to Matt Clark 6-2 |
| PLAYERS CHAMPIONSHIP 11 | Last 16 | lost to Jelle Klaasen 6-2 |
| PLAYERS CHAMPIONSHIP 12 | Last 128 | lost to Ross Smith 6-4 |
| GERMAN DARTS GRAND PRIX | Semi Final | lost to Simon Whitlock 7-6 |
| GERMAN DARTS OPEN | Last 32 | lost to John Henderson 6-3 |
| PLAYERS CHAMPIONSHIP 13 | Last 32 | lost to Danny Noppert 6-2 |
| PLAYERS CHAMPIONSHIP 14 | Last 32 | lost to Harry Ward 6-5 |
| AUSTRIAN DARTS OPEN | Last 32 | lost to Keegan Brown 6-4 |
| EUROPEAN DARTS GRAND PRIX | Last 32 | lost to Nathan Aspinall 6-3 |
| PLAYERS CHAMPIONSHIP 15 | Last 32 | lost to Michael Smith 6-5 |
| PLAYERS CHAMPIONSHIP 16 | Runner Up | lost to Harry Ward 8-7 |
| DUTCH DARTS MASTERS | Last 16 | lost to Vincent van der Voort 6-4 |
| WORLD CUP OF DARTS | Last 16 (Martin Schindler) | lost to Belgium 2-0 |
| DANISH DARTS OPEN | - |   |
| PLAYERS CHAMPIONSHIP 17 | Last 64 | lost to Jamie Hughes 6-4 |
| PLAYERS CHAMPIONSHIP 18 | Last 128 | lost to Mickey Mansell 6-5 |
| CZECH DARTS OPEN | - |   |
| U.S. DARTS MASTERS | - |   |
| GERMAN DARTS MASTERS | Last 16 | lost to Rob Cross 6-4 |
| PLAYERS CHAMPIONSHIP 19 | Last 64 | lost to Reece Robinson 6-5 |
| PLAYERS CHAMPIONSHIP 20 | Last 128 | lost to Adrian Gray 6-4 |
| WORLD MATCHPLAY | Last 16 | lost to Michael Smith 12-10 |
| PLAYERS CHAMPIONSHIP 21 | Last 128 | lost to Richard North 6-4 |
| PLAYERS CHAMPIONSHIP 22 | Last 64 | lost to Arron Monk 6-2 |
| BRISBANE DARTS MASTERS | - |   |
| MELBOURNE DARTS MASTERS | - |   |
| NEW ZEALAND DARTS MASTERS | - |   |
| AUSTRIAN DARTS CHAMPIONSHIP | - |   |
| EUROPEAN DARTS MATCHPLAY | Last 48 | lost to William O'Connor 6-5 |
| PLAYERS CHAMPIONSHIP 23 | Last 16 | lost to Glen Durrant 6-5 |
| PLAYERS CHAMPIONSHIP 24 | Last 128 | lost to James Wilson 6-5 |
| INTERNATIONAL DARTS OPEN | - |   |
| PLAYERS CHAMPIONSHIP 25 | Quarter Final | lost to Ian White 6-3 |
| PLAYERS CHAMPIONSHIP 26 | Last 128 | lost to Mike van Duivenbode 6-5 |
| GIBRALTAR DARTS TROPHY | - |   |
| PLAYERS CHAMPIONSHIP 27 | Last 64 | lost to Callan Rydz 6-5 |
| PLAYERS CHAMPIONSHIP 28 | Last 128 | lost to William O'Connor 6-3 |
| WORLD GRAND PRIX | Last 32 | lost to Peter Wright 2-0 |
| PLAYERS CHAMPIONSHIP 29 | Last 64 | lost to Maik Kuivenhoven 6-4 |
| PLAYERS CHAMPIONSHIP 30 | Last 16 | lost to Andy Jenkins 6-2 |
| CHAMPIONS LEAGUE OF DARTS | - |   |
| EUROPEAN CHAMPIONSHIP | - |   |
| WORLD SERIES OF DARTS FINALS | - |   |
| GRAND SLAM OF DARTS | - |   |
| PLAYERS CHAMPIONSHIP FINALS | Last 32 | lost to Glen Durrant 6-5 |
| | | |
| --- | --- | --- |
| WORLD CHAMPIONSHIP | - |   |
| THE MASTERS | - |   |
| UK OPEN QUALIFIER 1 | Last 128 | lost to Bernd Roith 6-4 |
| UK OPEN QUALIFIER 2 | Last 256 | lost to Carl Wilkinson 6-5 |
| UK OPEN QUALIFIER 3 | Last 256 | lost to Callan Rydz 6-5 |
| UK OPEN QUALIFIER 4 | Last 64 | lost to Steve West 6-3 |
| UK OPEN QUALIFIER 5 | Last 64 | lost to Steve West 6-1 |
| UK OPEN QUALIFIER 6 | Last 256 | lost to Steven Kirkby 6-4 |
| PLAYERS CHAMPIONSHIP 1 | Last 128 | lost to Mervyn King 6-1 |
| PLAYERS CHAMPIONSHIP 2 | Last 128 | lost to Gary Anderson 6-2 |
| UK OPEN | - |   |
| PLAYERS CHAMPIONSHIP 3 | Last 64 | lost to Ritchie Edhouse 6-5 |
| PLAYERS CHAMPIONSHIP 4 | Last 128 | lost to Andew Gilding 6-4 |
| PLAYERS CHAMPIONSHIP 5 | Last 64 | lost to Jeffrey de Graaf 6-1 |
| PLAYERS CHAMPIONSHIP 6 | Last 64 | lost to Cristo Reyes 6-3 |
| EUROPEAN DARTS OPEN | Last 48 | lost to Jamie Hughes 6-4 |
| GERMAN DARTS GRAND PRIX | Quarter Final | lost to James Wade 6-3 |
| PLAYERS CHAMPIONSHIP 7 | Quarter Final | lost to Jeffrey de Zwaan 6-5 |
| PLAYERS CHAMPIONSHIP 8 | Last 16 | lost to Josh Payne 6-3 |
| GERMAN DARTS OPEN | Winner | beat Michael Smith 8-7 |
| AUSTRIAN DARTS OPEN | Last 32 | lost to Jonny Clayton 6-3 |
| PLAYERS CHAMPIONSHIP 9 | - |   |
| PLAYERS CHAMPIONSHIP 10 | - |   |
| EUROPEAN DARTS GRAND PRIX | Last 48 | lost to James Wade 6-4 |
| DUTCH DARTS MASTERS | - |   |
| PREMIER LEAGUE | - |   |
| PLAYERS CHAMPIONSHIP 11 | - |   |
| PLAYERS CHAMPIONSHIP 12 | - |   |
| GERMAN DARTS MASTERS | Last 16 | lost to Michael van Gerwen 6-4 |
| WORLD CUP OF DARTS | Quarter Final (Martin Schindler) | lost to Netherlands 2-0 |
| GIBRALTAR DARTS TROPHY | Last 16 | lost to Jonny Clayton 6-2 |
| PLAYERS CHAMPIONSHIP 13 | Last 64 | lost to Danny Noppert 6-2 |
| PLAYERS CHAMPIONSHIP 14 | Last 16 | lost to Michael Smith 6-2 |
| DANISH DARTS OPEN | Last 32 | lost to Mervyn King 6-5 |
| PLAYERS CHAMPIONSHIP 15 | Last 128 | lost to Martin Schindler 6-3 |
| PLAYERS CHAMPIONSHIP 16 | Last 128 | lost to Aden Kirk 6-5 |
| EUROPEAN DARTS MATCHPLAY | Last 32 | lost to Ian White 6-2 |
| U.S. DARTS MASTERS | - |   |
| SHANGHAI DARTS MASTERS | - |   |
| WORLD MATCHPLAY | Last 32 | lost to Ian White 10-7 |
| AUCKLAND DARTS MASTERS | - |   |
| MELBOURNE DARTS MASTERS | - |   |
| BRISBANE DARTS MASTERS | - |   |
| GERMAN DARTS CHAMPIONSHIP | Last 48 | lost to Andew Gilding 6-2 |
| PLAYERS CHAMPIONSHIP 17 | Last 32 | lost to Kim Huybrechts 6-4 |
| PLAYERS CHAMPIONSHIP 18 | Last 64 | lost to Jan Dekker 6-4 |
| DUTCH DARTS CHAMPIONSHIP | Last 32 | lost to Ross Smith 6-5 |
| INTERNATIONAL DARTS OPEN | Last 32 | lost to Steve Beaton 6-5 |
| CHAMPIONS LEAGUE OF DARTS | - |   |
| PLAYERS CHAMPIONSHIP 19 | Winner | beat Madars Razma 6-3 |
| PLAYERS CHAMPIONSHIP 20 | Last 64 | lost to Ronny Huybrechts 6-3 |
| WORLD GRAND PRIX | Last 32 | lost to Dave Chisnall 2-0 |
| EUROPEAN DARTS TROPHY | Last 16 | lost to Rob Cross 6-5 |
| PLAYERS CHAMPIONSHIP 21 | - |   |
| PLAYERS CHAMPIONSHIP 22 | - |   |
| EUROPEAN CHAMPIONSHIP | Semi Final | lost to James Wade 11-10 |
| WORLD SERIES OF DARTS FINALS | Last 24 | lost to Dave Chisnall 6-1 |
| GRAND SLAM OF DARTS | Last 32 (3rd) |   |
| PLAYERS CHAMPIONSHIP FINALS | Last 32 | lost to Peter Wright 6-2 |
| | | |
| --- | --- | --- |
| WORLD CHAMPIONSHIP | Last 32 | lost to Kim Huybrechts 4-0 |
| THE MASTERS | - |   |
| UK OPEN QUALIFIER 1 | Last 256 | lost to William O'Connor 6-1 |
| UK OPEN QUALIFIER 2 | Last 256 | lost to Mark Westgarth 6-5 |
| UK OPEN QUALIFIER 3 | Last 256 | lost to Steve Lennon 6-1 |
| UK OPEN QUALIFIER 4 | Last 64 | lost to Justin Pipe 6-4 |
| UK OPEN QUALIFIER 5 | Last 128 | lost to Joe Cullen 6-4 |
| UK OPEN QUALIFIER 6 | Last 64 | lost to Brendan Dolan 6-4 |
| PLAYERS CHAMPIONSHIP 1 | Last 128 | lost to Ronnie Baxter 6-3 |
| PLAYERS CHAMPIONSHIP 2 | Last 128 | lost to Devon Petersen 6-2 |
| UK OPEN | - |   |
| PLAYERS CHAMPIONSHIP 3 | Last 64 | lost to Rob Cross 6-3 |
| PLAYERS CHAMPIONSHIP 4 | Last 128 | lost to Jim Brown 6-2 |
| GERMAN DARTS CHAMPIONSHIP | - |   |
| PLAYERS CHAMPIONSHIP 5 | Last 128 | lost to Peter Hudson 6-4 |
| PLAYERS CHAMPIONSHIP 6 | Last 32 | lost to Cristo Reyes 6-4 |
| PLAYERS CHAMPIONSHIP 7 | - |   |
| PLAYERS CHAMPIONSHIP 8 | - |   |
| GERMAN DARTS MASTERS (ET) | Last 32 | lost to Gerwyn Price 6-1 |
| GERMAN DARTS OPEN | - |   |
| PLAYERS CHAMPIONSHIP 9 | Last 128 | lost to Steve West 6-3 |
| PLAYERS CHAMPIONSHIP 10 | Last 128 | lost to Wayne Jones 6-4 |
| EUROPEAN DARTS GRAND PRIX | Last 32 | lost to Kim Huybrechts 6-3 |
| GIBRALTAR DARTS TROPHY | - |   |
| PREMIER LEAGUE | - |   |
| PLAYERS CHAMPIONSHIP 11 | - |   |
| PLAYERS CHAMPIONSHIP 12 | Last 128 | lost to Rob Cross 6-4 |
| DUBAI DARTS MASTERS | - |   |
| WORLD CUP OF DARTS | Quarter Final (Martin Schindler) | lost to Netherlands 2-1 |
| EUROPEAN DARTS MATCHPLAY | Last 48 | lost to Mike De Decker 6-2 |
| PLAYERS CHAMPIONSHIP 13 | - |   |
| PLAYERS CHAMPIONSHIP 14 | - |   |
| AUSTRIAN DARTS OPEN | - |   |
| EUROPEAN DARTS OPEN | - |   |
| SHANGHAI DARTS MASTERS | - |   |
| PLAYERS CHAMPIONSHIP 15 | Last 64 | lost to Justin Pipe 6-4 |
| PLAYERS CHAMPIONSHIP 16 | Last 64 | lost to Jermaine Wattimena 6-5 |
| U.S. DARTS MASTERS | Last 16 | lost to Dave Richardson  |
| WORLD MATCHPLAY | - |   |
| PLAYERS CHAMPIONSHIP 17 | Last 128 | lost to Steve Beaton 6-3 |
| PLAYERS CHAMPIONSHIP 18 | Last 64 | lost to Justin Pipe 6-4 |
| AUCKLAND DARTS MASTERS | - |   |
| MELBOURNE DARTS MASTERS | - |   |
| PERTH DARTS MASTERS | - |   |
| DUTCH DARTS MASTERS | Last 48 | lost to Kirk Shepherd 6-4 |
| GERMAN DARTS GRAND PRIX | Last 48 | lost to Jamie Caven 6-4 |
| CHAMPIONS LEAGUE OF DARTS | - |   |
| INTERNATIONAL DARTS OPEN | Last 32 | lost to Alan Norris 6-1 |
| PLAYERS CHAMPIONSHIP 19 | Last 128 | lost to Robert Thornton 6-4 |
| PLAYERS CHAMPIONSHIP 20 | Last 128 | lost to Kyle Anderson 6-1 |
| WORLD GRAND PRIX | - |   |
| PLAYERS CHAMPIONSHIP 21 | Last 64 | lost to Robert Owen 6-2 |
| PLAYERS CHAMPIONSHIP 22 | Last 32 | lost to Jan Dekker 6-5 |
| EUROPEAN DARTS TROPHY | - |   |
| GERMAN DARTS MASTERS (WS) | Last 16 | lost to Gary Anderson 6-3 |
| EUROPEAN CHAMPIONSHIP | - |   |
| WORLD SERIES OF DARTS FINALS | Last 16 | lost to Michael van Gerwen 6-1 |
| GRAND SLAM OF DARTS | - |   |
| PLAYERS CHAMPIONSHIP FINALS | - |   |