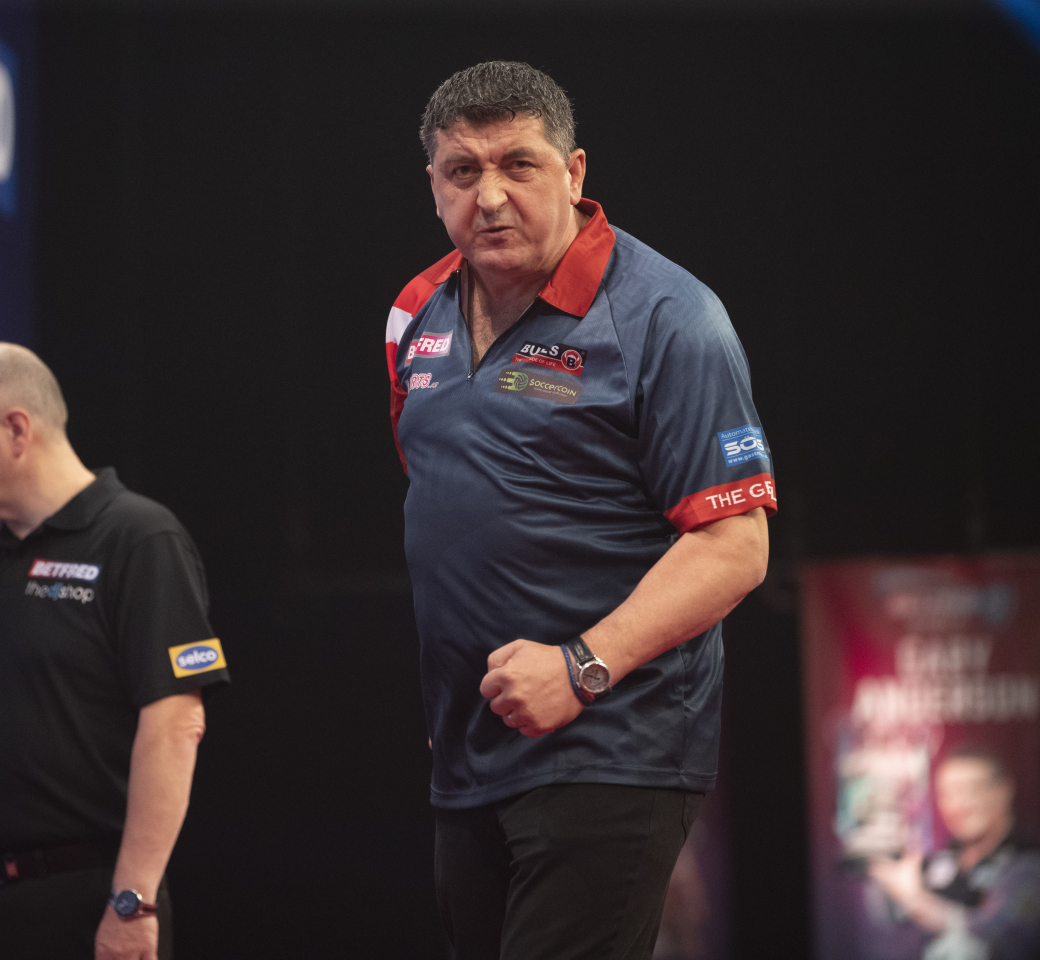 Mensur Suljovic
The Gentle
PDC World Ranking

27

Televised titles

2

Non-Televised PDC Titles

5

Televised Nine-Dart Finishes

0
AUSTRIAN star Mensur broke into the world's top ten in 2016 after reaching his first televised final at the European Championship to follow his maiden ranking title during a successful year.
The Serbian-born thrower was initially a soft-tip star on the continent and a former World Masters quarter-finalist before making his PDC World Championship debut at the 2008 event.
Having gained further experience on the circuit over the following five years, with the introduction of the European Tour and World Cup of Darts providing greater opportunities for the Austrian ace, Suljovic went on to reach his first TV quarter-finals at the UK Open in 2014 and 2015.
Runs to the semi-finals of the 2015 World Grand Prix and Players Championship Finals followed before Suljovic claimed his first PDC ranking win at a European Tour event in September 2016.
Mensur then won through to his maiden TV final at the European Championship, where Michael van Gerwen denied him glory on the big stage.
The Austrian continued his strong form into 2017, making the finals of the Gibraltar Darts Trophy and the European Matchplay before making the last eight of the World Matchplay.
Suljovic claimed the biggest win of his career in September 2017, defeating Gary Anderson 11-9 in a thrilling Champions League of Darts final.
The gentle giant picked up his second televised PDC title at the German Darts Masters in May 2018, beating Dimitri van den Bergh 8-2 in the final, before backing this up with a Danish Darts Open title the following month.
Mensur came agonisingly close to a third televised title at the 2018 World Matchplay, going down 21-19 to Gary Anderson in a classic final.
Player Stats
Select below to see result & roll of honour information.
| | |
| --- | --- |
| Champions League of Darts | 2017 |
| German Darts Masters | 2018 |
| | |
| --- | --- |
| Austrian Darts Championship | 2019 |
| Danish Darts Open | 2018 |
| International Darts Open | 2016 |
| Players Championship | 2017, 2019 |
| | | |
| --- | --- | --- |
|   | Most Recent | Best Performance |
| 2021 WORLD CHAMPIONSHIP | Last 32 | Last 16 - 2011, 2016, 2018 |
| 2021 UK OPEN | Last 32 | Quarter Final - 2014, 2015 |
| 2021 WORLD MATCHPLAY | - | Runner Up - 2018 |
| 2020 WORLD GRAND PRIX | Last 32 | Semi Final - 2015, 2017, 2018 |
| 2020 EUROPEAN CHAMPIONSHIP | Last 16 | Runner Up - 2016 |
| 2020 GRAND SLAM OF DARTS | - | Semi Final - 2018 |
| 2020 PLAYERS CHAMPIONSHIP FINALS | - | Semi Final - 2015 |
| | | |
| --- | --- | --- |
|   | Most Recent | Best Performance |
| 2021 THE MASTERS | Last 16 | Semi Final - 2018 |
| 2021 PREMIER LEAGUE | - | 6th - 2019 |
| 2021 WORLD CUP OF DARTS  | Runner Up  | Runner Up - 2021 |
| 2021 NORDIC DARTS MASTERS | - |   |
| 2020 WORLD SERIES OF DARTS FINALS | Last 24 | Semi Final - 2019 |
| | | |
| --- | --- | --- |
| TOURNAMENT WIN | Players Championship 26 (September 2019) | beat Ian White 8-7 |
| FINAL | Players Championship 16 (AS3) (September 2020) | lost to Michael van Gerwen 8-1 |
| SEMI FINAL | International Darts Open (October 2020) | lost to Michael van Gerwen 7-6 |
| QUARTER FINAL | Players Championship 2 (February 2021) | lost to Jonny Clayton 6-3 |
| | | |
| --- | --- | --- |
| WORLD CHAMPIONSHIP | Last 32 | lost to Gary Anderson 4-3 |
| THE MASTERS | Last 16 | lost to Nathan Aspinall 10-9 |
| PLAYERS CHAMPIONSHIP 1 | Last 64 | lost to Ted Evetts 6-5 |
| PLAYERS CHAMPIONSHIP 2 | Quarter Final | lost to Jonny Clayton 6-3 |
| PLAYERS CHAMPIONSHIP 3 | Last 32 | lost to Keane Barry 6-1 |
| PLAYERS CHAMPIONSHIP 4 | Last 128 | lost to Keegan Brown 6-3 |
| UK OPEN | Last 32 | lost to Michael van Gerwen 10-4 |
| PLAYERS CHAMPIONSHIP 5 | Last 16 | lost to Dirk van Duijvenbode 6-5 |
| PLAYERS CHAMPIONSHIP 6 | Last 64 | lost to Jamie Hughes 6-3 |
| PLAYERS CHAMPIONSHIP 7 | Last 64 | lost to Steve Lennon 6-3 |
| PLAYERS CHAMPIONSHIP 8 | Last 32 | lost to Martin Schindler 6-5 |
| PLAYERS CHAMPIONSHIP 9 | Last 32 | lost to Rowby-John Rodriguez 6-5 |
| PLAYERS CHAMPIONSHIP 10 | Last 128 | lost to Mickey Mansell 6-3 |
| PLAYERS CHAMPIONSHIP 11 | Last 16 | lost to Brendan Dolan 6-5 |
| PLAYERS CHAMPIONSHIP 12 | Last 64 | lost to Mike De Decker 6-4 |
| PREMIER LEAGUE | - |   |
| PLAYERS CHAMPIONSHIP 13 | - |   |
| PLAYERS CHAMPIONSHIP 14 | - |   |
| PLAYERS CHAMPIONSHIP 15 | - |   |
| PLAYERS CHAMPIONSHIP 16 | - |   |
| PLAYERS CHAMPIONSHIP 17 | - |   |
| PLAYERS CHAMPIONSHIP 18 | - |   |
| PLAYERS CHAMPIONSHIP 19 | - |   |
| PLAYERS CHAMPIONSHIP 20 | - |   |
| WORLD MATCHPLAY | - |   |
| PLAYERS CHAMPIONSHIP 21 | - |   |
| PLAYERS CHAMPIONSHIP 22 | - |   |
| PLAYERS CHAMPIONSHIP 23 | - |   |
| HUNGARIAN DARTS TROPHY | Last 32 | lost to William Borland 6-5 |
| WORLD CUP OF DARTS | Runner Up (Rowby-John Rodriguez) | lost to Scotland 3-1 |
| NORDIC DARTS MASTERS | - |   |
| | | |
| --- | --- | --- |
| WORLD CHAMPIONSHIP | Last 64 | lost to Fallon Sherrock 3-1 |
| THE MASTERS | Last 16 | lost to Michael Smith 10-6 |
| PLAYERS CHAMPIONSHIP 1 | Last 128 | lost to Simon Stevenson 6-3 |
| PLAYERS CHAMPIONSHIP 2 | Last 64 | lost to Maik Kuivenhoven 6-3 |
| PLAYERS CHAMPIONSHIP 3 | Last 32 | lost to Chris Dobey 6-3 |
| PLAYERS CHAMPIONSHIP 4 | Quarter Final | lost to Ian White 6-3 |
| PLAYERS CHAMPIONSHIP 5 | Last 32 | lost to Dimitri Van den Bergh 6-2 |
| PLAYERS CHAMPIONSHIP 6 | Last 64 | lost to Peter Jacques 6-5 |
| BELGIAN DARTS CHAMPIONSHIP | Quarter Final | lost to Gerwyn Price 6-2 |
| UK OPEN | Last 16 | lost to Jamie Hughes 10-5 |
| PLAYERS CHAMPIONSHIP 7 | - |   |
| PLAYERS CHAMPIONSHIP 8 | - |   |
| PLAYERS CHAMPIONSHIP 9 (SS1) | Quarter Final | lost to Gabriel Clemens 6-2 |
| PLAYERS CHAMPIONSHIP 10 (SS2) | Last 64 | lost to Matthew Edgar 6-4 |
| PLAYERS CHAMPIONSHIP 11 (SS3) | Last 128 | lost to Andy Hamilton 6-5 |
| PLAYERS CHAMPIONSHIP 12 (SS4) | Semi Final | lost to Rob Cross 7-2 |
| PLAYERS CHAMPIONSHIP 13 (SS5) | Last 32 | lost to John Henderson 6-5 |
| WORLD MATCHPLAY | Last 16 | lost to Michael Smith 14-12 |
| PLAYERS CHAMPIONSHIP 14 (AS1) | Last 32 | lost to Jesus Noguera 6-3 |
| PLAYERS CHAMPIONSHIP 15 (AS2) | Last 32 | lost to Ricky Evans 6-4 |
| PLAYERS CHAMPIONSHIP 16 (AS3) | Runner Up | lost to Michael van Gerwen 8-1 |
| PLAYERS CHAMPIONSHIP 17 (AS4) | Quarter Final | lost to Gerwyn Price 6-4 |
| PLAYERS CHAMPIONSHIP 18 (AS5) | Last 128 | lost to Matt Clark 6-4 |
| WORLD SERIES OF DARTS FINALS | Last 24 | lost to Krzysztof Ratajski 6-3 |
| GERMAN DARTS CHAMPIONSHIP | Last 16 | lost to James Wade 6-1 |
| WORLD GRAND PRIX | Last 32 | lost to Dirk van Duijvenbode 2-1 |
| PREMIER LEAGUE | - |   |
| EUROPEAN DARTS GRAND PRIX | Semi Final | lost to Michael van Gerwen 7-1 |
| INTERNATIONAL DARTS OPEN | Semi Final | lost to Michael van Gerwen 7-6 |
| EUROPEAN CHAMPIONSHIP | Last 16 | lost to Steve West 10-9 |
| WORLD CUP OF DARTS | Quarter Final (Rowby-John Rodriguez) | lost to England 2-1 |
| PLAYERS CHAMPIONSHIP 19 (WS1) | - |   |
| PLAYERS CHAMPIONSHIP 20 (WS2) | - |   |
| PLAYERS CHAMPIONSHIP 21 (WS3) | - |   |
| PLAYERS CHAMPIONSHIP 22 (WS4) | - |   |
| PLAYERS CHAMPIONSHIP 23 (WS5) | - |   |
| GRAND SLAM OF DARTS | - |   |
| PLAYERS CHAMPIONSHIP FINALS | - |   |
| | | |
| --- | --- | --- |
| WORLD CHAMPIONSHIP | Last 64 | lost to Ryan Searle 3-1 |
| THE MASTERS | Quarter Final | lost to Michael van Gerwen 10-5 |
| PLAYERS CHAMPIONSHIP 1 | - |   |
| PLAYERS CHAMPIONSHIP 2 | - |   |
| PLAYERS CHAMPIONSHIP 3 | Last 32 | lost to Ron Meulenkamp 6-4 |
| PLAYERS CHAMPIONSHIP 4 | Last 16 | lost to Glen Durrant 6-2 |
| PLAYERS CHAMPIONSHIP 5 | Last 16 | lost to Danny Noppert 6-3 |
| PLAYERS CHAMPIONSHIP 6 | Last 128 | lost to Maik Kuivenhoven 6-4 |
| UK OPEN | Last 32 | lost to Dimitri Van den Bergh 10-9 |
| PLAYERS CHAMPIONSHIP 7 | - |   |
| PLAYERS CHAMPIONSHIP 8 | - |   |
| EUROPEAN DARTS OPEN | Semi Final | lost to Michael van Gerwen 7-5 |
| GERMAN DARTS CHAMPIONSHIP | Last 32 | lost to Ricky Evans 6-4 |
| PLAYERS CHAMPIONSHIP 9 | Last 128 | lost to Ross Smith 6-3 |
| PLAYERS CHAMPIONSHIP 10 | Last 128 | lost to Mark McGeeney 6-2 |
| PLAYERS CHAMPIONSHIP 11 | - |   |
| PLAYERS CHAMPIONSHIP 12 | - |   |
| GERMAN DARTS GRAND PRIX | Quarter Final | lost to Rob Cross 6-5 |
| GERMAN DARTS OPEN | Quarter Final | lost to Dave Chisnall 6-5 |
| PLAYERS CHAMPIONSHIP 13 | - |   |
| PLAYERS CHAMPIONSHIP 14 | Last 32 | lost to Brendan Dolan 6-2 |
| AUSTRIAN DARTS OPEN | Last 16 | lost to James Wade 6-3 |
| EUROPEAN DARTS GRAND PRIX | Last 32 | lost to Steve Beaton 6-5 |
| PLAYERS CHAMPIONSHIP 15 | - |   |
| PLAYERS CHAMPIONSHIP 16 | - |   |
| PREMIER LEAGUE | 6th |   |
| DUTCH DARTS MASTERS | Last 32 | lost to Vincent van der Voort 6-3 |
| WORLD CUP OF DARTS | Quarter Final (Zoran Lerchbacher) | lost to Republic of Ireland 2-1 |
| DANISH DARTS OPEN | Last 16 | lost to Dave Chisnall 6-5 |
| PLAYERS CHAMPIONSHIP 17 | Last 32 | lost to Danny Noppert 6-4 |
| PLAYERS CHAMPIONSHIP 18 | Last 32 | lost to William O'Connor 6-4 |
| CZECH DARTS OPEN | Quarter Final | lost to Keegan Brown 6-2 |
| U.S. DARTS MASTERS | - |   |
| GERMAN DARTS MASTERS | Semi Final | lost to Gabriel Clemens 8-3 |
| PLAYERS CHAMPIONSHIP 19 | Last 16 | lost to Justin Pipe 6-3 |
| PLAYERS CHAMPIONSHIP 20 | Last 32 | lost to Jan Dekker 6-2 |
| WORLD MATCHPLAY | Last 16 | lost to James Wade 13-11 |
| PLAYERS CHAMPIONSHIP 21 | Quarter Final | lost to Ian White 6-4 |
| PLAYERS CHAMPIONSHIP 22 | Semi Final | lost to Jermaine Wattimena 7-6 |
| BRISBANE DARTS MASTERS | - |   |
| MELBOURNE DARTS MASTERS | - |   |
| NEW ZEALAND DARTS MASTERS | - |   |
| AUSTRIAN DARTS CHAMPIONSHIP | Winner | beat Michael van Gerwen 8-7 |
| EUROPEAN DARTS MATCHPLAY | Last 16 | lost to Michael van Gerwen 6-4 |
| PLAYERS CHAMPIONSHIP 23 | - |   |
| PLAYERS CHAMPIONSHIP 24 | - |   |
| INTERNATIONAL DARTS OPEN | Last 16 | lost to Peter Wright 6-3 |
| PLAYERS CHAMPIONSHIP 25 | Quarter Final | lost to Michael Smith 6-2 |
| PLAYERS CHAMPIONSHIP 26 | Winner | beat Ian White 8-7 |
| GIBRALTAR DARTS TROPHY | Last 16 | lost to Peter Wright 6-3 |
| PLAYERS CHAMPIONSHIP 27 | Semi Final | lost to Krzysztof Ratajski 7-3 |
| PLAYERS CHAMPIONSHIP 28 | Semi Final | lost to Jose De Sousa 7-3 |
| WORLD GRAND PRIX | Last 32 | lost to Rob Cross 2-1 |
| PLAYERS CHAMPIONSHIP 29 | - |   |
| PLAYERS CHAMPIONSHIP 30 | - |   |
| CHAMPIONS LEAGUE OF DARTS | - |   |
| EUROPEAN CHAMPIONSHIP | Last 32 | lost to Vincent van der Voort 6-1 |
| WORLD SERIES OF DARTS FINALS | Semi Final | lost to Michael van Gerwen 11-4 |
| GRAND SLAM OF DARTS | - |   |
| PLAYERS CHAMPIONSHIP FINALS | Last 16 | lost to Gerwyn Price 10-4 |
| | | |
| --- | --- | --- |
| WORLD CHAMPIONSHIP | Last 16 | lost to Dimitri Van den Bergh 4-0 |
| THE MASTERS | Semi Final | lost to Raymond van Barneveld 11-7 |
| UK OPEN QUALIFIER 1 | - |   |
| UK OPEN QUALIFIER 2 | - |   |
| UK OPEN QUALIFIER 3 | - |   |
| UK OPEN QUALIFIER 4 | - |   |
| UK OPEN QUALIFIER 5 | - |   |
| UK OPEN QUALIFIER 6 | - |   |
| PLAYERS CHAMPIONSHIP 1 | - |   |
| PLAYERS CHAMPIONSHIP 2 | - |   |
| UK OPEN | - |   |
| PLAYERS CHAMPIONSHIP 3 | Last 32 | lost to Richard North 6-4 |
| PLAYERS CHAMPIONSHIP 4 | - |   |
| PLAYERS CHAMPIONSHIP 5 | Quarter Final | lost to James Wade 6-3 |
| PLAYERS CHAMPIONSHIP 6 | Last 64 | lost to Jeffrey de Zwaan 6-2 |
| EUROPEAN DARTS OPEN | Last 16 | lost to Mervyn King 6-3 |
| GERMAN DARTS GRAND PRIX | Last 16 | lost to Max Hopp 6-2 |
| PLAYERS CHAMPIONSHIP 7 | - |   |
| PLAYERS CHAMPIONSHIP 8 | - |   |
| GERMAN DARTS OPEN | Last 16 | lost to Gerwyn Price 6-5 |
| AUSTRIAN DARTS OPEN | Semi Final | lost to Jonny Clayton 7-6 |
| PLAYERS CHAMPIONSHIP 9 | Last 32 | lost to Keegan Brown 6-5 |
| PLAYERS CHAMPIONSHIP 10 | Last 128 | lost to Brendan Dolan 6-3 |
| EUROPEAN DARTS GRAND PRIX | Last 16 | lost to Simon Whitlock 6-4 |
| DUTCH DARTS MASTERS | Quarter Final | lost to Steve Lennon 6-3 |
| PREMIER LEAGUE | 9th |   |
| PLAYERS CHAMPIONSHIP 11 | Last 64 | lost to Paul Nicholson 6-3 |
| PLAYERS CHAMPIONSHIP 12 | Last 32 | lost to Mickey Mansell 6-0 |
| GERMAN DARTS MASTERS | Winner | beat Dimitri Van den Bergh 8-2 |
| WORLD CUP OF DARTS | Last 32 (Zoran Lerchbacher) | lost to Japan 5-4 |
| GIBRALTAR DARTS TROPHY | Last 32 | lost to Adrian Lewis 6-3 |
| PLAYERS CHAMPIONSHIP 13 | Last 32 | lost to Martin Schindler 6-1 |
| PLAYERS CHAMPIONSHIP 14 | Last 64 | lost to Jeffrey de Graaf 6-3 |
| DANISH DARTS OPEN | Winner | beat Simon Whitlock 8-3 |
| PLAYERS CHAMPIONSHIP 15 | - |   |
| PLAYERS CHAMPIONSHIP 16 | - |   |
| EUROPEAN DARTS MATCHPLAY | Quarter Final | lost to William O'Connor 6-3 |
| U.S. DARTS MASTERS | - |   |
| SHANGHAI DARTS MASTERS | - |   |
| WORLD MATCHPLAY | Runner Up | lost to Gary Anderson 21-19 |
| AUCKLAND DARTS MASTERS | - |   |
| MELBOURNE DARTS MASTERS | - |   |
| BRISBANE DARTS MASTERS | - |   |
| GERMAN DARTS CHAMPIONSHIP | Semi Final | lost to James Wilson 7-4 |
| PLAYERS CHAMPIONSHIP 17 | - |   |
| PLAYERS CHAMPIONSHIP 18 | - |   |
| DUTCH DARTS CHAMPIONSHIP | - |   |
| INTERNATIONAL DARTS OPEN | Last 16 | lost to Danny Noppert 6-4 |
| CHAMPIONS LEAGUE OF DARTS | Semi Final | lost to Gary Anderson 11-4 |
| PLAYERS CHAMPIONSHIP 19 | Last 64 | lost to Jan Dekker 6-0 |
| PLAYERS CHAMPIONSHIP 20 | Quarter Final | lost to Ian White 6-1 |
| WORLD GRAND PRIX | Semi Final | lost to Peter Wright 4-3 |
| EUROPEAN DARTS TROPHY | - |   |
| PLAYERS CHAMPIONSHIP 21 | Quarter Final | lost to Martin Schindler 6-4 |
| PLAYERS CHAMPIONSHIP 22 | Quarter Final | lost to Kyle Anderson 6-4 |
| EUROPEAN CHAMPIONSHIP | Last 32 | lost to Cristo Reyes 6-3 |
| WORLD SERIES OF DARTS FINALS | Last 16 | lost to James Wade 6-3 |
| GRAND SLAM OF DARTS | Semi Final | lost to Gerwyn Price 16-12 |
| PLAYERS CHAMPIONSHIP FINALS | - |   |
| | | |
| --- | --- | --- |
| WORLD CHAMPIONSHIP | Last 32 | lost to Mark Webster 4-3 |
| THE MASTERS | Quarter Final | lost to Michael van Gerwen 10-4 |
| UK OPEN QUALIFIER 1 | - |   |
| UK OPEN QUALIFIER 2 | - |   |
| UK OPEN QUALIFIER 3 | - |   |
| UK OPEN QUALIFIER 4 | - |   |
| UK OPEN QUALIFIER 5 | - |   |
| UK OPEN QUALIFIER 6 | - |   |
| PLAYERS CHAMPIONSHIP 1 | Last 16 | lost to Cristo Reyes 6-5 |
| PLAYERS CHAMPIONSHIP 2 | Last 128 | lost to Joe Murnan 6-3 |
| UK OPEN | - |   |
| PLAYERS CHAMPIONSHIP 3 | Last 16 | lost to Daryl Gurney 6-2 |
| PLAYERS CHAMPIONSHIP 4 | Last 16 | lost to Gary Anderson 6-5 |
| GERMAN DARTS CHAMPIONSHIP | Quarter Final | lost to Gerwyn Price 6-2 |
| PLAYERS CHAMPIONSHIP 5 | Last 128 | lost to Jan Dekker 6-3 |
| PLAYERS CHAMPIONSHIP 6 | Semi Final | lost to Peter Wright 6-2 |
| PLAYERS CHAMPIONSHIP 7 | Quarter Final | lost to Gerwyn Price 6-4 |
| PLAYERS CHAMPIONSHIP 8 | Last 64 | lost to Richard North 6-2 |
| GERMAN DARTS MASTERS (ET) | Last 16 | lost to Kyle Anderson 6-2 |
| GERMAN DARTS OPEN | Quarter Final | lost to Jelle Klaasen 6-3 |
| PLAYERS CHAMPIONSHIP 9 | Last 64 | lost to Robbie Green 6-4 |
| PLAYERS CHAMPIONSHIP 10 | Last 32 | lost to Justin Pipe 6-2 |
| EUROPEAN DARTS GRAND PRIX | Last 16 | lost to Joe Cullen 6-5 |
| GIBRALTAR DARTS TROPHY | Runner Up | lost to Michael Smith 6-4 |
| PREMIER LEAGUE | - |   |
| PLAYERS CHAMPIONSHIP 11 | Quarter Final | lost to Andy Boulton 6-3 |
| PLAYERS CHAMPIONSHIP 12 | Last 16 | lost to Rob Cross 6-4 |
| DUBAI DARTS MASTERS | - |   |
| WORLD CUP OF DARTS | Quarter Final (Rowby-John Rodriguez) | lost to England 2-1 |
| EUROPEAN DARTS MATCHPLAY | Runner Up | lost to Michael van Gerwen 6-3 |
| PLAYERS CHAMPIONSHIP 13 | Quarter Final | lost to Daryl Gurney 6-5 |
| PLAYERS CHAMPIONSHIP 14 | Last 16 | lost to Rob Cross 6-5 |
| AUSTRIAN DARTS OPEN | Last 16 | lost to Mervyn King 6-4 |
| EUROPEAN DARTS OPEN | Semi Final | lost to Peter Wright 6-3 |
| SHANGHAI DARTS MASTERS | - |   |
| PLAYERS CHAMPIONSHIP 15 | - |   |
| PLAYERS CHAMPIONSHIP 16 | - |   |
| U.S. DARTS MASTERS | - |   |
| WORLD MATCHPLAY | Quarter Final | lost to Daryl Gurney 16-13 |
| PLAYERS CHAMPIONSHIP 17 | - |   |
| PLAYERS CHAMPIONSHIP 18 | - |   |
| AUCKLAND DARTS MASTERS | - |   |
| MELBOURNE DARTS MASTERS | - |   |
| PERTH DARTS MASTERS | - |   |
| DUTCH DARTS MASTERS | Last 32 | lost to Steve Beaton 6-3 |
| GERMAN DARTS GRAND PRIX | Last 16 | lost to Rob Cross 6-2 |
| CHAMPIONS LEAGUE OF DARTS | Winner | beat Gary Anderson 11-9 |
| INTERNATIONAL DARTS OPEN | Last 16 | lost to Gerwyn Price 6-5 |
| PLAYERS CHAMPIONSHIP 19 | Semi Final | lost to Rob Cross 6-1 |
| PLAYERS CHAMPIONSHIP 20 | Winner | beat Stephen Bunting 6-4 |
| WORLD GRAND PRIX | Semi Final | lost to Simon Whitlock 4-3 |
| PLAYERS CHAMPIONSHIP 21 | - |   |
| PLAYERS CHAMPIONSHIP 22 | - |   |
| EUROPEAN DARTS TROPHY | - |   |
| GERMAN DARTS MASTERS (WS) | Quarter Final | lost to Peter Wright 10-9 |
| EUROPEAN CHAMPIONSHIP | Quarter Final | lost to Kyle Anderson 10-7 |
| WORLD SERIES OF DARTS FINALS | Last 24 | lost to Chris Dobey 6-3 |
| GRAND SLAM OF DARTS | Quarter Final | lost to Gary Anderson 16-12 |
| PLAYERS CHAMPIONSHIP FINALS | Last 32 | lost to Stephen Bunting 6-3 |