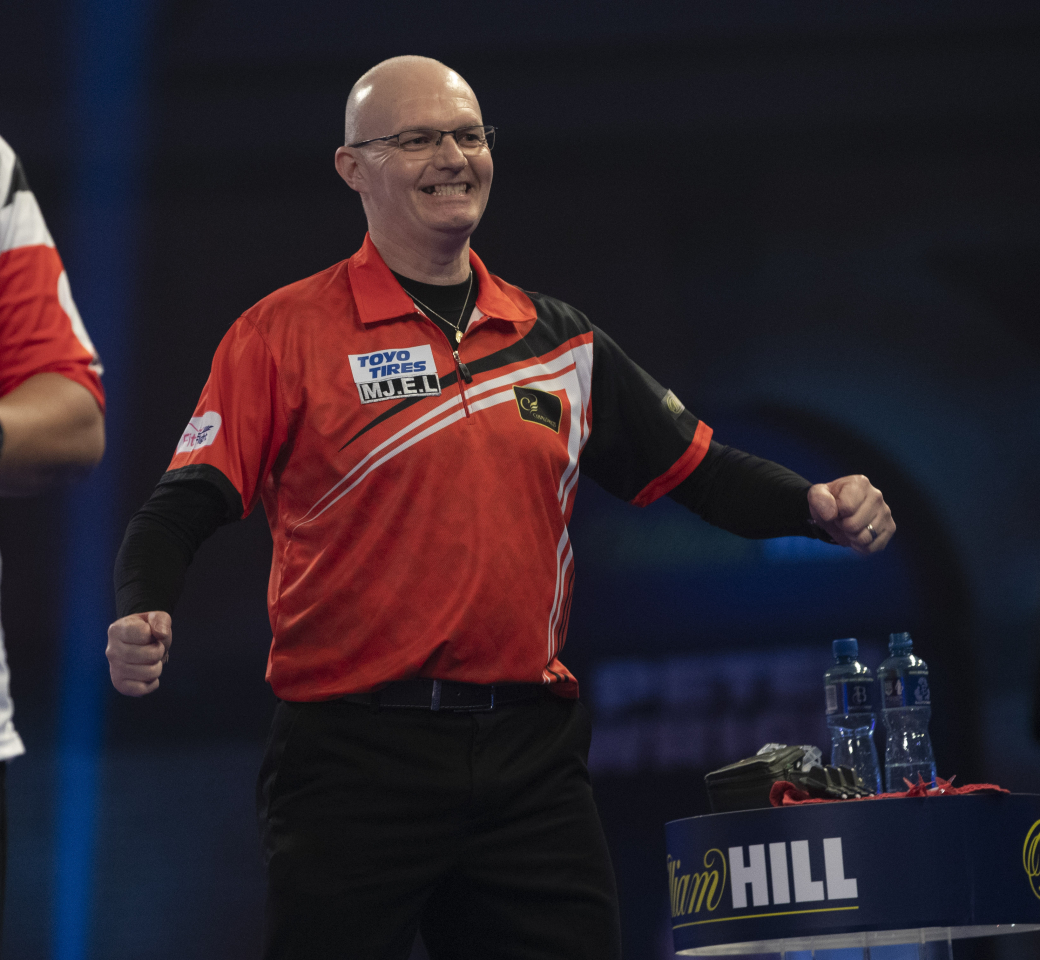 Mickey Mansell
Clonoe Cyclone
World Ranking

63

Televised titles

0

Non-Televised PDC Titles

1

Televised Nine-Dart Finishes

0
Walk-On Music

Maniac 2000 - Mark McCabe

Date of Birth

August 31 1973

Darts Used

25g

Cosmo

Home Town

Clonoe

Twitter

@C10noeCyclone
MICKEY originally competed on the PDC circuit in 2009, but victory in the Tom Kirby Memorial Irish Matchplay championship the following year helped to launch the left-hander's career.
Having reached a Players Championship semi-final in only his third ranking event, the Northern Irish ace made his World Championship debut in December 2010 and then joined the PDC tour full-time, making his UK Open debut in 2011.
His progress was rewarded with a Northern Irish World Cup spot alongside Brendan Dolan in 2012, where they made the quarter-finals, before he competed in the World Grand Prix for the first time later that year.
The pair also reached the 2014 semi-finals and 2015 quarter-finals as they continued their successful World Cup partnership, and the left-hander landed a nine-darter in a European Tour qualifier during 2017.
Mansell then enjoyed his maiden ranking victory at a Players Championship in April 2018, where he overcame Adrian Lewis in the final and lost only 11 legs in seven matches during a memorable day.
Player Stats
Select below to see result & roll of honour information.
| | |
| --- | --- |
| Players Championship | 2018 |
| | | |
| --- | --- | --- |
|   | Most Recent | Best Performance |
| 2023 WORLD CHAMPIONSHIP | Last 64 | Last 64 - 2013, 2015, 2021, 2023 |
| 2023 UK OPEN | Last 96 | Last 32 - 2013, 2019 |
| 2023 WORLD MATCHPLAY | - | - |
| 2022 WORLD GRAND PRIX | - | Last 16 - 2014 |
| 2022 EUROPEAN CHAMPIONSHIP | - | - |
| 2022 GRAND SLAM OF DARTS | - | - |
| 2022 PLAYERS CHAMPIONSHIP FINALS | Last 64 | Last 32 - 2017 |
 
Most Recent
Best Performance
2023 MASTERS
-
-
2023 PREMIER LEAGUE
-
-
2023 WORLD CUP OF DARTS

 

-
Semi Final - 2014
2022 WORLD SERIES OF DARTS FINALS
-
-
| | | |
| --- | --- | --- |
|   | Most Recent | Best Performance |
| 2023 BAHRAIN DARTS MASTERS | - | - |
| 2023 NORDIC DARTS MASTERS | - | - |
| 2023 U.S. DARTS MASTERS | - | - |
| 2023 POLAND DARTS MASTERS | - | - |
| 2023 NEW ZEALAND DARTS MASTERS | - | - |
| 2023 NEW SOUTH WALES DARTS MASTERS | - | - |
| | | |
| --- | --- | --- |
| TOURNAMENT WIN | Players Championship 8 (April 2018) | beat Adrian Lewis 6-4 |
| FINAL | Players Championship 8 (April 2018) | beat Adrian Lewis 6-4 |
| SEMI FINAL | Players Championship 8 (April 2018) | beat Josh Payne 6-3 |
| QUARTER FINAL | Players Championship 14 (June 2023) | lost to Damon Heta 6-0 |
| | | |
| --- | --- | --- |
| WORLD CHAMPIONSHIP | Last 64 | lost to Peter Wright 3-0 |
| BAHRAIN DARTS MASTERS | - |   |
| NORDIC DARTS MASTERS | - |   |
| THE MASTERS | - |   |
| PLAYERS CHAMPIONSHIP 1 | Last 64 | lost to Keegan Brown 6-5 |
| PLAYERS CHAMPIONSHIP 2 | Last 64 | lost to Vladimir Andersen 6-3 |
| PLAYERS CHAMPIONSHIP 3 | Last 128 | lost to Adam Gawlas 6-5 |
| PLAYERS CHAMPIONSHIP 4 | Last 128 | lost to Mike De Decker 6-5 |
| BALTIC SEA DARTS OPEN | - |   |
| UK OPEN | Last 96 | lost to Mensur Suljovic 6-3 |
| PLAYERS CHAMPIONSHIP 5 | Last 128 | lost to James Wade 6-5 |
| PLAYERS CHAMPIONSHIP 6 | Last 64 | lost to Luke Humphries 6-3 |
| PLAYERS CHAMPIONSHIP 7 | Quarter Final | lost to Krzysztof Ratajski 6-5 |
| PLAYERS CHAMPIONSHIP 8 | Last 128 | lost to Thibault Tricole 6-3 |
| EUROPEAN DARTS OPEN | - |   |
| INTERNATIONAL DARTS OPEN | - |   |
| GERMAN DARTS GRAND PRIX | - |   |
| PLAYERS CHAMPIONSHIP 9 | Last 64 | lost to Chris Landman 6-4 |
| PLAYERS CHAMPIONSHIP 10 | Last 128 | lost to John O'Shea 6-1 |
| AUSTRIAN DARTS OPEN | Last 16 | lost to Josh Rock 6-5 |
| DUTCH DARTS CHAMPIONSHIP | - |   |
| BELGIAN DARTS OPEN | - |   |
| CZECH DARTS OPEN | - |   |
| PLAYERS CHAMPIONSHIP 11 | - |   |
| PLAYERS CHAMPIONSHIP 12 | - |   |
| PREMIER LEAGUE | - |   |
| EUROPEAN DARTS GRAND PRIX | - |   |
| U.S. DARTS MASTERS | - |   |
| PLAYERS CHAMPIONSHIP 13 | Last 64 | lost to Mike De Decker 6-4 |
| PLAYERS CHAMPIONSHIP 14 | Quarter Final | lost to Damon Heta 6-0 |
| WORLD CUP OF DARTS | - |   |
| EUROPEAN DARTS MATCHPLAY | Last 32 | lost to Rob Cross 6-4 |
| POLAND DARTS MASTERS | - |   |
| PLAYERS CHAMPIONSHIP 15 | Last 128 | lost to Kevin Doets 6-5 |
| PLAYERS CHAMPIONSHIP 16 | Last 64 | lost to Jules van Dongen 6-3 |
| WORLD MATCHPLAY | - |   |
| NEW ZEALAND DARTS MASTERS | - |   |
| NEW SOUTH WALES DARTS MASTERS | - |   |
| PLAYERS CHAMPIONSHIP 17 | Last 128 | lost to Jules van Dongen 6-3 |
| PLAYERS CHAMPIONSHIP 18 | Last 64 | lost to Vitezslav Sedlak 6-5 |
| PLAYERS CHAMPIONSHIP 19 | Last 128 | lost to Brendan Dolan 6-1 |
| PLAYERS CHAMPIONSHIP 20 | Last 64 | lost to Danny Noppert 6-5 |
| PLAYERS CHAMPIONSHIP 21 | Last 128 | lost to Karel Sedlacek 6-5 |
| GERMAN DARTS OPEN | Last 48 | lost to Stephen Burton 6-4 |
| | | |
| --- | --- | --- |
| WORLD CHAMPIONSHIP | - |   |
| THE MASTERS | - |   |
| PLAYERS CHAMPIONSHIP 1 | Last 128 | lost to Gerwyn Price 6-1 |
| PLAYERS CHAMPIONSHIP 2 | Last 128 | lost to Luc Peters 6-3 |
| PLAYERS CHAMPIONSHIP 3 | Last 128 | lost to Jamie Clark 6-3 |
| PLAYERS CHAMPIONSHIP 4 | Last 128 | lost to Martin Lukeman 6-1 |
| INTERNATIONAL DARTS OPEN | - |   |
| UK OPEN | Last 160 | lost to Jurjen van der Velde 6-4 |
| GERMAN DARTS CHAMPIONSHIP | - |   |
| PLAYERS CHAMPIONSHIP 5 | Last 128 | lost to Luke Humphries 6-3 |
| PLAYERS CHAMPIONSHIP 6 | Last 128 | lost to Nathan Aspinall 6-5 |
| PLAYERS CHAMPIONSHIP 7 | Last 64 | lost to Geert Nentjes 6-2 |
| PLAYERS CHAMPIONSHIP 8 | Last 64 | lost to Keane Barry 6-5 |
| PLAYERS CHAMPIONSHIP 9 | Last 128 | lost to Chris Dobey 6-3 |
| PLAYERS CHAMPIONSHIP 10 | Last 128 | lost to Luke Humphries 6-4 |
| PLAYERS CHAMPIONSHIP 11 | Last 128 | lost to Cameron Menzies 6-3 |
| PLAYERS CHAMPIONSHIP 12 | Last 128 | lost to Ricky Evans 6-3 |
| PLAYERS CHAMPIONSHIP 13 | Last 16 | lost to Scott Waites 6-2 |
| GERMAN DARTS GRAND PRIX | - |   |
| AUSTRIAN DARTS OPEN | - |   |
| EUROPEAN DARTS OPEN | Last 48 | lost to Luke Woodhouse 6-0 |
| PLAYERS CHAMPIONSHIP 14 | Last 128 | lost to Andrew Gilding 6-0 |
| PLAYERS CHAMPIONSHIP 15 | Last 32 | lost to Alan Soutar 6-3 |
| CZECH DARTS OPEN | Last 16 | lost to Michael van Gerwen 6-5 |
| EUROPEAN DARTS GRAND PRIX | Last 32 | lost to Damon Heta 6-5 |
| DUTCH DARTS CHAMPIONSHIP | Last 32 | lost to Dirk van Duijvenbode 6-4 |
| U.S. DARTS MASTERS | - |   |
| NORDIC DARTS MASTERS | - |   |
| PREMIER LEAGUE | - |   |
| PLAYERS CHAMPIONSHIP 16 | Last 64 | lost to Nathan Rafferty 6-3 |
| PLAYERS CHAMPIONSHIP 17 | Last 64 | lost to Josh Rock 6-5 |
| WORLD CUP OF DARTS | - |   |
| DUTCH DARTS MASTERS | - |   |
| EUROPEAN DARTS MATCHPLAY | - |   |
| PLAYERS CHAMPIONSHIP 18 | Last 16 | lost to Adrian Lewis 6-3 |
| PLAYERS CHAMPIONSHIP 19 | Last 64 | lost to Steve West 6-4 |
| PLAYERS CHAMPIONSHIP 20 | Last 128 | lost to Dimitri Van den Bergh 6-2 |
| PLAYERS CHAMPIONSHIP 21 | Last 16 | lost to Nathan Aspinall 6-4 |
| WORLD MATCHPLAY | - |   |
| PLAYERS CHAMPIONSHIP 22 | Last 64 | lost to Florian Hempel 6-3 |
| PLAYERS CHAMPIONSHIP 23 | Last 128 | lost to George Killington 6-4 |
| PLAYERS CHAMPIONSHIP 24 | Last 16 | lost to Rob Cross 6-1 |
| QUEENSLAND DARTS MASTERS | - |   |
| NEW SOUTH WALES DARTS MASTERS | - |   |
| NEW ZEALAND DARTS MASTERS | - |   |
| HUNGARIAN DARTS TROPHY | - |   |
| GERMAN DARTS OPEN | - |   |
| WORLD SERIES OF DARTS FINALS | - |   |
| BELGIAN DARTS OPEN | - |   |
| WORLD GRAND PRIX | - |   |
| GIBRALTAR DARTS TROPHY | - |   |
| PLAYERS CHAMPIONSHIP 25 | Last 64 | lost to Gerwyn Price 6-2 |
| PLAYERS CHAMPIONSHIP 26 | Last 64 | lost to Danny Noppert 6-1 |
| PLAYERS CHAMPIONSHIP 27 | Last 64 | lost to Josh Rock 6-3 |
| PLAYERS CHAMPIONSHIP 28 | Last 64 | lost to Callan Rydz 6-4 |
| EUROPEAN CHAMPIONSHIP | - |   |
| PLAYERS CHAMPIONSHIP 29 | Last 32 | lost to Steve Lennon 6-1 |
| PLAYERS CHAMPIONSHIP 30 | Last 64 | lost to Geert Nentjes 6-4 |
| GRAND SLAM OF DARTS | - |   |
| PLAYERS CHAMPIONSHIP FINALS | Last 64 | lost to Dirk van Duijvenbode 6-5 |
| | | |
| --- | --- | --- |
| WORLD CHAMPIONSHIP | Last 64 | lost to Ricky Evans 3-1 |
| THE MASTERS | - |   |
| PLAYERS CHAMPIONSHIP 1 | Last 64 | lost to Devon Petersen 6-4 |
| PLAYERS CHAMPIONSHIP 2 | Last 32 | lost to Rusty-Jake Rodriguez 6-2 |
| PLAYERS CHAMPIONSHIP 3 | Last 128 | lost to Danny Baggish 6-3 |
| PLAYERS CHAMPIONSHIP 4 | Last 128 | lost to Gordon Mathers 6-3 |
| UK OPEN | Last 96 | lost to Alan Soutar 6-3 |
| PLAYERS CHAMPIONSHIP 5 | Last 128 | lost to Dirk van Duijvenbode 6-0 |
| PLAYERS CHAMPIONSHIP 6 | Last 128 | lost to Ian White 6-5 |
| PLAYERS CHAMPIONSHIP 7 | Last 64 | lost to Jeff Smith 6-5 |
| PLAYERS CHAMPIONSHIP 8 | Last 128 | lost to Jamie Hughes 6-5 |
| PLAYERS CHAMPIONSHIP 9 | Last 128 | lost to Robert Marijanovic 6-5 |
| PLAYERS CHAMPIONSHIP 10 | Last 64 | lost to Jose Justicia 6-3 |
| PLAYERS CHAMPIONSHIP 11 | Last 32 | lost to Ritchie Edhouse 6-4 |
| PLAYERS CHAMPIONSHIP 12 | Last 64 | lost to Krzysztof Ratajski 6-5 |
| PREMIER LEAGUE | - |   |
| PLAYERS CHAMPIONSHIP 13 | Last 16 | lost to Michael van Gerwen 6-5 |
| PLAYERS CHAMPIONSHIP 14 | Last 128 | lost to Alan Tabern 6-5 |
| PLAYERS CHAMPIONSHIP 15 | Last 128 | lost to Brendan Dolan 6-1 |
| PLAYERS CHAMPIONSHIP 16 | Last 128 | lost to William O'Connor 6-2 |
| PLAYERS CHAMPIONSHIP 17 | Last 64 | lost to Martijn Kleermaker 6-3 |
| PLAYERS CHAMPIONSHIP 18 | Last 64 | lost to Danny Baggish 6-5 |
| PLAYERS CHAMPIONSHIP 19 | Last 128 | lost to Keegan Brown 6-2 |
| PLAYERS CHAMPIONSHIP 20 | Last 32 | lost to Dave Chisnall 6-2 |
| WORLD MATCHPLAY | - |   |
| PLAYERS CHAMPIONSHIP 21 | Last 128 | lost to Gordon Mathers 6-1 |
| PLAYERS CHAMPIONSHIP 22 | Last 128 | lost to Keegan Brown 6-5 |
| PLAYERS CHAMPIONSHIP 23 | Last 128 | lost to Jim McEwan 6-0 |
| HUNGARIAN DARTS TROPHY | - |   |
| WORLD CUP OF DARTS | - |   |
| NORDIC DARTS MASTERS | - |   |
| GIBRALTAR DARTS TROPHY | - |   |
| WORLD GRAND PRIX | - |   |
| EUROPEAN CHAMPIONSHIP | - |   |
| PLAYERS CHAMPIONSHIP 24 | Quarter Final | lost to Kim Huybrechts 6-3 |
| PLAYERS CHAMPIONSHIP 25 | Last 128 | lost to Rowby-John Rodriguez 6-5 |
| PLAYERS CHAMPIONSHIP 26 | Last 128 | lost to Gabriel Clemens 6-3 |
| PLAYERS CHAMPIONSHIP 27 | Last 128 | lost to Mensur Suljovic 6-4 |
| WORLD SERIES OF DARTS FINALS | - |   |
| PLAYERS CHAMPIONSHIP 28 | Last 64 | lost to Jose de Sousa 6-2 |
| PLAYERS CHAMPIONSHIP 29 | Last 64 | lost to Kim Huybrechts 6-5 |
| PLAYERS CHAMPIONSHIP 30 | Last 128 | lost to Rowby-John Rodriguez 6-4 |
| GRAND SLAM OF DARTS | - |   |
| PLAYERS CHAMPIONSHIP FINALS | - |   |
| | | |
| --- | --- | --- |
| WORLD CHAMPIONSHIP | Last 96 | lost to Seigo Asada 3-0 |
| THE MASTERS | - |   |
| PLAYERS CHAMPIONSHIP 1 | Last 16 | lost to Steve Beaton 6-1 |
| PLAYERS CHAMPIONSHIP 2 | Quarter Final | lost to Gerwyn Price 6-0 |
| PLAYERS CHAMPIONSHIP 3 | Last 128 | lost to Steve West 6-2 |
| PLAYERS CHAMPIONSHIP 4 | Last 128 | lost to Krzysztof Ratajski 6-5 |
| PLAYERS CHAMPIONSHIP 5 | Last 64 | lost to Gerwyn Price 6-5 |
| PLAYERS CHAMPIONSHIP 6 | Last 32 | lost to Krzysztof Ratajski 6-2 |
| BELGIAN DARTS CHAMPIONSHIP | - |   |
| UK OPEN | Last 96 | lost to Niels Zonneveld 6-2 |
| PLAYERS CHAMPIONSHIP 7 | Last 64 | lost to James Wade 6-0 |
| PLAYERS CHAMPIONSHIP 8 | Last 32 | lost to Luke Woodhouse 6-5 |
| PLAYERS CHAMPIONSHIP 9 (SS1) | Last 128 | lost to Steve West 6-2 |
| PLAYERS CHAMPIONSHIP 10 (SS2) | Last 32 | lost to Nathan Aspinall 6-1 |
| PLAYERS CHAMPIONSHIP 11 (SS3) | Last 32 | lost to Chris Dobey 6-0 |
| PLAYERS CHAMPIONSHIP 12 (SS4) | Last 64 | lost to Jeffrey de Zwaan 6-3 |
| PLAYERS CHAMPIONSHIP 13 (SS5) | Last 16 | lost to John Henderson 6-5 |
| WORLD MATCHPLAY | - |   |
| PLAYERS CHAMPIONSHIP 14 (AS1) | Last 128 | lost to Jesus Noguera 6-1 |
| PLAYERS CHAMPIONSHIP 15 (AS2) | Last 128 | lost to Josh Payne 6-4 |
| PLAYERS CHAMPIONSHIP 16 (AS3) | Last 128 | lost to Jamie Hughes 6-1 |
| PLAYERS CHAMPIONSHIP 17 (AS4) | Last 64 | lost to Jamie Hughes 6-1 |
| PLAYERS CHAMPIONSHIP 18 (AS5) | Last 128 | lost to Dirk van Duijvenbode 6-3 |
| WORLD SERIES OF DARTS FINALS | - |   |
| GERMAN DARTS CHAMPIONSHIP | - |   |
| WORLD GRAND PRIX | - |   |
| PREMIER LEAGUE | - |   |
| EUROPEAN DARTS GRAND PRIX | - |   |
| INTERNATIONAL DARTS OPEN | - |   |
| EUROPEAN CHAMPIONSHIP | - |   |
| WORLD CUP OF DARTS | - |   |
| PLAYERS CHAMPIONSHIP 19 (WS1) | Last 64 | lost to Simon Stevenson 6-5 |
| PLAYERS CHAMPIONSHIP 20 (WS2) | Last 16 | lost to Joe Cullen 6-4 |
| PLAYERS CHAMPIONSHIP 21 (WS3) | Last 128 | lost to Steve Brown 6-4 |
| PLAYERS CHAMPIONSHIP 22 (WS4) | Last 64 | lost to Adrian Lewis 6-5 |
| PLAYERS CHAMPIONSHIP 23 (WS5) | Last 64 | lost to Luke Woodhouse 6-3 |
| GRAND SLAM OF DARTS | - |   |
| PLAYERS CHAMPIONSHIP FINALS | Last 64 | lost to Mickey Mansell 6-2 |
| | | |
| --- | --- | --- |
| WORLD CHAMPIONSHIP | Last 96 | lost to Jim Long 3-1 |
| THE MASTERS | - |   |
| PLAYERS CHAMPIONSHIP 1 | Last 32 | lost to Michael van Gerwen 6-2 |
| PLAYERS CHAMPIONSHIP 2 | Last 64 | lost to Ryan Searle 6-3 |
| PLAYERS CHAMPIONSHIP 3 | Last 128 | lost to Mervyn King 6-0 |
| PLAYERS CHAMPIONSHIP 4 | Last 64 | lost to Nathan Derry 6-5 |
| PLAYERS CHAMPIONSHIP 5 | Last 128 | lost to Mark McGeeney 6-3 |
| PLAYERS CHAMPIONSHIP 6 | Last 32 | lost to Ritchie Edhouse 6-2 |
| UK OPEN | Last 32 | lost to Steve Lennon 10-8 |
| PLAYERS CHAMPIONSHIP 7 | Last 128 | lost to Christian Kist 6-3 |
| PLAYERS CHAMPIONSHIP 8 | Last 128 | lost to Peter Hudson 6-5 |
| EUROPEAN DARTS OPEN | - |   |
| GERMAN DARTS CHAMPIONSHIP | Last 48 | lost to Steffen Siepmann 6-2 |
| PLAYERS CHAMPIONSHIP 9 | Last 32 | lost to Ian White 6-1 |
| PLAYERS CHAMPIONSHIP 10 | Last 64 | lost to Mario Robbe 6-5 |
| PLAYERS CHAMPIONSHIP 11 | Last 64 | lost to Max Hopp 6-5 |
| PLAYERS CHAMPIONSHIP 12 | Last 64 | lost to Krzysztof Ratajski 6-2 |
| GERMAN DARTS GRAND PRIX | - |   |
| GERMAN DARTS OPEN | Last 32 | lost to Mensur Suljovic 6-5 |
| PLAYERS CHAMPIONSHIP 13 | Last 128 | lost to Boris Koltsov 6-4 |
| PLAYERS CHAMPIONSHIP 14 | Last 128 | lost to Adrian Lewis 6-1 |
| AUSTRIAN DARTS OPEN | - |   |
| EUROPEAN DARTS GRAND PRIX | - |   |
| PLAYERS CHAMPIONSHIP 15 | Last 128 | lost to Devon Petersen 6-4 |
| PLAYERS CHAMPIONSHIP 16 | Last 32 | lost to Jonny Clayton 6-0 |
| PREMIER LEAGUE | - |   |
| DUTCH DARTS MASTERS | Last 32 | lost to Ian White 6-5 |
| WORLD CUP OF DARTS | - |   |
| DANISH DARTS OPEN | - |   |
| PLAYERS CHAMPIONSHIP 17 | Last 128 | lost to Dave Prins 6-3 |
| PLAYERS CHAMPIONSHIP 18 | Last 64 | lost to Madars Razma 6-1 |
| CZECH DARTS OPEN | - |   |
| U.S. DARTS MASTERS | - |   |
| GERMAN DARTS MASTERS | - |   |
| PLAYERS CHAMPIONSHIP 19 | Last 32 | lost to Ron Meulenkamp 6-2 |
| PLAYERS CHAMPIONSHIP 20 | Last 128 | lost to Steve Beaton 6-3 |
| WORLD MATCHPLAY | - |   |
| PLAYERS CHAMPIONSHIP 21 | Quarter Final | lost to Krzysztof Ratajski 6-5 |
| PLAYERS CHAMPIONSHIP 22 | Last 64 | lost to Conan Whitehead 6-2 |
| BRISBANE DARTS MASTERS | - |   |
| MELBOURNE DARTS MASTERS | - |   |
| NEW ZEALAND DARTS MASTERS | - |   |
| AUSTRIAN DARTS CHAMPIONSHIP | - |   |
| EUROPEAN DARTS MATCHPLAY | - |   |
| PLAYERS CHAMPIONSHIP 23 | Last 64 | lost to Danny Noppert 6-3 |
| PLAYERS CHAMPIONSHIP 24 | Last 128 | lost to Jonathan Worsley 6-4 |
| INTERNATIONAL DARTS OPEN | Last 48 | lost to Danny Noppert 6-5 |
| PLAYERS CHAMPIONSHIP 25 | Last 128 | lost to Mike van Duivenbode 6-5 |
| PLAYERS CHAMPIONSHIP 26 | Last 128 | lost to Glen Durrant 6-0 |
| GIBRALTAR DARTS TROPHY | - |   |
| PLAYERS CHAMPIONSHIP 27 | Last 64 | lost to Michael Smith 6-1 |
| PLAYERS CHAMPIONSHIP 28 | Last 64 | lost to Jose Justicia 6-1 |
| WORLD GRAND PRIX | - |   |
| PLAYERS CHAMPIONSHIP 29 | Last 128 | lost to Madars Razma 6-3 |
| PLAYERS CHAMPIONSHIP 30 | Last 128 | lost to Ryan Searle 6-1 |
| CHAMPIONS LEAGUE OF DARTS | - |   |
| EUROPEAN CHAMPIONSHIP | - |   |
| WORLD SERIES OF DARTS FINALS | - |   |
| GRAND SLAM OF DARTS | - |   |
| PLAYERS CHAMPIONSHIP FINALS | Last 64 | lost to Gerwyn Price 6-3 |
| | | |
| --- | --- | --- |
| WORLD CHAMPIONSHIP | - |   |
| THE MASTERS | - |   |
| UK OPEN QUALIFIER 1 | Last 32 | lost to Gerwyn Price 6-4 |
| UK OPEN QUALIFIER 2 | Last 64 | lost to Ricky Evans 6-2 |
| UK OPEN QUALIFIER 3 | Last 128 | lost to James Richardson 6-2 |
| UK OPEN QUALIFIER 4 | Last 128 | lost to Keegan Brown 6-3 |
| UK OPEN QUALIFIER 5 | Last 256 | lost to Boris Koltsov 6-5 |
| UK OPEN QUALIFIER 6 | Last 256 | lost to Michael Plooy 6-4 |
| PLAYERS CHAMPIONSHIP 1 | Last 128 | lost to Kyle Anderson 6-4 |
| PLAYERS CHAMPIONSHIP 2 | Last 64 | lost to Robert Thornton 6-5 |
| UK OPEN | Last 128 | lost to Ryan Meikle 6-5 |
| PLAYERS CHAMPIONSHIP 3 | Last 128 | lost to Danny Noppert 6-3 |
| PLAYERS CHAMPIONSHIP 4 | Last 64 | lost to Andrew Gilding 6-3 |
| PLAYERS CHAMPIONSHIP 5 | Last 64 | lost to William O'Connor 6-3 |
| PLAYERS CHAMPIONSHIP 6 | Last 32 | lost to Rob Cross 6-5 |
| EUROPEAN DARTS OPEN | - |   |
| GERMAN DARTS GRAND PRIX | - |   |
| PLAYERS CHAMPIONSHIP 7 | Last 128 | lost to Darren Johnson 6-5 |
| PLAYERS CHAMPIONSHIP 8 | Winner | beat Adrian Lewis 6-4 |
| GERMAN DARTS OPEN | - |   |
| AUSTRIAN DARTS OPEN | - |   |
| PLAYERS CHAMPIONSHIP 9 | Last 128 | lost to Darren Johnson 6-5 |
| PLAYERS CHAMPIONSHIP 10 | Quarter Final | lost to Gabriel Clemens 6-1 |
| EUROPEAN DARTS GRAND PRIX | - |   |
| DUTCH DARTS MASTERS | - |   |
| PREMIER LEAGUE | - |   |
| PLAYERS CHAMPIONSHIP 11 | Last 32 | lost to Ryan Joyce 6-2 |
| PLAYERS CHAMPIONSHIP 12 | Quarter Final | lost to Brendan Dolan 6-4 |
| GERMAN DARTS MASTERS | - |   |
| WORLD CUP OF DARTS | - |   |
| GIBRALTAR DARTS TROPHY | - |   |
| PLAYERS CHAMPIONSHIP 13 | Last 32 | lost to James Wilson 6-3 |
| PLAYERS CHAMPIONSHIP 14 | Last 32 | lost to Max Hopp 6-5 |
| DANISH DARTS OPEN | Last 48 | lost to Jelle Klaasen 6-5 |
| PLAYERS CHAMPIONSHIP 15 | Last 128 | lost to Rob Cross 6-5 |
| PLAYERS CHAMPIONSHIP 16 | Last 128 | lost to Brendan Dolan 6-4 |
| EUROPEAN DARTS MATCHPLAY | - |   |
| U.S. DARTS MASTERS | - |   |
| SHANGHAI DARTS MASTERS | - |   |
| WORLD MATCHPLAY | - |   |
| AUCKLAND DARTS MASTERS | - |   |
| MELBOURNE DARTS MASTERS | - |   |
| BRISBANE DARTS MASTERS | - |   |
| GERMAN DARTS CHAMPIONSHIP | - |   |
| PLAYERS CHAMPIONSHIP 17 | Last 128 | lost to Stephen Burton 6-5 |
| PLAYERS CHAMPIONSHIP 18 | Last 128 | lost to Simon Stevenson 6-5 |
| DUTCH DARTS CHAMPIONSHIP | - |   |
| INTERNATIONAL DARTS OPEN | Last 32 | lost to Darren Webster 6-4 |
| CHAMPIONS LEAGUE OF DARTS | - |   |
| PLAYERS CHAMPIONSHIP 19 | Last 32 | lost to James Wilson 6-4 |
| PLAYERS CHAMPIONSHIP 20 | Last 32 | lost to Robert Thornton 6-4 |
| WORLD GRAND PRIX | - |   |
| EUROPEAN DARTS TROPHY | Last 32 | lost to Stephen Bunting 6-2 |
| PLAYERS CHAMPIONSHIP 21 | Last 64 | lost to Stephen Bunting 6-2 |
| PLAYERS CHAMPIONSHIP 22 | Last 128 | lost to Rob Cross 6-5 |
| EUROPEAN CHAMPIONSHIP | - |   |
| WORLD SERIES OF DARTS FINALS | - |   |
| GRAND SLAM OF DARTS | - |   |
| PLAYERS CHAMPIONSHIP FINALS | Last 64 | lost to Madars Razma 6-4 |
| | | |
| --- | --- | --- |
| WORLD CHAMPIONSHIP | - |   |
| THE MASTERS | - |   |
| UK OPEN QUALIFIER 1 | - |   |
| UK OPEN QUALIFIER 2 | - |   |
| UK OPEN QUALIFIER 3 | - |   |
| UK OPEN QUALIFIER 4 | - |   |
| UK OPEN QUALIFIER 5 | - |   |
| UK OPEN QUALIFIER 6 | - |   |
| PLAYERS CHAMPIONSHIP 1 | Last 64 | lost to Steve Beaton 6-4 |
| PLAYERS CHAMPIONSHIP 2 | Last 128 | lost to Rob Cross 6-5 |
| UK OPEN | - |   |
| PLAYERS CHAMPIONSHIP 3 | Last 128 | lost to Steve Lennon 6-4 |
| PLAYERS CHAMPIONSHIP 4 | Last 128 | lost to John Henderson 6-5 |
| GERMAN DARTS CHAMPIONSHIP | - |   |
| PLAYERS CHAMPIONSHIP 5 | Last 16 | lost to Dave Chisnall 6-2 |
| PLAYERS CHAMPIONSHIP 6 | Last 128 | lost to Michael van Gerwen 6-3 |
| PLAYERS CHAMPIONSHIP 7 | Last 64 | lost to Keegan Brown 6-0 |
| PLAYERS CHAMPIONSHIP 8 | Last 64 | lost to Gerwyn Price 6-2 |
| GERMAN DARTS MASTERS (ET) | - |   |
| GERMAN DARTS OPEN | - |   |
| PLAYERS CHAMPIONSHIP 9 | Last 128 | lost to Warrick Scheffer 6-4 |
| PLAYERS CHAMPIONSHIP 10 | Last 64 | lost to Gary Anderson 6-2 |
| EUROPEAN DARTS GRAND PRIX | - |   |
| GIBRALTAR DARTS TROPHY | - |   |
| PREMIER LEAGUE | - |   |
| PLAYERS CHAMPIONSHIP 11 | Last 32 | lost to Simon Whitlock 6-3 |
| PLAYERS CHAMPIONSHIP 12 | Last 16 | lost to Jonny Clayton 6-3 |
| DUBAI DARTS MASTERS | - |   |
| WORLD CUP OF DARTS | - |   |
| EUROPEAN DARTS MATCHPLAY | Last 48 | lost to Richard North 6-1 |
| PLAYERS CHAMPIONSHIP 13 | Last 64 | lost to Robert Thornton 6-5 |
| PLAYERS CHAMPIONSHIP 14 | Last 128 | lost to Gary Anderson 6-5 |
| AUSTRIAN DARTS OPEN | - |   |
| EUROPEAN DARTS OPEN | - |   |
| SHANGHAI DARTS MASTERS | - |   |
| PLAYERS CHAMPIONSHIP 15 | Last 16 | lost to Kyle Anderson 6-3 |
| PLAYERS CHAMPIONSHIP 16 | Last 128 | lost to Ryan Harrington 6-5 |
| U.S. DARTS MASTERS | - |   |
| WORLD MATCHPLAY | - |   |
| PLAYERS CHAMPIONSHIP 17 | Last 64 | lost to Jonny Clayton 6-5 |
| PLAYERS CHAMPIONSHIP 18 | Last 128 | lost to James Wade 6-1 |
| AUCKLAND DARTS MASTERS | - |   |
| MELBOURNE DARTS MASTERS | - |   |
| PERTH DARTS MASTERS | - |   |
| DUTCH DARTS MASTERS | - |   |
| GERMAN DARTS GRAND PRIX | Last 48 | lost to Jan Dekker 6-3 |
| CHAMPIONS LEAGUE OF DARTS | - |   |
| INTERNATIONAL DARTS OPEN | - |   |
| PLAYERS CHAMPIONSHIP 19 | Last 32 | lost to Steve Lennon 6-1 |
| PLAYERS CHAMPIONSHIP 20 | Last 128 | lost to Lee Bryant 6-3 |
| WORLD GRAND PRIX | - |   |
| PLAYERS CHAMPIONSHIP 21 | Last 64 | lost to Mark Webster 6-4 |
| PLAYERS CHAMPIONSHIP 22 | Last 128 | lost to Ryan Searle 6-1 |
| EUROPEAN DARTS TROPHY | - |   |
| GERMAN DARTS MASTERS (WS) | - |   |
| EUROPEAN CHAMPIONSHIP | - |   |
| WORLD SERIES OF DARTS FINALS | - |   |
| GRAND SLAM OF DARTS | - |   |
| PLAYERS CHAMPIONSHIP FINALS | Last 32 | lost to Jermaine Wattimena 6-3 |