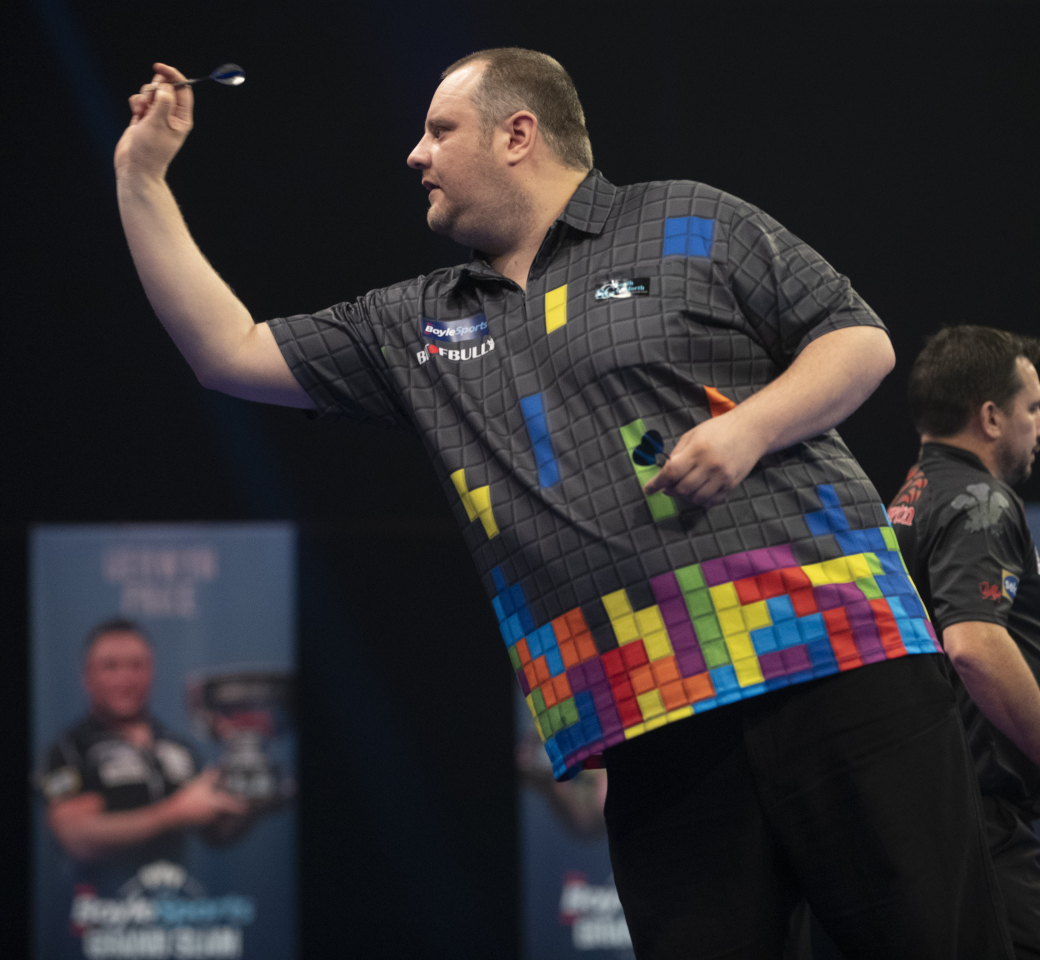 Ryan Joyce
Relentless
PDC World Ranking

39

Televised titles

0

Non-Televised PDC Titles

1

Televised Nine-Dart Finishes

0
Walk-On Music

Tetris Theme - Dr Spin

Date of Birth

September 20 1985

Darts Used

Bitofbully

Home Town

Newcastle Upon Tyne

Twitter

@rjoyce180
A RELATIVE newcomer to the PDC, Joyce won his Tour Card at the first attempt at UK Qualifying School in 2018 and has since gone on to make a big impression in a short space of time.
A blistering start to his PDC career saw Joyce make the semi-finals and quarter-finals of his fourth and fifth ProTour events respectively, defeating the likes of Jelle Klaasen, Jermaine Wattimena and Ricky Evans on the way.
The Geordie's strong ProTour form earned him a World Championship debut at the 2018/19 event where he enjoyed a memorable run to the quarter-finals.
Joyce didn't drop a set against Anastasia Dobromyslova and Simon Whitlock, before 4-3 wins over Alan Norris and James Wade saw him reach the last eight where he went out to eventual champion Michael van Gerwen.
Player Stats
Select below to see result & roll of honour information.
| | |
| --- | --- |
| Players Championship | 2020 |
| | | |
| --- | --- | --- |
|   | Most Recent | Best Performance |
| 2021 WORLD CHAMPIONSHIP | Last 64 | Quarter Final - 2019 |
| 2021 UK OPEN | Last 64 | Last 64 - 2019, 2020, 2021 |
| 2021 WORLD MATCHPLAY | - | Last 32 - 2020 |
| 2021 WORLD GRAND PRIX | - | Last 16 - 2020 |
| 2021 EUROPEAN CHAMPIONSHIP | - | - |
| 2020 GRAND SLAM OF DARTS | Last 32 | Last 32 - 2020 |
| 2020 PLAYERS CHAMPIONSHIP FINALS | Last 64 | Last 64 - 2018, 2019, 2020 |
| | | |
| --- | --- | --- |
|   | Most Recent | Best Performance |
| 2021 THE MASTERS | - | - |
| 2021 PREMIER LEAGUE | - | - |
| 2021 WORLD CUP OF DARTS  | - | - |
| 2021 NORDIC DARTS MASTERS | - |   |
| 2021 WORLD SERIES OF DARTS FINALS | - | - |
| | | |
| --- | --- | --- |
| TOURNAMENT WIN | Players Championship 10 (SS2) (July 2020) | beat Dave Chisnall 8-7 |
| FINAL | Players Championship 10 (SS2) (July 2020) | beat Dave Chisnall 8-7 |
| SEMI FINAL | Players Championship 19 (July 2021) | lost to Ross Smith 7-2 |
| QUARTER FINAL | Players Championship 19 (July 2021) | beat Keegan Brown 6-3 |
| | | |
| --- | --- | --- |
| WORLD CHAMPIONSHIP | Last 64 | lost to Krzysztof Ratajski 3-0 |
| THE MASTERS | - |   |
| PLAYERS CHAMPIONSHIP 1 | Last 128 | lost to Jonathan Worsley 6-1 |
| PLAYERS CHAMPIONSHIP 2 | Last 32 | lost to Michael van Gerwen 6-1 |
| PLAYERS CHAMPIONSHIP 3 | Last 64 | lost to Berry van Peer 6-3 |
| PLAYERS CHAMPIONSHIP 4 | Last 64 | lost to Ted Evetts 6-2 |
| UK OPEN | Last 64 | lost to James Wade 10-9 |
| PLAYERS CHAMPIONSHIP 5 | Quarter Final | lost to Joe Cullen 6-4 |
| PLAYERS CHAMPIONSHIP 6 | Last 64 | lost to Rusty-Jake Rodriguez 6-4 |
| PLAYERS CHAMPIONSHIP 7 | Last 128 | lost to Boris Koltsov 6-4 |
| PLAYERS CHAMPIONSHIP 8 | Last 32 | lost to Kai-Fan Leung 6-4 |
| PLAYERS CHAMPIONSHIP 9 | Last 128 | lost to Alan Tabern 6-5 |
| PLAYERS CHAMPIONSHIP 10 | Last 128 | lost to Jelle Klaasen 6-3 |
| PLAYERS CHAMPIONSHIP 11 | Last 64 | lost to Martin Lukeman 6-4 |
| PLAYERS CHAMPIONSHIP 12 | Last 64 | lost to Ricky Evans 6-3 |
| PREMIER LEAGUE | - |   |
| PLAYERS CHAMPIONSHIP 13 | Last 64 | lost to Martin Atkins 6-5 |
| PLAYERS CHAMPIONSHIP 14 | Last 64 | lost to Simon Whitlock 6-5 |
| PLAYERS CHAMPIONSHIP 15 | Last 32 | lost to Michael van Gerwen 6-5 |
| PLAYERS CHAMPIONSHIP 16 | Last 32 | lost to Peter Wright 6-5 |
| PLAYERS CHAMPIONSHIP 17 | Last 16 | lost to Brendan Dolan 6-3 |
| PLAYERS CHAMPIONSHIP 18 | Last 128 | lost to Jason Heaver 6-5 |
| PLAYERS CHAMPIONSHIP 19 | Semi Final | lost to Ross Smith 7-2 |
| PLAYERS CHAMPIONSHIP 20 | Last 32 | lost to Chas Barstow 6-1 |
| WORLD MATCHPLAY | - |   |
| PLAYERS CHAMPIONSHIP 21 | Last 32 | lost to Michael Smith 6-5 |
| PLAYERS CHAMPIONSHIP 22 | Last 64 | lost to Vincent van der Voort 6-3 |
| PLAYERS CHAMPIONSHIP 23 | Last 16 | lost to Luke Humphries 6-2 |
| HUNGARIAN DARTS TROPHY | - |   |
| WORLD CUP OF DARTS | - |   |
| NORDIC DARTS MASTERS | - |   |
| GIBRALTAR DARTS TROPHY | - |   |
| WORLD GRAND PRIX | - |   |
| EUROPEAN CHAMPIONSHIP | - |   |
| PLAYERS CHAMPIONSHIP 24 | Last 32 | lost to Michael van Gerwen 6-1 |
| PLAYERS CHAMPIONSHIP 25 | Last 64 | lost to Madars Razma 6-4 |
| PLAYERS CHAMPIONSHIP 26 | Last 32 | lost to Brendan Dolan 6-4 |
| PLAYERS CHAMPIONSHIP 27 | Last 32 | lost to Michael van Gerwen 6-5 |
| WORLD SERIES OF DARTS FINALS | - |   |
| PLAYERS CHAMPIONSHIP 28 | Last 16 | lost to Rob Cross 6-5 |
| PLAYERS CHAMPIONSHIP 29 | Last 32 | lost to Jonny Clayton 6-4 |
| PLAYERS CHAMPIONSHIP 30 | Last 64 | lost to Maik Kuivenhoven 6-5 |
| | | |
| --- | --- | --- |
| WORLD CHAMPIONSHIP | Last 96 | lost to Jan Dekker 3-2 |
| THE MASTERS | - |   |
| PLAYERS CHAMPIONSHIP 1 | Last 128 | lost to Michael Smith 6-3 |
| PLAYERS CHAMPIONSHIP 2 | Last 32 | lost to Gerwyn Price 6-0 |
| PLAYERS CHAMPIONSHIP 3 | Last 32 | lost to Michael van Gerwen 6-5 |
| PLAYERS CHAMPIONSHIP 4 | Last 128 | lost to Maik Kuivenhoven 6-2 |
| PLAYERS CHAMPIONSHIP 5 | Last 16 | lost to Peter Wright 6-3 |
| PLAYERS CHAMPIONSHIP 6 | Last 64 | lost to Simon Whitlock 6-3 |
| BELGIAN DARTS CHAMPIONSHIP | - |   |
| UK OPEN | Last 64 | lost to Gabriel Clemens 10-9 |
| PLAYERS CHAMPIONSHIP 7 | Last 128 | lost to Robert Thornton 6-4 |
| PLAYERS CHAMPIONSHIP 8 | Last 128 | lost to Simon Whitlock 6-4 |
| PLAYERS CHAMPIONSHIP 9 (SS1) | Last 128 | lost to Callan Rydz 6-3 |
| PLAYERS CHAMPIONSHIP 10 (SS2) | Winner | beat Dave Chisnall 8-7 |
| PLAYERS CHAMPIONSHIP 11 (SS3) | Last 128 | lost to Darren Webster 6-5 |
| PLAYERS CHAMPIONSHIP 12 (SS4) | Last 64 | lost to Wayne Jones 6-2 |
| PLAYERS CHAMPIONSHIP 13 (SS5) | Last 64 | lost to Dirk van Duijvenbode 6-4 |
| WORLD MATCHPLAY | Last 32 | lost to Simon Whitlock 10-4 |
| PLAYERS CHAMPIONSHIP 14 (AS1) | Last 128 | lost to Josh Payne 6-3 |
| PLAYERS CHAMPIONSHIP 15 (AS2) | Last 128 | lost to Wayne Jones 6-4 |
| PLAYERS CHAMPIONSHIP 16 (AS3) | Last 128 | lost to Luke Humphries 6-1 |
| PLAYERS CHAMPIONSHIP 17 (AS4) | Last 128 | lost to Adam Hunt 6-2 |
| PLAYERS CHAMPIONSHIP 18 (AS5) | Last 32 | lost to Karel Sedlacek 6-5 |
| WORLD SERIES OF DARTS FINALS | - |   |
| GERMAN DARTS CHAMPIONSHIP | - |   |
| WORLD GRAND PRIX | Last 16 | lost to Dave Chisnall 3-2 |
| PREMIER LEAGUE | - |   |
| EUROPEAN DARTS GRAND PRIX | - |   |
| INTERNATIONAL DARTS OPEN | - |   |
| EUROPEAN CHAMPIONSHIP | - |   |
| WORLD CUP OF DARTS | - |   |
| PLAYERS CHAMPIONSHIP 19 (WS1) | Last 128 | lost to William O'Connor 6-0 |
| PLAYERS CHAMPIONSHIP 20 (WS2) | Last 16 | lost to Gabriel Clemens 6-3 |
| PLAYERS CHAMPIONSHIP 21 (WS3) | Last 32 | lost to Nathan Aspinall 6-2 |
| PLAYERS CHAMPIONSHIP 22 (WS4) | Last 128 | lost to Adam Hunt 6-5 |
| PLAYERS CHAMPIONSHIP 23 (WS5) | Quarter Final | lost to Kim Huybrechts 6-4 |
| GRAND SLAM OF DARTS | Last 32 (3rd) |   |
| PLAYERS CHAMPIONSHIP FINALS | Last 64 | lost to Andy Boulton 6-4 |
| | | |
| --- | --- | --- |
| WORLD CHAMPIONSHIP | Quarter Final | lost to Michael van Gerwen 5-1 |
| THE MASTERS | - |   |
| PLAYERS CHAMPIONSHIP 1 | Last 64 | lost to Darius Labanauskas 6-1 |
| PLAYERS CHAMPIONSHIP 2 | Last 32 | lost to Rob Cross 6-2 |
| PLAYERS CHAMPIONSHIP 3 | Last 32 | lost to Ian White 6-4 |
| PLAYERS CHAMPIONSHIP 4 | Last 128 | lost to Joe Cullen 6-3 |
| PLAYERS CHAMPIONSHIP 5 | Last 32 | lost to Gerwyn Price 6-2 |
| PLAYERS CHAMPIONSHIP 6 | Last 16 | lost to Adrian Lewis 6-2 |
| UK OPEN | Last 64 | lost to Cristo Reyes 10-2 |
| PLAYERS CHAMPIONSHIP 7 | Last 64 | lost to Harry Ward 6-4 |
| PLAYERS CHAMPIONSHIP 8 | Last 32 | lost to Ian White 6-0 |
| EUROPEAN DARTS OPEN | - |   |
| GERMAN DARTS CHAMPIONSHIP | - |   |
| PLAYERS CHAMPIONSHIP 9 | Last 128 | lost to Richard North 6-3 |
| PLAYERS CHAMPIONSHIP 10 | Last 64 | lost to Joe Cullen 6-5 |
| PLAYERS CHAMPIONSHIP 11 | Last 128 | lost to Kim Huybrechts 6-5 |
| PLAYERS CHAMPIONSHIP 12 | Last 128 | lost to Toni Alcinas 6-5 |
| GERMAN DARTS GRAND PRIX | - |   |
| GERMAN DARTS OPEN | - |   |
| PLAYERS CHAMPIONSHIP 13 | Last 128 | lost to Justin Pipe 6-3 |
| PLAYERS CHAMPIONSHIP 14 | Quarter Final | lost to Jeffrey de Zwaan 6-5 |
| AUSTRIAN DARTS OPEN | - |   |
| EUROPEAN DARTS GRAND PRIX | - |   |
| PLAYERS CHAMPIONSHIP 15 | Last 64 | lost to Ricky Evans 6-5 |
| PLAYERS CHAMPIONSHIP 16 | Last 128 | lost to William O'Connor 6-5 |
| PREMIER LEAGUE | - |   |
| DUTCH DARTS MASTERS | Last 48 | lost to William O'Connor 6-2 |
| WORLD CUP OF DARTS | - |   |
| DANISH DARTS OPEN | Last 32 | lost to Daryl Gurney 6-1 |
| PLAYERS CHAMPIONSHIP 17 | Last 128 | lost to Matt Clark 6-2 |
| PLAYERS CHAMPIONSHIP 18 | Last 128 | lost to Gabriel Clemens 6-3 |
| CZECH DARTS OPEN | - |   |
| U.S. DARTS MASTERS | - |   |
| GERMAN DARTS MASTERS | - |   |
| PLAYERS CHAMPIONSHIP 19 | Quarter Final | lost to Justin Pipe 6-2 |
| PLAYERS CHAMPIONSHIP 20 | Last 128 | lost to Wayne Jones 6-5 |
| WORLD MATCHPLAY | - |   |
| PLAYERS CHAMPIONSHIP 21 | Last 128 | lost to Kyle Anderson 6-4 |
| PLAYERS CHAMPIONSHIP 22 | Last 32 | lost to Jermaine Wattimena 6-2 |
| BRISBANE DARTS MASTERS | - |   |
| MELBOURNE DARTS MASTERS | - |   |
| NEW ZEALAND DARTS MASTERS | - |   |
| AUSTRIAN DARTS CHAMPIONSHIP | - |   |
| EUROPEAN DARTS MATCHPLAY | Last 48 | lost to John Henderson 6-3 |
| PLAYERS CHAMPIONSHIP 23 | Last 128 | lost to Justin Pipe 6-2 |
| PLAYERS CHAMPIONSHIP 24 | Last 128 | lost to Steve Lennon 6-4 |
| INTERNATIONAL DARTS OPEN | - |   |
| PLAYERS CHAMPIONSHIP 25 | Last 32 | lost to Peter Wright 6-2 |
| PLAYERS CHAMPIONSHIP 26 | Last 32 | lost to Mensur Suljovic 6-4 |
| GIBRALTAR DARTS TROPHY | Last 32 | lost to Nathan Aspinall 6-4 |
| PLAYERS CHAMPIONSHIP 27 | Semi Final | lost to Gerwyn Price 7-6 |
| PLAYERS CHAMPIONSHIP 28 | Last 128 | lost to Madars Razma 6-2 |
| WORLD GRAND PRIX | - |   |
| PLAYERS CHAMPIONSHIP 29 | Last 128 | lost to Adam Hunt 6-4 |
| PLAYERS CHAMPIONSHIP 30 | Last 128 | lost to Krzysztof Ratajski 6-5 |
| CHAMPIONS LEAGUE OF DARTS | - |   |
| EUROPEAN CHAMPIONSHIP | - |   |
| WORLD SERIES OF DARTS FINALS | - |   |
| GRAND SLAM OF DARTS | - |   |
| PLAYERS CHAMPIONSHIP FINALS | Last 64 | lost to John Henderson 6-5 |
| | | |
| --- | --- | --- |
| WORLD CHAMPIONSHIP | - |   |
| THE MASTERS | - |   |
| UK OPEN QUALIFIER 1 | Last 256 | lost to Simon Stevenson 6-5 |
| UK OPEN QUALIFIER 2 | Last 256 | lost to David Pallett 6-5 |
| UK OPEN QUALIFIER 3 | Last 128 | lost to Adam Hunt 6-5 |
| UK OPEN QUALIFIER 4 | - |   |
| UK OPEN QUALIFIER 5 | - |   |
| UK OPEN QUALIFIER 6 | - |   |
| PLAYERS CHAMPIONSHIP 1 | Semi Final | lost to James Wade 6-4 |
| PLAYERS CHAMPIONSHIP 2 | Quarter Final | lost to Simon Stevenson 6-5 |
| UK OPEN | - |   |
| PLAYERS CHAMPIONSHIP 3 | Last 32 | lost to Gerwyn Price 6-5 |
| PLAYERS CHAMPIONSHIP 4 | Last 64 | lost to Luke Woodhouse 6-2 |
| PLAYERS CHAMPIONSHIP 5 | Last 32 | lost to Gabriel Clemens 6-2 |
| PLAYERS CHAMPIONSHIP 6 | Last 16 | lost to John Henderson 6-3 |
| EUROPEAN DARTS OPEN | - |   |
| GERMAN DARTS GRAND PRIX | - |   |
| PLAYERS CHAMPIONSHIP 7 | Last 16 | lost to James Wilson 6-4 |
| PLAYERS CHAMPIONSHIP 8 | Last 16 | lost to Simon Whitlock 6-3 |
| GERMAN DARTS OPEN | - |   |
| AUSTRIAN DARTS OPEN | - |   |
| PLAYERS CHAMPIONSHIP 9 | Last 16 | lost to James Wade 6-4 |
| PLAYERS CHAMPIONSHIP 10 | Last 128 | lost to Rob Cross 6-2 |
| EUROPEAN DARTS GRAND PRIX | - |   |
| DUTCH DARTS MASTERS | Last 32 | lost to Mervyn King 6-4 |
| PREMIER LEAGUE | - |   |
| PLAYERS CHAMPIONSHIP 11 | Last 16 | lost to Gary Anderson 6-3 |
| PLAYERS CHAMPIONSHIP 12 | Last 64 | lost to John Henderson 6-5 |
| GERMAN DARTS MASTERS | - |   |
| WORLD CUP OF DARTS | - |   |
| GIBRALTAR DARTS TROPHY | - |   |
| PLAYERS CHAMPIONSHIP 13 | Last 32 | lost to Peter Jacques 6-5 |
| PLAYERS CHAMPIONSHIP 14 | Last 128 | lost to Alan Norris 6-5 |
| DANISH DARTS OPEN | Last 32 | lost to Mensur Suljovic 6-1 |
| PLAYERS CHAMPIONSHIP 15 | Last 128 | lost to James Wade 6-1 |
| PLAYERS CHAMPIONSHIP 16 | Last 16 | lost to Brendan Dolan 6-5 |
| EUROPEAN DARTS MATCHPLAY | Last 32 | lost to Michael van Gerwen 6-2 |
| U.S. DARTS MASTERS | - |   |
| SHANGHAI DARTS MASTERS | - |   |
| WORLD MATCHPLAY | - |   |
| AUCKLAND DARTS MASTERS | - |   |
| MELBOURNE DARTS MASTERS | - |   |
| BRISBANE DARTS MASTERS | - |   |
| GERMAN DARTS CHAMPIONSHIP | - |   |
| PLAYERS CHAMPIONSHIP 17 | Last 32 | lost to Simon Whitlock 6-2 |
| PLAYERS CHAMPIONSHIP 18 | Last 64 | lost to James Wilson 6-2 |
| DUTCH DARTS CHAMPIONSHIP | - |   |
| INTERNATIONAL DARTS OPEN | Last 32 | lost to Mensur Suljovic 6-5 |
| CHAMPIONS LEAGUE OF DARTS | - |   |
| PLAYERS CHAMPIONSHIP 19 | Last 128 | lost to Dave Chisnall 6-3 |
| PLAYERS CHAMPIONSHIP 20 | Last 128 | lost to Mensur Suljovic 6-2 |
| WORLD GRAND PRIX | - |   |
| EUROPEAN DARTS TROPHY | Last 32 | lost to Dave Chisnall 6-5 |
| PLAYERS CHAMPIONSHIP 21 | Last 64 | lost to Rowby-John Rodriguez 6-2 |
| PLAYERS CHAMPIONSHIP 22 | Last 128 | lost to Ronny Huybrechts 6-5 |
| EUROPEAN CHAMPIONSHIP | - |   |
| WORLD SERIES OF DARTS FINALS | - |   |
| GRAND SLAM OF DARTS | - |   |
| PLAYERS CHAMPIONSHIP FINALS | Last 64 | lost to Steve Lennon 6-2 |
| | | |
| --- | --- | --- |
| WORLD CHAMPIONSHIP | - |   |
| THE MASTERS | - |   |
| UK OPEN QUALIFIER 1 | - |   |
| UK OPEN QUALIFIER 2 | - |   |
| UK OPEN QUALIFIER 3 | - |   |
| UK OPEN QUALIFIER 4 | - |   |
| UK OPEN QUALIFIER 5 | - |   |
| UK OPEN QUALIFIER 6 | - |   |
| PLAYERS CHAMPIONSHIP 1 | - |   |
| PLAYERS CHAMPIONSHIP 2 | - |   |
| UK OPEN | - |   |
| PLAYERS CHAMPIONSHIP 3 | - |   |
| PLAYERS CHAMPIONSHIP 4 | - |   |
| GERMAN DARTS CHAMPIONSHIP | - |   |
| PLAYERS CHAMPIONSHIP 5 | - |   |
| PLAYERS CHAMPIONSHIP 6 | - |   |
| PLAYERS CHAMPIONSHIP 7 | - |   |
| PLAYERS CHAMPIONSHIP 8 | - |   |
| GERMAN DARTS MASTERS (ET) | - |   |
| GERMAN DARTS OPEN | - |   |
| PLAYERS CHAMPIONSHIP 9 | - |   |
| PLAYERS CHAMPIONSHIP 10 | - |   |
| EUROPEAN DARTS GRAND PRIX | - |   |
| GIBRALTAR DARTS TROPHY | - |   |
| PREMIER LEAGUE | - |   |
| PLAYERS CHAMPIONSHIP 11 | - |   |
| PLAYERS CHAMPIONSHIP 12 | - |   |
| DUBAI DARTS MASTERS | - |   |
| WORLD CUP OF DARTS | - |   |
| EUROPEAN DARTS MATCHPLAY | - |   |
| PLAYERS CHAMPIONSHIP 13 | - |   |
| PLAYERS CHAMPIONSHIP 14 | - |   |
| AUSTRIAN DARTS OPEN | - |   |
| EUROPEAN DARTS OPEN | - |   |
| SHANGHAI DARTS MASTERS | - |   |
| PLAYERS CHAMPIONSHIP 15 | - |   |
| PLAYERS CHAMPIONSHIP 16 | - |   |
| U.S. DARTS MASTERS | - |   |
| WORLD MATCHPLAY | - |   |
| PLAYERS CHAMPIONSHIP 17 | - |   |
| PLAYERS CHAMPIONSHIP 18 | - |   |
| AUCKLAND DARTS MASTERS | - |   |
| MELBOURNE DARTS MASTERS | - |   |
| PERTH DARTS MASTERS | - |   |
| DUTCH DARTS MASTERS | - |   |
| GERMAN DARTS GRAND PRIX | - |   |
| CHAMPIONS LEAGUE OF DARTS | - |   |
| INTERNATIONAL DARTS OPEN | - |   |
| PLAYERS CHAMPIONSHIP 19 | - |   |
| PLAYERS CHAMPIONSHIP 20 | - |   |
| WORLD GRAND PRIX | - |   |
| PLAYERS CHAMPIONSHIP 21 | - |   |
| PLAYERS CHAMPIONSHIP 22 | - |   |
| EUROPEAN DARTS TROPHY | - |   |
| GERMAN DARTS MASTERS (WS) | - |   |
| EUROPEAN CHAMPIONSHIP | - |   |
| WORLD SERIES OF DARTS FINALS | - |   |
| GRAND SLAM OF DARTS | - |   |
| PLAYERS CHAMPIONSHIP FINALS | - |   |