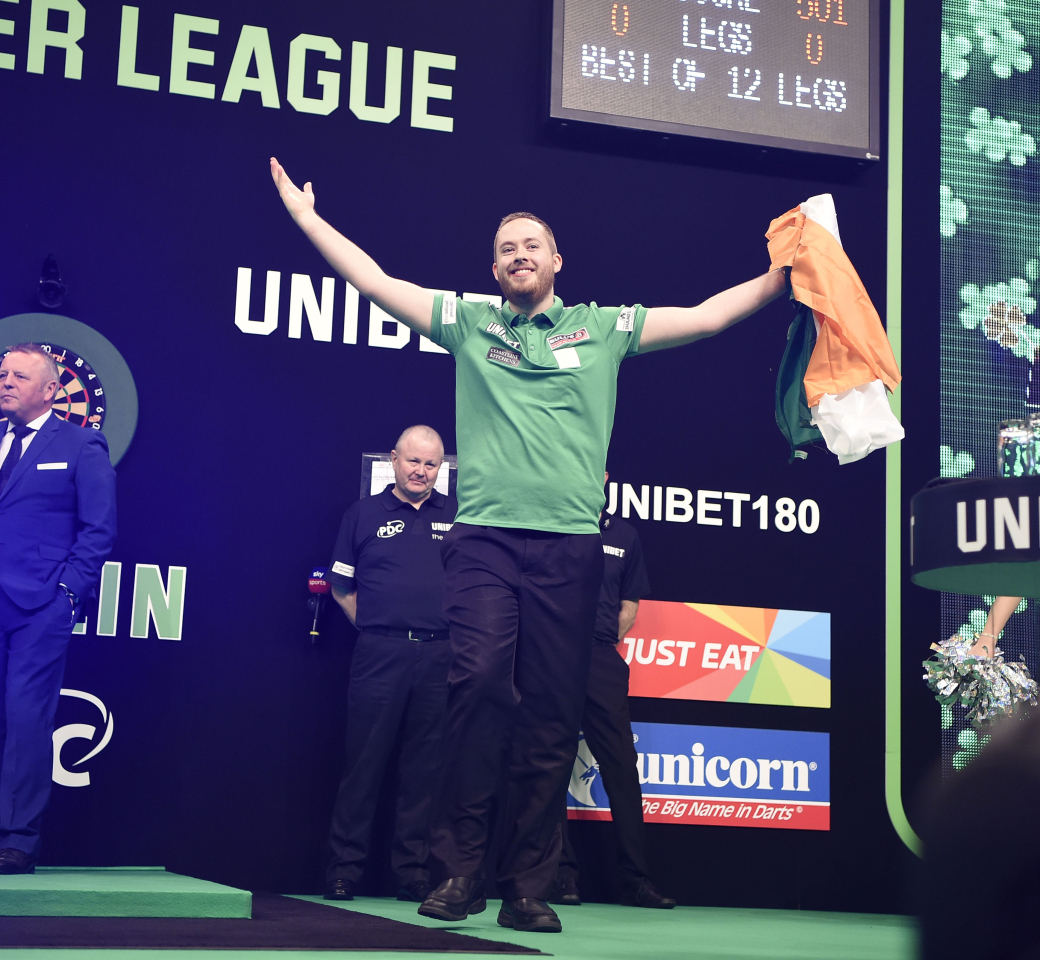 Steve Lennon
Scuba Steve
PDC World Ranking

44

Televised titles

0

Non-Televised PDC Titles

0

Televised Nine-Dart Finishes

0
Walk-On Music

Mr Blue Sky - Electric Light Orchestra

Date of Birth

November 25 1993

Darts Used

23g

Bulls

Home Town

Carlow
STEVE won his PDC tour card in January 2017 and a solid first year on the tour saw the Irishman reach the last 16 of the Grand Slam of Darts where he lost 10-3 to Michael van Gerwen.
Lennon made his World Championship debut the following month where he was defeated 3-2 by Michael Smith in round one.
The Irish ace enjoyed the best weekend of his career at the Dutch Darts Masters in May 2018 where he lost 8-5 to Van Gerwen in the final.
Player Stats
Select below to see result & roll of honour information.
| | |
| --- | --- |
| PDC Youth/Development Tour | 2016, 2017 |
| | | |
| --- | --- | --- |
|   | Most Recent | Best Performance |
| 2022 WORLD CHAMPIONSHIP | Last 32 | Last 32 - 2022 |
| 2021 UK OPEN | Last 64 | Last 16 - 2019 |
| 2021 WORLD MATCHPLAY | - | Last 32 - 2018 |
| 2021 WORLD GRAND PRIX | - | Last 32 - 2018 |
| 2021 EUROPEAN CHAMPIONSHIP | - | Last 32 - 2018, 2020 |
| 2021 GRAND SLAM OF DARTS | - | Last 16 - 2017 |
| 2021 PLAYERS CHAMPIONSHIP FINALS | Last 64 | Quarter Final - 2018 |
| | | |
| --- | --- | --- |
|   | Most Recent | Best Performance |
| 2021 THE MASTERS | - | - |
| 2021 PREMIER LEAGUE | - | Contender - 2019 |
| 2021 WORLD CUP OF DARTS  | Last 32 | Runner Up - 2019 |
| 2021 NORDIC DARTS MASTERS | - |   |
| 2021 WORLD SERIES OF DARTS FINALS | - | - |
| | | |
| --- | --- | --- |
| TOURNAMENT WIN | - |   |
| FINAL | Dutch Darts Masters (May 2018) | lost to Michael van Gerwen 8-5 |
| SEMI FINAL | Players Championship 5 (February 2020) | lost to Gerwyn Price 7-6 |
| QUARTER FINAL | Players Championship 10 (April 2021) | lost to Berry van Peer 6-3 |
| | | |
| --- | --- | --- |
| WORLD CHAMPIONSHIP | Last 32 | lost to Mervyn King 4-0 |
| | | |
| --- | --- | --- |
| WORLD CHAMPIONSHIP | Last 64 | lost to Devon Petersen 3-1 |
| THE MASTERS | - |   |
| PLAYERS CHAMPIONSHIP 1 | Last 32 | lost to Chris Dobey 6-3 |
| PLAYERS CHAMPIONSHIP 2 | Last 128 | lost to Adam Hunt 6-3 |
| PLAYERS CHAMPIONSHIP 3 | Last 64 | lost to Darius Labanauskas 6-3 |
| PLAYERS CHAMPIONSHIP 4 | Last 128 | lost to James Wade 6-3 |
| UK OPEN | Last 64 | lost to Ron Meulenkamp 10-7 |
| PLAYERS CHAMPIONSHIP 5 | Last 64 | lost to Gabriel Clemens 6-2 |
| PLAYERS CHAMPIONSHIP 6 | Last 128 | lost to Alan Soutar 6-3 |
| PLAYERS CHAMPIONSHIP 7 | Last 16 | lost to Jonny Clayton 6-3 |
| PLAYERS CHAMPIONSHIP 8 | Quarter Final | lost to Peter Wright 6-4 |
| PLAYERS CHAMPIONSHIP 9 | Last 16 | lost to Alan Tabern 6-1 |
| PLAYERS CHAMPIONSHIP 10 | Quarter Final | lost to Berry van Peer 6-3 |
| PLAYERS CHAMPIONSHIP 11 | Last 64 | lost to Jose Justicia 6-2 |
| PLAYERS CHAMPIONSHIP 12 | Last 64 | lost to Ryan de Vreede 6-5 |
| PREMIER LEAGUE | - |   |
| PLAYERS CHAMPIONSHIP 13 | Last 128 | lost to Ryan Meikle 6-4 |
| PLAYERS CHAMPIONSHIP 14 | Last 128 | lost to Lisa Ashton 6-5 |
| PLAYERS CHAMPIONSHIP 15 | Last 128 | lost to Mervyn King 6-2 |
| PLAYERS CHAMPIONSHIP 16 | Last 64 | lost to Lewis Williams 6-4 |
| PLAYERS CHAMPIONSHIP 17 | Last 128 | lost to Dirk van Duijvenbode 6-3 |
| PLAYERS CHAMPIONSHIP 18 | Last 32 | lost to Jose de Sousa 6-2 |
| PLAYERS CHAMPIONSHIP 19 | Last 128 | lost to Ross Smith 6-5 |
| PLAYERS CHAMPIONSHIP 20 | Last 128 | lost to Vincent van der Voort 6-4 |
| WORLD MATCHPLAY | - |   |
| PLAYERS CHAMPIONSHIP 21 | Last 64 | lost to Darius Labanauskas 6-1 |
| PLAYERS CHAMPIONSHIP 22 | Last 32 | lost to Sean Fisher 6-4 |
| PLAYERS CHAMPIONSHIP 23 | Last 64 | lost to Danny Noppert 6-2 |
| HUNGARIAN DARTS TROPHY | - |   |
| WORLD CUP OF DARTS | Last 32 (William O'Connor) | lost to Portugal 5-4 |
| NORDIC DARTS MASTERS | - |   |
| GIBRALTAR DARTS TROPHY | - |   |
| WORLD GRAND PRIX | - |   |
| EUROPEAN CHAMPIONSHIP | - |   |
| PLAYERS CHAMPIONSHIP 24 | Last 128 | lost to Carl Wilkinson 6-4 |
| PLAYERS CHAMPIONSHIP 25 | Last 128 | lost to William O'Connor 6-5 |
| PLAYERS CHAMPIONSHIP 26 | Last 128 | lost to Alan Tabern 6-4 |
| PLAYERS CHAMPIONSHIP 27 | Last 128 | lost to Boris Koltsov 6-5 |
| WORLD SERIES OF DARTS FINALS | - |   |
| PLAYERS CHAMPIONSHIP 28 | Last 128 | lost to Martin Schindler 6-3 |
| PLAYERS CHAMPIONSHIP 29 | Last 64 | lost to Jonny Clayton 6-5 |
| PLAYERS CHAMPIONSHIP 30 | Last 128 | lost to Ryan Murray 6-5 |
| GRAND SLAM OF DARTS | - |   |
| PLAYERS CHAMPIONSHIP FINALS | Last 64 | lost to Damon Heta 6-2 |
| | | |
| --- | --- | --- |
| WORLD CHAMPIONSHIP | Last 96 | lost to Callan Rydz 3-2 |
| THE MASTERS | - |   |
| PLAYERS CHAMPIONSHIP 1 | Last 128 | lost to Keegan Brown 6-1 |
| PLAYERS CHAMPIONSHIP 2 | Last 128 | lost to Geert Nentjes 6-4 |
| PLAYERS CHAMPIONSHIP 3 | Last 128 | lost to Darren Webster 6-3 |
| PLAYERS CHAMPIONSHIP 4 | Last 64 | lost to Mensur Suljovic 6-5 |
| PLAYERS CHAMPIONSHIP 5 | Semi Final | lost to Gerwyn Price 7-6 |
| PLAYERS CHAMPIONSHIP 6 | Last 32 | lost to Simon Whitlock 6-5 |
| BELGIAN DARTS CHAMPIONSHIP | Last 32 | lost to James Wade 6-3 |
| UK OPEN | Last 96 | lost to Alan Tabern 6-4 |
| PLAYERS CHAMPIONSHIP 7 | Last 128 | lost to Vincent van der Voort 6-4 |
| PLAYERS CHAMPIONSHIP 8 | Last 128 | lost to Ryan Meikle 6-4 |
| PLAYERS CHAMPIONSHIP 9 (SS1) | Last 128 | lost to Glen Durrant 6-4 |
| PLAYERS CHAMPIONSHIP 10 (SS2) | Last 64 | lost to Gerwyn Price 6-0 |
| PLAYERS CHAMPIONSHIP 11 (SS3) | Last 64 | lost to Steve Brown 6-4 |
| PLAYERS CHAMPIONSHIP 12 (SS4) | Last 64 | lost to Ricky Evans 6-4 |
| PLAYERS CHAMPIONSHIP 13 (SS5) | Last 64 | lost to Darius Labanauskas 6-4 |
| WORLD MATCHPLAY | - |   |
| PLAYERS CHAMPIONSHIP 14 (AS1) | Last 128 | lost to Madars Razma 6-3 |
| PLAYERS CHAMPIONSHIP 15 (AS2) | Last 32 | lost to Simon Whitlock 6-4 |
| PLAYERS CHAMPIONSHIP 16 (AS3) | Last 128 | lost to Joe Cullen 6-2 |
| PLAYERS CHAMPIONSHIP 17 (AS4) | Last 128 | lost to Brendan Dolan 6-4 |
| PLAYERS CHAMPIONSHIP 18 (AS5) | Last 128 | lost to Devon Petersen 6-1 |
| WORLD SERIES OF DARTS FINALS | - |   |
| GERMAN DARTS CHAMPIONSHIP | Last 32 | lost to Michael van Gerwen 6-2 |
| WORLD GRAND PRIX | - |   |
| PREMIER LEAGUE | - |   |
| EUROPEAN DARTS GRAND PRIX | Last 32 | lost to Jamie Hughes 6-5 |
| INTERNATIONAL DARTS OPEN | - |   |
| EUROPEAN CHAMPIONSHIP | Last 32 | lost to James Wade 6-5 |
| WORLD CUP OF DARTS | Last 32 (William O'Connor) | lost to Australia 5-2 |
| PLAYERS CHAMPIONSHIP 19 (WS1) | Last 64 | lost to Danny Noppert 6-5 |
| PLAYERS CHAMPIONSHIP 20 (WS2) | Last 32 | lost to Ryan Meikle 6-2 |
| PLAYERS CHAMPIONSHIP 21 (WS3) | Last 128 | lost to Dirk van Duijvenbode 6-2 |
| PLAYERS CHAMPIONSHIP 22 (WS4) | Last 32 | lost to Peter Wright 6-1 |
| PLAYERS CHAMPIONSHIP 23 (WS5) | Last 64 | lost to Dave Chisnall 6-3 |
| GRAND SLAM OF DARTS | - |   |
| PLAYERS CHAMPIONSHIP FINALS | Last 64 | lost to Jermaine Wattimena 6-4 |
| | | |
| --- | --- | --- |
| WORLD CHAMPIONSHIP | Last 64 | lost to Alan Norris 3-2 |
| THE MASTERS | - |   |
| PLAYERS CHAMPIONSHIP 1 | Last 32 | lost to Joe Cullen 6-1 |
| PLAYERS CHAMPIONSHIP 2 | Last 16 | lost to John Henderson 6-3 |
| PLAYERS CHAMPIONSHIP 3 | Last 64 | lost to Kim Huybrechts 6-1 |
| PLAYERS CHAMPIONSHIP 4 | Last 128 | lost to Mickey Mansell 6-5 |
| PREMIER LEAGUE | Contender | lost to Peter Wright 7-5 |
| PLAYERS CHAMPIONSHIP 5 | Last 64 | lost to James Richardson 6-2 |
| PLAYERS CHAMPIONSHIP 6 | Last 64 | lost to Nathan Aspinall 6-3 |
| UK OPEN | Last 16 | lost to Nathan Aspinall 10-8 |
| PLAYERS CHAMPIONSHIP 7 | Last 128 | lost to Jelle Klaasen 6-5 |
| PLAYERS CHAMPIONSHIP 8 | Last 64 | lost to Madars Razma 6-5 |
| EUROPEAN DARTS OPEN | - |   |
| GERMAN DARTS CHAMPIONSHIP | - |   |
| PLAYERS CHAMPIONSHIP 9 | Last 32 | lost to Arron Monk 6-3 |
| PLAYERS CHAMPIONSHIP 10 | Last 32 | lost to Tytus Kanik 6-3 |
| PLAYERS CHAMPIONSHIP 11 | Last 32 | lost to Michael Smith 6-3 |
| PLAYERS CHAMPIONSHIP 12 | Last 128 | lost to Justin Pipe 6-3 |
| GERMAN DARTS GRAND PRIX | - |   |
| GERMAN DARTS OPEN | Last 32 | lost to Peter Wright 6-2 |
| PLAYERS CHAMPIONSHIP 13 | Last 64 | lost to Robert Owen 6-5 |
| PLAYERS CHAMPIONSHIP 14 | Last 128 | lost to Vincent van der Meer 6-5 |
| AUSTRIAN DARTS OPEN | Last 32 | lost to Michael van Gerwen 6-0 |
| EUROPEAN DARTS GRAND PRIX | - |   |
| PLAYERS CHAMPIONSHIP 15 | Last 128 | lost to Danny Noppert 6-0 |
| PLAYERS CHAMPIONSHIP 16 | Last 64 | lost to Ross Smith 6-2 |
| DUTCH DARTS MASTERS | - |   |
| WORLD CUP OF DARTS | Runner Up (William O'Connor) | lost to Scotland 3-1 |
| DANISH DARTS OPEN | Last 48 | lost to Dennis Nilsson 6-0 |
| PLAYERS CHAMPIONSHIP 17 | Last 128 | lost to Peter Wright 6-3 |
| PLAYERS CHAMPIONSHIP 18 | Last 128 | lost to Mensur Suljovic 6-2 |
| CZECH DARTS OPEN | - |   |
| U.S. DARTS MASTERS | - |   |
| GERMAN DARTS MASTERS | - |   |
| PLAYERS CHAMPIONSHIP 19 | Last 128 | lost to Kyle Anderson 6-4 |
| PLAYERS CHAMPIONSHIP 20 | Last 32 | lost to Nathan Aspinall 6-5 |
| WORLD MATCHPLAY | - |   |
| PLAYERS CHAMPIONSHIP 21 | Last 128 | lost to Danny Noppert 6-4 |
| PLAYERS CHAMPIONSHIP 22 | Last 128 | lost to James Wilson 6-2 |
| BRISBANE DARTS MASTERS | - |   |
| MELBOURNE DARTS MASTERS | - |   |
| NEW ZEALAND DARTS MASTERS | - |   |
| AUSTRIAN DARTS CHAMPIONSHIP | - |   |
| EUROPEAN DARTS MATCHPLAY | Last 48 | lost to Michael Smith 6-3 |
| PLAYERS CHAMPIONSHIP 23 | Last 128 | lost to Dirk van Duijvenbode 6-4 |
| PLAYERS CHAMPIONSHIP 24 | Last 32 | lost to John Henderson 6-3 |
| INTERNATIONAL DARTS OPEN | - |   |
| PLAYERS CHAMPIONSHIP 25 | Last 64 | lost to Daryl Gurney 6-3 |
| PLAYERS CHAMPIONSHIP 26 | Last 128 | lost to Jeffrey de Zwaan 6-1 |
| GIBRALTAR DARTS TROPHY | - |   |
| PLAYERS CHAMPIONSHIP 27 | Last 64 | lost to James Richardson 6-4 |
| PLAYERS CHAMPIONSHIP 28 | Last 64 | lost to Michael Smith 6-3 |
| WORLD GRAND PRIX | - |   |
| PLAYERS CHAMPIONSHIP 29 | Last 32 | lost to Joe Cullen 6-3 |
| PLAYERS CHAMPIONSHIP 30 | Last 128 | lost to Steve Beaton 6-4 |
| CHAMPIONS LEAGUE OF DARTS | - |   |
| EUROPEAN CHAMPIONSHIP | - |   |
| WORLD SERIES OF DARTS FINALS | - |   |
| GRAND SLAM OF DARTS | Last 32 (3rd) |   |
| PLAYERS CHAMPIONSHIP FINALS | Last 64 | lost to Krzysztof Ratajski 6-1 |
| | | |
| --- | --- | --- |
| WORLD CHAMPIONSHIP | Last 64 | lost to Michael Smith 3-2 |
| THE MASTERS | - |   |
| UK OPEN QUALIFIER 1 | Last 128 | lost to Brendan Dolan 6-2 |
| UK OPEN QUALIFIER 2 | Last 64 | lost to Robert Thornton 6-2 |
| UK OPEN QUALIFIER 3 | Last 64 | lost to Kim Huybrechts 6-4 |
| UK OPEN QUALIFIER 4 | Preliminary Round | lost to Scott Taylor 6-2 |
| UK OPEN QUALIFIER 5 | Last 128 | lost to Lee Turle 6-4 |
| UK OPEN QUALIFIER 6 | Last 256 | lost to Ritchie Edhouse 6-4 |
| PLAYERS CHAMPIONSHIP 1 | Last 128 | lost to Rob Cross 6-5 |
| PLAYERS CHAMPIONSHIP 2 | Last 128 | lost to Michael van Gerwen 6-1 |
| UK OPEN | - |   |
| PLAYERS CHAMPIONSHIP 3 | Last 64 | lost to Peter Wright 6-5 |
| PLAYERS CHAMPIONSHIP 4 | Last 128 | lost to Adam Hunt 6-5 |
| PLAYERS CHAMPIONSHIP 5 | Last 32 | lost to Wayne Jones 6-3 |
| PLAYERS CHAMPIONSHIP 6 | Last 128 | lost to Michael van Gerwen 6-4 |
| EUROPEAN DARTS OPEN | - |   |
| GERMAN DARTS GRAND PRIX | Last 32 | lost to Michael van Gerwen 6-5 |
| PLAYERS CHAMPIONSHIP 7 | Last 64 | lost to James Wade 6-2 |
| PLAYERS CHAMPIONSHIP 8 | Last 64 | lost to Zoran Lerchbacher 6-4 |
| GERMAN DARTS OPEN | Last 32 | lost to Michael Smith 6-4 |
| AUSTRIAN DARTS OPEN | Last 32 | lost to Joe Cullen 6-2 |
| PLAYERS CHAMPIONSHIP 9 | Last 128 | lost to Simon Stevenson 6-2 |
| PLAYERS CHAMPIONSHIP 10 | Last 64 | lost to Jamie Lewis 6-1 |
| EUROPEAN DARTS GRAND PRIX | Last 48 | lost to Vincent van der Voort 6-4 |
| DUTCH DARTS MASTERS | Runner Up | lost to Michael van Gerwen 8-5 |
| PREMIER LEAGUE | - |   |
| PLAYERS CHAMPIONSHIP 11 | Last 32 | lost to Dave Chisnall 6-4 |
| PLAYERS CHAMPIONSHIP 12 | Last 32 | lost to Ian White 6-1 |
| GERMAN DARTS MASTERS | - |   |
| WORLD CUP OF DARTS | Last 32 (William O'Connor) | lost to Belgium 5-4 |
| GIBRALTAR DARTS TROPHY | Last 48 | lost to Chris Dobey 6-2 |
| PLAYERS CHAMPIONSHIP 13 | Last 32 | lost to Jonny Clayton 6-4 |
| PLAYERS CHAMPIONSHIP 14 | Last 64 | lost to Jamie Lewis 6-2 |
| DANISH DARTS OPEN | - |   |
| PLAYERS CHAMPIONSHIP 15 | Last 32 | lost to Ian White 6-0 |
| PLAYERS CHAMPIONSHIP 16 | Last 32 | lost to Ian White 6-5 |
| EUROPEAN DARTS MATCHPLAY | - |   |
| U.S. DARTS MASTERS | - |   |
| SHANGHAI DARTS MASTERS | - |   |
| WORLD MATCHPLAY | Last 32 | lost to Darren Webster 10-6 |
| AUCKLAND DARTS MASTERS | - |   |
| MELBOURNE DARTS MASTERS | - |   |
| BRISBANE DARTS MASTERS | - |   |
| GERMAN DARTS CHAMPIONSHIP | - |   |
| PLAYERS CHAMPIONSHIP 17 | Last 64 | lost to Ross Smith 6-3 |
| PLAYERS CHAMPIONSHIP 18 | Quarter Final | lost to Ryan Searle 6-4 |
| DUTCH DARTS CHAMPIONSHIP | - |   |
| INTERNATIONAL DARTS OPEN | Last 32 | lost to Jonny Clayton 6-5 |
| CHAMPIONS LEAGUE OF DARTS | - |   |
| PLAYERS CHAMPIONSHIP 19 | Last 16 | lost to Jermaine Wattimena 6-4 |
| PLAYERS CHAMPIONSHIP 20 | Last 32 | lost to Adrian Lewis 6-1 |
| WORLD GRAND PRIX | Last 32 | lost to Michael van Gerwen 2-0 |
| EUROPEAN DARTS TROPHY | - |   |
| PLAYERS CHAMPIONSHIP 21 | Last 32 | lost to William O'Connor 6-4 |
| PLAYERS CHAMPIONSHIP 22 | Last 128 | lost to Luke Humphries 6-5 |
| EUROPEAN CHAMPIONSHIP | Last 32 | lost to Michael Smith 6-3 |
| WORLD SERIES OF DARTS FINALS | - |   |
| GRAND SLAM OF DARTS | - |   |
| PLAYERS CHAMPIONSHIP FINALS | Quarter Final | lost to Michael van Gerwen 10-3 |
| | | |
| --- | --- | --- |
| WORLD CHAMPIONSHIP | - |   |
| THE MASTERS | - |   |
| UK OPEN QUALIFIER 1 | Last 256 | lost to Ryan Searle 6-5 |
| UK OPEN QUALIFIER 2 | Last 32 | lost to Ryan Palmer 6-3 |
| UK OPEN QUALIFIER 3 | Last 64 | lost to Andrew Gilding 6-3 |
| UK OPEN QUALIFIER 4 | Last 32 | lost to Andy Jenkins 6-1 |
| UK OPEN QUALIFIER 5 | Last 128 | lost to Steve Beaton 6-3 |
| UK OPEN QUALIFIER 6 | Last 128 | lost to Peter Wright 6-2 |
| PLAYERS CHAMPIONSHIP 1 | Last 128 | lost to Chris Dobey 6-5 |
| PLAYERS CHAMPIONSHIP 2 | Last 128 | lost to Benito van de Pas 6-4 |
| UK OPEN | Last 96 | lost to William O'Connor 6-2 |
| PLAYERS CHAMPIONSHIP 3 | Last 64 | lost to James Wilson 6-4 |
| PLAYERS CHAMPIONSHIP 4 | Last 64 | lost to David Pallett 6-4 |
| GERMAN DARTS CHAMPIONSHIP | - |   |
| PLAYERS CHAMPIONSHIP 5 | Last 32 | lost to Peter Wright 6-2 |
| PLAYERS CHAMPIONSHIP 6 | Last 128 | lost to Wes Newton 6-5 |
| PLAYERS CHAMPIONSHIP 7 | Quarter Final | lost to Daryl Gurney 6-5 |
| PLAYERS CHAMPIONSHIP 8 | Last 64 | lost to Adrian Lewis 6-3 |
| GERMAN DARTS MASTERS (ET) | - |   |
| GERMAN DARTS OPEN | Last 48 | lost to Christian Kist 6-4 |
| PLAYERS CHAMPIONSHIP 9 | Last 128 | lost to Robert Thornton 6-2 |
| PLAYERS CHAMPIONSHIP 10 | Last 64 | lost to Justin Pipe 6-4 |
| EUROPEAN DARTS GRAND PRIX | Last 48 | lost to Krzysztof Ratajski 6-4 |
| GIBRALTAR DARTS TROPHY | - |   |
| PREMIER LEAGUE | - |   |
| PLAYERS CHAMPIONSHIP 11 | Last 16 | lost to Simon Whitlock 6-4 |
| PLAYERS CHAMPIONSHIP 12 | Last 16 | lost to Simon Whitlock 6-5 |
| DUBAI DARTS MASTERS | - |   |
| WORLD CUP OF DARTS | - |   |
| EUROPEAN DARTS MATCHPLAY | - |   |
| PLAYERS CHAMPIONSHIP 13 | Last 128 | lost to Ryan Searle 6-4 |
| PLAYERS CHAMPIONSHIP 14 | Last 64 | lost to Jeffrey de Zwaan 6-4 |
| AUSTRIAN DARTS OPEN | - |   |
| EUROPEAN DARTS OPEN | - |   |
| SHANGHAI DARTS MASTERS | - |   |
| PLAYERS CHAMPIONSHIP 15 | Last 16 | lost to Alan Norris 6-5 |
| PLAYERS CHAMPIONSHIP 16 | Last 64 | lost to Cristo Reyes 6-3 |
| U.S. DARTS MASTERS | - |   |
| WORLD MATCHPLAY | - |   |
| PLAYERS CHAMPIONSHIP 17 | Last 16 | lost to Gerwyn Price 6-4 |
| PLAYERS CHAMPIONSHIP 18 | Last 128 | lost to John Michael 6-5 |
| AUCKLAND DARTS MASTERS | - |   |
| MELBOURNE DARTS MASTERS | - |   |
| PERTH DARTS MASTERS | - |   |
| DUTCH DARTS MASTERS | Last 48 | lost to Krzysztof Ratajski 6-0 |
| GERMAN DARTS GRAND PRIX | - |   |
| CHAMPIONS LEAGUE OF DARTS | - |   |
| INTERNATIONAL DARTS OPEN | Last 32 | lost to Gerwyn Price 6-4 |
| PLAYERS CHAMPIONSHIP 19 | Quarter Final | lost to Toni Alcinas 6-5 |
| PLAYERS CHAMPIONSHIP 20 | Last 64 | lost to Robert Owen 6-4 |
| WORLD GRAND PRIX | - |   |
| PLAYERS CHAMPIONSHIP 21 | Last 128 | lost to Zoran Lerchbacher 6-5 |
| PLAYERS CHAMPIONSHIP 22 | Last 64 | lost to Justin Pipe 6-5 |
| EUROPEAN DARTS TROPHY | - |   |
| GERMAN DARTS MASTERS (WS) | - |   |
| EUROPEAN CHAMPIONSHIP | - |   |
| WORLD SERIES OF DARTS FINALS | - |   |
| GRAND SLAM OF DARTS | Last 16 | lost to Michael van Gerwen 10-3 |
| PLAYERS CHAMPIONSHIP FINALS | Last 32 | lost to Rob Cross 6-2 |