Tickets for the 2020 Unibet Premier League will go on Priority Sale to PDCTV-HD Annual Subscribers on Thursday October 3, and on General Sale on Thursday October 10. 
To be eligible for the Priority Sale period from Thursday October 3, fans will require a PDCTV-HD Annual Subscription at midday on Tuesday October 1. Subscribe via this link.
Further details, including ticket prices, will be available at www.pdc.tv/tickets.
Key Dates
Tuesday October 1 (1200 BST) – PDCTV-HD Annual Subscriber cut-off for Priority Sale period. Subscribe via this link.
Thursday October 3 (1000 BST) – Priority Sale for PDCTV-HD Annual Subscribers through SeeTickets
Friday October 4 (0900 BST) - Official Hospitality Packages on sale via Sport & Music at this link.
Friday October 4 (1200 BST) – Cut-off for Secondary Priority Window. Sign up via this link.
Monday October 7 (1000 BST) – Secondary Priority Window through SeeTickets.
Thursday October 10 (1000 BST) – General Sale through venue Box Offices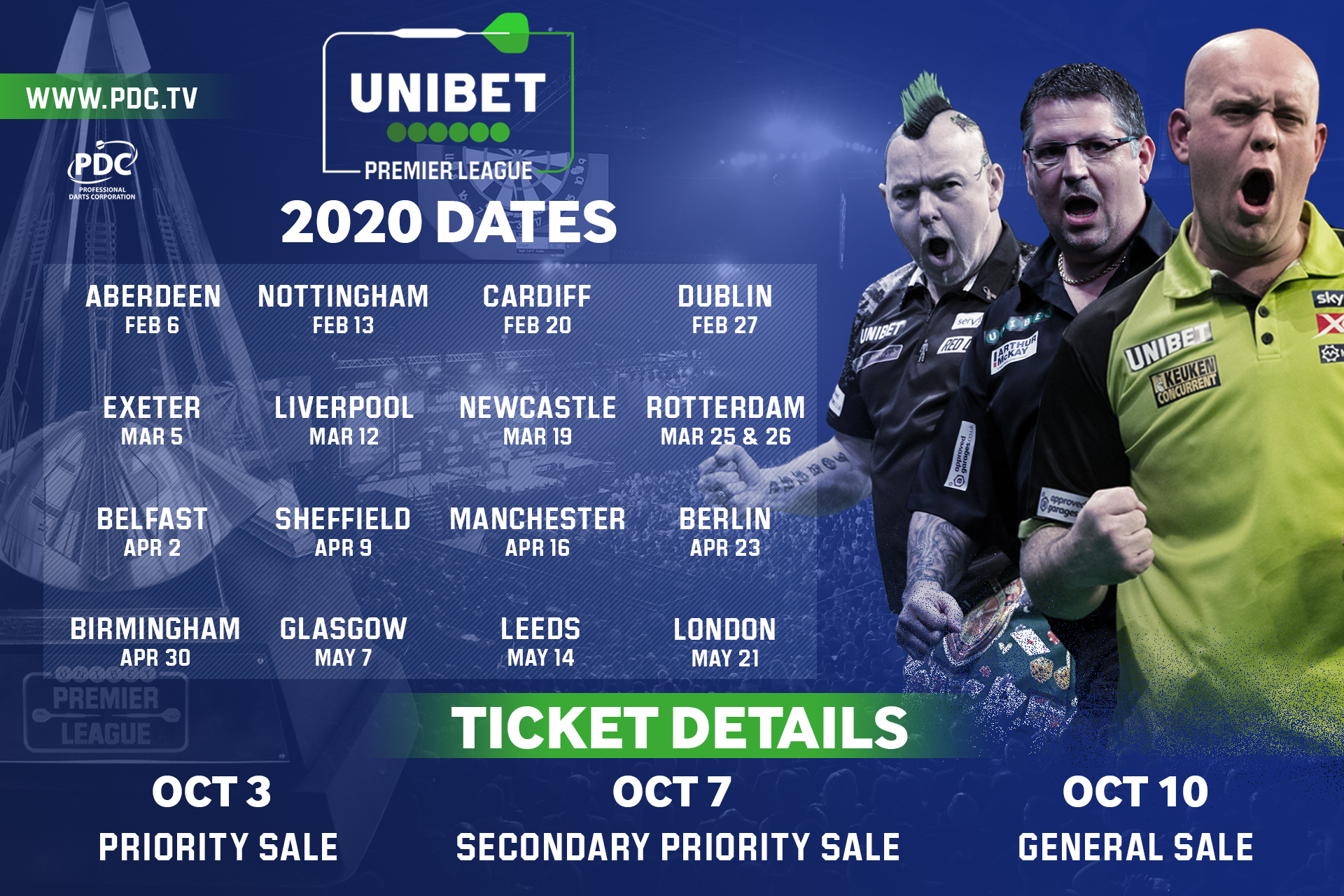 Tickets sold subject to standards PDC Terms & Conditions. Ticket prices stated do not include any booking or transaction fees. The PDC only recommends purchasing tickets from Box Offices listed at this page.
The Priority Sale period before tickets go on General Sale is the first opportunity for PDCTV-HD Annual Subscribers to purchase tickets, but not a guarantee of buying tickets, particularly for venues/seating areas where demand is higher than the number of available tickets.
Hospitality Packages
Official Hospitality Packages will be on sale from 0900 BST on Friday October 4 via Sport & Music at this link
Note:
Customers who attempt to resell their tickets in contravention of PDC terms and conditions will have all tickets they have purchased for the event cancelled and will not be entitled to a refund. Receipts from tickets which are re-sold by the PDC through official channels will be donated to charities and good causes through the Matchroom Sport Foundation.
We strongly advise that you use just one browser tab when trying to book tickets and only attempt to purchase tickets for one session at a time in order to avoid possible problems with your transaction.
Ticket information & Terms & Conditions available at pdc.tv/tickets.