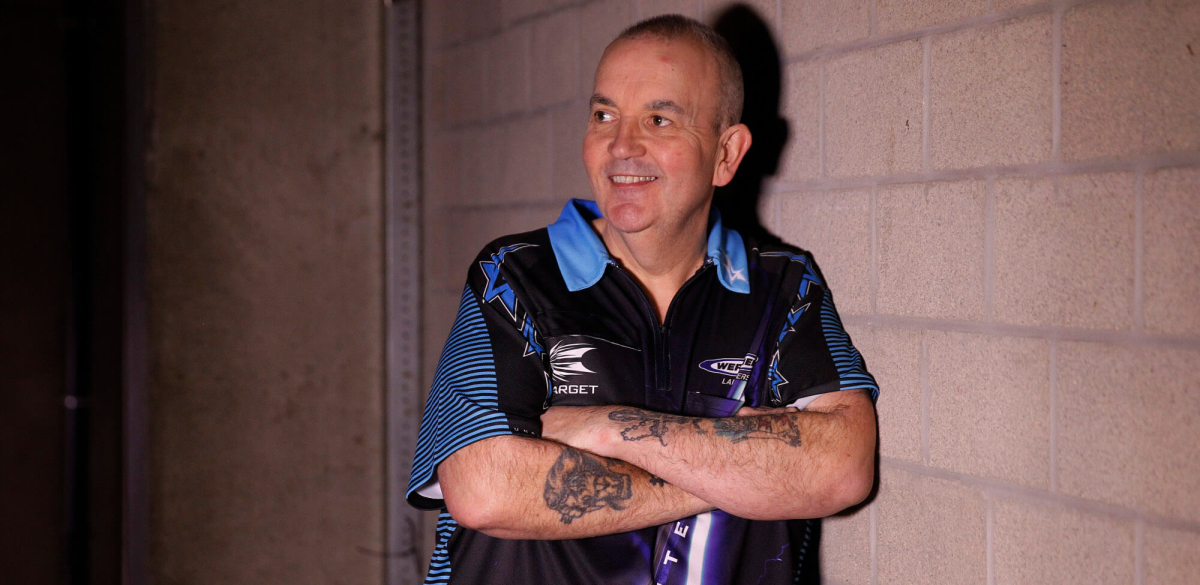 THE draw and schedule of play for the Cash Converters Players Championship Finals has been confirmed, with Michael van Gerwen beginning his defence of the title at the Butlins Minehead Resort against Andy Hamilton on Friday.

The expanded Players Championship Finals this year sees the field doubled in size as 64 players compete for £400,000 in prize money across three days, live on ITV4.

Qualification is based on performances across the series of 20 Players Championship tournaments which have been held during 2016, with van Gerwen topping the final Order of Merit with £72,750 after winning five of the events.

With Australian ace Kyle Anderson having to withdraw from competing as he awaits the completion of his Visa renewal, Stoke's former World Championship finalist Hamilton has come in as the 64th seed, meaning that he meets van Gerwen in round one.

Number two seed Benito van de Pas will take on Northern Ireland's Brendan Dolan, with third seed Ian White - like van de Pas a winner of three Players Championships in 2016 - taking on former World Youth Champion Keegan Brown.

Australia's Simon Whitlock, a two-time winner in October, meets Matthew Edgar and double champion Gerwyn Price is seeded fifth as he takes on Belgian youngster Dimitri Van den Bergh.

Sixth seed Dave Chisnall faces former Players Championship Finals winner Kevin Painter, number seven seed Peter Wright comes up against Leicester's Jason Wilson and Austrian ace Mensur Suljovic - the number eight seed and European Championship finalist - meets five-time World Champion Raymond van Barneveld.

2014 Players Championship Finals winner Gary Anderson will take on fellow Scot John Henderson, while Adrian Lewis, the runner-up in Minehead in the past two years, plays 2009 finalist Robert Thornton in another high-profile clash.

Another former finalist, Mervyn King, comes up against world number six James Wade, with 2011 finalist Mark Webster playing nine-time major finalist Terry Jenkins and 2013 runner-up Kim Huybrechts taking on Northern Ireland's Mickey Mansell.

Friday sees play split across two stages in two sessions for the first round, with the second and third rounds being held on Saturday across two stages.

Sunday's decisive final day sees the action centred on the main stage with the quarter-finals in the afternoon session and the semi-finals and final in the evening session.

The weekend will also feature the PDC Unicorn World Youth Championship final between Dutchman Berry van Peer and Australia's Corey Cadby, with that contest taking place on Sunday evening between the semi-finals and final of the main event.

2016 Cash Converters Players Championship Finals
Draw Bracket
Michael van Gerwen (1) v Andy Hamilton (64)
Vincent van der Voort (32) v Andrew Gilding (33)
Josh Payne (16) v Mark Walsh (49)
Cristo Reyes (17) v Berry van Peer (48)
Mensur Suljovic (8) v Raymond van Barneveld (57)
Adrian Lewis (25) v Robert Thornton (40)
Joe Cullen (9) v Steve Brown (56)
Ronny Huybrechts (24) v Rowby-John Rodriguez (41)
Gerwyn Price (5) v Dimitri Van den Bergh (60)
Christian Kist (28) v Ricky Evans (37)
Steve West (12) v Jan Dekker (53)
Justin Pipe (21) v Andy Jenkins (44)
Simon Whitlock (4) v Matthew Edgar (61)
Darren Webster (29) v Jonny Clayton (36)
Chris Dobey (13) v Mick McGowan (52)
Alan Norris (20) v Michael Smith (45)
Benito van de Pas (2) v Brendan Dolan (63)
Joe Murnan (31) v Jermaine Wattimena (34)
Kim Huybrechts (15) v Mickey Mansell (50)
Daryl Gurney (18) v Ronnie Baxter (47)
Peter Wright (7) v Jason Wilson (58)
James Wade (26) v Mervyn King (39)
Stephen Bunting (10) v Ron Meulenkamp (55)
Gary Anderson (23) v John Henderson (42)
Dave Chisnall (6) v Kevin Painter (59)
Jamie Caven (27) v Jamie Lewis (38)
James Wilson (11) v Vincent Kamphuis (54)
Jelle Klaasen (22) v Simon Stevenson (43)
Ian White (3) v Keegan Brown (62)
Mark Webster (30) v Terry Jenkins (35)
Steve Beaton (14) v Jeffrey de Graaf (51)
Robbie Green (19) v Devon Petersen (46)

Schedule of Play
Friday November 25
First Round
Afternoon Session (12.45pm)
Main Stage
Joe Cullen v Steve Brown
Ian White v Keegan Brown
Chris Dobey v Mick McGowan
Jelle Klaasen v Simon Stevenson
Simon Whitlock v Matthew Edgar
Cristo Reyes v Berry van Peer
Christian Kist v Ricky Evans
Dave Chisnall v Kevin Painter

Stage Two
James Wilson v Vincent Kamphuis
Joe Murnan v Jermaine Wattimena
Justin Pipe v Andy Jenkins
Darren Webster v Jonny Clayton
Josh Payne v Mark Walsh
Vincent van der Voort v Andrew Gilding
Jamie Caven v Jamie Lewis
Robbie Green v Devon Petersen

Evening Session (7pm)
Main Stage
James Wade v Mervyn King
Gerwyn Price v Dimitri Van den Bergh
Mensur Suljovic v Raymond van Barneveld
Benito van de Pas v Brendan Dolan
Michael van Gerwen v Andy Hamilton
Gary Anderson v John Henderson
Peter Wright v Jason Wilson
Adrian Lewis v Robert Thornton

Stage Two
Steve West v Jan Dekker
Steve Beaton v Jeffrey de Graaf
Mark Webster v Terry Jenkins
Daryl Gurney v Ronnie Baxter
Kim Huybrechts v Mickey Mansell
Alan Norris v Michael Smith
Ronny Huybrechts v Rowby-John Rodriguez
Stephen Bunting v Ron Meulenkamp

Saturday November 26
Afternoon Session (12.45pm)
Second Round
Main Stage
Chisnall/Painter v Caven/J Lewis
Dobey/McGowan v Norris/Smith
van de Pas/Dolan v Murnan/Wattimena
K Huybrechts/Mansell v Gurney/Baxter
van Gerwen/Hamilton v van der Voort/Gilding
Suljovic/van Barneveld v A Lewis/Thornton
Wright/Jason Wilson v Wade/King
Bunting/Meulenkamp v Anderson/Henderson

Stage Two
Price/Van den Bergh v Kist/Evans
James Wilson/Kamphuis v Klaasen/Stevenson
Whitlock/Edgar v D Webster/Clayton
West/Dekker v Pipe/A Jenkins
Payne/Walsh v Reyes/van Peer
Cullen/S Brown v R Huybrechts/Rodriguez
White/K Brown v M Webster/T Jenkins
Beaton/de Graaf v Green/Petersen

Evening Session (7pm)
Third Round
Main Stage
Chisnall/Painter/Caven/J Lewis v James Wilson/Kamphuis/Klaasen/Stevenson
Suljovic/van Barneveld/A Lewis/Thornton v Cullen/S Brown/R Huybrechts/Rodriguez
van Gerwen/Hamilton/van der Voort/Gilding v Payne/Walsh/Reyes/van Peer
Wright/Jason Wilson/Wade/King v Bunting/Meulenkamp/Anderson/Henderson

Stage Two
Price/Van den Bergh/Kist/Evans v West/Dekker/Pipe/A Jenkins
Whitlock/Edgar/D Webster/Clayton v Dobey/McGowan/Norris/Smith
van de Pas/Dolan/Murnan/Wattimena v K Huybrechts/Mansell/Gurney/Baxter
White/K Brown/M Webster/T Jenkins v Beaton/de Graaf/Green/Petersen

Sunday November 27
Afternoon Session (12.45pm)
Quarter-Finals

Evening Session (7pm)
Semi-Finals
Final
Plus:
PDC Unicorn World Youth Championship Final
Berry van Peer v Corey Cadby
Best of 11 legs

FORMAT
First Round - Best of 11 legs
Second Round - Best of 11 legs
Third Round - Best of 19 legs
Quarter-Finals - Best of 19 legs
Semi-Finals - Best of 21 legs
Final - Best of 21 legs
There will be no tie-break in any match.

PRIZE FUND
Winner £75,000
Runner-Up £35,000
Semi-Finalists £20,000
Quarter-Finalists £11,500
Third Round Losers £7,500
Second Round Losers £5,000
First Round Losers £2,000
Total £400,000
Nine-Dart Finish Bonus £35,000

NB: Schedule of play for Saturday afternoon's Second Round on the main stage amended on November 21 at 1.30pm.