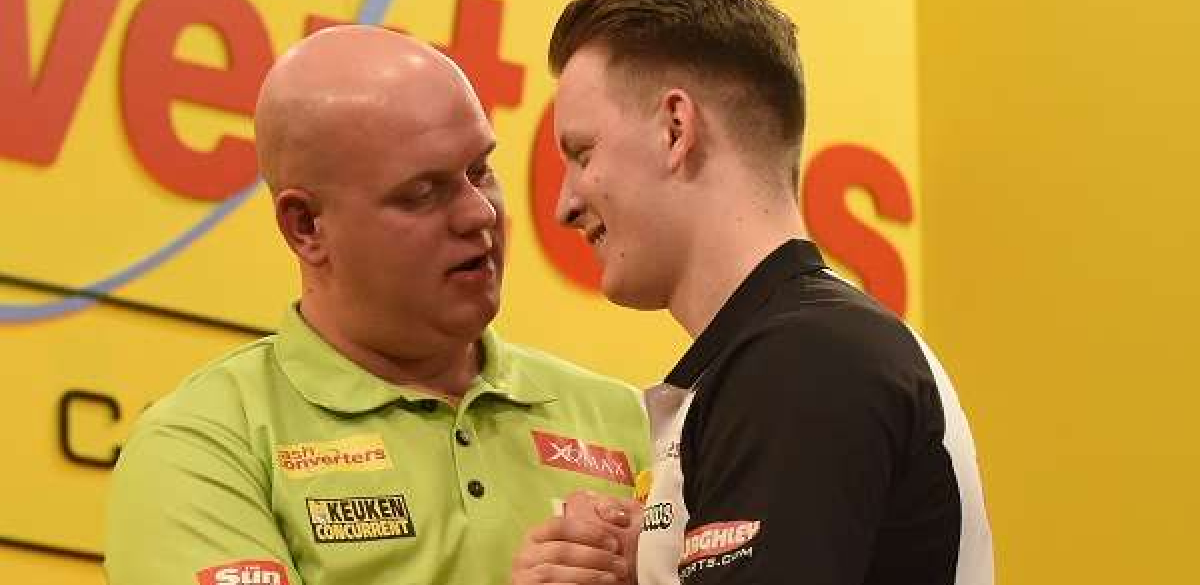 DUTCH superstars Michael van Gerwen and Raymond van Barneveld will clash in the quarter-finals of the Cash Converters Players Championship Finals on Sunday afternoon following their third round victories at the Butlins Minehead Resort. 

Reigning champion van Gerwen continued his push to win a third Players Championship Finals title in four years with defeats of both Vincent van der Voort and Josh Payne on Saturday.

After seeing off van der Voort 6-1, van Gerwen then found himself 2-0 down to Kent youngster Payne, who had defeated another Dutchman, Berry van Peer, in the second round before taking that form into the early stages against the world number one.

Van Gerwen, though, capitalised on missed doubles from Payne in successive legs as he levelled before pulling clear with the aid of two 11-dart finishes, a pair of 12-dart legs and a 112 checkout as he claimed ten straight legs for victory.

Van Gerwen now takes on five-time World Champion van Barneveld in the last eight on Sunday afternoon, after the 49-year-old defeated Adrian Lewis 6-4 in round two before breezing past Joe Cullen 10-2 in the third round.

"Raymond's a fantastic player and if he gets his form he can beat anyone, but I think I'm in better form and I've got the advantage," said van Gerwen. "I think it was a good victory against Josh and I played okay in patches.

"If someone plays well they can make it very difficult but there are very good players in this tournament and you need to do the right things at the right moments."

Belgian ace Kim Huybrechts, the runner-up in the 2012 Players Championship Finals, enjoyed an impressive day as he won through to the last eight.

Huybrechts firstly averaged 108 and hit three ton-plus checkouts to defeat Daryl Gurney 6-1, before seeing off another Northern Irish ace, Brendan Dolan, 10-4 in a game where he sealed victory with a maximum 170 checkout.

"The 170 finish was a nice way to seal it and nice for the crowd," said Huybrechts. "I've had a lot of ton-plus finishes so far this weekend and that's good for my confidence, and I'm going to need it in the next round.

"I've been in the final a couple of years ago so I want to repeat that and go one stage better."

Huybrechts now meets Peter Wright in the last eight, after the world number three averaged almost 105 in a 6-2 win over James Wade before seeing off Dutch left-hander Ron Meulenkamp 10-3 in the third round with a 100 average.

Dutchman Christian Kist won through to his first TV quarter-final since joining the PDC circuit in 2014 by defeating Justin Pipe 10-6, taking out 120, 144 and 161 in a strong performance to follow up his 6-2 win over Dimitri Van den Bergh on Saturday afternoon.

Darren Webster will now play Kist on Sunday afternoon, after the Norfolk ace defeated Simon Whitlock 6-3 and Alan Norris - Friday's nine-dart hero - with a 10-5 triumph to reach his first TV quarter-final in almost ten years.

Dave Chisnall followed up his 6-4 win over Jamie Lewis in the afternoon session with a narrow 10-9 defeat of Jelle Klaasen, who missed three darts to snatch victory in a dramatic deciding leg.

"It was a tough game, crazy," admitted Chisnall, who hit 11 maximum 180s in the game. "I thought I'd thrown it away but that last double is always the hardest and at the end of the day I got that last double."

Chisnall's opponent on Sunday afternoon will be Robbie Green, who reached the quarter-finals of a TV event for the first time since rejoining the PDC circuit in 2015 with wins over Jeffrey de Graaf and Terry Jenkins on Saturday.

The Merseyside ace averaged an impressive 105 in his 6-1 defeat of emerging Dutchman de Graaf, before pulling clear from five-all against veteran star Jenkins to take a 10-7 triumph.

Saturday's afternoon session had culminated with a huge upset as world number 83 Meulenkamp knocked out World Champion Gary Anderson 6-5 in a deciding leg to claim the biggest win of his career.

Former TV tournament winners Adrian Lewis, James Wade and Simon Whitlock also exited in round two, while Cullen whitewashed Austrian youngster Rowby-John Rodriguez 6-0 with a fine display.

The £400,000 tournament concludes on Sunday, with the afternoon session's quarter-finals followed in the evening session by the semi-finals and final.

The day will also feature the PDC Unicorn World Youth Championship final, as Dutchman Berry van Peer takes on Australia's Corey Cadby for a £10,000 first prize.

Michael van Gerwen is the 1/3 odds-on favourite to win Sunday's title with Sun Bets, the official betting partner of the Cash Converters Players Championship Finals, with Wright the 5/1 second favourite and Chisnall 8/1.

Live scores will be available online through the PDC Live Scores Website - CLICK HERE .

Updates will also be available through @OfficialPDC on Twitter.

Cash Converters Players Championship Finals
Saturday November 26
Afternoon Session
Second Round
Main Stage 
Dave Chisnall 6-4 Jamie Lewis
Mick McGowan 3-6 Alan Norris
Brendan Dolan 6-5 Jermaine Wattimena
Kim Huybrechts 6-1 Daryl Gurney
Michael van Gerwen 6-1 Vincent van der Voort
Raymond van Barneveld 6-4 Adrian Lewis
Peter Wright 6-2 James Wade
Ron Meulenkamp 6-5 Gary Anderson

Stage Two 
Dimitri Van den Bergh 2-6 Christian Kist
Vincent Kamphuis 2-6 Jelle Klaasen
Simon Whitlock 3-6 Darren Webster
Jan Dekker 1-6 Justin Pipe
Josh Payne 6-4 Berry van Peer
Joe Cullen 6-0 Rowby-John Rodriguez
Ian White 5-6 Terry Jenkins
Jeffrey de Graaf 1-6 Robbie Green

Evening Session
Third Round
Main Stage 
Dave Chisnall 10-9 Jelle Klaasen
Raymond van Barneveld 10-2 Joe Cullen
Michael van Gerwen 10-2 Josh Payne
Peter Wright 10-3 Ron Meulenkamp

Stage Two 
Christian Kist 10-6 Justin Pipe
Darren Webster 10-5 Alan Norris
Brendan Dolan 4-10 Kim Huybrechts
Terry Jenkins 7-10 Robbie Green

Click here to see the tournament draw bracket & full schedule of play .

Click here to see Match Averages 

Draw Bracket - Second Round 
Michael van Gerwen v Vincent van der Voort
Josh Payne v Berry van Peer
Raymond van Barneveld v Adrian Lewis
Joe Cullen v Rowby-John Rodriguez
Dimitri Van den Bergh v Christian Kist
Jan Dekker v Justin Pipe
Simon Whitlock v Darren Webster
Mick McGowan v Alan Norris
Brendan Dolan v Jermaine Wattimena
Kim Huybrechts v Daryl Gurney
Peter Wright v James Wade
Ron Meulenkamp v Gary Anderson
Dave Chisnall v Jamie Lewis
Vincent Kamphuis v Jelle Klaasen
Ian White v Terry Jenkins
Jeffrey de Graaf v Robbie Green

Draw Bracket - Third Round 
Michael van Gerwen v Josh Payne
Raymond van Barneveld v Joe Cullen
Christian Kist v Justin Pipe
Darren Webster v Alan Norris
Brendan Dolan v Kim Huybrechts
Peter Wright v Ron Meulenkamp
Dave Chisnall v Jelle Klaasen
Terry Jenkins v Robbie Green

Draw Bracket - Quarter-Finals 
Michael van Gerwen v Raymond van Barneveld
Christian Kist v Darren Webster
Kim Huybrechts v Peter Wright
Dave Chisnall v Robbie Green

Quarter-Finals Order of Play 
Christian Kist v Darren Webster
Michael van Gerwen v Raymond van Barneveld
Dave Chisnall v Robbie Green
Kim Huybrechts v Peter Wright

Semi-Finals Order of Play 
van Gerwen/van Barneveld v Kist/Webster
Huybrechts/Wright v Chisnall/Green

SECOND ROUND ROUND-UP 
RON MEULENKAMP claimed the biggest result of his career with a 6-5 triumph against former Cash Converters Players Championship Finals winner Gary Anderson in Saturday afternoon's second round in Minehead.

The Dutch left-hander secured a place in the last 16 of a TV tournament for the first time in his career as he knocked out the reigning World Champion at the Butlins Minehead Resort.

Meulenkamp took out finishes of 107, 146 and 100 as he led 5-4, and though Anderson forced a deciding leg, the Scot missed tops to snatch victory to allow the world number 83 in to claim the win.

Meulenkamp now meets world number three Peter Wright, who impressed with a 104.61 average as he powered past James Wade - last week's Grand Slam of Darts finalist - 6-2.

Michael van Gerwen continued his title defence  with a 6-1 win over Vincent van der Voort in their all-Dutch second round tie.

Van der Voort had been the Best Man at van Gerwen's wedding last year, but the world number one left no room for sentiment with a ruthless 102 average in a strong performance.

Van Gerwen will now meet Josh Payne in Saturday evening's third round, after the Kent youngster - who won his first senior title at a Players Championship earlier this year - defeated another Dutchman, Berry van Peer, 6-4.

Kim Huybrechts produced a sensational 108 average as he defeated Northern Ireland's Daryl Gurney 6-1, taking out finishes of 129, 101 and 106 in a sublime performance.

The Belgian now meets Brendan Dolan, who was a narrow 6-5 winner for a second successive game against Dutch opposition as Jermaine Wattimena paid the price for failing to close out victory against the 64th seed.

Raymond van Barneveld overcame Adrian Lewis 6-4 to continue his strong start to the weekend, taking out 100 and 121 as he led 5-1 before the two-time World Champion cut the gap to one only to lose out in leg ten.

Van Barneveld's third round tie will see him meet Joe Cullen, who whitewashed Rowby-John Rodriguez with a 101 average in a 6-0 triumph.

Justin Pipe, a two-time semi-finalist in this event, was a 6-1 winner over Jan Dekker as he moved through to meet another Dutchman, Christian Kist.

Former Lakeside Champion Kist claimed a 6-2 win over Dimitri Van den Bergh, with a run of four successive legs in mid-match seeing him pull clear of the young Belgian.

Dave Chisnall held off Jamie Lewis' fightback from 5-1 down with three successive legs before sealing a 6-4 victory over the Welsh ace, setting up a tie with Jelle Klaasen after the world number ten defeated fellow Dutchman Vincent Kamphuis 6-2.

Alan Norris followed up Friday's nine-dart finish with a 6-3 win over Ireland's Mick McGowan to move through to a last 16 contest with Darren Webster, who defeated Australia's Simon Whitlock by the same scoreline.

Terry Jenkins narrowly avoided defeat against Ian White as the number three seed came from 4-1 and 5-2 down to send their game into a decider, only to miss the bull for victory as the nine-time TV finalist finally closed out the win.

Jenkins now plays Robbie Green, who was impressive with a 105 average as he overcame Dutchman Jeffrey de Graaf 6-1.

Saturday's evening session then sees the format lengthen with the third round, with play also across two stages at the Butlins Minehead Resort.